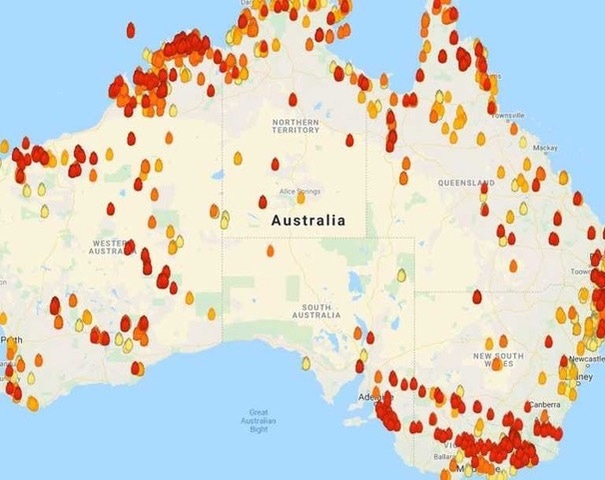 Giv­en we are so far away here in Aus­tralia, I thought our IMAGO friends and col­leagues might like to know the affect the ter­ri­ble fires are hav­ing on so many com­mu­ni­ties around the Great South Land, our home…. Aus­tralia. I should also point out that where my wife Lin­da and I live, which is on the Gold Coast in Queens­land we are all ok, and have only been affect­ed by smoke.
These have been the worst fires on record and there are so many peo­ple who have lost their homes, ani­mals, trea­sured mem­o­ries, liveli­hoods etc. We have also lost so many species of ani­mals native only to Aus­tralia, includ­ing thou­sands of koalas, small­er mam­mals, kan­ga­roos etc. It is such a tragedy for so many. Also the fire and emer­gency ser­vices, both reg­u­lar and vol­un­teer who have worked tire­less­ly with no end in sight at this time, indeed as it so hap­pens we are expect­ing tem­per­a­tures this com­ing week­end in excess of 43 degrees. We salute them for doing what they do with­out com­plaint, and we must learn that as a coun­try we need to sup­port these amaz­ing peo­ple at all times, both emo­tion­al­ly and finan­cial­ly, giv­en the hor­ren­dous things they are deal­ing with on our behalf.
But I know in true Aussie spir­it peo­ple will get on with things and rebuild, of course it will take many years to recov­er from this calami­ty and for those that have lost loved ones, that will be so much hard­er and our hearts go out to them.
As I write this, the small Vic­to­ri­an sea­side hol­i­day town of Mal­la­coo­ta, which is in Gipp­s­land has been dev­as­tat­ed and there are around 4000 peo­ple on the safe haven of the beach and the ocean, hav­ing escaped the fires but are now await­ing evac­u­a­tion by the Aus­tralian navy, that is how bad things are. Over­all, forty-sev­en fires are still active­ly burn­ing, with more than 1000 fire­fight­ers work­ing day and night to con­tain the blazes. A total of 325 fires start­ed in the 24 hours pri­or to 2pm yesterday.
We remain the "lucky coun­try", but we are now more than ever con­vinced cli­mate change has changed our lives for­ev­er, and we must remain stead­fast and as one with our won­der­ful coun­try and all Aus­tralians. For many years our indige­nous First Aus­tralians have offered advice to our gov­ern­ments on how to use sea­son­al burn off to clear a build up of veg­e­ta­tion and allow the earth and native plants to regen­er­ate…. per­haps if this had been done the cur­rent fires would not be as fierce as there would have been lim­it­ed fuel to burn. Per­son­al­ly, I hope that now our politi­cians and those deny­ing the effects of cli­mate change will lis­ten. Let us hope it is not too lit­tle, too late.
Warm regards and thanks to all of you that have asked how we are and many thanks to Claire Pij­man for her kind words.….
Ron Johan­son ACS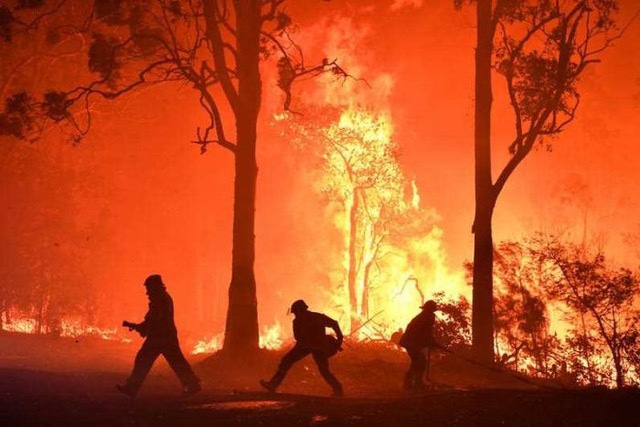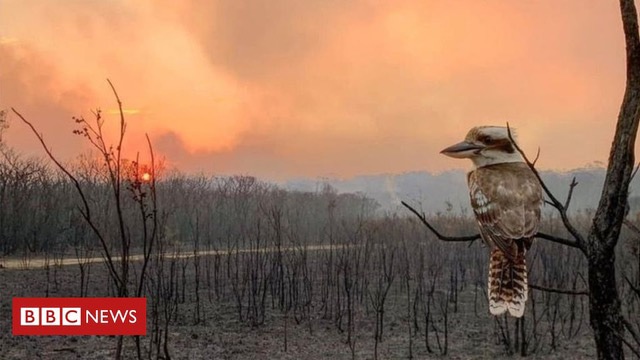 A kook­abur­ra looks on…..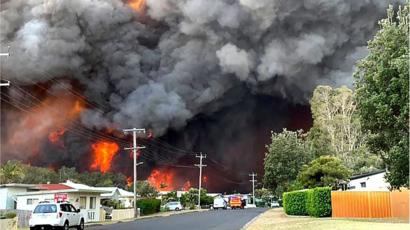 A koala makes run for it…..was res­cued and tak­en to hospital.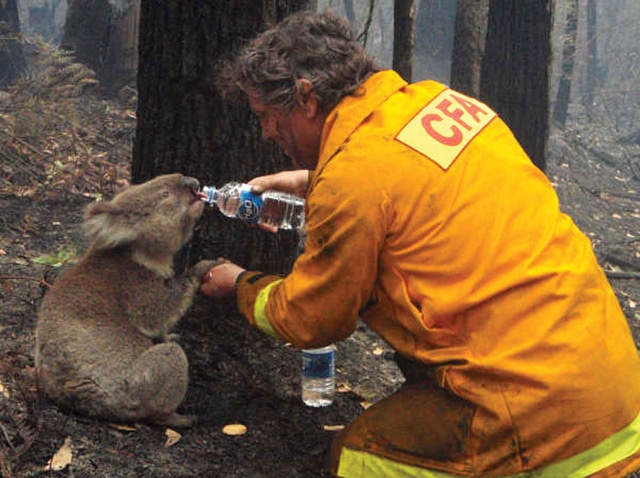 A fire­fight­er gives water to a koala.
A 12 year old boy escapes in the fam­i­ly fish­ing boat.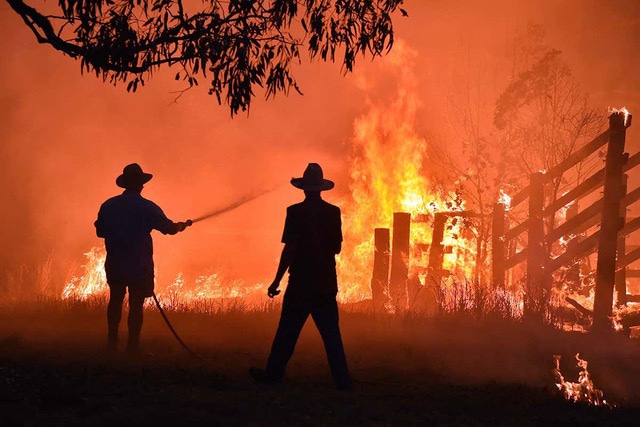 A farmer bat­tles the fire with a hose. His mate watch­es on.