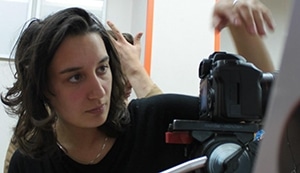 by Leslie Char­reau
Pho­to cred­its: Anni­ka Wallis
I must admit when I was asked if I could write an arti­cle about the Third Inter­na­tion­al Con­fer­ence on teach­ing and research­ing Cin­e­matog­ra­phy, I was­n't thrilled. I thought it was going to be a bit bor­ing hear­ing teach­ers talk about how they can improve their edu­ca­tion­al tools to form bet­ter cin­e­matog­ra­phers or how they can acquire the meth­ods for research­ing cin­e­matog­ra­phy. I could­n't be more wrong. Not only did these two sub­jects turned out to be fas­ci­nat­ing but more­over they were pre­sent­ed by pas­sion­ate peo­ple. Fur­ther­more, this con­fer­ence opened my mind to a num­ber of ideas for con­sid­er­a­tion. On top of that it was real­ly nice to be among peers from all over the world and to hear and par­tic­i­pate in their dis­cus­sions regard­ing the same con­cerns, but in very diverse angles depend­ing on the coun­try and the type of school they come from. What more can I say? At the end of the three days, I was hooked…
In my opin­ion, the suc­cess of the con­fer­ence was not only due to the rel­e­vance of the sub­jects, but also to the ways these mat­ters have been debat­ed. On the first morn­ing, five papers were pre­sent­ed in a rather aca­d­e­m­ic-style in front of the nine­ty par­tic­i­pants (read­ing, Pow­er­Point, excerpt and then Q&R), but in the after­noon par­tic­i­pants had to choose between four dif­fer­ent poster shar­ing ses­sions repeat­ed two times. Divid­ed in small­er group, they could hear and then inter­act with two, some­times three researchers on each theme. On the sec­ond day, the par­tic­i­pat­ing cin­e­matog­ra­phers had even more oppor­tu­ni­ties to
express them­selves as they could choose between six round­ta­bles top­ics repeat­ed in three dif­fer­ent ses­sions. Each round­table of one hour had one head and sev­er­al experts to lead and sup­ply peer-exchanges on the mat­ter at hand. After a ludic walk through Brus­sels, on the after­noon, five oth­er papers were pre­sent­ed in front of the whole audi­ence. Then on the third day, after a last paper pre­sen­ta­tion, the con­clu­sions of each round­table were sub­mit­ted to all the par­tic­i­pants by the head researchers. This enabled the cin­e­matog­ra­phers to be alter­nate­ly lis­ten­ers and lec­tur­ers, to share their expe­ri­ence, to debate, but under the con­stant time man­age­ment of the organ­is­ers, giv­ing sub­stance to these topics.
This was the PROGRAM.
"What top­ics could last three-day-long regard­ing the teach­ing and research­ing of cin­e­matog­ra­phy?" one could ask. Well, it's real­ly hard to report on the diver­si­ty of the reflec­tions raised, you just had to be there. First, just let me say I won't talk about the top­ics raised in the six round­ta­bles, because a report on the emerg­ing cin­e­matog­ra­phy prac­tices, the use of cel­lu­loid as a method to teach cin­e­matog­ra­phy, the method­ol­o­gy to research cin­e­matog­ra­phy, the new ped­a­gog­i­cal tools at hand, how to use the pri­or dig­i­tal skills of stu­dents and the teach­ing of the cin­e­matog­ra­pher's respon­si­bil­i­ties is avail­able HERE. But I will try to present what real­ly inter­est­ed me in the rest. In advance, I must apol­o­gise to the par­tic­i­pants because obvi­ous­ly I won't be able to syn­the­sise all of what was said. I'm only human, I don't have the gift of Ubiquity…
The first top­ic pre­sent­ed in the sem­i­nar that real­ly puz­zled me was raised by Tony Cos­ta aip, chair of the IMAGO Edu­ca­tion Com­mit­tee, and came back a few times in the poster' or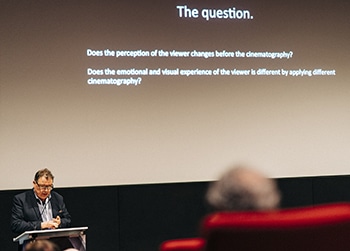 Tony Cos­ta opened the con­fer­ence with his pro­posed research
called «One film, three visions»
round­table's dis­cus­sions: Can the cin­e­matog­ra­ph­er be con­sid­ered as an author? The author of the image, obvi­ous­ly, but as such also co-author of the film like the scriptwriter or the com­pos­er. In fact, it is real­ly hard to iso­late the work of the cin­e­matog­ra­ph­er, even if we know he is in charge of the fram­ing, the move­ment, the light­ing, the ratio, the choice of cam­era and lens­es etc. How can we dis­tin­guish his work from the direc­tor's deci­sions and choic­es? To answer that ques­tion Tony Cos­ta pro­posed a research called «One film, three visions». He pro­ject­ed the same film shot three times with the same direc­tor, the same script, the same inten­tions, the same actors, the same crew, the same edi­tor, the same music etc, but with a dif­fer­ent cin­e­matog­ra­ph­er each time. At the end of the pro­jec­tion he asked the audi­ence: Does cin­e­matog­ra­phy change the per­cep­tion of the view­er? And the results were quite inter­est­ing, because in fact they were three very dif­fer­ent films pro­duc­ing very diverse emo­tions and telling dif­fer­ent sto­ries to each view­er depend­ing on their tastes and their per­son­al his­to­ries… At the end, some of the audi­ence thought cin­e­matog­ra­phers should be con­sid­ered as authors where­as oth­ers thought they can only be con­sid­ered as artis­tic tech­ni­cians like make­up artists or set design­ers. The debate will sure­ly continue.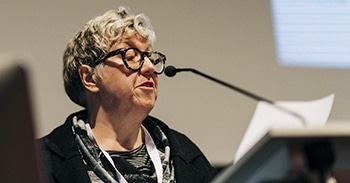 Cathy Green­hal­gh's pre­sent­ed her paper called Skin tone
and faces
Lat­er on, the diver­si­ty in cin­e­matog­ra­phy was brought to our atten­tion by Cathy Green­hal­gh's paper called Skin tone and faces: cin­e­matog­ra­phy ped­a­gogy which fore­grounds inclu­siv­i­ty and diver­si­ty in teach­ing light­ing. The mat­ter was also dis­cussed in at least two poster ses­sions with Diar­ra Sourang's research on Film­ing black com­plex­ions: why both­er? A research on new film­ing tech­niques and Yao Joseph Homad­ji Ladzekpo's pre­sen­ta­tion called "An intro­spec­tion of an African cin­e­matog­ra­phy edu­ca­tor in the 21stcentury." How to teach diverse cin­e­mato­graph­ic tech­niques regard­ing the skin-tones, but also the gen­der, the sex­u­al ori­en­ta­tion or age of the sub­jects? And how to include the stu­dents and teacher's cul­ture in the pedagogy?
In an audi­ence orig­i­nat­ing from over thir­ty coun­tries, in which male teach­ing cin­e­matog­ra­phers from Europe and North Amer­i­ca are out­num­bered, these ques­tions seemed quite rel­e­vant. The West­ern patri­ar­chal and tra­di­tion­al way of light­ing and fram­ing is still dom­i­nant in the didac­tic rule­book of most of the schools world­wide. For instance, mate­ri­als have been opti­mised for light skin tones (colour bal­anc­ing charts, zebra etc). Anoth­er illus­tra­tion: the soft lights applied to women is a her­itage from cen­turies of male dom­i­na­tion passed from paint­ing mas­ters to cin­e­matog­ra­phers. Besides, the vocab­u­lary we use is quite rel­e­vant: for exam­ple, there is no such things as black skins, all humans have the same pig­ments, the main dif­fer­ence between skin-tones is den­si­ty and in it there is a lot of colours. That is why it is nec­es­sary to include not only more cul­ture in the edu­ca­tion sys­tem but also belief, spir­i­tu­al­i­ty, envi­ron­ment, pol­i­tics, phi­los­o­phy and psy­chol­o­gy in order to make cin­e­matog­ra­phy rich­er. So, stu­dents can learn not only that when light skin-tone faces will be shaped by shad­ows, dark ones will be bet­ter shaped by reflex­ions, but also why that mat­ters. How do we want to rep­re­sent the diver­si­ty of our society?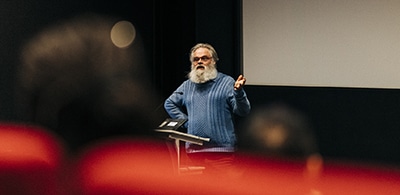 Kom­mer Klei­jn talk­ing about the advan­tages of the use of high
frame rate
On a seem­ing­ly more tech­ni­cal issue, Kom­mer Klei­jn's paper and Aaron Kud­er and Ste­fan Grandinet­ti's poster ses­sion on HFR (High Frame Rate) real­ly got my atten­tion. The way HFR can tru­ly improve the qual­i­ty of the image by increas­ing sub­stan­tial­ly its sharp­ness and elim­i­nat­ing strobes was vision-based proven in Aaron and Ste­fan class­rooms by com­par­ing 24 fps' images to 96 fps' ones. But more impor­tant­ly as Kom­mer Kleijn's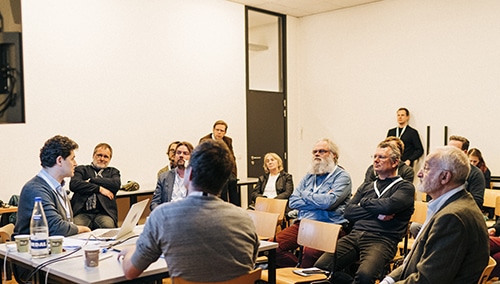 Aspect of one of the poster ses­sions. This one Ste­fan Grandinet­ti's poster ses­sion on
HFR (High Frame Rate)
pre­sen­ta­tion demon­strat­ed the tech­ni­cal improve­ment mat­ters not unlike the pos­si­bil­i­ties that lies beneath: a new way of telling sto­ries. In fact, if teach­ers would pro­pose HFR exer­cis­es and prac­tices to film stu­dents they might cre­ate new forms of cin­e­mat­ic lan­guage and maybe work­ing direc­tors, cin­e­matog­ra­phers and pro­duc­ers could stop argue against it and realise the huge prospects it offers. Because in Kom­mer, Aaron or Ste­fan's opin­ion, HFR is the new tech­ni­cal rev­o­lu­tion ahead.
Mar­ijke Van Kets SBC from RITCS key
orga­niz­er of the con­fer­ence and always
dili­gent with the time.
Anoth­er point that kept com­ing back in a lot of papers, poster ses­sions and round­ta­bles was the inse­cu­ri­ty of the cin­e­matog­ra­phy stu­dents. In a quite vio­lent and com­pet­i­tive soci­ety it's only log­i­cal that stu­dents are com­pet­i­tive between them­selves. And even more if you con­sid­er that at the end, when they get out of school, many are called, few cho­sen. But even if the con­text explains it, should not the schools and more­over artis­tic schools, allow young peo­ple to express them­selves and find their own path? How can teach­ers, who are only human after-all, find the time to encour­age them per­son­al­ly, to allow fail­ure, to dis­solve or try to avoid the vio­lent com­pe­ti­tion among them in an already full and frag­ment­ed schedule?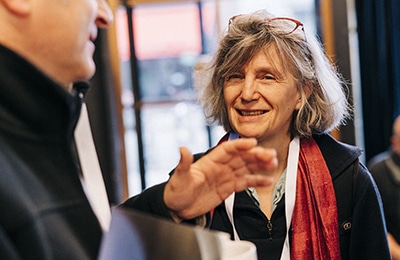 Ella van den Hove SBC from INSAS one of the key orga­niz­ers of the
event
At the very end of the con­fer­ence, in the final dis­cus­sions between par­tic­i­pants a new theme was men­tioned: should cin­e­matog­ra­phy teach­ers include sus­tain­abil­i­ty in their cours­es? As Katrin Richthofer and Peter Slan­sky point­ed out there's quite a few solu­tions to make cin­e­ma more eco­log­i­cal. Not only does it have a role to play in the pub­lic advo­ca­cy and the com­mu­ni­ty mobil­i­sa­tion, but there are con­crete actions nec­es­sary, pro­duc­tions can take from pre-pro­duc­tion, shoot­ing to post-pro­duc­tion to tru­ly reduce its impact. More specif­i­cal­ly the cin­e­matog­ra­ph­er has the pow­er to reduce the ener­gy con­sump­tion by his choic­es of cam­era, hard dri­ve, type of light­ing (LED), ener­gy sup­pli­er, gen­er­a­tor, post-pro­duc­tion stu­dio etc…
Of course, some things about the con­fer­ence could be improved; For instance, the absence of cin­e­matog­ra­phy stu­dents was a real pity,
There were sev­er­al Round Table dis­cus­sions
even though under­stand­able – when I was a stu­dent, I had no idea what prob­lems my teach­ers faced. In the end, I think the con­fer­ence was a big hit, because it high­lights pio­neer sub­jects, not in regards of the edu­ca­tion­al aspect of it but also point­ing out the research sub­jects and avenue's. Indeed, it is real­ly impor­tant for cin­e­matog­ra­phers to evolve and digest all the fas­ci­nat­ing top­ics pre­sent­ed above and all the oth­ers we did­n't talk about, to cre­ate a plat­form where they can share their research and knowl­edge. And it mat­ters because, as the youngest researcher at the con­fer­ence, Diar­ra Sourang, said: "The soci­ety may shape the image we make, but our images can shape the soci­ety back."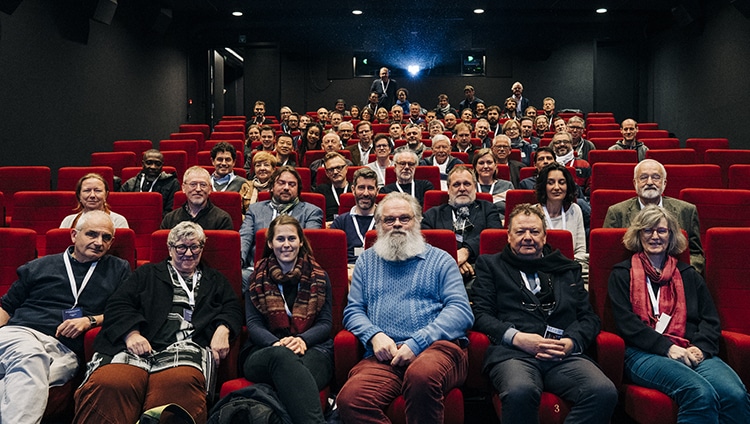 The group picture
IMPORTANT LINKS
PHOTO GALLERY OF THE CONFERENCE Pho­tos by Annika_Wallis
VIDEOS INTERVIEWS
Cin­e­matog­ra­phy in Progress 2019, the aims
Research into the artis­tic role of cin­e­matog­ra­phers
Alter­na­tive meth­ods for teach­ing cinematography