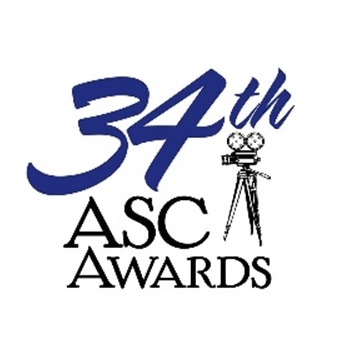 The Amer­i­can Soci­ety of Cin­e­matog­ra­phers (ASC) has announced the nom­i­nees for fea­ture films and Spot­light cat­e­gories. Win­ners will be named at the organization's annu­al awards on Jan­u­ary 25 at the Ray Dol­by Ball­room at Hol­ly­wood & Highland.

Spot­light Award
• Jarin Blaschke for "The Light­house"
• Natasha Braier, ASC, ADF for "Hon­ey Boy"
• Jasper Wolf, NSC for "Monos"
This is Deakins' 16th nom­i­na­tion by the Soci­ety, which has sent him home a win­ner four times ("The Shaw­shank Redemp­tion," "The Man Who Wasn't There," "Sky­fall," "Blade Run­ner 2049"). Richard­son earns his 11th nom­i­na­tion, while Papamichael and Pri­eto have each been rec­og­nized three times in the past by the orga­ni­za­tion. Sher, Blaschke, Braier and Wolf are first-time nominees.
Last year's The­atri­cal win­ner was Łukasz Żal, PSC for "Cold War," which was also Oscar® nom­i­nat­ed for Best Cin­e­matog­ra­phy.
The Spot­light Award, intro­duced in 2014, rec­og­nizes cin­e­matog­ra­phy in fea­tures that may not receive wide the­atri­cal release. The acco­lade went to Gior­gi Shvelidze for "Namme" in 2019.
The Oscar Cin­e­matog­ra­phy nom­i­nees are almost the same.
"The Irish­man," Rodri­go Pri­eto ASC
"Jok­er," Lawrence Sher ASC
"1917," Roger Deakins BSC ASC
"Once Upon a Time in Hol­ly­wood," Robert Richard­son ASC
The only dif­fer­ence instead of Ford v Fer­rari is "The Light­house," cin­e­matog­ra­ph­er Jarin Blaschke
34th Annu­al ASC Awards for Out­stand­ing Achievement
The Amer­i­can Soci­ety of Cin­e­matog­ra­phers (ASC) will bestow its Board of Gov­er­nors Award to Ger­man direc­tor Wern­er Her­zog.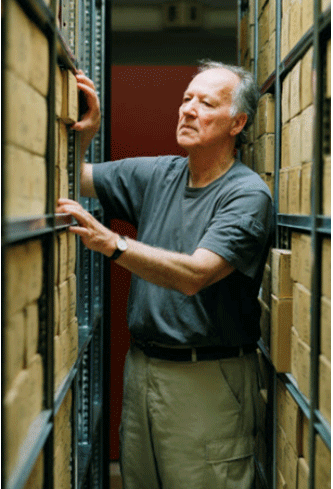 Direc­tor Wern­er Herzog
The ASC Board of Gov­er­nors Award is giv­en to indus­try stal­warts whose body of work has made sig­nif­i­cant and indeli­ble con­tri­bu­tions to cin­e­ma. It is the only ASC Award not giv­en to a cin­e­matog­ra­ph­er and is reserved for film­mak­ers who have been cham­pi­ons for the visu­al art form.
"Wern­er Her­zog is tru­ly a unique sto­ry­teller, and we are hon­ored to rec­og­nize him for his pro­lif­ic con­tri­bu­tions to cin­e­ma," said ASC Pres­i­dent Kees van Oost­rum.
Her­zog has pro­duced, writ­ten, and direct­ed more than 70 fea­ture and doc­u­men­tary films, earn­ing mul­ti­ple awards and nom­i­na­tions over the past sev­en decades. He received an Oscar nom­i­na­tion for Best Doc­u­men­tary Fea­ture for his work on Encoun­ters at the End of the World (2009), and Lit­tle Dieter Needs to Fly (1997) was Emmy nom­i­nat­ed for Out­stand­ing Non-Fic­tion Spe­cial (1997). His exten­sive list of acco­lades hail from film fes­ti­vals (Venice, Sun­dance, Cannes, Berli­nale, etc.) and indus­try orga­ni­za­tions, includ­ing the DGA, Inter­na­tion­al Doc­u­men­tary Asso­ci­a­tion, Film Inde­pen­dent, and the Nation­al Acad­e­my of Tele­vi­sion Arts & Sciences.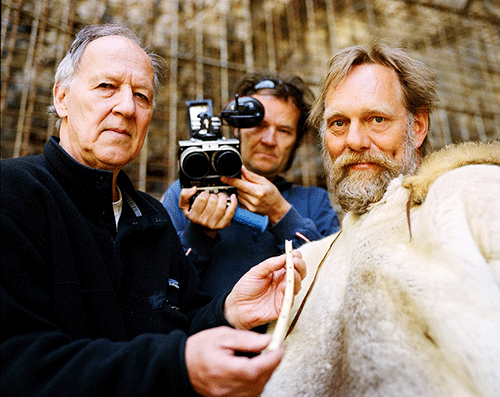 Shoot­ing Cave of For­got­ten Dreams (2010) in 3D with Peter Zeitlinger
BVK ASC with
the cam­era.
A native of Ger­many, Her­zog is known for lead­ing the influ­en­tial post-war West Ger­man cin­e­ma move­ment with Rain­er Wern­er Fass­binder and Volk­er Schlön­dorff. The filmmaker's career has focused equal­ly on fea­ture films and doc­u­men­taries, accru­ing an indeli­ble body of work, such as: Aguirre, the Wrath of God; Auch Zwerge haben klein ange­fan­gen (Even Dwarfs Start­ed Small); Fata Mor­gana; Glock­en aus der Tiefe (Bells from the Deep); Griz­zly Man; Cave of For­got­ten Dreams; Heart of Glass; Nos­fer­atu Phan­tom of the Night; Fitz­car­ral­do; Lessons of Dark­ness; Invin­ci­ble; The Mys­tery of Kas­par Hauser and Stroszek; Into the Abyss; Fam­i­ly Romance; and Meet­ing Gor­bachev, among many oth­ers. His U.S.-produced films include: Bad Lieu­tenant – Port of Call New Orleans; My Son, My Son, What Have Ye Done; and Queen of the Desert.
Herzog's films are char­ac­ter­ized by a sur­re­al and sub­tly exot­ic qual­i­ty, and he is hailed as one of the most inno­v­a­tive con­tem­po­rary direc­tors. His volatile love-hate rela­tion­ship with the bril­liant but emo­tion­al­ly unsta­ble actor Klaus Kin­s­ki result­ed in some of the best work from both men, and both are known for the films on which they col­lab­o­rat­ed. Her­zog cel­e­brat­ed their part­ner­ship with the well-received doc­u­men­tary film My Best Fiend. In addi­tion, Her­zog occa­sion­al­ly takes act­ing jobs him­self, with notable roles as the stern father in the exper­i­men­tal dra­ma Julien Don­key-Boy, the crim­i­nal mas­ter­mind in the big-bud­get action movie Jack Reach­er, and most recent­ly as The Client in the Dis­ney+ hit The Man­dalo­ri­an.
Pre­vi­ous recip­i­ents of the ASC Board of Gov­er­nors Award include Jeff Bridges, Angeli­na Jolie, Den­zel Wash­ing­ton, Rid­ley Scott, Bar­bra Streisand, Har­ri­son Ford, Julia Roberts, Christo­pher Nolan, Mor­gan Free­man, Fran­cis Ford Cop­po­la, Sal­ly Field, Ron Howard, Mar­tin Scors­ese and Steven Spiel­berg, among many others.
Source: ACS newslet­ter
ASC: newslet­ter