A dreamy, col­or­ful, sur­re­al film, "The Spring­time of My Life" is a com­e­dy fea­tur­ing two famous Ital­ian musi­cians. On var­i­ous sets in Sici­ly, DP Car­lo Rinal­di made exten­sive use of ARRI Orbiter lights.
DP Car­lo Rinal­di used the ARRI Orbiter exten­sive­ly to illu­mi­nate var­i­ous scenes
"The Spring­time of My Life" ("La pri­mav­era del­la mia vita") is direc­tor Zav­vo Nicolosi's debut fea­ture, star­ring Sicil­ian singers Colapesce and Dimarti­no. Cin­e­matog­ra­ph­er Car­lo Rinal­di has pre­vi­ous­ly col­lab­o­rat­ed with Francesco Bruno on the film "Everything's Gonna Be Alright" and the TV series "Every­thing Calls for Sal­va­tion." He also authored the cin­e­matog­ra­phy for the series "The King" and Pietro Castellitto's debut fea­ture "The Preda­tors." In this inter­view, he talks about using the Orbiter with pro­jec­tion optics and oth­er ARRI light­ing fix­tures on "The Spring­time of My Life."
What visu­al set­ting did you seek for "The Spring­time of My Life" with direc­tor Zav­vo Nicolosi?
Zav­vo shot all the music videos by Colapesce and Dimarti­no, so we were start­ing from the visu­al set­ting of those projects. Their video clips offer a very spe­cif­ic imagery: It's as if they live in a very par­tic­u­lar, some­what fairy world. The basic ref­er­ences were Wim Wen­ders' "Paris, Texas" and "Until the End of the World," films by Ari Kau­ris­mae­ki, and Wes Ander­son, with a lot of sym­met­ri­cal shots and a direc­tion com­posed of cuts, with­out long shots and big cam­era move­ments. Zav­vo also rec­om­mend­ed that I see David Byrne's "True Sto­ries," a film by a musi­cian-turned-direc­tor, all set in Texas. This project is very much about the land, but at the same time also about the music. These two aspects fit like a glove for "The Spring­time of My Life," a road movie in which Colapesce and Dimarti­no por­tray Sici­ly through a series of stages. The region becomes one of the pro­tag­o­nists of the sto­ry. In addi­tion, there is a very iron­ic and zany com­e­dy part that may remind view­ers of Rober­to Benigni's "Noth­ing Left to Do But Cry" or the Ital­ian com­e­dy duo Fran­co & Ciccio's films. A hys­ter­i­cal com­e­dy of the absurd with musi­cal per­for­mances, for exam­ple a song by Ital­ian rap­per Madame and one by Colapesce and Dimarti­no, inte­grat­ed with­in the film.
Sicil­ian singers Colapesce (r.) and Dimarti­no in "The Spring­time of My Life"
Did you encounter par­tic­u­lar tech­ni­cal difficulties?
The biggest chal­lenge was relat­ed to the film being a road movie. We only had 30 days of shoot­ing and we shot in a myr­i­ad of loca­tions, which were very beau­ti­ful by the way. The chal­lenge was to describe Sici­ly with­out mak­ing it look like a post­card. We shot in remote loca­tions such as bad­lands, beach­es, an island, or a boat. This led to sit­u­a­tions that were quite com­plex to man­age in terms of pro­duc­tion logis­tics and light­ing. The shoot took place in sum­mer, with very harsh light, and my approach was to go with the sit­u­a­tion, try­ing to soft­en that light in some­times remote land­scapes. When we went to the bad­lands I thought of west­ern set­tings, in the big fres­coed build­ings I thought of 19th-cen­tu­ry films. To cut it short: I was adapting.
What was your great­est accomplishment?
Cast­ing myself in the imagery of Colapesce and Dimarti­no. I keep say­ing that com­e­dy is not my genre, but over time I have dis­cov­ered that I am capa­ble of doing it. My projects, how­ev­er, are always some­what strange come­dies like Pietro Castel­lit­to's "The Preda­tors" or Francesco Bruni's "Everything's Gonna Be Alright." The ref­er­ences I men­tioned also gave me the oppor­tu­ni­ty to look at leg­endary cin­e­matog­ra­phers like Rob­by Mueller and Vit­to­rio Storaro, as well as to play a lot with col­or with­out hav­ing to be real­is­tic. There are almond trees in the film that emit a blue light, or caves lit in green like in "The X‑Files," so I was able to indulge in col­or. Because the shots were so defined, this was one of the very few projects where I also want­ed to be a cam­era oper­a­tor and cre­ate the fram­ing myself.
How did the choice of for­mat come about?
The choic­es of lens and cam­era orig­i­nat­ed from the for­mat. We want­ed it square and chose 1:66, a his­tor­i­cal for­mat that Stan­ley Kubrick, Bernar­do Bertoluc­ci, and Wong Kar-Wai used. It's a very nice for­mat, a rec­tan­gle, but not cin­e­mat­ic like Ser­gio Leone's. I want­ed a lit­tle space on top, I want­ed to see the ceil­ings, the skies, and in order to achieve that, I had to stay in the world of spher­i­cal lens­es. As a great lover of vin­tage lens­es, I chose a set of Cooke Panchro lens­es. Direc­tor Zav­vo Nicolosi as well as the pro­tag­o­nists Colapesce and Dimarti­no are attached to a cer­tain retro look; they love ana­log, and vin­tage expressed with cloth­ing, props, and visu­al style.
You made exten­sive use of ARRI Orbiter to light the film, how did that work?
I made choic­es that looked to the past, but also some that relat­ed to the future. I used ARRI Orbiters and ARRI Sky­Pan­els, a kit of LEDs that helped me so much to work on col­or, com­bined with clas­sic incan­des­cent, tung­sten fix­tures, such as the Jum­bo, pan­els that col­lect mul­ti­ple PAR lamps. They are very intense and gen­er­ate a lot of warm light. So I tried to com­bine these two worlds.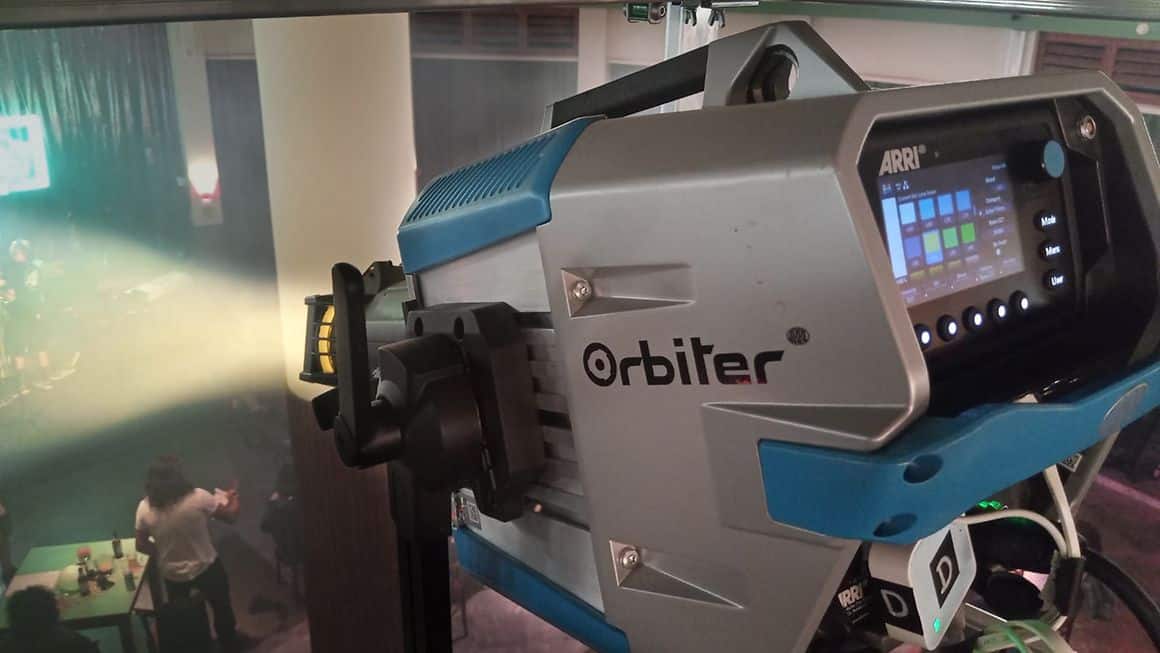 "The strength of ARRI Orbiter is cer­tain­ly its com­pata­bil­i­ty with oth­er LED pan­els," says DP Car­lo Rinaldi
What has been the added val­ue of the ARRI Orbiter?
The strength of the ARRI Orbiter is cer­tain­ly its com­pata­bil­i­ty with oth­er LED pan­els. The clas­sic LED pan­els are 60 or 120 cen­time­ters and make a soft light, per­haps even intense, but scat­tered. The strength of Orbiter, on the oth­er hand, is to cre­ate a con­cen­trat­ed, point-like light. The world of LEDs for cin­e­ma did not have this, but final­ly Orbiter offered me a LED that pro­duces a direc­tion­al light, a beam, to com­ple­ment the oth­er, more pop­u­lar lights. In addi­tion, its pecu­liar point light can be eas­i­ly trans­formed by con­nect­ing a dome or soft box to it, which oth­er LED pan­els can­not do. Anoth­er great advan­tage is that the Orbiter is part of an ARRI ecosys­tem in which you can select a par­tic­u­lar gel col­or that you can find iden­ti­cal on Sky­Pan­els as well.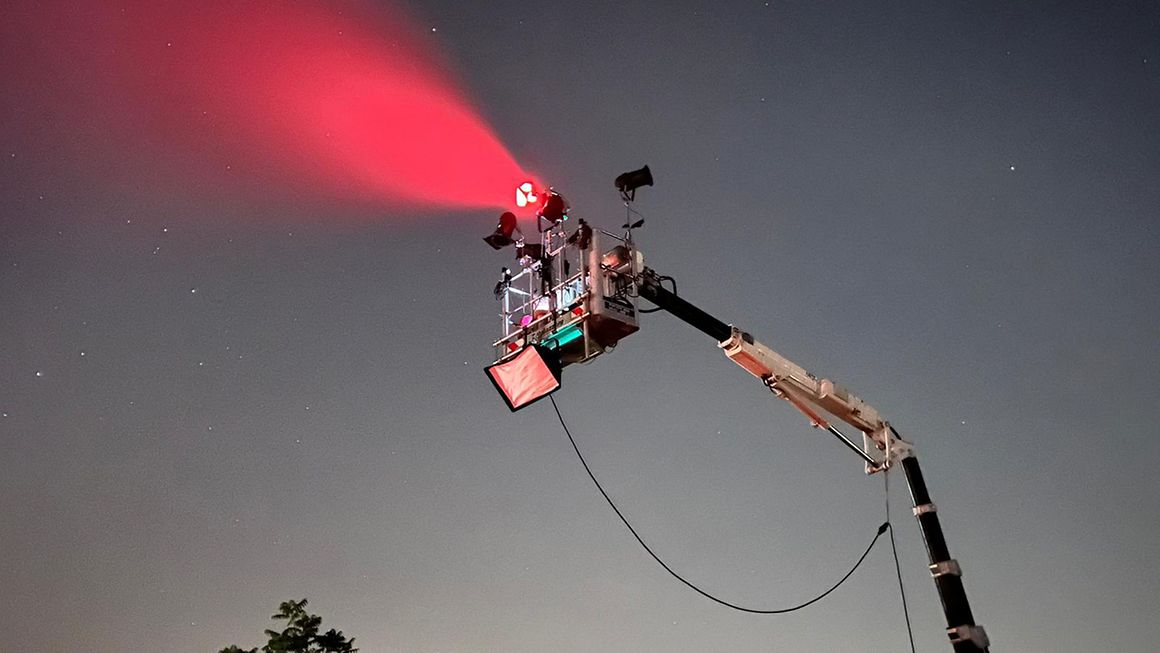 The ARRI Orbiter on a crane was cru­cial for a dream scene in "The Spring­time of My Life"
Is there a par­tic­u­lar scene in which ARRI Orbiter was very help­ful to you in achiev­ing the result you sought?
There is a dream scene in the film, a kind of vision of a mem­o­ry that Colapesce has after ingest­ing a hal­lu­cino­gen. It was orig­i­nal­ly sup­posed to be shot in black and white to be clear­ly detached from the rest of the film, which is quite col­or­ful. But then Zav­vo and the two pro­tag­o­nists were sor­ry to lose the col­or com­po­nent. I then pro­posed to do the scene in red and black, with pre­dom­i­nant­ly red light every­where. In the sequence he takes the hal­lu­cino­gen in one place, falls asleep, and wakes up in the same place, but at that point there is no one there. We're in the mid­dle of nature, he's bathed in red light, and the cam­era fol­lows him through a series of sit­u­a­tions linked togeth­er by a dol­ly or whip pan: You see him as a child, him with his dad, him with his ex-girl­friends, him at school with nuns. For this scene, the Orbiter was cru­cial: It was always the main light that cre­at­ed the cone of light on the actor, and around Orbiter, posi­tioned on a crane that went up to about thir­ty meters, there were Sky­Pan­els and PARs. I could cre­ate the same red col­or with all three tools and get a soft wash of red every­where, with indi­vid­ual spots on a char­ac­ter or spe­cif­ic set ele­ments. Anoth­er inter­est­ing scene in terms of light­ing was the one shot in a cave. It is an old water cis­tern on the island of Orti­gia, a huge, majes­tic place under a church, where we staged a kind of con­fer­ence of plot­ters. The whole cave was illu­mi­nat­ed with a dot of green. Orbiter illu­mi­nat­ed in direct back­light­ing, obscured by the char­ac­ter, with the podi­um and the speak­er seen from behind, cre­at­ing a green outline.