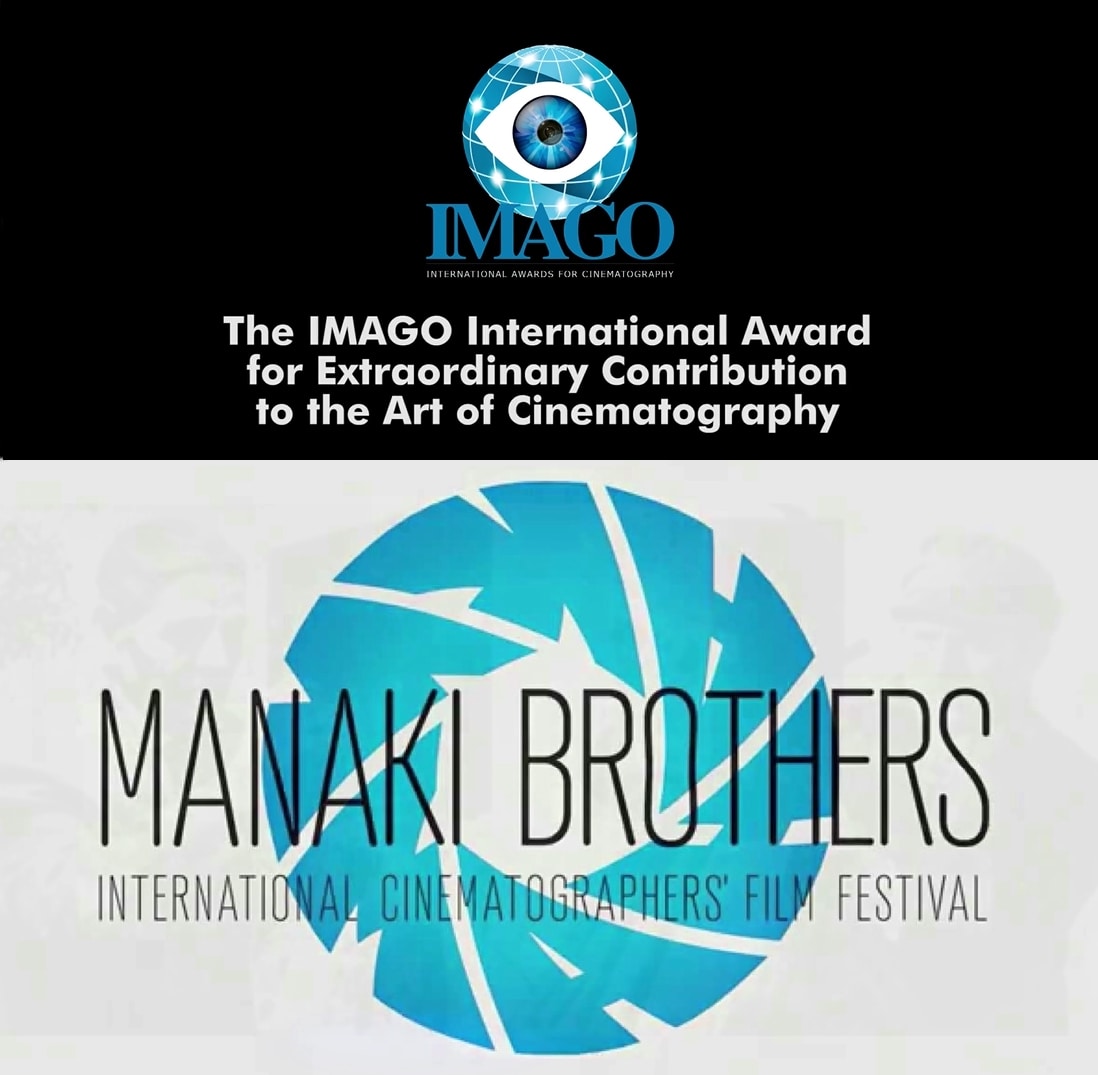 The sec­ond Ima­go Inter­na­tion­al Cinematographer's Award for extra­or­di­nary Con­tri­bu­tion to Cin­e­matog­ra­phy was award­ed in Bel­grade to the World's Old­est Fes­ti­val devot­ed to the Craft of Cin­e­matog­ra­phy, the Man­a­ki Broth­ers. It was a fit­ting trib­ute to the men and women who for forty years have worked so hard and estab­lish the Fes­ti­val Inter­na­tion­al­ly. The pre­sen­ta­tion was made to Gena Teo­dosievs­ka, Fes­ti­val Direc­tor and Blago­ja-Kunovs­ki ‑Dore Artis­tic Direc­tor by BSC Vice Pres­i­dent Nigel Walters.
The broth­ers Mil­ton and Yana­ki Man­a­ki could nev­er have imag­ined that their pio­neer­ing cin­e­matog­ra­phy through­out the Balka­ns could be so admired and respect­ed a hun­dred years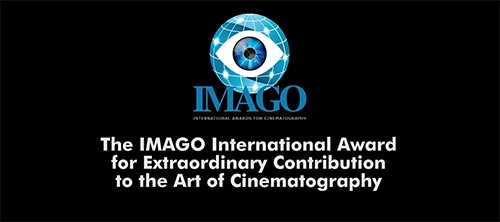 Video Trib­ute to the Fes­ti­val dur­ing the Awards Ceremony
lat­er. When they returned from Lon­don after pur­chas­ing the first Film cam­era in 1904 they became true pio­neers and trail blaz­ers for their new art. Work­ing as cin­e­matog­ra­phers to cap­ture the real­i­ty of Balkan life for pos­ter­i­ty they became the first film direc­tors and first film edi­tors. They were not inhib­it­ed by Pro­duc­ers or Asso­ciates, script edi­tors, film crit­ics, cos­tume or make-up super­vi­sors! The first cin­e­matog­ra­phers had free­dom to become the first film makers.
The Man­a­ki Fes­ti­val reminds cin­e­matog­ra­phers and film mak­ers through­out the world of the influ­ence and inspi­ra­tion which can be cap­tured through a cam­era lens. Film is the great art form of the 20th Cen­tu­ry and the ancient coun­try of North Mace­do­nia can be just­ly proud of the Man­a­ki Broth­ers and their his­tor­i­cal con­tri­bu­tion from the charm­ing Balkan city of Bitola.
Man­a­ki is much more than a Fes­ti­val: it has become an ide­ol­o­gy for all lovers of the mov­ing images and those cre­at­ing them stead­fast­ly from behind their cam­eras. The British names hon­oured in the list of great cin­e­matog­ra­phers such as Nyquist,Yusof,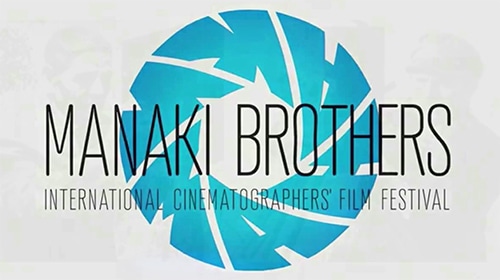 The Fes­ti­val cel­e­brates this year its 40th anniver­sary. ICFF MANAKI BROTHERS
will be held 14 – 21 Sep­tem­ber 2019, Bito­la Repub­lic of North Macedonia
Storaro,Coutard,Ondrocek,Zsigmond, Ball­haus, Alekan, John Seale, have includ­ed Fred­die Fran­cis, Bil­ly Williams. Peter Suschitzky, Chris Menges, Roger Pratt and in 2018 Roger Deakins. Fred­die Fran­cis always claimed it as his favourite Festival.
The Man­a­ki Fes­ti­val has become a Glob­al event. Thanks to the devo­tion to film of the ded­i­cat­ed direc­tors the Fes­ti­val has played an impor­tant role in dis­cov­er­ing and recog­nis­ing new and emerg­ing tal­ent in cinematography.
Six years ago, under the Fes­ti­val direc­tor­ship and encour­age­ment of Labi­na Mitevs­ka, the Fes­ti­val Direc­tor, Ima­go estab­lished the first Balkan Con­fer­ence of Cin­e­matog­ra­phers. With the sup­port, encour­age­ment and gen­eros­i­ty of Tomi Salkovs­ki, and the Mace­don­ian Pro­fes­sion­als Asso­ci­a­tion Ima­go brought togeth­er the Soci­eties of Greece, Ser­bia, Croa­t­ia, Slove­nia, Roma­nia, Bul­gar­ia and Mace­do­nia. They have been meet­ing in friend­ship and col­lab­o­ra­tion annu­al­ly ever since. The Mace­don­ian and Greek Soci­eties came clos­er, The Serbs assist­ed the estab­lish­ment of the small Soci­ety of Bosnia and Herze­gov­ina. The Bosn­ian Pres­i­dent Mustapha Mustaph­ic told the audi­ence in Bel­grade at the launch of his auto­bi­og­ra­phy that with­out the help of the Sloven­ian Soci­ety the pub­li­ca­tion would not have been pos­si­ble. The Slove­ni­ans for their part have estab­lished a Fes­ti­val of Balkan films annu­al­ly in Ljubl­jana. This epit­o­mizes the true Spir­it of Ima­go by bring­ing cin­e­matog­ra­phers togeth­er in friend­ship and co-oper­a­tion. None of this would have been pos­si­ble with­out the gen­eros­i­ty and vision of the organ­is­ers of the Man­a­ki Festival.
Ima­go as a non-prof­it organ­i­sa­tion run by unpaid vol­un­teers has ben­e­fit­ed great­ly from a long asso­ci­a­tion with this charm­ing Fes­ti­val. It rep­re­sents the very soul of film and cin­e­matog­ra­phy. Cin­e­matog­ra­phers every­where are grate­ful to North Mace­do­nia for com­mem­o­rat­ing the Broth­ers Mil­ton and Yana­ki for forty years and help­ing raise the stan­dards and aware­ness of the craft of cin­e­matog­ra­phy through­out the Balka­ns and the World.
David Nigel Wal­ters BSC
EXTRAS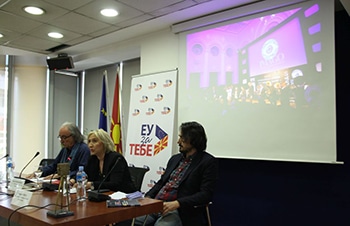 PRESS CONFERENCE AFTER RECEIVING THE AWARD
A grand acco­lade for ICFF "Man­a­ki Broth­ers" – The Cristal Eye of IMAGO
March 26, Skop­je – At today's press con­fer­ence, first for this year, devot­ed to the Inter­na­tion­al Cin­e­matog­ra­phers' Film Fes­ti­val "Man­a­ki Broth­ers", the fes­ti­val direc­tor Gena Teo­dosievs­ka informed the atten­dees of the grand acco­lade giv­en to the fes­ti­val – The Cristal Eye of IMAGO, an award giv­en to the fes­ti­val by the Inter­na­tion­al Cin­e­matog­ra­phers' Asso­ci­a­tion – IMAGO, for extra­or­di­nary con­tri­bu­tion to pro­mo­tion of film art.
"The sig­nif­i­cance of the awards of IMAGO is con­firmed by the fact that fol­low­ing their pre­sent­ing in Bel­grade last week, around 120 arti­cles in influ­en­tial dai­ly news­pa­pers in Europe, USA and Cana­da, more than 12.000 Face­book posts and 7.000 Insta­gram pic­tures were post­ed so far, only this past week. The pres­i­dents of every country's Nation­al sec­tion are shar­ing the awards of their col­leagues along with their views on the event this week.
READ MORE HERE: