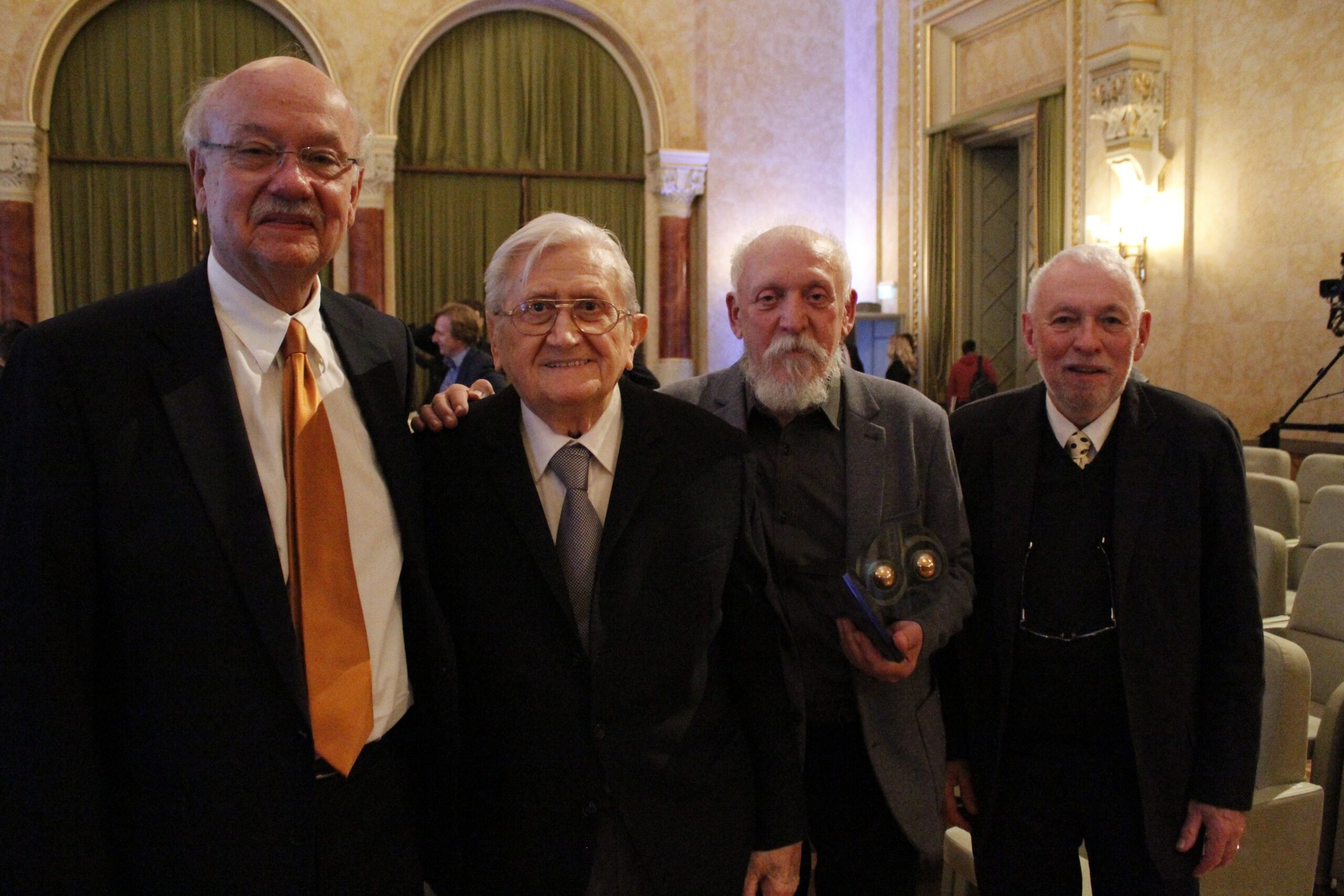 The way in which IMAGO lists "upcom­ing events" in the upper right hand cor­ner on their web­site, is some­thing I've always found very con­ve­nient. Ear­li­er this year I noticed there was to be a cin­e­matog­ra­pher's con­fer­ence and a cel­e­bra­tion of the 30th anniver­sary of the Hun­gar­i­an Soci­ety of cin­e­matog­ra­phers, the HSC, in Budapest in February.
The infor­ma­tion sort of lin­gered in the back of my mind after that. After all, some of the most mem­o­rable films from the sec­ond half of the 20th Cen­tu­ry were shot by Hun­gar­i­an cin­e­matog­ra­phers. But of course lots of things start­ed pil­ing up in front of me dur­ing the next few weeks, I had to focus on the imme­di­ate mat­ters at hand and the thought of the Hun­gar­i­an event grad­u­al­ly fad­ed from mem­o­ry. But then one day out of the blue came the ques­tion: "would you like to join the IMAGO del­e­ga­tion vis­it­ing Budapest in February?"
…I need­ed a full three sec­onds to make my mind up about that one…
And that's how almost a dozen of us IMAGO rep­re­sen­ta­tives found our­selves at the MMA Sec­re­tari­at, the Hun­gar­i­an Acad­e­my of Arts, in Budapest in the morn­ing of Feb­ru­ary 6th, for a round of lec­tures as part of the HSC cin­e­matog­ra­pher's conference.
Emil Novak opens up the pro­ceed­ings wel­com­ing every­one, and par­tic­u­lar­ly the rep­re­sen­ta­tives of IMAGO. In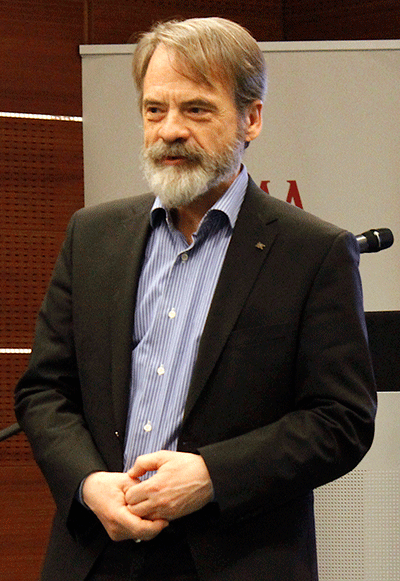 his open­ing speech, Mr Novak also express­es a wish, not entire­ly tongue in cheek, that the pow­ers that be would decide to shoot the next James Bond fea­ture in Budapest -"if they do, we'll be ready for them", he cheer­ful­ly rounds off, hand­ing over to the next speaker.
János Vec­sernyés HSC is respon­si­ble for the edu­ca­tion of cin­e­matog­ra­phers at the uni­ver­si­ty in Budapest and gives a speech on the con­di­tions of teach­ing cin­e­matog­ra­phy in Hun­gary. The Uni­ver­si­ty recent­ly applied for ‑and were grant­ed- funds so that the stu­dents can ded­i­cate an entire semes­ter to shoot­ing on 35mm film. Shoot­ing on film, the stu­dents are forced to have a pre­lim­i­nary image in their minds of what they want to achieve visually.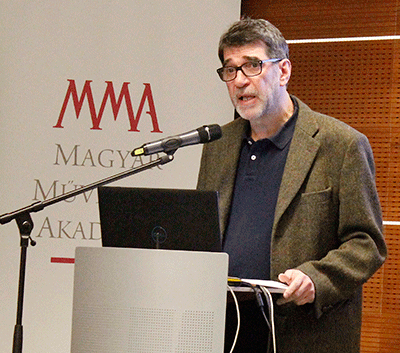 The Hun­gar­i­an cin­e­matog­ra­phy school began in the late 1940s. It's well known through­out the world and its Grand Old Man among teach­ers was nick­named "Uncle George".
By tra­di­tion rules are taught in cin­e­matog­ra­phy class­es, Mr Vec­sernyés explains, such as the neces­si­ty of estab­lish­ing shots at the begin­ning of a sequence, or the rules of screen direc­tion. But through­out his lec­ture Mr Vec­sernyés stress­es the impor­tance of well-edu­cat­ed cin­e­matog­ra­phy stu­dents hav­ing the knowl­edge to not only fol­low the rules, for the sake of clar­i­ty, but also to be able to break them for artis­tic reasons.
There's a direct con­nec­tion from Mr Vec­sernyés' lec­ture to the next speak­er, since Lás­zló Bille points to the excel­lent lev­el of edu­ca­tion of Hun­gar­i­an film crews as one expla­na­tion why Inter­na­tion­al film­mak­ing in Hun­gary is boom­ing right now. As an exam­ple, direc­tor Denis Vil­leneuve recent­ly shot "Blade Run­ner 2049" and "Dune" (last year) in Hun­gary.
Mr Bille knows what he's talk­ing about. He is a very much in demand cam­era oper­a­tor work­ing on big bud­get pro­duc­tions and he can per­son­al­ly vouch for the fact that Hun­gar­i­an crews are high­ly skilled.
But the advan­tages to shoot­ing in Hun­gary do not end there. Hun­gary is also finan­cial­ly attrac­tive to inter­na­tion­al pro­duc­tions, since through a rebate sys­tem up to 30 % of the mon­ey spent here can be refund­ed to the pro­duc­tion. There are also amaz­ing loca­tions, and Budapest can "stand in" for Berlin, Paris ‑even Lon­don if you chose your loca­tions care­ful­ly.
There are as many as 20 sound stages avail­able in Budapest, the major­i­ty of them are sound proofed and cli­ma­tized, many of them are quite large. Addi­tion­al­ly, Hun­gary being a part of the Euro­pean Union, bring­ing crews and equip­ment in is a breeze. Equip­ment can be flown in from Munich or Lon­don very swift­ly. Many of the Hun­gar­i­an stu­dios also have huge back lots. Korda's back lot has a big con­tem­po­rary New York set and at anoth­er facil­i­ty there is also a 19th cen­tu­ry New York set.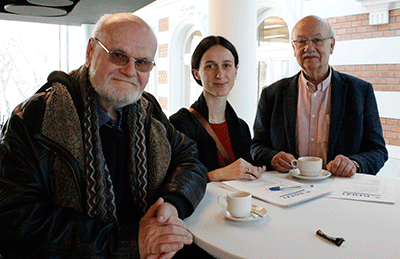 On the sub­ject of work­ing con­di­tions, though, there is no union in Hun­gary ‑which means there's no one to pro­tect Hun­gar­i­an crews from hor­ren­dous work­ing hours. For­eign pro­duc­ers just smile when they have to pay the fines for over­time on Hun­gar­i­an crews ‑it's peanuts for the pro­duc­tion. The pay for the Hun­gar­i­an crews is very good by local stan­dards and allows them a com­fort­able life in Hun­gary, but these salaries are low when com­pared to U.S. or U.K. salaries.
Big inter­na­tion­al pro­duc­tions usu­al­ly fly in their own key cre­ative per­son­el, such as DoPs, set design­ers, sound crew, etc, but use Hun­gar­i­an labour for every­thing "below the line". There are world class eng­lish speak­ing gaffers and oper­a­tors in Hun­gary, so there real­ly isn't any need to fly in these peo­ple from abroad.
Nigel Wal­ters BSC opens his pre­sen­ta­tion by con­fess­ing that he has been in love with Hun­gary since his child­hood. He was an avid stamp col­lec­tor and the Hun­gar­i­ans had the biggest, most artis­tic stamps of any nation. Years lat­er, when he was a young man, the Hun­gar­i­ans beat Eng­land spec­tac­u­lar­ly in foot­ball in 1954, and Nigel being Welsh was high­ly delight­ed by this.
But the sub­ject for Mr Wal­ters' speech this morn­ing is Work­ing Con­di­tions, and he feels that the sit­u­a­tion in that are­na for film and TV work­ers have dete­ri­o­rat­ed inter­na­tion­al­ly in the last few years to such a degree that imme­di­ate action is now required.
Mr Wal­ters stress­es the impor­tance of sol­i­dar­i­ty among film work­ers as well as the appli­ca­tion of laws and reg­u­la­tions as the way for­ward here. He also points to Den­mark being an Eldo­ra­do when it comes to work­ing con­di­tions on film sets. "The Danes have the best work­ing con­di­tions for the gen­er­al work force already in place", Mr Wal­ters asserts, "so per­haps small won­der that they have also man­aged to get the film pro­duc­tions run­ning smooth­ly and in an order­ly fash­ion. Den­mark is a shin­ing bea­con and a role mod­el for how to run film pro­duc­tions from a work­ing con­di­tions per­spec­tive. Anti social hours are remu­ner­at­ed by an addi­tion­al 50% extra for the first 2 hours, and a 100% for addi­tion­al hours. They also have right to roy­al­ties for their intel­lec­tu­al rights.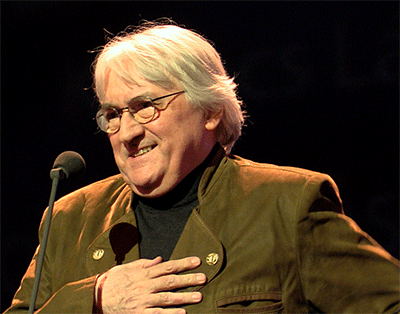 The Pres­i­dent of the HSC, Acad­e­my Award-nom­i­nat­ed Hun­gar­i­an
cin­e­matog­ra­ph­er and film direc­tor Lajos Koltai ASC HSC,
opens the Award ceremony
The DFF, the Dan­ish Cin­e­matog­ra­phers Soci­ety, was estab­lished in the 1950s, but the deci­sive moment was when the DFF joined the com­bined forces of the oth­er film work­ers includ­ing the direc­tors in the film work­ers asso­ci­a­tion, the FAF".
By com­par­i­son work­ing con­di­tions in the U.K. are not char­ac­ter­ized by sol­i­dar­i­ty. "It's every man for him­self with occa­sion­al sniper fire thrown in for good mea­sure", Mr Wal­ters offers. How­ev­er, he feels work­ing con­di­tions are slow­ly improv­ing in the U.K., par­tic­u­lar­ly at the high end of pro­duc­tions in TV and fea­tures, as pro­duc­ers real­ize that work­ing long hours is inef­fi­cient and counter pro­duc­tive. The dis­cus­sion on pay­ments in gen­er­al for U.K. film crews is under con­trol, but pay­ment for trav­el time to pro­duc­tion, prepa­ra­tion and wrap are par­tic­u­lar­ly dif­fi­cult sub­jects.
Mr Wal­ters sug­gests, as an exam­ple of a sen­si­ble state of affairs on U.K. pro­duc­tions, the fact that in Eng­land the grips are 100% sol­id union mem­bers. Any infringe­ment on agree­ments are report­ed secret­ly to the union who deal with the case with the production.
The most dire aspect of work­ing con­di­tions is of course that per­son­el occa­sion­al­ly are killed in acci­dents on set. "On a TV series in Ghana over three years ago, Mark Mil­some, one of our most respect­ed U.K. cam­era oper­a­tors was killed on a night shoot", Mr Wal­ters declares. He con­tin­ues to also describe a trag­ic acci­dent on an Amer­i­can pro­duc­tion where crew mem­ber Sarah Jones was trag­i­cal­ly killed due to pro­duc­tion delib­er­ate­ly ignor­ing safe­ty mea­sures. "Those respon­si­ble were sent to jail which in my opin­ion is the only sen­si­ble reac­tion to such gross mis­con­duct on behalf of the pro­duc­tion com­pa­ny".
Sad­ly, Spain has also expe­ri­enced dead­ly acci­dents on film sets late­ly. "One of Spains most respect­ed stunt dri­vers was killed in an acci­dent involv­ing a Russ­ian arm on a rac­ing cir­cuit in novem­ber 2019. The AEC are frus­trat­ed because of the lack of infor­ma­tion regard­ing the man­ner in which the stunt dri­ver was killed and five oth­ers injured. Unless you know the caus­es for these acci­dents noth­ing can be done to ensure the safe­ty of film work­ers in future productions".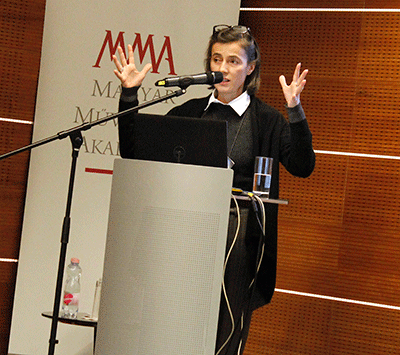 Mer­cedes Escher­er from Inter­face­Film has been lob­by­ing
for labour rights for free­lance work­ers in Europe for many years
Kurt Braz­da AAC is the chair­man of the IMAGO Work­ing Con­di­tions Com­mit­tee, and one of the focal points of his speech is the dilem­ma con­cern­ing the oppor­tu­ni­ties and threats inher­ent in dig­i­tal tech­nol­o­gy.
"Dig­i­tal­iza­tion has trans­formed the world like a tidal wave and will con­tin­ue to trans­form it even more than we can imag­ine. This devel­op­ment could lead to dig­i­tal slav­ery if we don't watch out", Mr Braz­da warns us. "Euro­pean law stip­u­lates that there must be an 11 hour rest peri­od from work each day, but 12 – 14 hour work­ing hours are not unusu­al in the Film and TV indus­try! Old­er crew mem­bers can­not endure such a strain and fall out of the race ear­ly on and you get a sort of "age racism" on film sets. It almost becomes impos­si­ble for younger crew mem­bers to start a fam­i­ly and the con­stant tired­ness caus­es seri­ous fail­ures and acci­dents on film sets. Mak­ing mat­ters worse, many work­ers in the Film and TV indus­try no longer dare ques­tion their work­ing envi­ron­ment.
The IMAGO work­ing con­di­tions com­mit­tee picked up a request from our Amer­i­can col­leagues on this mat­ter some time ago. In their "12 on-12 off" cam­paign they demand that a work­ing day should not exceed 12 hours. We in the IMAGO Work­ing Con­di­tions Com­mit­tee say "10 on 14 off", which cor­re­sponds to Euro­pean con­ven­tions and the EU Work­ing Time Direc­tive, which only allows 50 hours a week.
There is enor­mous cap­i­tal and great prof­its involved in the inter­na­tion­al audio­vi­su­al indus­try, so to claim that these work­ing hours are a nec­es­sary evil in order to econ­o­mize pro­duc­tion bud­gets sim­ply isn't true. The inter­na­tion­al audio­vi­su­al indus­try has an annu­al turnover of 150 Bil­lion Euros! The need for audio­vi­su­al con­tent is increas­ing rapid­ly, there­fore our work is cru­cial to achieve these huge turnovers.
Film­mak­ers –and espe­cial­ly cin­e­matog­ra­phers- must not give in to the bru­tal eco­nom­ic pres­sure but stand up for their rights togeth­er. An inter­na­tion­al asso­ci­a­tion such as IMAGO has a great oppor­tu­ni­ty to be the right plat­form for this task, there­by unit­ing thou­sands of cinematographers!
The film indus­try is a blue print for the future work­ing con­di­tions of the entire work force! Euro­pean film work­ers do not under­stand the impor­tance of sol­i­dar­i­ty among the work force, they are unaware of their rights. "Divide and Con­quer" was the max­im of the old Roman Emper­ors ‑it is up to us now to break this divi­sion! We need effec­tive unions, ensur­ing us the col­lec­tive bar­gain­ing pow­er which the sin­gle film work­er can nev­er muster. Sol­i­dar­i­ty is the mag­ic word here!
Dear friends, we are much stronger than we think we are, because if we real­ly act in sol­i­dar­i­ty, it is not a dream", Mr Braz­da concludes.
The last speak­er at the con­fer­ence is Mer­cedes Escher­er. Born in Tran­syl­va­nia, she is half Hun­gar­i­an and an actress by pro­fes­sion.
Mrs Escher­er cre­at­ed INTERFACE FILM in Aus­tria a few years back and with the help of this orga­ni­za­tion IMAGO man­aged to twice sub­mit to the Euro­pean Par­lia­ment a request, aim­ing to improve liv­ing and work­ing con­di­tions in the Euro­pean Film and TV industry.
Mrs Escher­er sug­gests that we as audio­vi­su­al artists should be more proud, since we are a finan­cial­ly impor­tant part of the Euro­pean econ­o­my, and as Euro­pean artists we are also a role mod­el for artists all over the world. There is a lack of com­mu­ni­ca­tion between the artists pro­duc­ing the intel­lec­tu­al prop­er­ty and the pol­i­cy­mak­ers who estab­lish the laws and reg­u­la­tions which rule the work­ing con­di­tions of these artists.
Mrs Escher­er fin­ish­es her lec­ture by ask­ing us to con­vey her love and regards to every­one at tomor­row's award cer­e­mo­ny, since she had just received a phone call requir­ing her to return to Vien­na already Thurs­day evening.
Thus end­ed the HSC Cin­e­matog­ra­phers' con­fer­ence. We had a few hours time off before join­ing forces once more that evening at the Men­za restau­rant for a tru­ly wonderful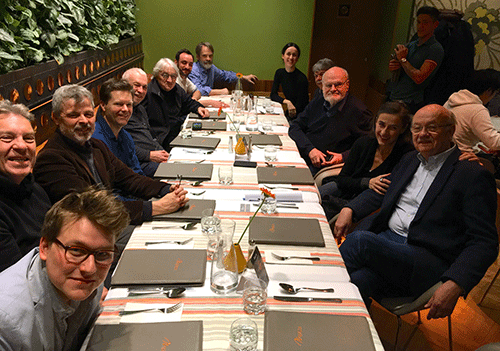 A great evening at the Men­za restau­rant. The young man in the low­er
left cor­ner is our won­der­ful guide David Mihá­lyi, who took such good
care of us dur­ing our stay in Budapest. Direct­ly behind David, in brown
jack­et, is del­e­gate Roger Simon­sz BSC, an invalu­able mem­ber of the IMAGO team.
gas­tro­nom­ic expe­ri­ence. The entré cours­es here were the size of an ordi­nary main course at your aver­age neigh­bor­hood restau­rant. All this laced with wine, beer ‑and the tra­di­tion­al Hun­gar­i­an schnaps: Palin­ka! At first impres­sion, this semi-lethal stuff appears to be some­thing akin to indus­tri­al-strength paint remover… but strange­ly, it tast­ed bet­ter and bet­ter as the evening continued!
Let it be said once and for all, that our stay as guests of the HSC was very com­fort­ably planned, allow­ing us almost all of Fri­day to our­selves as the HSC Awards Cer­e­mo­ny does not begin until 6 pm. Myself, nev­er hav­ing vis­it­ed Hun­gary before, was eager for some tak­ing in of the local sights. For­tu­nate­ly, there were one or two oth­ers in our par­ty who shared my sen­ti­ments, and Kurt Braz­da AAC, Supreme Com­man­der of the Aus­tri­an del­e­ga­tion, for­tu­nate­ly knows his way around Budapest as if it were his own "Hin­ter­tasche" and was kind enough to take us with him on a lit­tle sight­see­ing trip.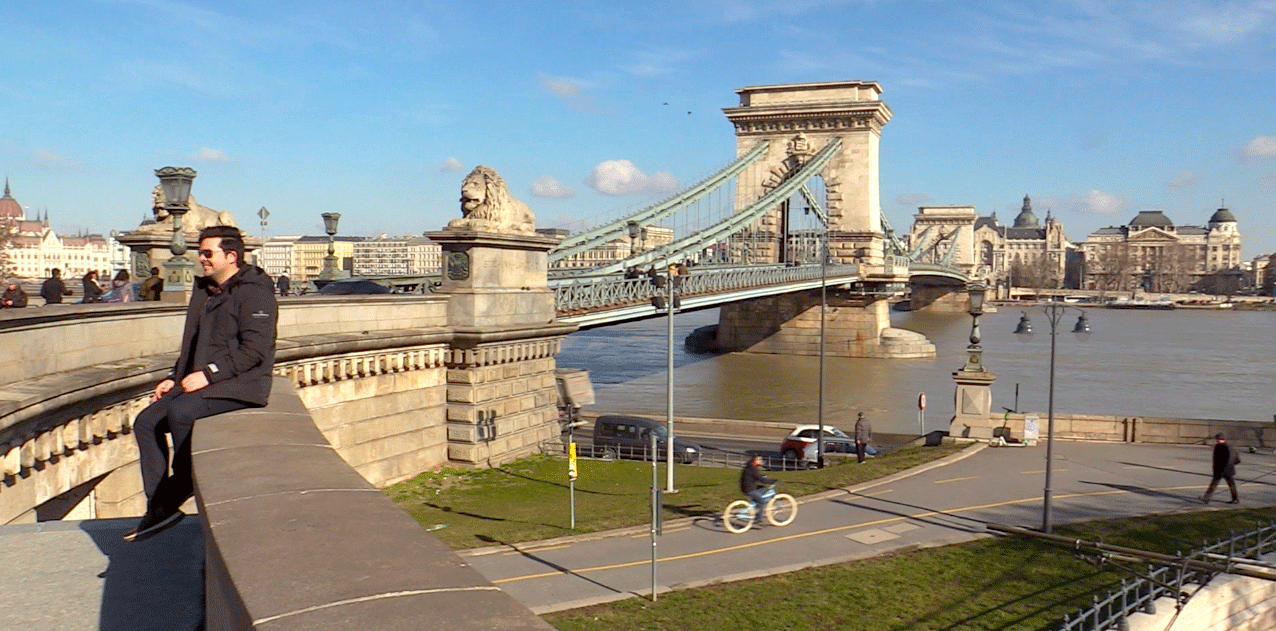 The Szechenyi Lanchíd bridge across the Danube
The mag­nif­i­cent city is bathing in sun­shine and those of us lucky enough to be in on this lit­tle excur­sion are treat­ed to a won­der­ful tour around the Hun­gar­i­an cap­i­tal. Kurt Braz­da is a schol­ar of ency­clo­pe­dic pro­por­tions when it comes to cul­tur­al his­to­ry, and he is the ide­al guide.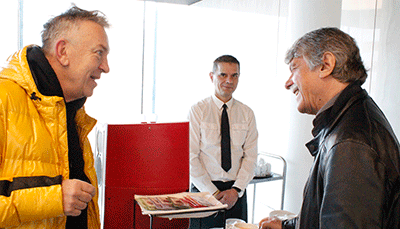 Pre­drag Bam­bic shares a joke with Rolf Coulanges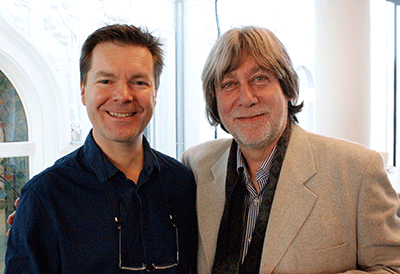 Old friends Alex Lindén and Lás­zló Bille
We begin by pass­ing the Szechenyi Lanchíd bridge, named after the Duke who had it built. Lanchíd means "chain bridge", we are informed, and this mag­nif­i­cent bridge was con­struct­ed in the 1840s. Cross­ing the bridge one can't help notic­ing that "Die Schöne Blaue Donau" unfor­tu­nate­ly isn't par­tic­u­lar­ly blue these days. Some purifi­ca­tion work will sure­ly have to be done in the near future… but that's a minor point on a day like this.
All the plains on both banks of the Danube offer extreme­ly fer­tile farm­land, so there's lit­tle won­der peo­ple have set­tled down here since ancient times. Budapest were orig­i­nal­ly two cities, Buda and Pest, sit­u­at­ed on both sides of the Danube. After the Turk­ish threat was neu­tral­ized, the great cities along the Danube: Vien­na, Bel­grade and Budapest became very beau­ti­ful. As the mil­i­tary for­ti­fi­ca­tions were no longer deemed nec­es­sary, a lot of effort was put into build­ing cas­tles and the gen­er­al beau­ti­fi­ca­tion of these cities.
We con­tin­ue up the moun­tain to the old city of Buda, with its spec­tac­u­lar archi­tec­ture. In the 1870s the two cities on both banks of the Danube merged into one, and the world-class view we are offered from here over the mod­ern city of Budapest reveals the fruition of that amal­ga­ma­tion. There is no short­age of breath­tak­ing panoram­ic vis­tas here. In fact it appears quite pos­si­ble Budapest is the real rea­son why Cin­e­mas­cope was orig­i­nal­ly invented!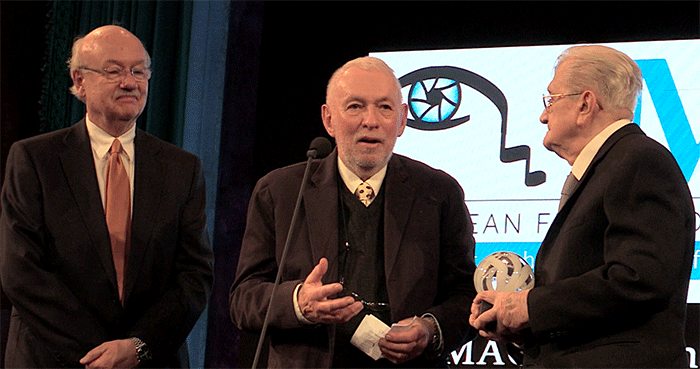 IMAGO Pres­i­dent Paul René Roes­tad FNF and for­mer IMAGO Pres­i­dent Nigel Wal­ters BSC present the IMAGO
Award to for­mer IMAGO Pres­i­dent Tibor Vagyóczky.
So, final­ly, at 6 pm it becomes time for the HSC Awards Cer­e­mo­ny, and we all gath­er at The Viga­do Con­cert Hall. If per­haps a shade to mod­ern here and there, in terms of sheer splen­dor and opu­lence the Viga­do could eas­i­ly have stood in for a Tsarist Russ­ian palace dur­ing the pro­duc­tion of Sergei Bondarchuck's leg­endary "War and Peace" (1967). This place has to be seen to be believed, it's a beau­ti­ful clas­si­cal build­ing at the riv­er Danube bank, with a spec­tac­u­lar view of Budapest's unique UNESCO World Her­itage sites.
Built in 1859 and bad­ly dam­aged in World War II, the Viga­do under­went a more than 30 year long painstak­ing recon­struc­tion, and today stands as a world class con­cert venue. The Viga­do Con­cert Hall is the sec­ond largest, but cer­tain­ly the most beau­ti­ful, con­cert hall in Budapest.
Walk­ing up the grand stair­case towards the actu­al con­cert hall, one almost feels one is attend­ing the Acad­e­my Awards in Hol­ly­wood, because the HSC have put on quite a show!
But one thing at a time, and before the Awards Cer­e­mo­ny first stop on the pro­gram is min­gling in the foy­er out­side the con­cert hall, where the cham­pagne is being served by a small army of wait­ers run­ning non­stop with trays of glass­es, filled from an osten­si­bly inex­haustible sup­ply of cham­pagne. Then we're seat­ed in the audi­to­ri­um, and the Awards Cer­e­mo­ny begins. For­mal­ly, the name of the event is the Lás­zló Kovács and Vil­mos Zsig­mond Cin­e­matog­ra­ph­er Com­pe­ti­tion, and it is held this year for the third time. The event is a col­lab­o­ra­tion between the HSC and the School of Hun­gar­i­an Cinematographers.
Acad­e­my Award-noi­mat­ed Hun­gar­i­an cin­e­matog­ra­ph­er and film direc­tor Lajos Koltai, ASC, HSC opens the pro­ceed­ings. Mr Koltai is per­haps best known for his work with leg­endary Hun­gar­i­an direc­tor István Szabó and Ital­ian film­mak­er Giuseppe Tornatore.
The beau­ti­ful HSC Life­time Achieve­ment Awards are then hand­ed over to Nyi­ka Janc­só HSC and András Sza­lai HSC, respec­tive­ly, before the time comes to what is of course a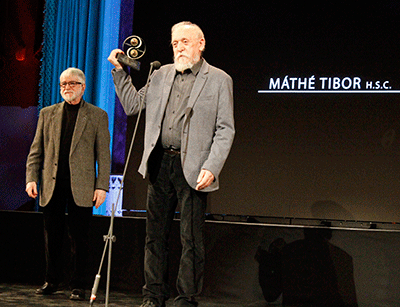 Tibor Máthé with his well deserved Life­time Award
spe­cial high­light of the evening for us in the IMAGO del­e­ga­tion. Tibor Vagyóczky, who was pres­i­dent of IMAGO from 2001 – 2003, will be the recip­i­ent of the IMAGO Award. Mr Vagyóczky will also be select­ed as the first Hun­gar­i­an hon­orary mem­ber of IMAGO.
IMAGO Pres­i­dent Paul René Roes­tad FNF and for­mer IMAGO Pres­i­dent Nigel Wal­ters BSC enter the stage and each give a short speech.
An amus­ing moment, much to the mirth of the audi­ence as well as every­one on stage, occurs when Mr Roes­tad at the begin­ning of his speech is baf­fled by the sud­den inter­rup­tion of the fas­tid­i­ous Hun­gar­i­an inter­preter! The show stops for a split sec­ond as every­one laughs hearti­ly, and after that the pro­ceed­ings move on seam­less­ly once we all get used to the for­mal­i­ty of paus­es for interpretation.
Messieurs Roes­tad and Wal­ters then hand over the award to mr Vagyóczky, who is notice­ably moved and gives a short accep­tance speech.
It must be admit­ted that our inter­preter, by the way, put in some almost super­hu­man work dur­ing our stay in Budapest! How any­one can trans­late that quick­ly between two so dis­sim­i­lar lan­guages like Hun­gar­i­an and Eng­lish is beyond me.
As the awards cer­e­mo­ny con­tin­ues, Tibor Máthé HSC receives a life­time award. Lás­zló Bille is also hon­oured. The win­ners in four cat­e­gories – fea­ture film, tele­vi­sion, documentary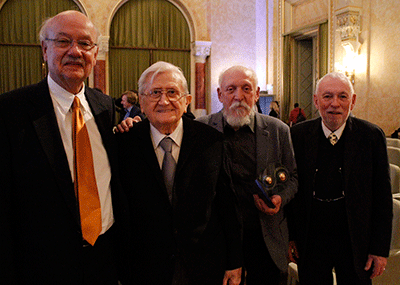 Paul René Roes­tad, Tibor Vagyóczky, Tibor Máthé and Nigel Walters
and short film- are also giv­en their prizes.
Through­out the cer­e­mo­ny I am struck by the dig­ni­ty, com­po­sure and mod­esty which the recip­i­ents ‑with­out excep­tion- all dis­play. Every­one accepts their awards with grat­i­tude and ‑this I found par­tic­u­lar­ly exem­plary- remem­bered to thank their teach­ers at the School of Hun­gar­i­an Cin­e­matog­ra­phers as well, for teach­ing them the craft in the first place.
When I men­tion being impressed by this to Nigel Wal­ters, he informs me that when Vil­mos Zsig­mond ASC HSC in 1977 picked up his Oscar for Steven Spiel­berg's "Close Encoun­ters of the Third Kind", he thanked "Uncle George", The Grand Old Man of Hun­gar­i­an cin­e­mato­graph­ic edu­ca­tion, who had ini­tial­ly taught him the craft.
Now that's a class act.
Lars Pet­ters­son FSF