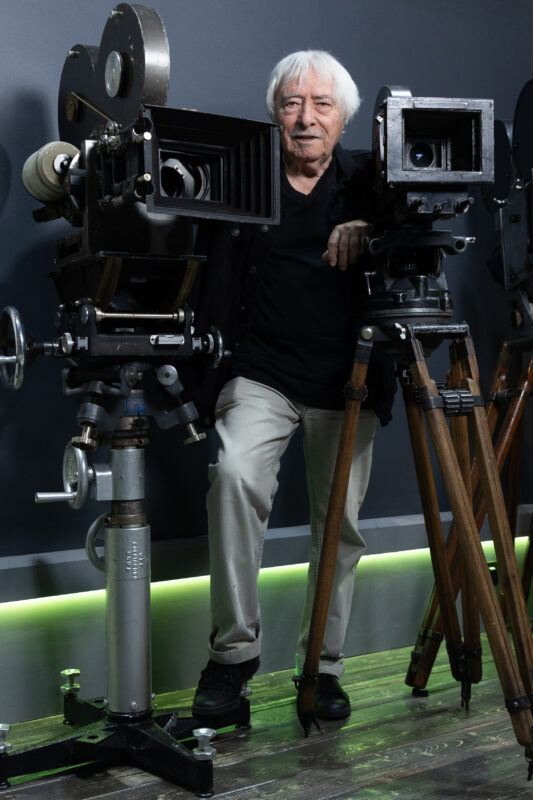 In 1992, there were two meetings, an initial informal one in June and a second official one in December, both at Cinecittà in the AIC headquarters, which led to the establishment of the European Federation of Associations of Cinematographers, also known as Directors of Photography or Authors of Cinematographic Photography.
It all started in the distant 1981 when I, with the collaboration of Gabriele Lucci and Anna Maria Ximenes, two teachers from Aquila, gave birth to the first INTERNATIONAL FESTIVAL DEDICATED TO CINEMATOGRAPHERS in this beautiful, picturesque city, about 100 km from Rome.
"UNA CITTA' IN CINEMA" (City in Cinema), as we baptized it, was truly a revolutionary event at the time, and has continued to resonate for a good 10 years. We invited a group of international Cinematographers, among them my dear friends Nestor Almendros and John Bailey who were with me from the beginning, and worked hard over the years, showcasing our craft through public, informative demonstrations on the streets of Aquila, day and night, indoors and outdoors, from dawn to dusk. Yes, we had created the first international festival where we, the Directors of Photography, were the protagonists. The Festival was an overwhelming success right from the first edition, to the point that "The American Cinematographer" sent its reporters twice.
At that time, the highly esteemed Manaki Brothers from Macedonia in Bitola already existed, since 1980, but unfortunately, it went somewhat unnoticed as it operated only at the national level.
In June 1992, our dear International Festival evolved into the International Academy of Cinema, with the decisive support of Vittorio Storaro. Still astonished by the extraordinary success of "Una Città in Cinema" over 10 years, I decided to revive an idea that had been brewing in my mind for years: to create a EUROPEAN FEDERATION OF CINEMATOGRAPHERS ASSOCIATIONS.
The numerous meetings in Aquila with my Italian and international colleagues in the preceding years had helped me mature the idea. And, seeing how online communication was progressing thanks to the electronic revolution, I imagined that it could be a useful means to realize my idea: to unite all European associations into a single FEDERATIVE NETWORK, perhaps contributing to creating new associations where they did not yet exist.
At that time, I was in my first term as president of the AIC and I decided to invite representatives from AFC/BSC and BVK to Rome. Thanks to the support of the Director of Kodak Italy, Tonino Carletti, we offered them a "creative" weekend, without revealing in advance, if not vaguely, the subject of the meeting.
I thought: Who would refuse a weekend in Rome in June? And so, for the first time, I, together with the Secretary-General of the AIC, Claudio Ragona, went to Fiumicino International Airport as official delegates to welcome colleagues from France, England, and Germany, just as we did every year during the Festival.
It was the first time in the history of cinema that an association of cinematographers went to pay homage and welcome a delegation formed by representatives of other associations to meet around a project that would design new modes of action and contribute to creating associations "from scratch," as was the case with Spain (AEC) and Belgium (SBC), both of which I personally encouraged and helped.
Naturally, I did not know how my colleagues would react to what was certainly a visionary and innovative proposal. I was counting on the surprise effect, and the effect was there.
The proposal was enthusiastically accepted by all those present at this first unofficial summer meeting. Unofficial, but decisive! Participants included Robert Alazraki, Armand Marco, and Carlo Varini from the French AFC, Harvey Harrison and Paul Beeson from the British BSC, Jost Vacano and Wolfgang Treu from the German BVK, Daniele Nannuzzi, Pino Pinori, Sergio Salvati, Claudio Ragona (the only one, given his position as Secretary-General of the AIC, who had some idea of the federative project), and of course, me.
My Italian colleagues were extremely surprised by my silence on the project up to that point. However, I did not want my project to dissipate prematurely without maturing, and, as I mentioned earlier, I counted on the element of surprise! I realized that the project addressed uncovered and sensitive points, so there was no need for extensive discussions. It was immediately decided to take action to create statutes and find a name for the nascent Federation.
The enthusiasm took a more concrete form with a meeting a few hours later at the "La Cascina" restaurant, overlooking Cinecittà, where participants toasted to the good fortune of this innovative enterprise called IMAGO, as proposed by our French, AFC colleagues.
And, in the euphoria of the moment, unfortunately, we forgot to take one of those classic group photos, and in this case, a TRULY HISTORIC one!
But we remembered to do so when, in the same year of 1992, precisely on December 13, we gathered again at Cinecittà. This photo is now known internationally and officially marks the birth of IMAGO. During this meeting, we formulated the statutes that we later filed in Paris in the following months. I found myself inaugurating the presidency of IMAGO, demonstrating that a project born in the mind of an individual makes sense only when shared, implemented, and carried forward with the contribution of others, becoming everyone's project.
Luciano Tovoli AIC ASC
---