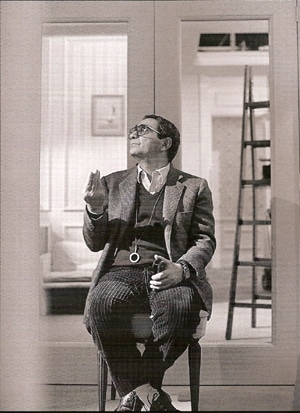 2008 – IMAGO trib­ute to Giuseppe Rotun­no, eDIT FILM FESTIVAL

Leg­endary Ital­ian cin­e­matog­ra­ph­er Giuseppe Rotun­no AIC (The Leop­ard, And the Ship Sails On) received the first award ever to be pre­sent­ed by, IMAGO.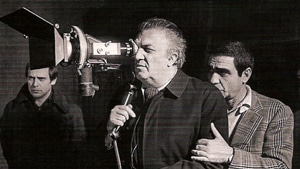 Rotun­no has worked with the two great Ital­ian direc­tors, Luchi­no Vis­con­ti and Fed­eri­co Fellini.
Although Rotun­no filmed his first fea­ture-length film under the direc­tion of Vis­con­ti ( White Nights ), he is much bet­ter known for his work with Fed­eri­co Felli­ni. Rotun­no's left his mark on such films direct­ed by Felli­ni as "City of Women", "And the Ship Sails On", and "Casano­va" in the metic­u­lous atten­tion he paid to lighting.
Rotun­no was nom­i­nat­ed for an Acad­e­my Award in 1979 for his work on the Amer­i­can fea­ture film "All that Jazz" , star­ring Jes­si­ca Lange and Roy Schei­der. The mul­ti-award-win­ning cin­e­matog­ra­ph­er has con­tributed to 77 film pro­duc­tions over the course of his career.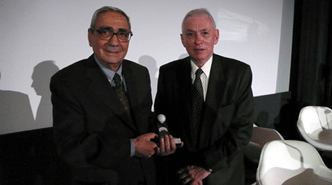 Giuseppe Rotun­no AIC lau­re­ate of IMAGO with trib­ute to his con­tri­bu­tion for cin­e­matog­ra­phy and Nigel Wal­ters pres­i­dent of IMAGO, liv­ing a great moment of joy.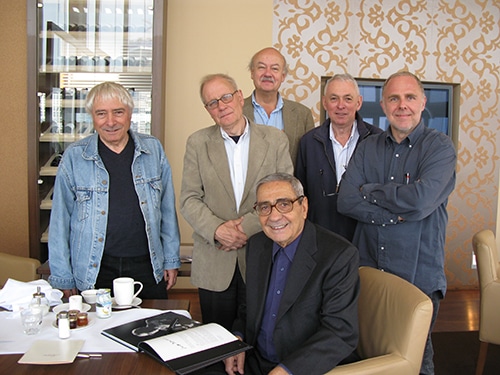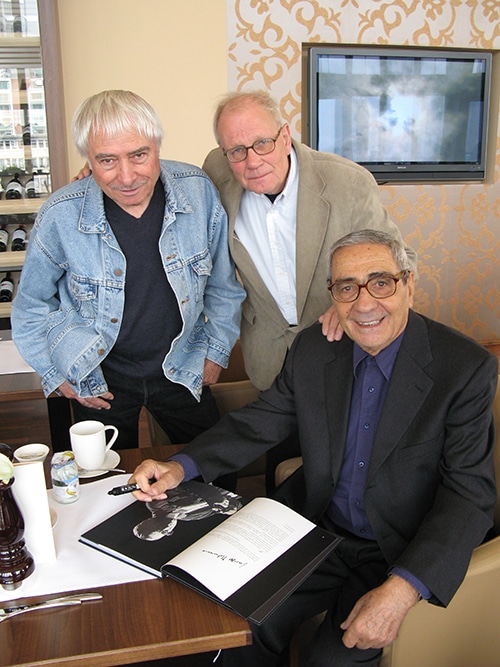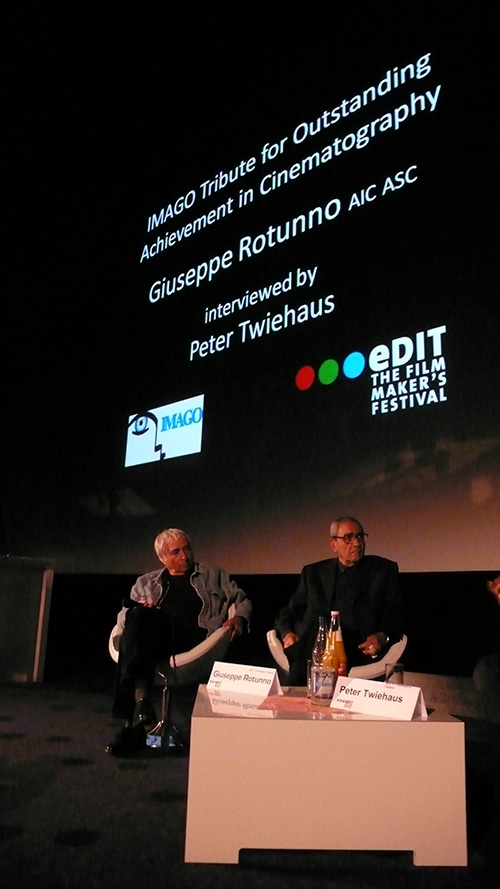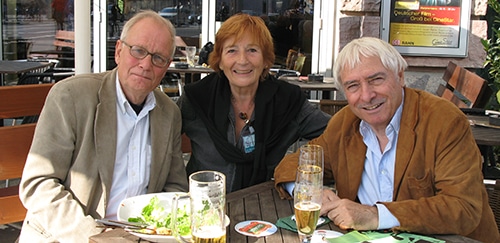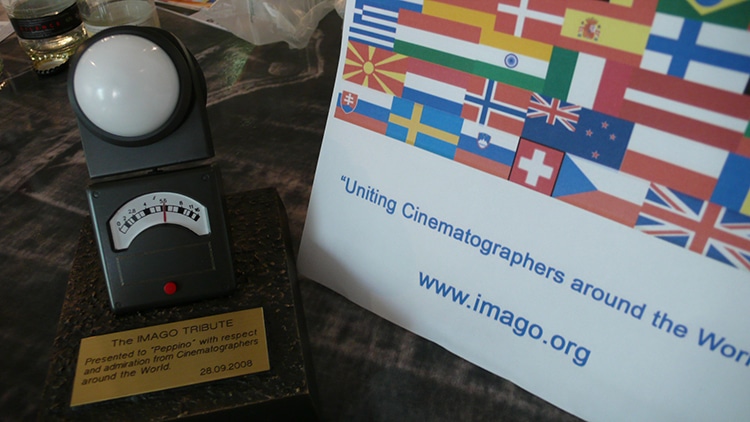 2017
– GIUSEPPE ROTUNNO AIC , LIFETIME ACHIEVEMENT AWARD, GOLDEN CAMERA 300
MANAKI FILM FESTIVAL will be hon­or­ing with the Gold­en Cam­era 300 for Life­time Achieve­ment Award to GIUSEPPE ROTUNNO AIC, as one of the mem­bers of the club of greats, and the great­est among the great cin­e­matog­ra­phers of Ital­ian and world cinema.
Giuseppe Rotun­no was born in 1923 in Rome. As a founder of post-war Ital­ian cin­e­ma which suc­ceed­ed Ital­ian neo­re­al­ism, Rotun­no has made a dozen of antho­log­i­cal films from, first and fore­most, Ital­ian cin­e­ma, main­ly work­ing in col­lab­o­ra­tion with the mas­ter direc­tor Fed­eri­co Felli­ni in one of the great­est and most effec­tive part­ner­ships in cin­e­ma history.
Their joint achieve­ments are: AMARCORD (1973) the mas­ter­piece which earned them the Acad­e­my Award for Best Film in a For­eign Lan­guage, a nos­tal­gic auto­bi­o­graph­i­cal rem­i­nisce of Fellini's birth­place – Rim­i­ni. Felli­ni wrote the script for Amar­cord togeth­er with his fel­low cit­i­zen Toni­no Guer­ra, while Rotun­no cre­at­ed the majes­tic visu­al atmos­phere of the town on the Adri­at­ic coast. Pre­vi­ous­ly, togeth­er with Felli­ni they also made FELLINI SATIRIKON (1696) and then E IL CASANOVA DI FELLINI (1976), ORCHESTRA REHEARSAL (1978), LA CITTA DEL DONNE (1980), and after­wards EL NAVE VA (1983). In 1996, togeth­er with the cre­ator of the Ital­ian neo-hor­ror sus­pense, the direc­tor Dario Argen­to, Rotun­no made the THE STENDHAL SYNDROME.
Rotun­no had his first post-war col­lab­o­ra­tion with a promi­nent Ital­ian direc­tor in 1955, with the film SCANDAL IN SORRENTO by Dino Rossi. Then, in this ear­ly peri­od, two years lat­er, in 1957 he shot LE NOTTI BIANCHE by Luchi­no Vis­con­ti, and pro­ceed­ed to pho­to­graph two more of his antho­log­i­cal films – ROCCO AND HIS BROTHERS and IL GATOPARDO/THE LEOPRAD in 1960 and 1963 respec­tive­ly. Pre­vi­ous­ly, in 1959 he shot the also antho­log­i­cal LA GRANDE GUERRA, by anoth­er mas­ter direc­tor Mario Monichel­li with the great act­ing tan­dem – Gassman – Sordi.
Rotun­no has also achieved notable col­lab­o­ra­tion with promi­nent for­eign direc­tors, work­ing as a cin­e­matog­ra­ph­er of excep­tion­al­ly impor­tant films of world cinema:
CARNAL KNOWLEDGE (1971) and WOLF (1994) by Mike Nichols, fol­lowed by the award-win­ning THE ADVENTURES OF BARON MUNCHAUSEN by the Mon­ty-Python cre­ator Ter­ry Gilliam. His peak in the col­lab­o­ra­tion with non-Ital­ian direc­tors is the Acad­e­my Award win­ner ALL THAT JAZZ by direc­tor Bob Foss.
Due to his age (he is 94 years old), Giusepe Rotun­no will not be able to phys­i­cal­ly attend the cer­e­mo­ny in Bito­la and be pre­sent­ed with the Great Gold­en Cam­era 300 for Life­time Achieve­ment, which is why we are going to hand it to him in Rome, in his home which he shares with his love­ly spouse.
Blago­ja Kunovs­ki – Dore
Direc­tor of the Cin­e­matog­ra­phers' Film Fes­ti­val "Man­a­ki Brothers"