Tak­ing in con­sid­er­a­tion the remarks received from the atten­dees about the Teach­ing Cin­e­matog­ra­phy Con­fer­ence we can con­sid­er it was a great suc­cess. In fact, for the orga­ni­za­tion the most opti­mistic expec­ta­tions were clear­ly over­come. When the IMAGO Edu­ca­tion Com­mit­tee began prepa­ra­tions and plan­ning for the con­fer­ence it was esti­mat­ed that we could have around 40 atten­dees or maybe we could have as max­i­mum up to 50. But it end­ed up by hav­ing 120 atten­dees from 30 dif­fer­ent coun­tries and some came as far as Aus­tralia, Sau­di Ara­bia and South Africa.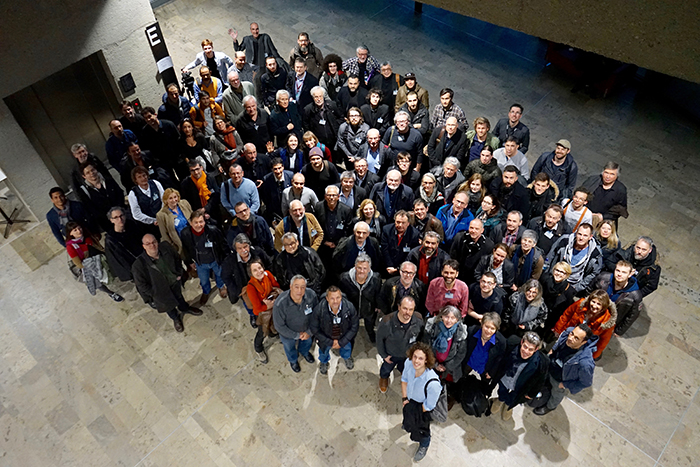 The suc­cess can­not be majored only for the num­ber of atten­dees. The qual­i­ty of the key speak­ers, the pre­sen­ta­tions, the round table dis­cus­sions the inten­sive pro­gram enriched con­sid­er­ably the event.
The high­ly num­ber of atten­dees prove that the sub­ject mat­ter of teach­ing cin­e­matog­ra­phy is an actu­al con­cern for schools, teach­ers and cin­e­matog­ra­phers in gen­er­al. The IMAGO Edu­ca­tion Com­mit­tee was right in orga­niz­ing such an event. It proved that the top­ic is still a mat­ter of con­cern even after one decade passed from the dig­i­tal cin­e­ma acqui­si­tion rev­o­lu­tion. The rev­o­lu­tion­ary RED One which appeared in the park­ing lot in Las Vegas dur­ing NAB in 2006 still deploys some pas­sion­ate dis­cus­sions between those who defend film ver­sus digital.
Stephen Lighthill, ASC, AFI
The edu­ca­tion method has swing quite a few degrees not to say that swung 180 degrees. The clas­sic method of edu­cat­ing cin­e­matog­ra­phy by teach­ing to stu­dents' skills to manip­u­late cam­eras, mag­a­zines, film stock, expo­sure, should have now a dif­fer­ent approach. The image is direct­ly on a dis­play. This fact makes quite a great dif­fer­ence. Appar­ent­ly gives an over­all sen­sa­tion that there is lack of dis­ci­pline and com­mit­ment to learn. More dis­ci­pline should be imple­ment­ed and new tools must be thought like expo­sure read­ing devices like wave­forms and false colour sys­tems, like Stephen Lighthill ASC, teacher of the AFI (Amer­i­can Film Insti­tute) has accen­tu­at­ed in his presentation.
But there is the oth­er side of the coin, how to impose more dis­ci­pline when there is com­ing a lot of oth­er nar­ra­tive tools to be explored and should not be at all con­trolled by any con­straint of pro­ce­dures? Ilse Schoonekapp VUB (Vri­je Uni­ver­siteit Brus­sel ) pre­sent­ed a role of new tools from Vir­tu­al Real­i­ty, 360 degrees image cap­ture, video walls, a whole bunch of equip­ment put in the mar­ket dai­ly from man­u­fac­tur­ers, bring­ing cer­tain­ly a new vision for film mak­ers of the XXI cen­tu­ry. Schoonekapp in her pre­sen­ta­tion has called for the atten­tion of the schools and teach­ers for the emerg­ing tools which we do not yet know what to do it with it and where does it take us. Cer­tain­ly, to a dif­fer­ent step. Clas­sic nar­ra­tive maybe is not applied with the new tech­nolo­gies a new think­ing an approach should be explored plus a new under­stand­ing of the var­i­ous plat­forms of dis­tri­b­u­tion
This leads for exam­ple to the Game indus­try. In words of Yuri Neu­man GCI (Glob­al Cin­e­matog­ra­phy Insti­tute) «cin­e­matog­ra­phy for games is a grow­ing indus­try for cin­e­matog­ra­phers». The game indus­try the con­cept of each of the plat­forms are get­ting more real­is­tic day by day which demands an expert of light design, light direc­tion, mood, con­cept, to give it a sen­sa­tion of real­i­ty and the vol­u­met­ric weight need­ed for the game. To become a cin­e­matog­ra­ph­er in the game indus­try a nec­es­sary knowl­edge of many tools today avail­able are cru­cial for the future. A great knowl­edge of the VR, 360 degrees' tech­nique are a must for the game cinematographer.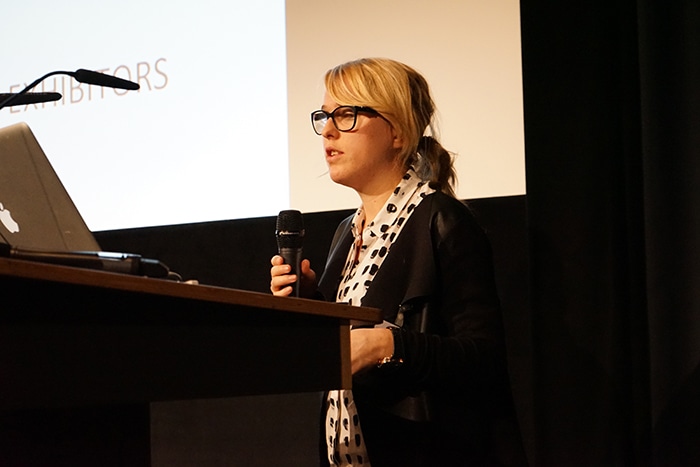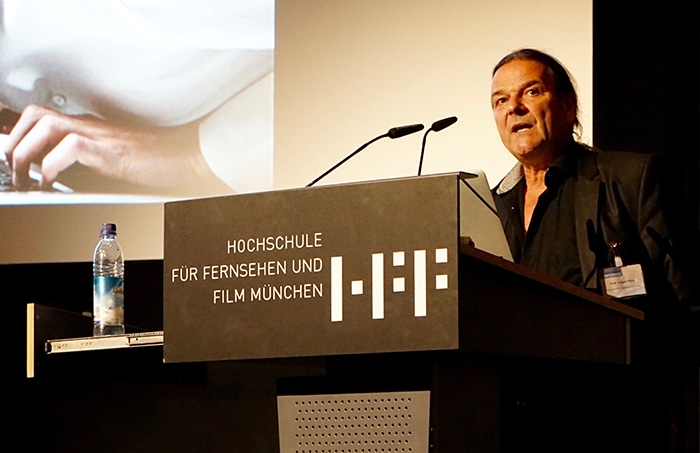 From top to bot­tom: Ilse Schoonekapp VUB (Vri­je Uni­ver­siteit
Brus­sel )Yuri Neu­man GCI (Glob­al Cin­e­matog­ra­phy Insti­tute)
Prof. Ludger Pfanz HFG/ZKM
Prof. Peter Slan­sky HFF host of the Con­fer­ence has giv­en a pre­sen­ta­tion about teach­ing stu­dents to look at the tech­nique with more care and accu­ra­cy. Slan­sky pre­sent­ed him­self like being maybe the only one tech­ni­cian pro­fes­sor in the cin­e­matog­ra­phy depart­ment in film schools which with­out being him­self a cin­e­matog­ra­ph­er. He made note of it. Test­ing equip­ment to its poten­tial is a task that should be taught.
Phillippe Ros AFC has pre­sent­ed along with Rolf Coulanges BVK both mem­bers of the CCTV IMAGO Com­mit­tee a series of tests of the SONY F55 cam­era with dif­fer­ent logs. In an exer­cise that can be an exam­ple con­duct­ed by and for students.
With a dif­fer­ent approach cin­e­matog­ra­ph­er Peter Zeitlinger BVK, ASC, showed some of his own cre­ative exam­ples used on films where imag­i­na­tion and cre­ative tools were applied in low bud­get films. The com­mit­ment of the stu­dent to exer­cise his imag­i­na­tion apply­ing solu­tions to cre­ate inno­v­a­tive images with­out using only what is avail­able in the mar­ket. The stu­dent must go fur­ther than the com­mon idea to resolve the prob­lem in post. In fact, Zeitlinger showed how inter­est­ing the cin­e­matog­ra­phy pro­fes­sion can be, when using imag­i­na­tion to cre­ate artis­tic images.
In the same token in a very pas­sion­ate pre­sen­ta­tion Prof. Ludger Pfanz HFG/ZKM demon­strat­ed how wide are the options now with the new tech­nolo­gies like VR and 360 degrees to be cre­ative and pas­sion­ate to tell sto­ries, but not only sto­ries, but as well con­tent with mean­ing. Unlike putting restric­tions is bet­ter to give free­dom to cre­ate.
Charles Poyn­ton the HD sci­en­tist was clear by advis­ing that to take up the out­most of a video sig­nal (col­or) is to cap­ture an entire orig­i­nal image and treat it lat­er in the pipeline. It was also clear that to have a prop­er ter­mi­nol­o­gy for video treat­ment is essen­tial for the industry.
Dr. Steur­er (ARRI) has showed how far com­pu­ta­tion­al Imag­ing and Light­field pho­tog­ra­phy
Mar­ijke van Kets SBC. NTU-ADM and the duo Prof. Ste­fan Grandinet­ti (BVK, HDM) and Jan Frol­ich showed that the impor­tance of involv­ing stu­dents with exper­i­ments and PhD exer­cis­es. Kets, showed how impor­tant is to use a lens to express a spe­cif­ic feel­ing and Grandinet­ti the tech­ni­cal exper­i­ment of HDR and all its procedures.
There were sev­en round tables dis­cussing dif­fer­ent top­ics. As soon as pos­si­ble IMAGO will present the dif­fer­ent results and pub­lish here:
1• Cin­e­ma and Author­ship
2• Doc­u­men­tary Cin­e­matog­ra­phy – new tech­nolo­gies, new role of the DOP?
3• Shoot­ing, post pro­duc­tion & the prop­er bal­ance for cre­ation in cin­e­matog­ra­phy –
4• Edu­cat­ing the eye
5• Cin­e­matog­ra­ph­er and Direc­tor: How do we ini­ti­ate the team­work?
6• "Expand­ed Cin­e­matog­ra­phy"® Pro­grams as a Method of Edu­ca­tion of Mod­ern Cin­e­matog­ra­phers
7• Colour Grad­ing – a Must-learn for future DOPs?
In con­clu­sion, the con­fer­ence seemed to be short. The atten­dees would like to have more top­ics, to dis­cuss in more round tables, to get more speak­ers in one word even being so tired the audi­ence want­ed more so IMAGO and its Edu­ca­tion Com­mit­tee con­sid­ers to orga­nize anoth­er one in the future.
By Tony Costa
| | | |
| --- | --- | --- |
| | | |
| Charles Poyn­ton | Phillippe Ros AFC Rolf Coulanges BVK the CCTV IMAGO Committee | Bir­git Gud­jons­dot­tir BVK.IKS and Dirk Meier colorist |
| | | |
| --- | --- | --- |
| | | |
| Prof. Ste­fan Grandinet­ti (BVK, HDM) | Mar­ijke van Kets SBC. NTU-ADM | The hosts Tony Cos­ta IMAGO and Prof. Peter Slan­sky HFF |
Round Table Dis­cus­sion «Edu­cat­ing the Eye» mod­er­at­ed by
Kurt Braz­da AAC and Gabriel­la Reisinger AAC
A sur­prise num­ber of atten­dees, 120
The orga­niz­ers, Tony Cos­ta aip, ULHT; Gen­er­al Man­ag­er Katrin Richthofer; Jean-Paul Jar­ry and Prof. Peter Slan­sky HFF
PHOTOS by Paul Rene Roes­tad IMAGO President