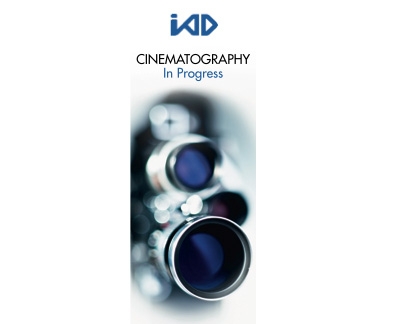 Report by our coleagues from Aus­tralia ACS whi have attend­ed the Conference.
Con­fer­ence Report; Bel­gium 2014 by Ash­ley Bar­ron & Andrew Hyde for ACS Aus­tralia
Cin­e­matog­ra­phers, pro­fes­sors and teach­es from across Europe and beyond gath­ered in Bel­gium on Novem­ber 27th for the 1st Cin­e­matog­ra­phy in Progress con­fer­ence, pre­sent­ed by IMAGO, the Soci­ety of Bel­gium Cin­e­matog­ra­phers SBC and IAD. The two day con­fer­ence and work­shop was con­vened to dis­cuss cur­rent trends in cin­e­matog­ra­phy, with a par­tic­u­lar empha­sis on the future direc­tion of uni­ver­sal teach­ing meth­ods of the craft.

Film schools from across Europe were well rep­re­sent­ed with del­e­gates attend­ing from the UK, Fin­land, Roma­nia, and right across West­ern Europe and as far a field as Sin­ga­pore. The ACS was rep­re­sent­ed by Syd­ney based cin­e­matog­ra­ph­er Ash­ley Bar­ron and NT Branch Pres­i­dent Andrew Hyde, while NSW ACS mem­ber Marc Swadel attend­ed on behalf of the New Zealand Soci­ety of Cin­e­matog­ra­phers (NZCS).

Mar­ijke Van Kets SBC con­duct­ing the works dur­ing the conference.
Five work­shops took place on the open­ing day in the delight­ful sur­rounds of Lou­vain-la-Neuve, a uni­ver­si­ty town, nes­tled in the Bel­gium woods, a thir­ty minute train ride from Brus­sels. Dis­cus­sion top­ics includ­ed Cam­era Tech­nol­o­gy, dig­i­tal work­flow & sen­sit­o­m­e­try, colour cor­rec­tion & grad­ing, cin­e­matog­ra­phy for visu­al effects and using the mon­i­tor for aes­thet­ic ren­der­ing control.
Round Table Debate on the influ­ence of var­i­ous new tech­nolo­gies in the "teach­ing of cin­e­matog­ra­phy".
Five work­shops were held with top­ics sub­jects list­ed below:
Cam­era Tech­nol­o­gy work­shop
Dig­i­tal Sen­sit­o­m­e­try and Work­flow work­shop
Col­or Cor­rec­tion and Grad­ing work­shop
Cin­e­matog­ra­phy for VFX work­shop
From Mon­i­tor­ing to cin­e­matog­ra­phy workshop
The over­all theme was cur­rent trends in cin­e­matog­ra­phy and how this should be applied to future teach­ing in film school and oth­er edu­ca­tion­al facil­i­ties. There was over­whelm­ing agree­ment that tra­di­tion­al tech­nique, includ­ing strong focus on the use of film, should remain a pri­or­i­ty. It was wide­ly dis­cussed that that the "devel­op­ment of the eye", film his­to­ry, the study of art his­to­ry and tra­di­tion­al teach­ing in the use of the light meter and oth­er estab­lished tech­niques remain essen­tial, along­side the teach­ing of dig­i­tal work­flow and oth­er more recent devel­op­ments in the dig­i­tal domain.
The pas­sion for the con­tin­ued use and teach­ing of film, along­side dig­i­tal, was over­whelm­ing, indeed one film school in Roma­nia still has a lab on cam­pus. Del­e­gates spoke con­sis­tent­ly about the need to keep film alive in the teach­ing insti­tu­tions. There was also a strong focus on the need for stu­dents to be taught "lead­er­ship in the dig­i­tal work­flow" while pri­ori­tis­ing the train­ing of the eye and the cre­ation of the frame.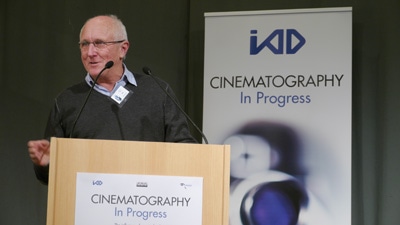 Willy Stassen Pres­i­dent SBC giv­ing the wel­come speech
The main result of the Dig­i­tal Sen­sit­o­m­e­try and Work­flow ses­sion was that the entire work­flow from test­ing to pro­jec­tion should be taught and that the knowl­edge of how to test that entire work­flow is imper­a­tive to keep the pow­er in the cin­e­matog­ra­pher's hands. In addi­tion, the means and chal­lenges of keep­ing Dig­i­tal Sen­sit­o­m­e­try con­tex­tu­al and impor­tant in the eye of the stu­dent. Final­ly there was the impor­tance in main­taing all of the cam­era crew roles, with lat­est trends push­ing the 2nd AC out.
Cin­e­matog­ra­phy for VFX seemed an 'inter­est­ing' sub­ject, with many unable to answer the few ques­tions we were look­ing to answer about its edu­ca­tion. Most seem of the belief that only green+blue screen work should be taught briefly but any­thing fur­ther should be an elec­tive as most feel there is no time to go beyond, nor too rel­e­vant in the greater scheme of things. FX guru & Ima­go Tech­ni­cal Com­mit­tee Chair; Köm­mer Klein pro­pos­es, and prac­tices, a 12 – 25hr work­shop where an intro is taught with par­tic­u­lar empha­sis on the var­i­ous roles in the VFX world so that cin­e­matog­ra­phers can be equipped with the knowl­edge of which spe­cial­ist to turn to in the time of the pro­jec­t's need. A top­ic to be dis­cussed for much time to come. Inter­est­ing indeed, but per­haps some­thing we could con­sid­er intro­duc­ing here with some priority.
Spe­cial Guests includ­ed Serge Flamé Directeur IAD,
Willy Stassen Pres­i­dent SBC and Louis Philippe Capelle IMAGO.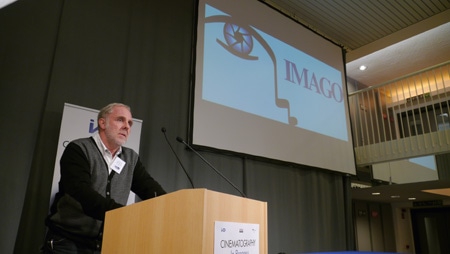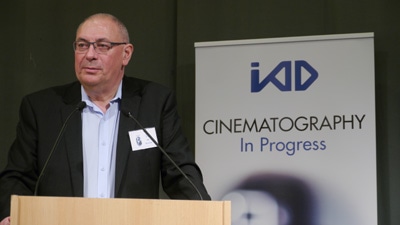 Louis Philippe Capelle SBC IMAGO Gen­er­al Sec­re­tary and Serge Flamé Direc­tor IAD (Insti­tut des Arts de Diffusion)
The Cam­era Tech­nol­o­gy Work­shop was dom­i­nat­ed by dis­cus­sion about the real­i­ty of con­tin­u­ing to teach using film, how to teach cam­era assis­tants and how best to teach the test­ing of optics and fil­ters. It's was agreed that while the teach­ing of film and tra­di­tion­al tech­nique was essen­tial there was also an oblig­a­tion to pre­pare stu­dents for a dig­i­tal career. There was also dis­cus­sion about the val­ue of teach­ing DSLR. It was agreed that stu­dents often already have expe­ri­ence with DSLR and that, because of its cost effec­tive­ness, DSLR can be use­ful in enabling more stu­dents to be immersed hands on (rather than a group of twelve stu­dents stand­ing around a sin­gle ARRI), that they are use­ful in explor­ing areas like depth of field and ergonom­ics but that they have major lim­i­ta­tions in teach­ing cinematography.
Each par­tic­i­pant was able to attend two of the above work­shops where two
key ques­tions were asked at the start of each session.
1. In prac­ti­cal terms, what exact­ly should a stu­dent of
cin­e­matog­ra­phy be able to do once he/she fin­ish­es school?
2. What new edu­ca­tion­al meth­ods have you already put into prac­tice
in regards to the spe­cif­ic theme of your work­shop? This can obvi­ous­ly include hard­ware, soft­ware
as well as the the­o­ret­i­cal aspects taught in class. Fol­low­ing this pre­lim­i­nary exchange of views,
the par­tic­i­pants of each work­shop will then explore some more spe­cif­ic topics.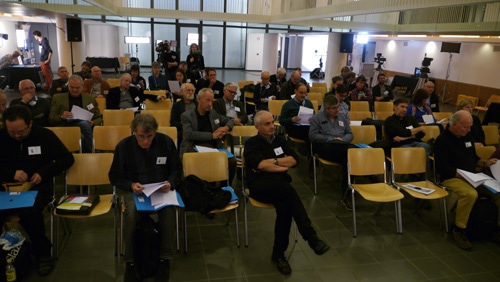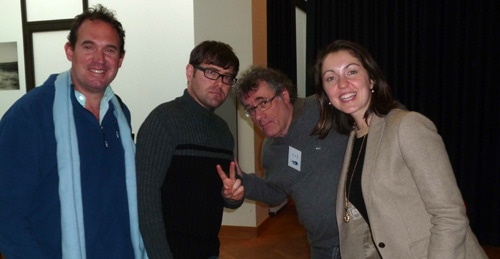 The first min­utes of the Con­fer­ence in cen­tre Jean-Paul Jar­ry with his arms crossed. The pic­ture on the right side we can see Andrew Hyde ACS, Marc Swadel NZCS, Philippe Ros AFC and Ash­ley Bar­ron ACS
The mon­i­tor­ing work­shop dis­cussed the mod­ern ten­den­cy to trust mon­i­tors too much and the need to teach cor­rect tech­nique with meters over and above the reliance of the mon­i­tor. It's was also felt that teach­ing cor­rect cal­i­bra­tion tech­nique was essen­tial and that man­ag­ing col­lab­o­ra­tion on set should be a pri­or­i­ty of the DOP. There were mixed views about the grow­ing trend of some 1st AC's to focus pull from a mon­i­tor but it was felt that the recent release of dig­i­tal cin­e­ma cam­eras with onboard mon­i­tors had the advan­tage of bring­ing the direc­tor back to the cam­era (and clos­er to the DOP). It was agreed that stu­dents should be taught to allo­cate time in pre pro­duc­tion to devel­op a plan for mon­i­tor­ing, based on the specifics of the pro­duc­tion and the col­lab­o­ra­tive rela­tion­ship with the Direc­tor and oth­er mem­bers of the cam­era depart­ment. The mon­i­tor, it was argued, was a val­ued tool but that stu­dents must be taught how to man­age the tool on set and not to trust the mon­i­tor above the eye, or the expo­sure meter.
Work­shops and Pan­els:
Cam­era tech­nol­o­gy
Esse­len Claude IAD – Eye lite
Didi­er Frateur SBC – RITS

Using of the mon­i­tor for aes­thet­ic ren­der­ing con­trol
Vir­ginie Saint­martin IAD – SBC
Manu Dacosse IAD – SBC
Jan Van­caille SBC
Char­lie Van­damme SBC

Dig­i­tal work­flow and sen­sit­o­m­e­try
Jean Paul Jar­ry – 3IS
Philippe Debrux­elles – INSAS
Tony Cos­ta – IMAGO

Col­or grad­ing
Arnout Deur­nick RITS
Ella Van Den Hove SBC – INSAS
Olivi­er Pir­nay IAD

Cin­e­matog­ra­phy for Visu­al Effects
Lucas Jodogne SBC
Willy Stassen SBC
Kom­mer Klein RITS
Ash­ley and Andrew were well briefed by the team at AFTRS before they depart­ed and were able to present trends to the con­fer­ence from an Aus­tralian point of view. Fol­low­ing a ple­nary ses­sion on Day 2 at Cin­e­matek in down­town Brus­sels, 3 reports of out­comes and rec­om­men­da­tions will be pro­duced. It was clear that the ACS is great­ly respect­ed across Europe and there was much appre­ci­a­tion for our atten­dance. There was a strong com­mit­ment by all attend­ing to main­tain dia­logue into the future.
organ­i­sa­tion:

Spon­sors:

The list of schools attend­ed the conference
Aus­tria – Uni­ver­sität für Musik und darstel­lende Kun­st
Bel­gium – IAD
Bel­gium – INSAS
Bel­gium – INRACI
Bel­gium – MDA-FAC
Den­mark – Den Danske Film­skole
Den­mark – Europa Film Col­lege
Fin­lande – ELO
France – FEMIS
France – 3IS
North­ern Ire­land – Uni­ver­si­ty of Ulster
Leto­nia – Lat­vian Acad­e­my of Cul­ture
New Zeland – Unitec
Por­tu­gal – LUSOFONA Uni­ver­si­ty
Roma­nia – Nation­al Uni­ver­si­ty of The­atre and Film
Roma­nia – Bucharest Film School
Sin­gapour – NTU – ADM
Turquie – Okan Üniver­site­si Tuzla Kam­püsü
UK – Lon­don Film School
UK – Farn­ham Film School
UK – AUB