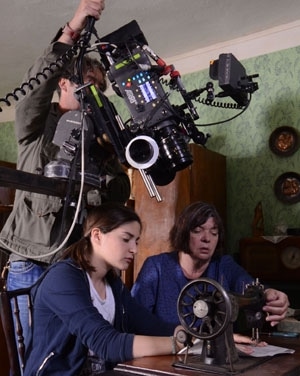 Speak­ing about the state of the cinematographer's pro­fes­sion in Ser­bia, I would dare to say that the sit­u­a­tion is gloomy.
The con­di­tion of the cin­e­ma pro­duc­tion in Ser­bia is grave. Long-last­ing eco­nom­ic cri­sis and long-term inad­e­quate cul­tur­al pol­i­cy brought to dras­tic reduc­tion of the num­ber and qual­i­ty of the pro­duced films.
Aver­age audi­ence of the films is so low that mak­ing of com­mer­cial­ly lucra­tive films became almost impos­si­ble, so the poten­tial investors aren't inter­est­ed in invest­ing in film pro­duc­tion. Already col­lapsed cin­e­ma net­work was fur­ther striken by the tran­si­tion to DCP tech­nol­o­gy. Being unable to finance this tran­si­tion from their own resources, many cin­e­mas ceased to work.

Many films are pro­duced from the mate­r­i­al orig­i­nal­ly made for the TV series.
For sev­er­al years, Ser­bian cin­e­ma sur­vives only on enthu­si­asm of the film work­ers and authors and fru­gal film devel­op­ment funds. As these funds decrease, pro­duc­tion slow­ly van­ish­es.
All these ele­ments led to bank­rupt­cy and clos­ing of many pro­duc­tion com­pa­nies. That gap is filled by bold indi­vid­u­als with­out any pri­or expe­ri­ence in film pro­duc­tion. Being unsure in what they do, the pro­duc­tions increase the pres­sure on the film crews and cre­ate inad­e­quate atmos­phere. The effect is the col­lapse of the tra­di­tion­al stan­dards of the pro­fes­sion­al pro­duc­tion. Shoot­ing on real loca­tions and with­out any set adap­ta­tion and cos­tumes becomes stan­dard, not the artis­tic deci­sion – peri­od movies become rar­i­ty. Some nec­es­sary pro­fes­sions are abol­ished and some are con­sol­i­dat­ed to reduce the num­ber of the crew mem­bers. That opened the oppor­tu­ni­ty to hire unqual­i­fied, instead of trained work­ers. Film prepa­ra­tion peri­od is being car­ried-out with inad­e­quate or no com­pen­sa­tion. Num­ber of shoot­ing days is often reduced to time low­er than real­is­tic min­i­mum, so this often results in unac­cept­able over­time with­out any compensation.
Try­ing to save the mon­ey and influ­enced by aggres­sive glob­al mar­ket­ing cam­paigns, many pro­duc­ers bought inad­e­quate low-cost and low-qual­i­ty equip­ment which they use for film pro­duc­tion. Mis­led by claims that the results achieved by inex­pen­sive equip­ment are sim­i­lar to results achieved by pro­fes­sion­al equip­ment, pro­duc­ers start­ed to be sus­pi­cious about the cinematographer's requests. Increase in sen­si­tiv­i­ty of the cam­eras is often under­stood as the oppor­tu­ni­ty to reduce or com­plete­ly exclude the need­ed light equip­ment kit, so the use of one of the basic cinematographer's tools became inter­rog­a­tive. Mas­sive and uns­e­lec­tive use of the pho­to-cam­eras for TV and some­times even the­atri­cal film fur­ther whit­ness­es about the lack of the con­scious­ness about the selec­tion of the ade­quate tools.
Post-pro­duc­tion VFX poten­tials are mis­tak­en as some kind of mag­ic wand for all the errors and faults made dur­ing pro­duc­tion, which again leads to increased pres­sure on the cin­e­matog­ra­phers to work in com­plete­ly inad­e­quate con­di­tions.
With all the above men­tioned, absence of col­lec­tive con­tracts with film authors and work­ers and col­lapsed Unions which would guar­an­tee min­i­mum rights and wages of the film work­ers in the coun­try in dire econ­o­my dif­fi­cul­ties, makes the sit­u­a­tion fur­ther com­pli­cat­ed and weak­ens the posi­tion of the film-mak­ers. Unpaid wages, not to men­tion over­time, is every­day practice.
In endav­eour to pro­tect our mem­bers – our Statute, SAS code of con­duct and mod­el Con­tract are part of bind­ing doc­u­ments pack­age every mem­ber has to accept with apply­ing for SAS mem­ber­ship. We con­tin­u­ous­ly request to talk to leg­is­la­tors to try to pro­tect min­i­mum legal work rights and resid­ual author's rights. So far, we were unsuc­cess­ful, due to the con­tin­u­al changes of the state pol­i­cy in many aspects, due to har­mo­niza­tion with Euro­pean leg­is­la­ture.
Unfor­tu­nate­ly, with­out the inten­tion to gen­er­al­ize, we have the impres­sion that our prob­lems are not unique or region-spe­cif­ic. Our pro­fes­sion hes­i­tates to speak about. Our pro­fes­sion is in Dar­win­is­tic posi­tion: to adapt and sur­vive or die. It is time to speak out.
Pre­drag Bam­bic SAS