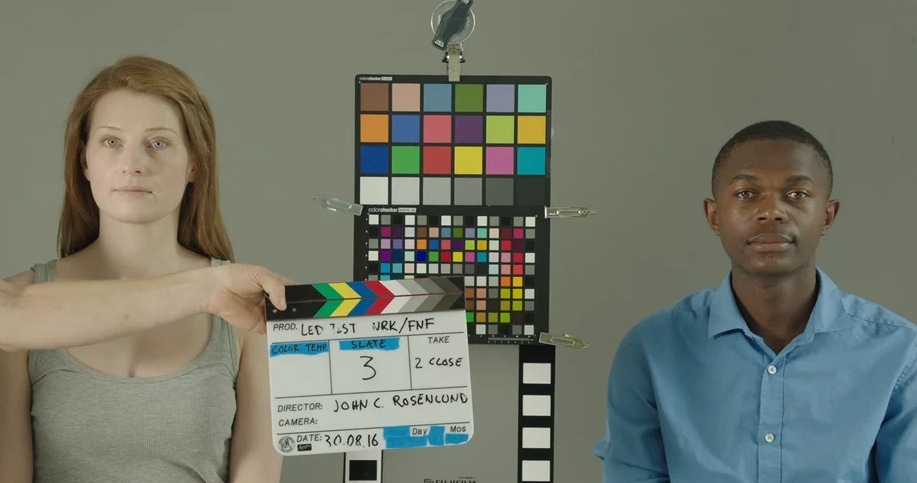 The Exten­sive LED Test.
in coop­er­a­tion with NRK/FNF
In this last August NRK/FNF (Nor­we­gian Broad­cast­ing Cor­po­ra­tion and
Nor­we­gian Cin­e­matog­ra­phers Soci­ety) test­ed the 8 most pop­u­lar Bi-Col­or LED lamps in TLCI. A series of ARRI RAW frames from each LED test unit was giv­en to sev­er­al pro­fes­sion­al Colorists.
The test was focused on how the cam­era sees the light in human skin, from the dark­est brown to the light­est hues. The test is mea­sured both with direct and reflect­ed light.
To give the most accu­rate mea­sure­ment, the test was pri­ma­ry mea­sured in TLCI.
The TLCI mea­sure­ment was pre­formed by Per Bøh­ler, one of the ini­tia­tors of the TLCI (Tele­vi­sion Light­ing Con­sis­ten­cy Index 2012)
The tests were led by John Chris­t­ian Rosen­lund FNF mem­ber of the or IMAGO Cre­ative Tech­nolo­gies in Cinematography.
To take a close look at the pro­ce­dure and results please fol­low this link http://www.led-light-test.com