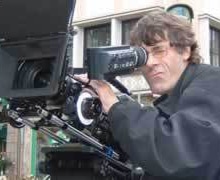 Text by Philippe Ros AFC cov­er­ing sharp­ness with dig­i­tal image.
''The tex­ture of the dig­i­tal image through the con­trol of sharp­ness. A real artis­tic issue''
by Philippe Ros afc
«Spe­cial thanks to Kom­mer Klei­jn, SBC and Rolf Coulanges, BVK for their pre­cious help. This long ver­sion uses Ron Prince's
tran­scrip­tion for the British Cin­e­matog­ra­ph­er issue (#68). Thanks to him, to Alan Lowne and to the BC magazine!»
The tex­ture of the dig­i­tal image is a rel­a­tive­ly vir­gin ter­ri­to­ry, and sharp­ness plays an impor­tant part in it. Choos­ing the tex­ture and the sharp­ness are defin­i­tive­ly artis­tic deci­sions, but in most of the image deliv­ered by the cam­era, these deci­sions are essen­tial­ly cre­at­ed and man­aged by engi­neers with tal­ent.
But these choic­es don't nec­es­sar­i­ly match with the filmic dra­ma nor the filmmaker's and cinematographer's expectations.
His­tor­i­cal­ly, in film, the tex­ture of the image has most­ly been tack­led dur­ing the shoot by light­ing, make-up, glass fil­ter­ing, glued stock­ings on the back of the lens­es and by the lev­el of grain linked to film stocks, expo­sure and lab process­es. We can eas­i­ly feel that the film tex­ture is linked to the chaot­ic pat­tern of the film stock as opposed to the still, clin­i­cal pat­tern of the dig­i­tal image. But is it that sim­ple? The dig­i­tal era offers many oppor­tu­ni­ties, but presents also para­dox­es and lim­i­ta­tions I will try to outline.
CLICK BELOW TO DOWNLOAD FULL ARTICLE.