Like last year, you will find a new analy­sis of work­flow from the Dig­i­tal Pro­duc­tion Chal­lenge II (DPC II) seminar.
End of 2017, dur­ing 4 days, I was one of the 4 tutors in Ams­ter­dam to work for this sem­i­nar orga­nized each year in the Euro­pean cap­i­tals by the Swiss Foun­da­tion Focal.
http://digiprodchallenge.net
This foun­da­tion for pro­fes­sion­al train­ing in cin­e­ma and audio-visu­al media is direct­ed by Pierre Agthe. The DPC II sem­i­nar was cre­at­ed, among oth­er goals, to give the meth­ods to deal with the most recent workflows.
Bar­bet Schroed­er with Ashin Wirathu
So in Ams­ter­dam, we had the plea­sure to analyse the work­flow of:
The Ven­er­a­ble W', a French/Swiss film direct­ed by: Bar­bet Shroed­er – Pro­duc­tion: Les Films du Losange – Main Pro­duc­er: Mar­garet Méné­goz (Les Films du Losange) Co-pro­duc­ers: Lionel Baier (Bande à Part) Olivi­er Pierre Arte France. Cin­e­matog­ra­ph­er : Vic­to­ria Clay-Men­doza – Col­orist: Patrick Lin­den­maier (Androm­e­da Film AG)
For this analy­sis, I had the oppor­tu­ni­ty to work in advance dur­ing sev­er­al days with François Dupuy, post-pro­duc­tion super­vi­sor (Noir Lumiere) and we decid­ed to design the pre­sen­ta­tion from his point of view. As super­vi­sor, he received the infor­ma­tion in a very spe­cif­ic way due to the touchy sub­ject of this doc­u­men­tary film. Accord­ing to the review in The Guardian, 'The Ven­er­a­ble W' por­trays Ashin Wirathu '''the poi­so­nous monk behind Myanmar's anti-Mus­lim vendet­ta''. A para­dox for this Bud­dhist reli­gion.
The polit­i­cal con­di­tions and the remote loca­tions lead the direc­tor and the post super­vi­sor to use amaz­ing method­olo­gies and tricks to face the chal­leng­ing shoot­ing situations.
Some infor­ma­tion on DPC II
This sem­i­nar is designed for pro­duc­ers, pro­duc­tion man­agers, post-pro­duc­tion man­agers and, recent­ly, for film­mak­ers and cin­e­matog­ra­phers with ded­i­cat­ed group dis­cus­sions.
DPC II is orga­nized by Paul Miller, Head of Stud­ies (pro­duc­er, Escape Pic­tures, Netherlands/US) and Sophie Bour­don, Del­e­gate to Head of Stud­ies (train­ing con­sul­tant, Bour­don Film Con­sult­ing, France/Switzerland),.
The oth­er experts are : Mar­tin Hage­mann, pro­duc­er, Zero Fic­tion Film, Ger­many ; Flo­ri­an Ret­tich, BVK, free­lance DIT & Work­flow Super­vi­sor, Ger­many ; Tom­ma­so Ver­gal­lo, post-pro­duc­tion con­sul­tant, Noir Lumière CEO, France.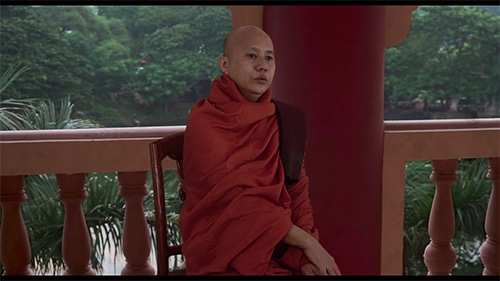 Ven­er­a­ble Ashin Wirathu
So, thanks again to Pierre Agthe from Focal, I have the plea­sure to share all the doc­u­ments ready for down­load­ing here below.
The ver­sion in Dia­po­ra­ma (Pow­er­point for Mac 2011 – Ver­sion 14.7.7) include the ani­ma­tions. For those who don't own Office you can down­load the PDF.