https://imago.org/projects/itc/photon_path/diagram/
Information
In 2020, the IMAGO TC (ITC), in coop­er­a­tion with Charles Poyn­ton, PhD, ini­ti­at­ed a glos­sary to help clar­i­fy impor­tant cin­e­matog­ra­phy-relat­ed terms in a con­cise and sci­en­tif­ic man­ner. It was also decid­ed that the glos­sary should be easy to com­pre­hend, acknowl­edg­ing that cin­e­matog­ra­phers, assis­tants, gaffers, DITs and col­orists are not sci­en­tists or engineers.
As this task became increas­ing­ly com­plex, mem­bers real­ized that even among tech­ni­cal­ly mind­ed peo­ple, it was dif­fi­cult to agree on all aspects of terms such as pix­el, pho­to­site, sensel, scene-referred, etc.
Daniele Sir­a­gu­sano (image engi­neer at Film­Light) start­ed a sim­ple sketch to draft the path a sin­gle pho­ton would pass from light source through scene, lens, cam­era and post-pro­duc­tion to the view­er look­ing at a dis­play. As this sketch became very exten­sive, it helped under­stand­ing the order of sig­nal pro­cess­ing and cor­rect ter­mi­nol­o­gy in dig­i­tal cinema.
This dia­gram is now linked to the glos­sary which is receiv­ing new definitions.
Regard­ing the glos­sary, seman­tic prob­lems are very present in inter­na­tion­al co-pro­duc­tions and/or post-pro­duc­tions that take place in sev­er­al companies.
At the inter­na­tion­al Visu­al Media Lab Con­fer­ence in Stuttgart in March 2023, David Stump, ASC, point­ed out that in vir­tu­al pro­duc­tion, these prob­lems appear unexpectedly:
"Human beings can by effort over­come dif­fer­ences in lan­guage, seman­tics and syn­tax. We can dis­cuss ter­mi­nol­o­gy and even­tu­al­ly move for­ward. How­ev­er, when machines talk to oth­er machines, there is no dis­cus­sion of ter­mi­nol­o­gy. With­out agree­ment on ter­mi­nol­o­gy, machines fail to com­mu­ni­cate catastrophically".
(Regard­ing this impor­tant con­fer­ence a report will be shared by the IMAGO TC soon).
TIPS
In "View", at the top of the win­dow, please select: "Pho­ton Path Detailed"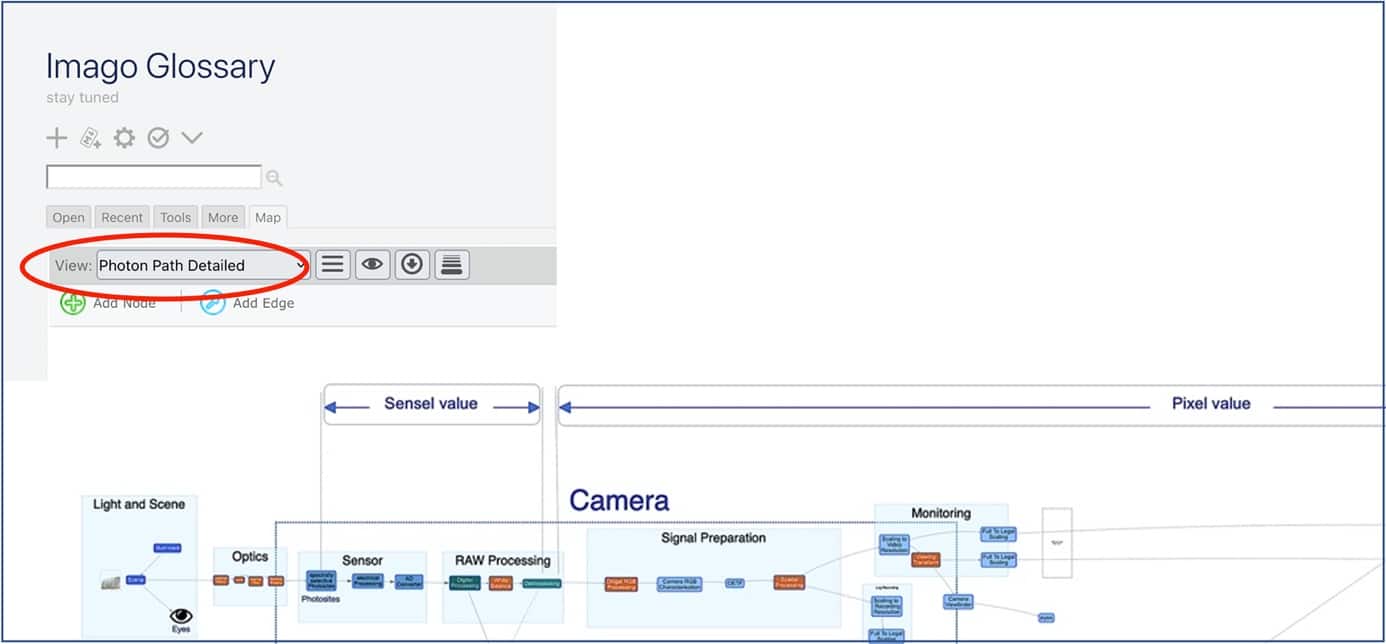 When click­ing on a box, you can direct­ly open the glos­sary, left side of the pan­el (see fig­ure 3 below).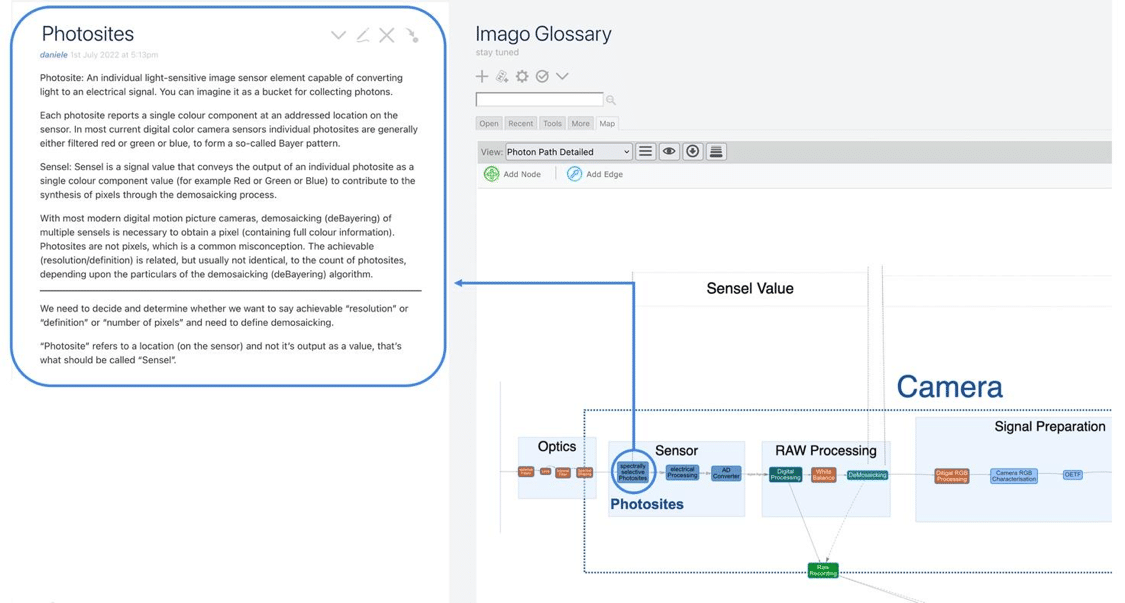 Each box has a spe­cif­ic col­or, for cin­e­matog­ra­phers and col­orists, it is impor­tant to know that all the brown cas­es are relat­ed to cre­ative process­es. For DITs the deliv­er­ables cas­es are col­ored in green (see fig­ure 4 below).
The low num­ber of brown box col­ors under­scores the fact that, for now, all these process­es are dri­ven by young tech­nol­o­gy, but that engi­neers are still explor­ing the cre­ative pos­si­bil­i­ties of such a com­plex journey.
For some box­es, all process func­tions are detailed.
We can see at this step of "Sig­nal Pro­cess­ing", that many cre­ative func­tions can be acti­vat­ed (see fig­ure 5 below).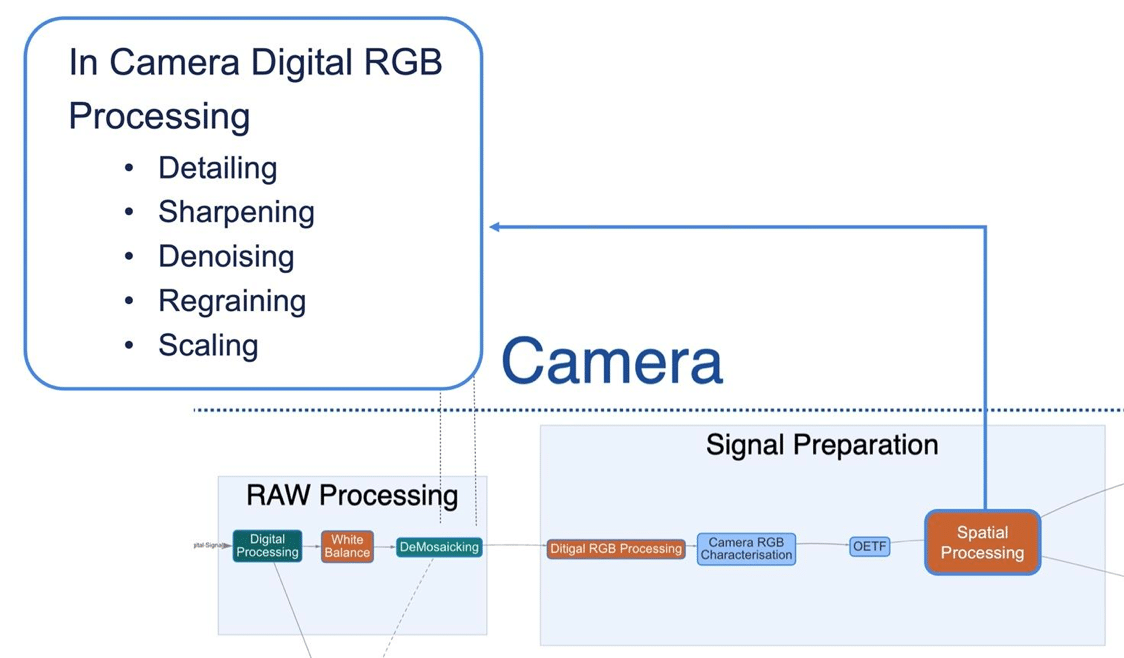 The Application of the Photon Path
Thanks to Pro­fes­sor Ste­fan Grandinet­ti, BVK, the ITC is cur­rent­ly work­ing with stu­dents at the Uni­ver­si­ty of Applied Media Sci­ences in Stuttgart to devel­op an appli­ca­tion of the "Pho­ton Path".
The appli­ca­tion is based on this glos­sary and dia­gram and aims to encour­age all tech­ni­cians to take an inter­est in this top­ic through an inter­ac­tive and user-friend­ly experience.
The user will literally move through the diagram.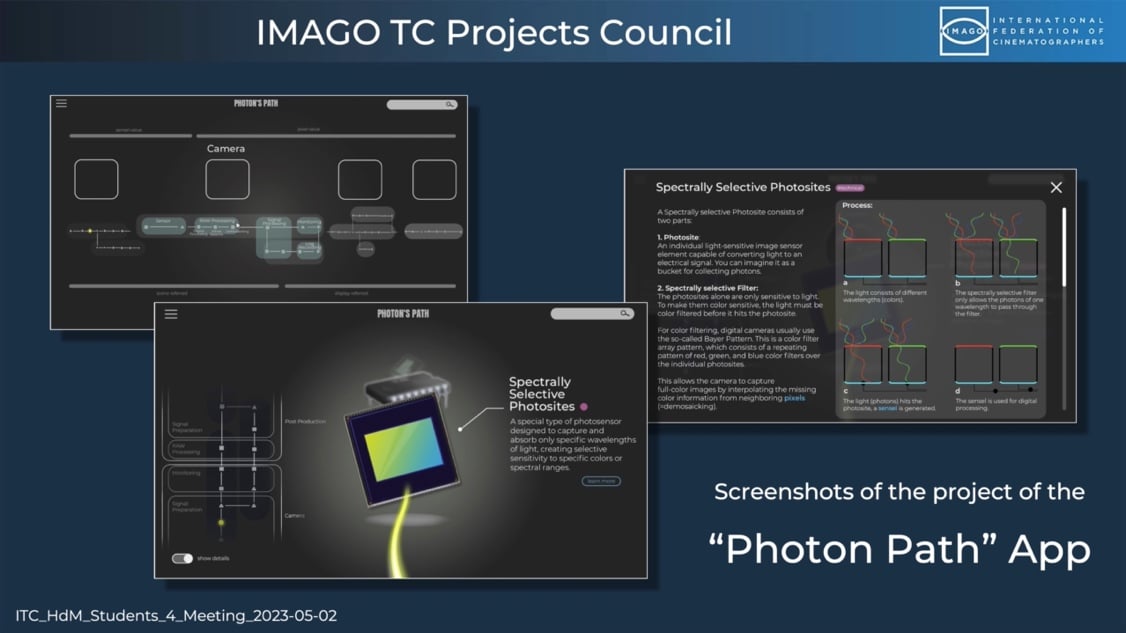 Under the super­vi­sion of Pro­fes­sor Simon Wiest and mem­bers of the ITC, the stu­dents have already start­ed work­ing. At the time of writ­ing, the com­mit­tee is already in its third week­ly meet­ing with the stu­dents and the pro­pos­als and progress are very exciting.
THE IMAGO TECHNICAL COMMITTEE
If you have any ques­tions about this dia­gram, please contact: