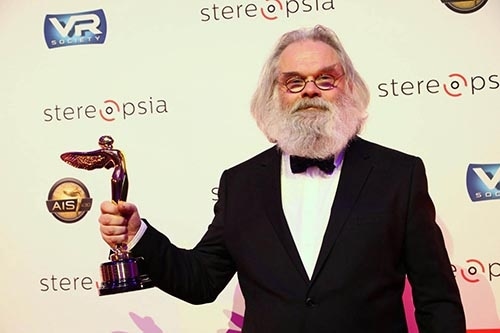 Kom­mer Klei­jn SBC, mem­ber of the IMAGO Tech­ni­cal Com­mit­tee and for­mer pres­i­dent of the same, has been bestowed with the "2017 LUMIERE AWARD – EUROPE, Best Euro­pean Stere­og­ra­phy" giv­en out by the Advanced Imag­ing Soci­ety (For­mer­ly known as the 'Inter­na­tion­al 3D Soci­ety') USA, 'Stere­op­sia' (For­mer­ly 3D Stereo Media), UP3D and BARCO. This is a life­time achieve­ment award for his 20 years of ded­i­ca­tion to S3D as a stere­o­g­ra­ph­er, researcher, pro­mot­er and edu­ca­tor for S3D.
He received the award dur­ing the Awards Gala Din­ner of 'Stere­op­sia', in the BOZAR art palace in Brus­sels, Bel­gium, from the hands of Syl­vain Grain, pres­i­dent of UP3D, the 'Unit­ed Pro­fes­sion­als of
Stereo­scop­ic 3D' and Jacques Ver­ly, pro­fes­sor at the uni­ver­si­ty of Liege and co-cre­ater of "Stere­op­sia', inter­na­tion­al con­fer­ence and fes­ti­val for 3D.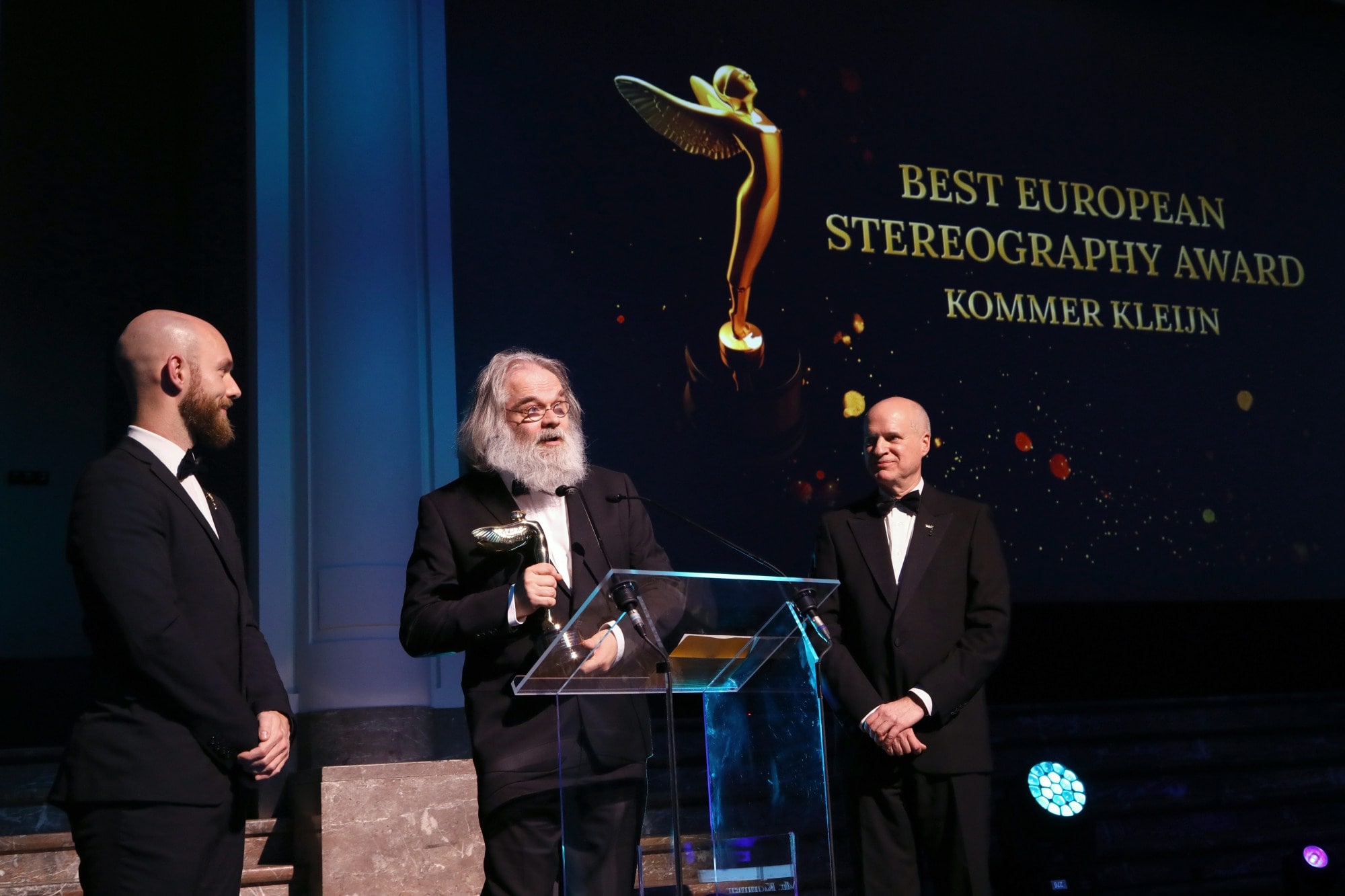 Kom­mer thanked the direc­tors and pro­duc­ers he worked with for cre­at­ing and sup­port­ing the crazy and inno­v­a­tive projects that hope­ful­ly brought the medi­um a lit­tle for­ward and he also thanked the many team mem­bers that sup­port­ed him dur­ing these past two decades. He then expressed his hope that glob­al advance in expe­ri­ence with stere­og­ra­phy among cre­ative and film mak­ers, and new pre­sen­ta­tion tech­nolo­gies like laser and emis­sive screens may in future give stereo 3D the right place in the Audio­vi­su­al industry.
IMAGO is very proud and con­grat­u­lates Kom­mer for anoth­er pres­ti­gious award which is well deserved as being our long time mem­ber and collaborator.