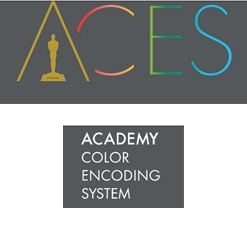 ACES intends to become the indus­try stan­dard for col­or man­age­ment and image inter­change sys­tem for the Motion Pic­ture and Tele­vi­sion indus­tries. A greater con­trol of the image is now pos­si­ble from image cap­ture through editing,
VFX, mas­ter­ing, pub­lic pre­sen­ta­tion and archiv­ing, no mat­ter which cam­era you use. It is a big step for­ward for cin­e­matog­ra­phy and cin­e­matog­ra­phers. The con­trol of the image goes beyond the visu­al col­or spec­trum which allows on post to work infi­nite col­ors allow­ing a greater col­or dynam­ic range.
ACES is a rev­o­lu­tion­ary sys­tem which brings back to the cin­e­matog­ra­ph­er the pow­er to keep the orig­i­nal images intend­ed by its creator.
For more infor­ma­tion, case stud­ies, cre­ative and tech­ni­cal dis­cus­sions on ACES, please vis­it and sign up (free) at www.ACESCentral.com
More links related
http://www.imago.org/images/ACES_FAQ_v2%20REVISED_A4.pdf
http://www.niwa.nu/2013/05/aces-academy-color-encoding-specification
http://blog.abelcine.com/2015/03/04/aces‑1 – 0‑the-dps-col­or-dream