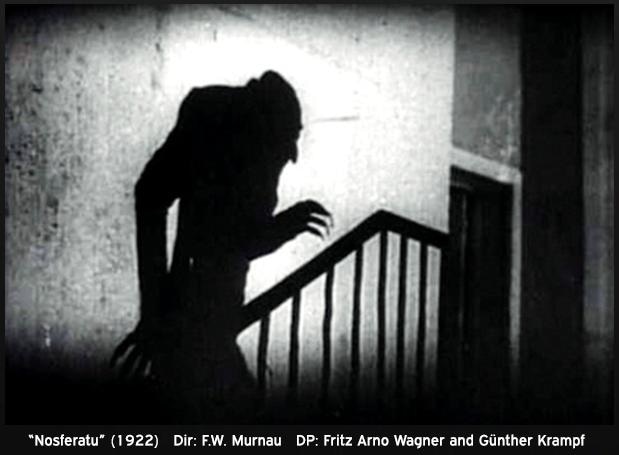 A cour­tesy of the Glob­al Cin­e­matog­ra­phy Insti­tute
www.globalcinematography.com/courses
writ­ten by Yuri Ney­man, ASC
Ear­ly 1900's
"The begin­ning of artis­tic expression…"
(Excerpts from Yuri Ney­man, ASC's book: "The Visu­al His­to­ry of Styles in Cin­e­matog­ra­phy" (in progress). © All Rights Reserved.)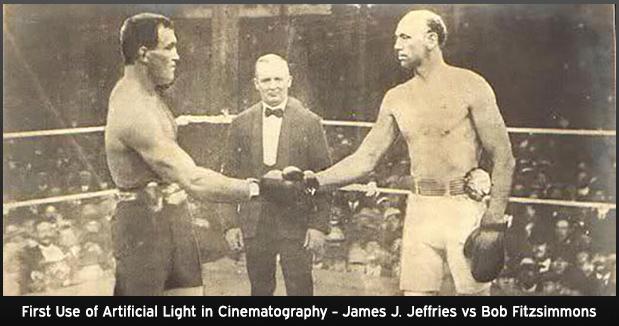 Film tech­nol­o­gy was not orig­i­nal­ly cre­at­ed for artis­tic expres­sion. It began as a com­mer­cial inter­est and a sim­ple exten­sion of record­ing live the­atri­cal events with doc­u­men­tary repro­duc­tion. As Herb Light­man, leg­endary edi­tor of Amer­i­can Cin­e­matog­ra­ph­er from 1965 – 1982, notes, "Cam­er­a­work was not thought of as hav­ing any aes­thet­ic poten­tial­i­ties of its own" dur­ing the ear­ly 1900's.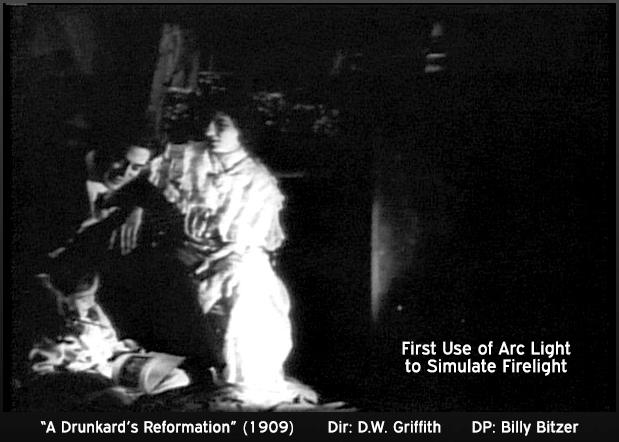 The first doc­u­ment­ed use of arti­fi­cial lights took place to allow film­ing of the James Jef­fries-Bob Fitzsim­mons box­ing match. The out­door stages were equipped with sheets of silk dif­fu­sion mate­r­i­al or oth­er translu­cent cloth manip­u­lat­ed by pul­leys. The cam­era­man could thus adjust the amount of sun­light on the actors.
These dif­fusers served to soft­en the light and cut down on the harsh con­trast. Soon, reflec­tors were employed in con­junc­tion with the dif­fu­sion mate­r­i­al. Using mir­rors or pol­ished met­al sur­faces, the cam­era­man could reflect sun­light into the shad­ow areas of the set to cre­ate an even­ly illu­mi­nat­ed and more pleas­ing pic­ture, though this nev­er rose above pure doc­u­men­tary recreation.
As ear­ly as 1909, Cin­e­matog­ra­ph­er Bil­ly Bitzer, who dis­tin­guished him­self for his work along­side D.W. Grif­fith on "Intol­er­ance" (1916) and "The Birth of a Nation" (1915), exper­i­ment­ed with atmos­pher­ic effects using arti­fi­cial lights. In "A Drunk­ard's Ref­or­ma­tion" (1909), he put an arc light in the fire­place to sim­u­late firelight.
The same year, he cre­at­ed a dawn light­ing effect in "Pip­pa Pass­es" (1909) by mov­ing an opaque pan­el in front of an arc to sim­u­late the ris­ing sun. Bitzer also exper­i­ment­ed with shoot­ing at low­er light lev­els and lat­er not­ed the dif­fi­cul­ties because of the poor film stock.
Bitzer con­tin­ued to exper­i­ment, and his dis­cov­ery of back­light was the first step in over­com­ing the prob­lem of screen depth. By rim­ming a sub­ject with light on the off-cam­era side, a tonal dif­fer­ence was cre­at­ed between the sub­ject and the back­ground, mak­ing the sub­ject appear sep­a­rate and distinct.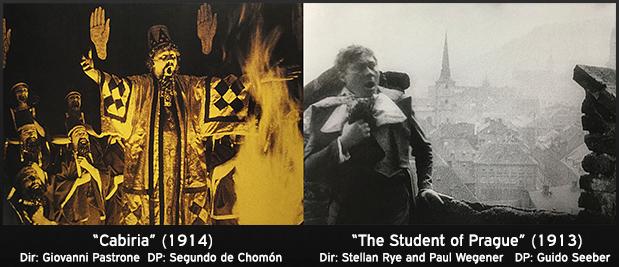 Across the Atlantic, the first ever trav­el­ing shot came in the Ital­ian film – Cabiria" (1914) by Direc­tor Gio­van­ni Pas­trone and Cin­e­matog­ra­ph­er Segun­do de Chomón. There had been films that used a dol­ly to achieve a sim­ple move­ment, but it was "Cabiria" (1914) that first intro­duced a wan­der­ing cam­era that could trav­el both forward/backwards and side to side.
Near the same time, the use of per­spec­tive and skill­ful con­trasts between light and dark in "The Stu­dent of Prague" (1913) by Cin­e­matog­ra­ph­er Gui­do See­ber of Ger­many raised the art of cin­e­matog­ra­phy to the high­est lev­el yet seen.
These first cin­e­matog­ra­phers were look­ing for solu­tions to take what lim­it­ed tech­nol­o­gy they had and cre­ate more and more expres­sive images from them. It is impor­tant to remem­ber that these artists were work­ing with mate­ri­als and tools far less sophis­ti­cat­ed than the dig­i­tal cam­era in your phone, but nonethe­less, they were able to make expres­sive and emo­tive images that stick with us and influ­ence the art of cin­e­ma still to this day.
View­ing List:
The Stu­dent of Prague: http://www.imdb.com/title/tt0003419
The Birth of the Nation: http://www.imdb.com/title/tt0004972
Cabiria: http://www.imdb.com/title/tt0003740
1915 – 1921
"The Birth of Style and the Dis­cov­er­ing of Cin­e­mat­ic Language…"
As time went on, cam­era­men began look­ing for more ways to fur­ther dis­tin­guish their images. After back­light, the devel­op­ment of soft focus lens­es and soft-focus attach­ments, such as gauzes or dif­fu­sion discs over the lens allowed for a com­plete­ly dif­fer­ent opti­cal treat­ment. They were first used only for close-ups but grad­u­al­ly found wider application.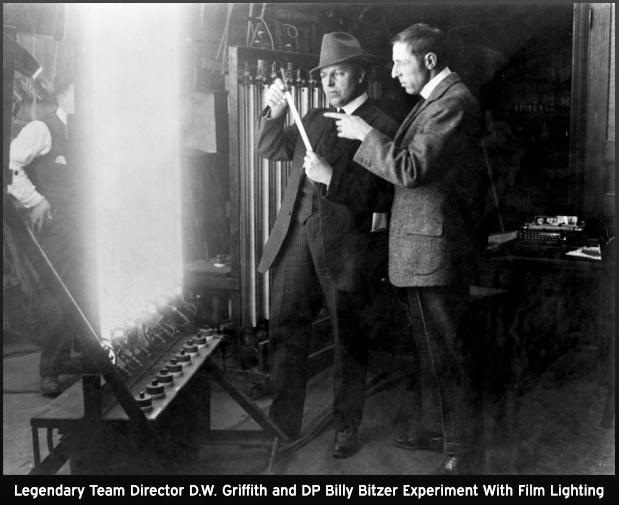 The soft­en­ing effect allowed a blend­ing of tones, a ten­den­cy toward lumi­nous gray shades that dom­i­nat­ed the image. The con­trol of light and dark tones became more impres­sion­is­tic and a more impor­tant clement in com­po­si­tion. Still pho­tog­ra­phers had known of the poten­tial of soft-focus lens­es were mass-pro­duced for still pho­tog­ra­phy by 1914 and were in use in motion pic­tures by 1915.
Around 1915, as films became longer and more com­plex, the cam­era­man began to acquire assis­tants to han­dle the dif­fer­ent intri­ca­cies of the process. In "Birth of a Nation" (1915), spe­cif­ic scenes were tint­ed to "sug­gest" moods: the burn­ing of Atlanta was tint­ed red, the night scenes, blue and the exte­ri­or love scenes pale yellow.
Togeth­er from 1908 to 1924, Grif­fith and Bitzer pushed Amer­i­can film in new direc­tions. Grif­fith was con­stant­ly striv­ing to make film a more real­is­tic and expres­sive medi­um, and in Bitzer he found the per­fect part­ner. Through exper­i­men­ta­tion, inge­nu­ity, and luck, Bitzer was able to bring Grif­fith's sug­ges­tions and ideas to real­iza­tion on film. Bitzer said, "What Mr. Grif­fith saw in his mind we put on the screen". It was 1915 before the cam­era­man even began to receive screen cred­it as a com­mon practice.
For "Intol­er­ance" (1916), Grif­fith and Bitzer built a cam­era dol­ly 150 feet tall in order to dol­ly in and down from a wide shot of the entire Baby­lon set to the danc­ing vir­gins, then into the huge ban­quet hall, and final­ly end­ing on a tiny toy char­i­ot. The dol­ly had an ele­va­tor to allow the cam­era plat­form to be low­ered and was pushed by twen­ty-five men along a rail­road track.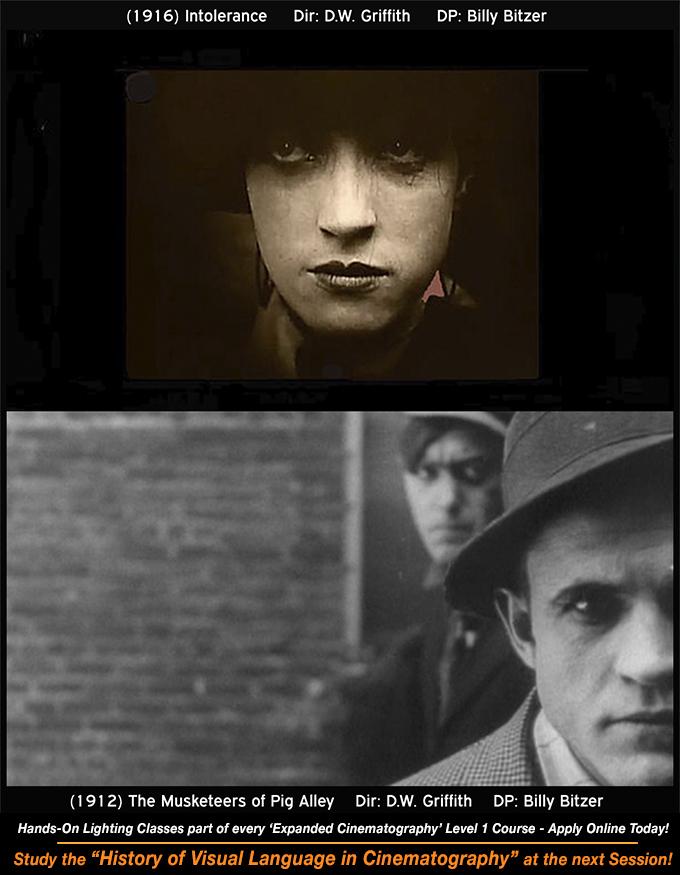 Numer­ous films around 1916, notably C. B. De Mille's "Joan the Woman" (1916) and "Dream Girl" (1916), began to reflect a con­cern for mood and the expres­sive use of lighting.
George Mitchell intro­duced the first Mitchell cam­era. While the Pathe and the Bell & How­ell required focus­ing direct­ly through the tak­ing lens (after remov­ing the film from the gate), the Mitchell move­ment mech­a­nism could be racked to the side out of the line of view, allow­ing the lux­u­ry of direct through the lens focus­ing with a view find­er. Bitzer and Grif­fith real­ized the fruits of their strug­gles in "Bro­ken Blos­soms" (1919), which demon­strates a suc­cess­ful cre­ation of mood in scene after scene.
The Amer­i­can Soci­ety of Cin­e­matog­ra­phers (ASC) was cre­at­ed in 1919. Cer­tain­ly until almost 1920, the cam­era­man was the con­trol­ling force in most pro­duc­tions. The nec­es­sary empha­sis on visu­als in silent films meant that the man com­mand­ing the visu­als was of pri­ma­ry impor­tance. Ear­ly film was also a very tech­ni­cal medi­um owing to defi­cien­cies in equip­ment. The cam­era­man said what could and could not be done. As Joseph Rut­ten­berg recalls 'The cam­era­man was God'.
By the end of WWI the cam­era­man had a wide range of arc lamps at his dis­pos­al most were in the IS-amp to ISO-amp range, but there were also 300-Amp mil­i­tary arcs, which could be used to sim­u­late a sin­gle light source for inte­ri­ors or exte­ri­ors. By the mid 1920's the use of soft-focus lens­es and soft-focused attach­ments were com­mon­place. The soft-focus close-up was to be a Hol­ly­wood trade­mark for almost thir­ty years.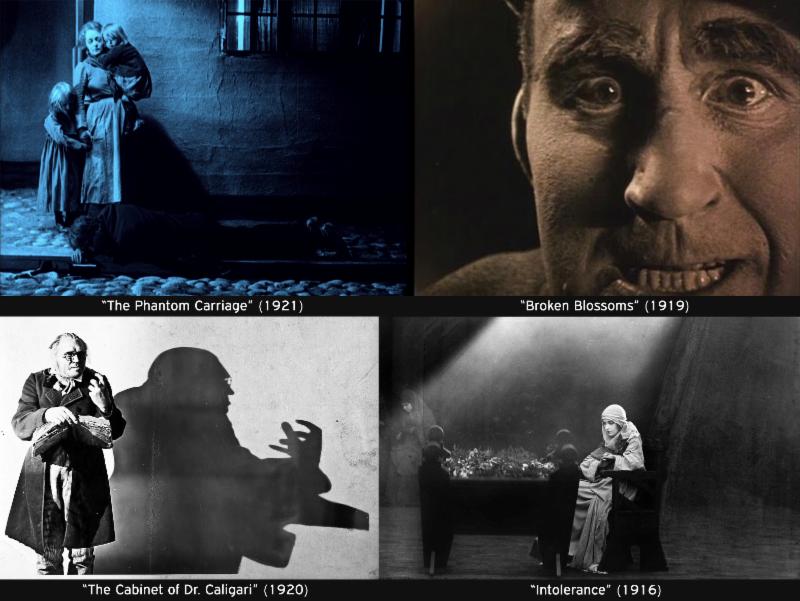 Dif­fused cin­e­matog­ra­phy may have been influ­enced by impres­sion­ist art. An exam­ple can be seen in Julius Jaen­zon's work on "Korkarlen" or "The Phan­tom Car­riage" (1921). Vladimir Nilsen asserts that some sig­nif­i­cant tech­niques bor­rowed from the impressionists.
The cam­era­man now had options oth­er than flood­ing the set with lights. Seitz is cred­it­ed with pio­neer­ing the con­cept of Key Light­ing, which is stan­dard prac­tice today. Nilsen calls it (Seitz's The­o­ry) "The first the­o­ry of "stu­dio light­ing:" and it involved an adher­ence to the moti­va­tion of source of light. If there were a win­dow on the set, all light would be moti­vat­ed from the win­dow. "The vio­la­tion of this law was regard­ed as indica­tive of illiteracy."
View­ing List:
Intol­er­ance: http://www.imdb.com/title/tt0006864
The Cab­i­net of Dr. Cali­gari: http://www.imdb.com/title/tt0010323
The Phan­tom Car­riage: http://www.imdb.com/title/tt0012364
1922 – 1928
"The Ear­ly Trou­bles of Col­or and Sound"
Author and Film Crit­ic Leonard Maltin was prompt­ed to observe: By the 1920's, Hol­ly­wood had reached the zenith in pic­to­r­i­al qual­i­ty. Even unim­por­tant "B" pic­tures were well pho­tographed and elab­o­rate major films had a lus­ter that had nev­er before been seen on the motion pic­ture screen indeed, it is a qual­i­ty Hol­ly­wood nev­er real­ly recaptured.
Every pho­to­graph­i­cal­ly edu­cat­ed cam­era­man was employ­ing Bitzer's back-light­ing tech­nique. The Sep­a­ra­tion and depth cre­at­ed by back­light­ing made it a neces­si­ty in the minds of most cam­era­men and they used illib­er­al­ly on every scene. Euro­pean influ­ence on Amer­i­can cin­e­matog­ra­phy came form the Ger­man expres­sion­ists. To be sure the Amer­i­cans nev­er approached the extremes of Ger­man films such as The Cabaret of Dr. Cali­gari (1920), Nos­fer­atu (1922) and oth­er works of the ear­ly 1920s.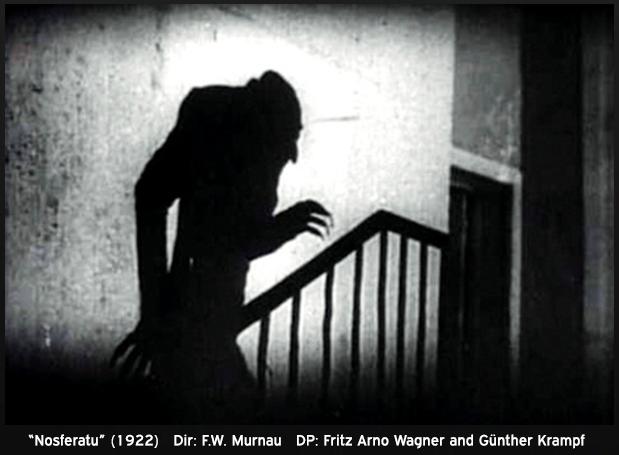 The Euro­pean film that most influ­enced Amer­i­can cam­era­men was F.W. Mur­nau's The Last Laugh (1924). In the pic­ture, cam­era­man Karl Fre­und cre­at­ed moods, which accu­rate­ly reflect­ed the feel­ings of the pro­tag­o­nist. It was also the first instance of using a hand­held camera.
In the scene in which the door­man gets drunk, Fre­und cre­at­ed sub­jec­tive point-of view shots by strap­ping the cam­era to his waist. In the film Entr'acte (1925) French Direc­tor Rene Clair put the cam­era on a roller coast­er to achieve the effect.
By the mid-1920's indi­vid­ual styles of var­i­ous cam­era­men began to emerge: John Seitz's use of the Rem­brandt north light, the enchant­i­ng roman­ti­cism of Charles Rosh­er and Karl Struss, Lee Carmes's per­son­al adap­ta­tion of the north light approach, and William Daniels' con­trolled mas­tery of fil­ters and gauzes.
Dur­ing this time peri­od across the Atlantic the Euro­pean coun­tries also con­tin­ued to push the bounds of cin­e­mato­graph­ic images with The Bat­tle­ship Potemkin in Rus­sia (1925), Faust in Ger­many (1925), and The Pas­sion of Joan of Arc in France (1928).
Anamor­phos­ing optics was devel­oped by Hen­ri Chre­tien dur­ing WWI to pro­vide a wide-angle view­er for mil­i­tary tanks. In the 1920s, his­toric motion pic­ture inven­tor Leon F. Dou­glass was able to adapt and cre­ate anamor­phic motion pic­ture cam­eras and lenses.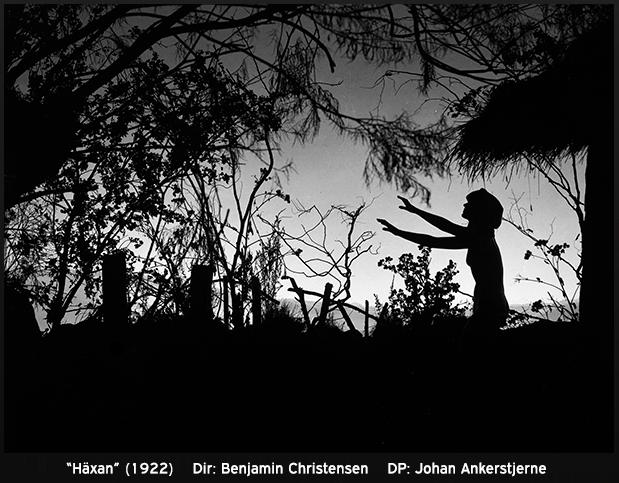 In 1922, the first col­or fea­ture made in Hol­ly­wood, The Toll of the Sea (1922) was pro­duced by Tech­ni­col­or and released suc­cess­ful­ly. Oth­er pic­tures, all or par­tial­ly in col­or, soon fol­lowed, such as The Black Pirate (1926), but the lack of real­is­tic col­or, because of the absence of blues, caused the col­or boom to decline.
The arrival of sound pre­sent­ed anoth­er num­ber of new chal­lenges for the direc­tor and cin­e­matog­ra­ph­er. In Cin­e­matog­ra­ph­er Hal Mohr's words, "The tech­ni­cians from AT&T, the sound­men, said, 'Look, you're going to make talk­ing pic­tures, you're going to do it the way we say it can be done, regard­less of what you've been doing."
As incan­des­cent light­ing was fur­ther devel­oped in the 1930s, the intro­duc­tion of the opti­cal print­er in the late 1920's put a stop to the opti­cal effects cre­at­ed in the cam­era. Amer­i­can Cin­e­matog­ra­ph­er writes: It pro­vid­ed a new found flex­i­bil­i­ty in light­ing which gave the direc­tor of pho­tog­ra­phy hereto­fore unequaled artis­tic and cre­ative range, enabling him, almost lit­er­al­ly, to paint with light. The direc­tors and cin­e­matog­ra­phers joined forces to lead film away from the tyran­ny of sound, thus allow­ing the cam­era to reestab­lish itself as a cre­ative tool.
View­ing List:
The Bat­tle­ship Potemkin: http://www.imdb.com/title/tt0015648
Faust in Ger­many: http://www.imdb.com/title/tt0016847
The Pas­sion of Joan of Arc: http://www.imdb.com/title/tt0019254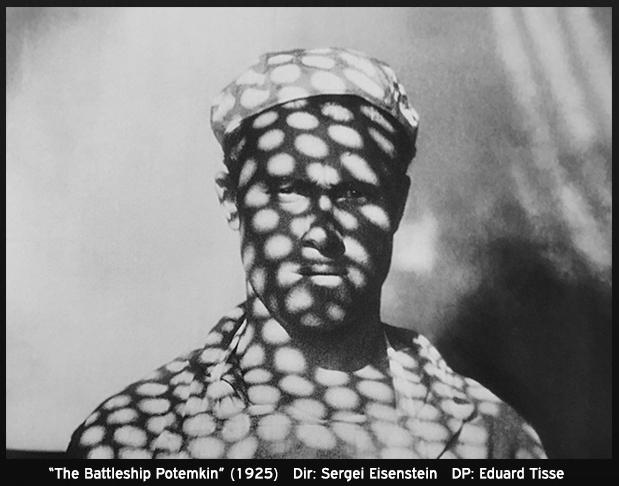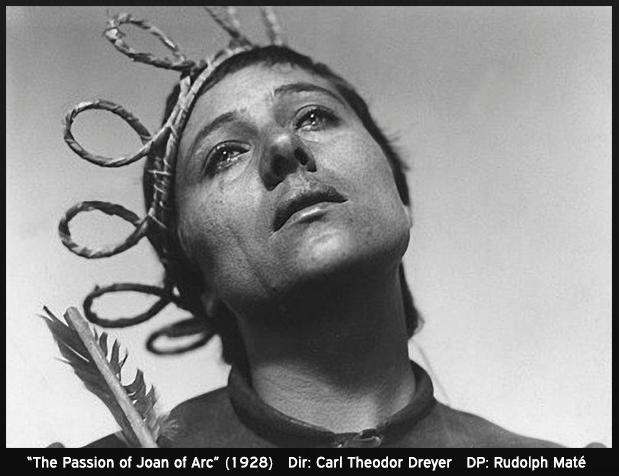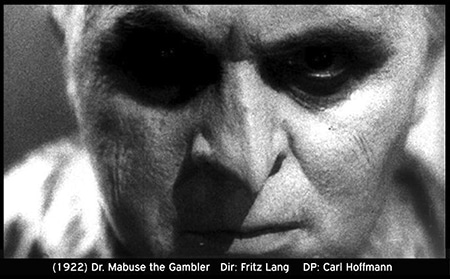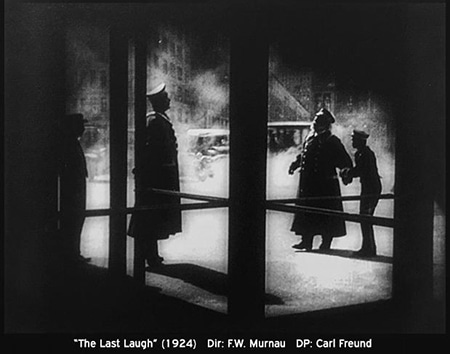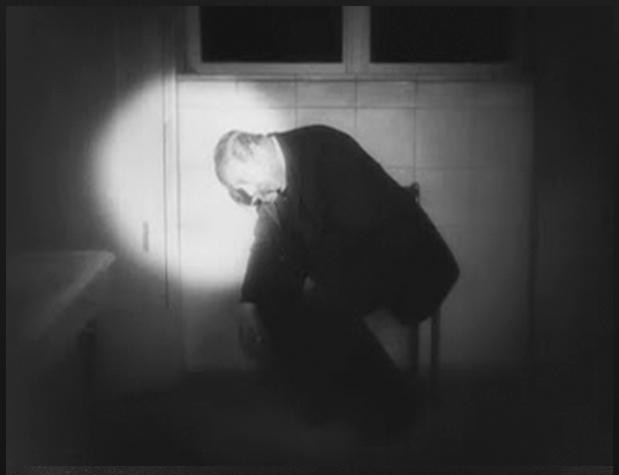 1928 – 1939
"From the first Oscar to Color"
In 1928 the First Acad­e­my Award for Best Cin­e­matog­ra­phy was giv­en to Charles Rosh­er and Karl Struss for "Sun­rise: A Song of Two Humans." Rosh­er and Struss gave the film a look that rev­o­lu­tion­ized much of the Amer­i­can cin­e­ma. Also, Direc­tor F. W. Mur­nau brought with him to Hol­ly­wood many tech­no­log­i­cal inno­va­tions that the Ger­man cin­e­ma had pio­neered.
By this time East­man offi­cial­ly had intro­duced (Cine Neg­a­tive) Panchro­mat­ic Type II. It had a much greater tonal range than any oth­er film, thus, in James Wong Howe's words, it "allowed the pho­tog­ra­ph­er to cap­ture scenes more real­is­ti­cal­ly."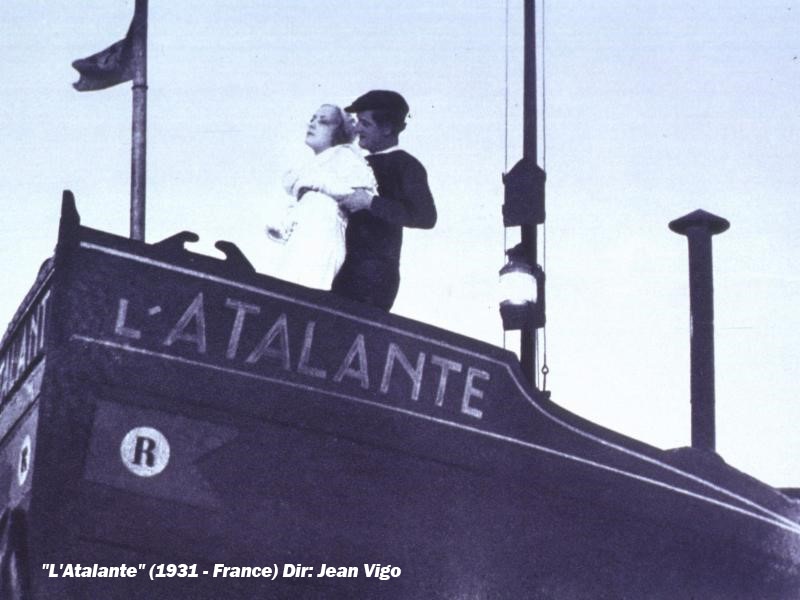 Tech­ni­col­or devel­oped a way to treat par­tic­u­lar hues of the spec­trum, but the lab strong­ly dis­cour­aged any exper­i­men­ta­tion with light­ing.
In the begin­ning of the 1930's Hol­ly­wood became a feu­dal state in which the stu­dio heads wield­ed absolute pow­er. Every­one else, pro­duc­ers, direc­tors, stars, and cam­era­men, answered to the stu­dio.
The stu­dios start­ed to see the cam­era­man, too, as a tech­ni­cian, a very vital tech­ni­cian whose impor­tance was such that he was kept under con­tract. The con­tract fre­quent­ly gave the cam­era­man polit­i­cal clout over direc­tors who often were not under such commitments.
Tech­ni­col­or encour­aged over­all flat light­ing, using flood­lights instead of spots. The col­or film stock was very slow (with an ASA of around 10) and bal­anced for day­light, thus neces­si­tat­ing the exten­sive use of white-flame arc lights. These arcs did not allow the con­trol attain­able with con­tem­po­rary incan­des­cent units.
The desire for a stu­dio look also imposed restric­tions on the cam­era­man. Each of the major stu­dios, in par­tic­u­lar, MGM, Para­mount, Twen­ti­eth Cen­tu­ry Fox, Warn­er Broth­ers, and Colum­bia, evolved a visu­al qual­i­ty that was more or less dis­tinc­tive to their films.
The films of Metro-Gold­wyn-May­er, the glam­or stu­dio, were, in Bax­ter's words, rich with "… a pol­ish and tech­ni­cal vir­tu­os­i­ty that is uncon­test­ed in the peri­od. There is a bright­ly lit, sharp-edged inten­si­ty…" per­fect­ed by its cam­era­men William Daniels, Harold Rosson, George Folsey, and Joseph Rut­ten­berg.
Cam­era­men like Arthur Miller and Leon Sham­roy lit the sets in a bril­liant­ly clear, clas­si­cal­ly high-key approach which made the fur­ni­ture shine and the sets sparkle to give the impres­sion of lux­u­ry. But many refused to exploit the new poten­tials and shoot at low­er light lev­els or with deep­er focus. They over­ex­posed and under­de­vel­oped the neg­a­tive to gain a flat­ter less con­trasty image.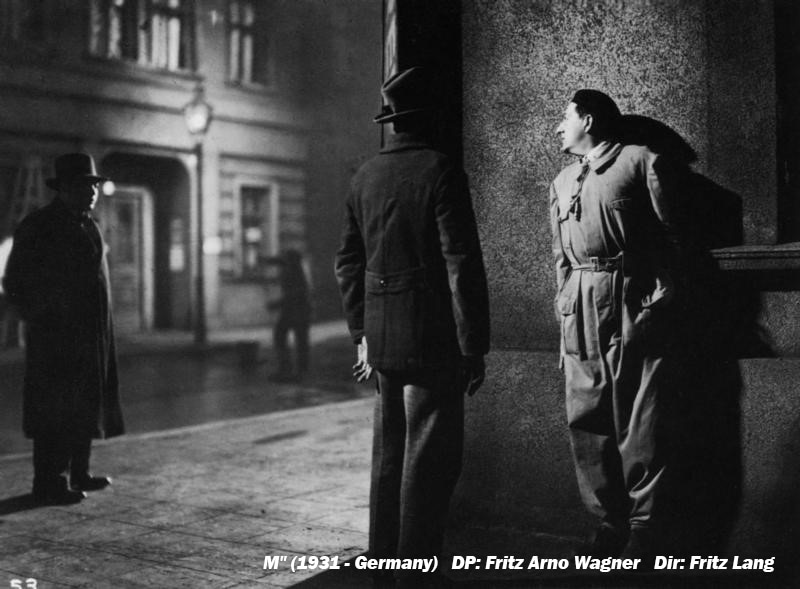 Many Cin­e­matog­ra­phers start­ed to shoot at low­er light lev­els, using high con­trast to cre­ate "more nat­u­ral­is­tic set­tings." Such real­ism, how­ev­er, would not become pop­u­lar until the for­ties." The film stock show­cased in "Gone with the Wind" allowed con­trast with­out the loss of detail and encour­aged more light­ing for dra­mat­ic effect.
In 1939, "Gone with the Wind" wins the Acad­e­my Award for Best Cin­e­matog­ra­phy for a Col­or film. Start­ing the trend of hav­ing a Best Cin­e­matog­ra­phy Award for Col­or and Black-and-White until 1967.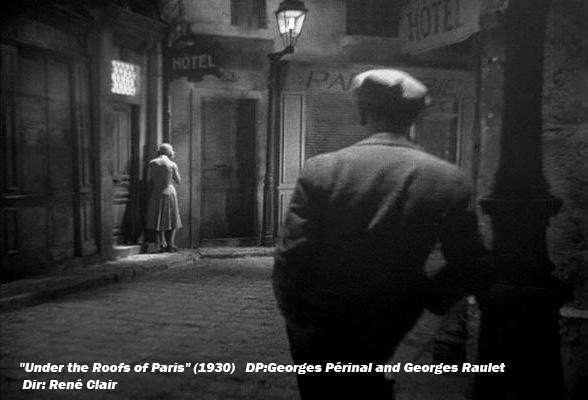 1940 – 1950
"From War to the Advance­ment of Col­or Film"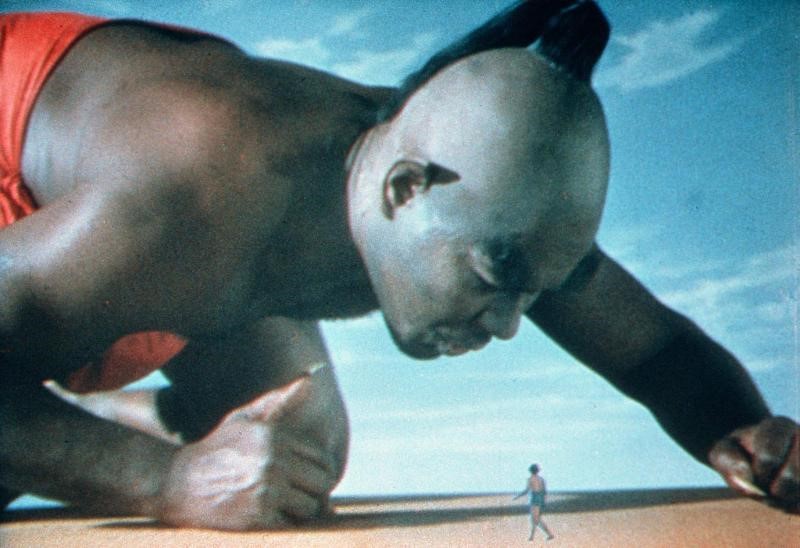 "The Thief of Bag­dad" (1940) DP: Georges Péri­nal Dir: Lud­wig Berg­er, Micheal Pow­ell, Tim Whelan
In the ear­ly 1940's dif­fer­ent com­pa­nies began to exper­i­ment with col­or film. In 1940, Agfa col­or neg­a­tive-pos­i­tive col­or mate­r­i­al was used for the first time for a fea­ture film "Frauen sind doch bessere Diplo­mat­en" (Women are the bet­ter Diplo­mats) by the Ger­man UFA Pro­duc­tion Com­pa­ny. Tech­ni­col­or had devel­oped monopack col­or in 1941, but the col­or qual­i­ty was poor. It was used on sev­er­al fea­tures, includ­ing "Dive Bomber," "Lassie," "Come Home," and "King Solomon's Mines," but failed to gen­er­ate much enthu­si­asm in the industry.
Gregg Toland's tour de force, deep-focus pho­tog­ra­phy of "Cit­i­zen Kane" (1941), is a film that took deep focus to its artis­tic extreme. Fac­tors fos­ter­ing Toland's work were the intro­duc­tion of coat­ed wide-angle lens­es, faster film (Super XX), and the new, pow­er­ful (22-amp) arc lights. Ralph Hogue and Toland devel­oped Water­house stops which were a series of slides that could be put in a slot in the lens to pro­vide exact iris set­tings. These allowed inte­ri­ors to be shot at aper­ture open­ings as small as f22.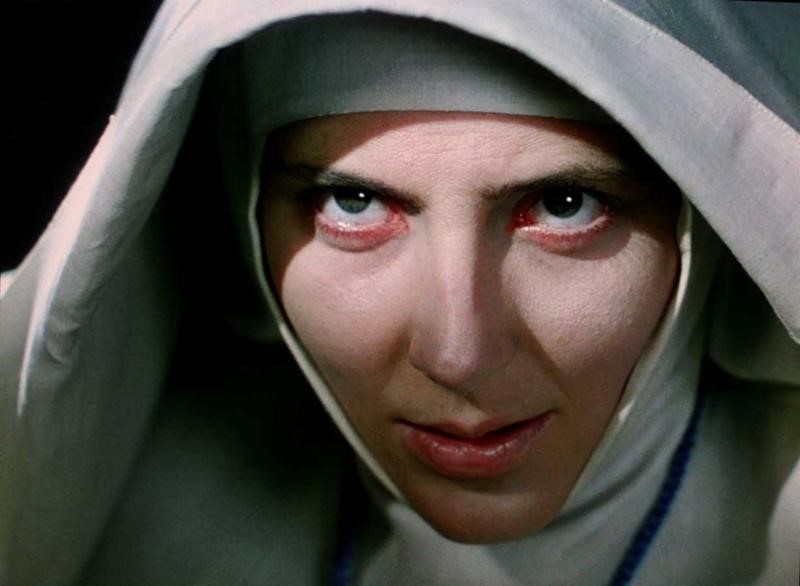 "Black Nar­cis­sus" (1947) DP: Jack Cardiff, OBE, BSC Dir: Michael Pow­ell and Emer­ic Pressburger
In 1942, owing to wartime, the Unit­ed States gov­ern­ment issued an order restrict­ing the amount spent on any movie set to five thou­sand dollars.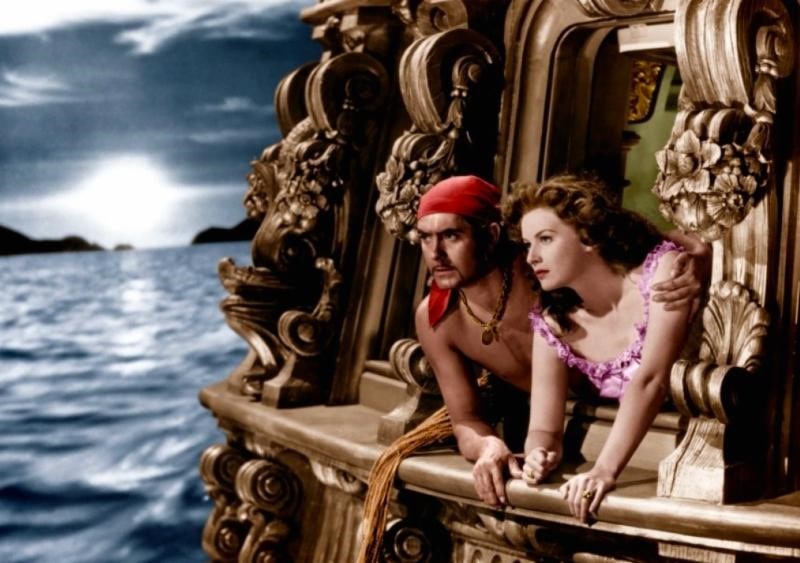 "The Black Swan" (1942) DP: Leon Sham­roy, ASC Dir: Hen­ry King
An edi­to­r­i­al in Amer­i­can Cin­e­matog­ra­ph­er expressed the frus­tra­tion of cam­era­men over the stu­dio restric­tions: "… judged by the results on the screen, they [stu­dios] seem to shack­le these high­ly paid artists by insist­ing that all pho­tog­ra­phy all the lot con­form to rigid, if per­haps unwrit­ten, reg­u­la­tions dic­tat­ed by the per­son­al pref­er­ences of some­one in author­i­ty. The result is, pho­to­graph­i­cal­ly speak­ing, one pic­ture from of these stu­dios looks very much like oth­er pic­tures from that studio."
Neo­re­al­ist pho­tog­ra­phy char­ac­ter­ized by the work of G.R. Aldo "La Ter­ra Trema" (1942), moved into realms vir­tu­al­ly unknown in Hol­ly­wood. Neo­re­al­ism as Andre Bazin notes "cre­ates an ambigu­ous real­i­ty. It is less styl­ized, more nat­ur­al, stripped of expres­sion­ism." The Neo­re­al­ist insist­ed upon nat­u­ral­is­tic source light­ing, using nat­ur­al light aug­ment­ed by arti­fi­cial lamps when­ev­er pos­si­ble, and doing away with all arti­fi­cial backlights.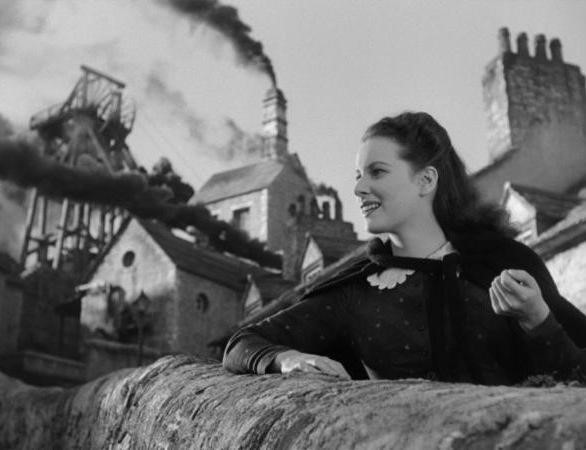 "How Green Was My Val­ley" (1941) DP: Arthur C. Miller, ASC Dir: John Ford" How Green Was My Val­ley" was the Acad­e­my Award Win­ner for the Black and White, where as "Cit­i­zen Kane" lensed by Gregg Toland, ASC and Direct­ed by Orson Welles did not win.
In 1947 High­am and Green­berg write, "The for­ties may now be seen as the apoth­e­o­sis of the U.S. fea­ture film, its last great show of con­fi­dence and skill before it vir­tu­al­ly suc­cumbed artis­ti­cal­ly to tile par­a­lyz­ing effects of big­ger and big­ger screen, and the col­lapse of the star system."
By 1948 con­sent decrees result­ed in cam­era­men, as well as stars and oth­er artists, los­ing their stu­dio con­tracts. The cam­era­man con­se­quent­ly lost some of his influ­ence around the lot.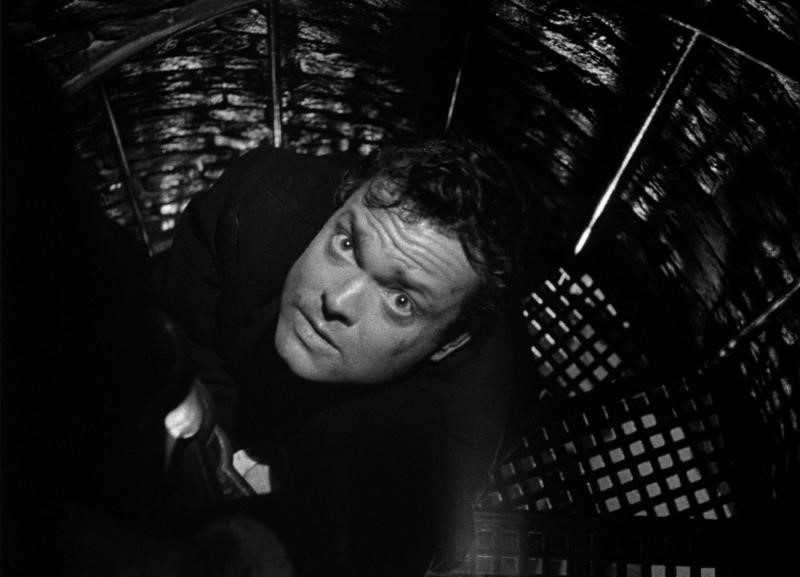 "The Third Man" (1949) DP: Robert Krasker, ASC, BSC Dir: Car­ol Reed