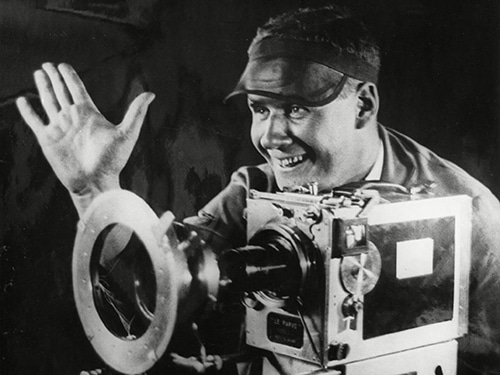 cour­tesy by Glob­al Cin­e­matog­ra­phy Institute
Sergei Eisen­stein, Direc­tor of 'Bat­tle­ship Potemkin' Revered with 120th Birth­day Google Doodle
Just a few days ago on Jan­u­ary 22nd, 2018 we cel­e­brat­ed the 120th birth­day of Sovi­et-Russ­ian film­mak­er Sergei Eisen­stein (1898−1948).
He was one of the great pio­neer­ing genius­es of the mod­ern cinema.
To mark the occa­sion, Google put out a Doo­dle in hon­or of Sergei Eisen­stein show­ing him clip­ping black-and-white strips from a film spool.
His film Bat­tle­ship Potemkin (1925) was named the great­est film of all time at the Brus­sels World's Fair. Sight and Sound Mag­a­zine named it the 11th great­est movie ever made. At var­i­ous times it was banned in the US, France, Ger­many, Rus­sia, and the UK until 1954, and it was X‑rated until the 70s.
Eisen­stein left a dou­ble lega­cy. Not only was he one of the great­est film­mak­ers of all time, but he was also a mag­nif­i­cent film the­o­rist, per­haps the most impor­tant one ever. His most vital writ­ings on the art of the cin­e­ma include arti­cles on the lan­guage and struc­ture of the movies and the dif­fer­ences between the­ater and film.
Sergei Eisen­stein's her­itage remains to inspire, impact, and influ­ence direc­tors in the 21st century.
Bat­tle­ship Potemkin con­tin­ues to be debat­ed, ana­lyzed, and appro­pri­at­ed. Now it's ref­er­enced in every­thing from The God­fa­ther to Inglo­ri­ous Bas­tards to Naked Gun 33 1⁄3. His work influ­enced the work of many notable film­mak­ers, includ­ing Alfred Hitch­cock, Bri­an De Pal­ma, Chap­lin, Buñuel, and Roger Corman.
Potemkin – this film remains the essence of the new and rev­o­lu­tion­ary cin­e­ma: a film about new vs. old and rev­o­lu­tion, in a new vs. old rev­o­lu­tion­ary way.
Sergei Eisen­stein is known as the father of cin­e­mat­ic mon­tage, or "Mon­tage of Attrac­tions" as he called it. He was the titan of world cin­e­ma whose role in cre­at­ing the visu­al lan­guage of film in the ear­li­est days fun­da­men­tal­ly changed the path of the art and craft of cinema.
Eisen­stein's films fea­ture sophis­ti­cat­ed arrays of short shots, con­trast­ed to throw light on the emo­tion­al con­tent of a scene.
But Eisen­stein was not only a tech­ni­cal innovator.
Fol­low­ing his film Strike (1924) he showed that he had an intense social sense of right and wrong; Eisen­stein point­ed his cam­era on the strug­gles and fights of the oppressed.
Sergei Eisen­stein and his cin­e­matog­ra­ph­er Eduard Tisse pio­neered many inno­v­a­tive cam­era tech­niques like shoot­ing on the fog, point­ing cam­eras from very unusu­al angles, and prac­ti­cal­ly the first instance of using doc­u­men­tary style of imagery in fea­ture films.
Eisen­stein died, less than a month after his 50th birth­day, on Feb­ru­ary 11, 1948. But his rev­o­lu­tion­ary advances in film­mak­ing, film the­o­ry, and mon­tage will not be long forgotten.
Glob­al Cin­e­matog­ra­phy Insti­tute – Newslet­ter Feb­ru­ary 3rd, 2018