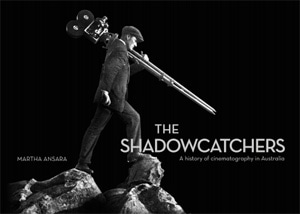 The Shad­ow­catch­ers
The book from ACS Aus­tralian Cin­e­matog­ra­phers Society
This styl­ish and beau­ti­ful­ly pro­duced 288-page cof­fee table book (340 x 245 mm) con­tains over 380 pho­tographs of work­ing cin­e­matog­ra­phers tak­en on film sets from 1901 to the present, along with a ground-break­ing his­tor­i­cal text, biogra­phies of sig­nif­i­cant Aus­tralian cin­e­matog­ra­phers, and fas­ci­nat­ing per­son­al anec­dotes from some of the great char­ac­ters of our industry.
Select­ed from pri­vate sources and from a range of insti­tu­tion­al hold­ings, the images dis­play the artistry of lead­ing stills pho­tog­ra­phers, past and present. The result is an insid­ers' view of what hap­pens behind the cam­era: the highs and the lows, the chang­ing cul­ture and tech­nol­o­gy, the dan­gers, the com­mit­ment, the hard yak­ka, the rela­tion­ships with direc­tors, cast and crew, the incred­i­ble places cin­e­matog­ra­phers trav­el to and what it takes to get the shot.
Pub­lished by the Aus­tralian Cin­e­matog­ra­phers Soci­ety, The Shad­ow­catch­ers was writ­ten by film schol­ar and for­mer cin­e­matog­ra­ph­er Martha Ansara, under the guid­ance of vet­er­an mem­bers of the ACS. The book is pro­duced to the high­est pos­si­ble stan­dards, designed by ARMEDIA and print­ed on 150gsm Lumi art paper with a sewn binding.
Vis­it the web­site for more infor­ma­tion and to buy this excel­lent book:
http://www.shadowcatchers.com.au