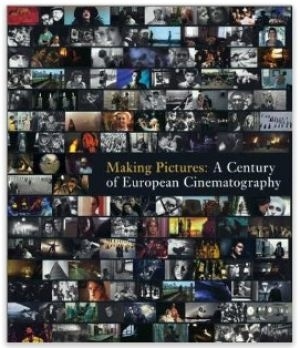 Mak­ing Pic­tures a Cen­tu­ry of Euro­pean Cinematography
Edi­to­r­i­al Reviews
THE GUARDIAN pub­lished Octo­ber 31 th, 2003 in The Guardian; by Andrew Pul­ver
What with the costs of print­ing, cin­e­ma books don't always do their prod­uct jus­tice pic­to­ri­al­ly, but this 450 page tome from fine-art spe­cial­ists Aurum is one of the most spectacular.
Essays by Bertoluc­ci, Sven Nykvist and Jack Cardiff pre­cede a list of the 100 great­est achieve­ments of Euro­pean film, select­ed by the cin­e­matog­ra­phers' asso­ci­a­tion Ima­go. Each film gets at least a dou­ble-page spread (some, like Lawrence of Ara­bia, mget a gate­fold), and all of the pic­tures retain their orig­i­nal ratio (no pan-and-scan here).
First off is the Ital­ian silent Cabiria , from 1913- stills com­plete with tints. Page after page reveals one amaz­ing film after anoth­er – FW Mur­nau's Faust , Drey­er's Day of Wrath , Vis­con­ti's Sen­so , Demy's The Umbrel­las of Cher­bourg , Bergman's Cries and Whis­pers – before fin­ish­ing off with Joe Stelling's lit­tle-known The Fly­ing Dutchman .
It all adds up to a real trea­sure trove and a fine sum­ma­ry of the glo­ries of Euro­pean cin­e­ma.
AMERICAN CINEMATOGRAPHER REVIEW
By Ray Zone Pub­lished in " Amer­i­can Cin­e­matog­ra­phers" OCTOBER 2003
Though it's not exact­ly "the first com­pre­hen­sive exam­i­na­tion of the cin­e­matog­ra­pher's art," as the jack­et copy pro­claims, this book is an exhaus­tive and very well illus­trat­ed ency­clo­pe­dia of cin­e­matog­ra­phy, cov­er­ing its his­to­ry, tech­nol­o­gy, aes­thet­ics, major prac­ti­tion­ers and sem­i­nal works as pho­tographed on the oth­er side of the pond.
With 500 illus­tra­tions – 115 in col­or – this deluxe vol­ume belongs on every cin­e­matog­ra­pher's cof­fee table. While most of the illus­tra­tions are frame enlarge­ments from films, there are also many pro­duc­tion pho­tos and a few tech­ni­cal line drawings.
The orga­ni­za­tion IMAGO was formed in Decem­ber 1992 as the Euro­pean Fed­er­a­tion of Nation­al Cin­e­matog­ra­phers Asso­ci­a­tions; it was found­ed on the ini­tia­tive of Luciano Tovoli, ASC,AIC, its first pres­i­dent, and four Euro­pean cin­e­matog­ra­ph­er soci­eties: Italy 's AIC, France 's AFC , the Unit­ed King­dom 's BSC and Ger­many 's bvk. To date, Imago's mem­bers include 23 soci­eties from all over Europe .
One of Imago's first major projects was the cre­ation of this book."We want­ed to show the work of the cin­e­matog­ra­ph­er as a per­son who cre­ates pho­to­graph­ic images often of such aston­ish­ing vital­i­ty and beau­ty, work­ing with light to cre­ate the atmos­phere of the sub­ject on film" writes Har­vey Har­ri­son, BSC in the fore­word. A spe­cial jury of cin­e­matog­ra­phers chose 100 films for the book, which show­cas­es some of the great­est achieve­ments in Euro­pean cinematography.
Tovoli observes that this book, in high­light­ing "such a chal­leng­ing, demand­ing and deeply indi­vid­u­al­is­tic pro­fes­sion," rep­re­sents" a sign of great matu­ri­ty for col­leagues to try to make audi­ences aware of what is real­ly going on dur­ing the shoot­ing of a film, to add the plea­sure of knowl­edge to the emo­tion of see­ing movies."
In an essay titled "The Cin­e­matog­ra­pher's View," Jack Cardiff, BSC, whose cred­its include "The Red Shoes" dis­cuss­es the art of light­ing. "The nat­u­ral­ness of light has to be con­struct­ed by the use of arti­fi­cial light so that it looks like the real thing," he writes "and these lights must be cun­ning­ly and sub­tly arranged to empha­size the dra­mat­ic atmos­phere". Despite the allure of pow­er­ful light­ing effects, Cardiff says, "they must nev­er intrude on the gen­er­al atmos­phere of nat­ur­al lighting."
Cardiff tells some great war sto­ries, in par­tic­u­lar one about an iron­ic rela­tion­ship between a direc­tor and a cin­e­matog­ra­ph­er who were film­ing on loca­tion in Amer­i­ca . " A cam­era­man told a direc­tor he could not shoot because so many clouds rac­ing across the sky, blot­ting out the sun, which would then burst out again, mak­ing an expo­sure impos­si­ble." The direc­tor liked the effect and insist­ed on shoot­ing. The cam­era­man shot the scene but wrote on the slate, "Shot under Protest" Cardiff writes, "Because of that mag­nif­i­cent sequence, the cam­era­man won an Oscar!"
Sven Nyqvist, ASC writes that "the most impor­tant task of the cin­e­matog­ra­ph­er is to cre­ate an atmos­phere" He also writes about his rela­tion­ship with direc­tor Ing­mar Bergman, for whom he filmed such clas­sics as Through a Glass Dark­ly , Win­ter Light and Cries and Whis­pers. Giuseppe Rotun­no, ASC, AIC, whose cred­its include All That Jazz , Casano­va and Satyri­con , writes, "Pho­tog­ra­phy is a lumi­nous draw­bridge through which the sto­ry has to reach the audi­ence, and the audi­ence has to reach the story .
The book presents oth­er per­spec­tives on the cin­e­matog­ra­pher's art as well. Direc­tor Bernar­do Bertoluc­ci dis­cuss­es his col­lab­o­ra­tions with Vit­to­rio Storaro,ASC,AIC and Mar­cel­lo Mas­troian­ni presents the actor's view of the cin­e­matog­ra­ph­er. Michael Leitch con­tributes a 70 page his­to­ry of Euro­pean cin­e­matog­ra­phy. Many rare archival pho­tos are includ­ed with his piece, and fre­quent side­bars list key films, their direc­tors of Pho­tog­ra­phy, their tech­nolo­gies and coun­try and origin.
After perus­ing Leitch's his­to­ry, the read­er will feel com­pelled to revis­it the films he dis­cuss­es and to pay close atten­tion to the crafts­man­ship in each. An espe­cial­ly deli­cious chap­ter, "Col­or: The ear­ly years to the 1950's, "fea­tures frame enlarge­ments from Jean Renoir's The Gold­en Coach , pho­tographed by Claude Renoir, and Albert Lam­or­is­se's The Red Bal­loon , filmed by Edmond Sechan.
Cathy Green­hal­gh dis­cuss­es the aes­thet­ics of cin­e­matog­ra­phy in the essay "Soot­ing from the Heart: Cin­e­matog­ra­phers and their Medi­um." The piece opens with a great quote from John Bai­ley, ASC: "Cin­e­matog­ra­phers have an espe­cial­ly mag­i­cal tool to facil­i­tate self expres­sion and dis­cov­ery. It is light, at once lam­bent and elu­sive, and also sta­t­ic and sol­id. Our work, our exper­i­ments in space and time, our aes­thet­ic state­ments, are encap­su­lat­ed by it. And ulti­mate­ly, it is one key to our unique per­son­al his­to­ry". Illus­trat­ed in part by paint­ings from the Dutch mas­ters and Renais­sance artists, Green­hal­gh's essay explores the thoughts of many cin­e­matog­ra­phers and visu­al prin­ci­ples of com­po­si­tion, rhythm and col­or. Many frame enlarge­ments ampli­fy the com­plex ideas she considers.
The bulk of this book is a chrono­log­i­cal pre­sen­ta­tion of 100 films span­ning the first cen­tu­ry of Euro­pean cin­e­matog­ra­phy. The jury who select­ed these films con­sist­ed of Jaromir Sofr, ACK ( Czech Repub­lic ); Tony Foprs­berg, FSF ( Swe­den ), and Wolf­gang Fish­er, bvk. The first film pre­sent­ed, Cabiria (1913) was cho­sen for its many "first's", includ­ing arti­fi­cial light for artis­tic effects and track­ing shots. With scenes depict­ing the erup­tion of Mount Etna and the burn­ing of the roman fleet, the film dis­plays great mas­tery of spe­cial effects for its time. Frame enlarge­ments show­ing com­pos­ite pho­tog­ra­phy, hand-tint­ed frames and unique light­ing effects illus­trate the great beau­ties of this film.
Oth­er famous films the jury sin­gles out include The Bat­tle­ship Potemkin, Napolean,The Pas­sion of Joan of Arc, The Bicy­cle Thief, La Stra­da. Wild Straw­ber­ries, Last Year at Marien­bad, Lawrence of Ara­bia, The <red Desert, Le Samourai, 2001: A Space Odyssey, The Con­formist, Amar­cord, Solaris, The Shin­ning, Diva, Das Boot, Char­i­ots of Fire, Del­i­catessen and Three Col­ors: Red. Over­all, this book is a unique list of great films analysed from the cin­e­matog­ra­pher's stand­point. You'd have to look back to the March 1999 80 th anniver­sary issue of Amer­i­can Cin­e­matog­ra­ph­er to find any­thing sim­i­lar.
MAKING PICTURES AWARDED
From Pub­lish­ers Week­ly
Film­mak­er Jean-Luc Godard once said, "Cin­e­ma is the truth, twen­ty-four times a sec­ond." From that brief quote springs this weighty, almost aca­d­e­m­ic work on the his­to­ry and impor­tance of Euro­pean film, start­ing from the opti­cal enter­tain­ments in the 19th cen­tu­ry and end­ing with 21st-cen­tu­ry tech­ni­cal inno­va­tions. In between is packed a wealth of visu­al imagery, infor­ma­tion and analy­sis. Although it fea­tures gor­geous­ly pro­duced stills from a mul­ti­tude of movies, this doorstop­per should­n't be mis­tak­en for a cof­fee-table book. It's a cin­e­matog­ra­pher's hand­book and a cinephile's sum­mer read­ing, so those who don't wish to crawl through detailed infor­ma­tion about every tech­ni­cal aspect of Euro­pean film­mak­ing are best direct­ed else­where. But for the devot­ed film lover, there's much sat­is­fy­ing mate­r­i­al here, includ­ing analy­ses about light­ing night setups, the cin­e­matog­ra­pher's role and in-depth explo­rations of 100 films includ­ing The Bat­tle­ship Potemkin, The Blue Angel and The Umbrel­las of Cher­bourg. Rather than pro­vide movie infor­ma­tion in stan­dard review or flat descrip­tion for­mats, the authors choose to jam-pack one page per movie with intri­cate detail about the film's direc­tor of pho­tog­ra­phy, notable tech­ni­cal aspects and com­men­tary about the use of light, back­grounds and mood, with com­ments from the likes of Ing­mar Bergman's fre­quent col­lab­o­ra­tor, cin­e­matog­ra­ph­er Nykvist, among many oth­ers. The result is a stun­ning look at the way in which movies are made, both tech­ni­cal­ly and cre­ative­ly, and how Euro­pean cin­e­ma in par­tic­u­lar has influ­enced glob­al film­mak­ing.
Copy­right 2003 Reed Busi­ness Infor­ma­tion, Inc.
Quotes:
An Inspi­ra­tional Book
This is such an inspi­ra­tional book, and a must for any aspir­ing cin­e­matog­ra­ph­er and those with a real inter­est in cin­e­ma. It cov­ers the his­to­ry of Europe­on cin­e­matog­ra­phy and is won­der­ful­ly illus­trat­ed. At the begin­ning there are pieces from Jack Cardiff, Sven Nykvist, Guiseppe Rotun­no and Bernar­do Bertoluc­ci.
One of the things I liked best about this book are the pieces on the 100 dif­fer­ent top rat­ed films. For each film we are giv­en the sto­ry and this is told with the empha­sis on how the film was shot, how light was used and how effects were cre­at­ed. It out­lines each cin­e­matog­ra­phers approach. It made me want to watch all 100 of these films.
At the end there is a large sec­tion on 'Tools of the Trade' describ­ing many dif­fer­ent cam­era sys­tems, light­ing and fil­ters and the his­to­ry of many great cam­era com­pa­nies, among oth­ers Panav­i­sion, Auri, Kodak, Fuji and Aaton. This is a tru­ly fas­ci­nat­ing book.
A "must have" book
Some­times, see­ing a movie is not enough for pho­tog­ra­phers. Some­times it is bet­ter to freeze every­thing around us, and take the time one wants to admire a beau­ti­ful com­po­si­tion, or light­ing or an unfor­get­table face. This is what I found in this book. As if it was­n't enough, it has the most inter­est­ing infor­ma­tion about the cin­e­matog­ra­phers who achieved all this in the most sub­lime stage of cin­e­mat­ic art. I encour­age all of you, inter­est­ed or prac­tic­ing pho­tog­ra­phy to buy this book, You will nev­er regret it.
A must buy for Cin­e­matog­ra­phers!
An extra­or­di­nary book on many lev­els. It exam­ines in sur­pris­ing­ly great detail the cin­e­matog­ra­phy on over 100 films by Bergman, Felli­ni, Kubrick, Lean to name a just a few. The gor­geous accom­pa­ny­ing stills from the films and also of the DP's set­ting up shots sealed the deal for me.
Mov­ing Image Book Awards 2003
IMAGO's book has been award­ed a Spe­cial Com­men­da­tion in the 2003 Kraz­na-Krausz Mov­ing Image Book Awards.
Vien­na , March 29th, 2004
On March 17th, 2004 , we got the priv­i­lege – due to a very gen­er­ous spon­sor­ship by Joe Dun­ton BSC – to col­lect a Diplo­ma of the Kraz­na-Krausz Foun­da­tion at the Hun­gar­i­an Embassy in London .
His Excel­len­cy Béla Szom­bati, the Hun­gar­i­an Ambas­sador, Col­in Ford CBE, Chair­man of the Krasz­na-Krausz Foun­da­tion and the dis­tin­guished Hun­gar­i­an film direc­tor, Mik­lós Janc­só, mak­er of many radi­ant and leg­endary fea­ture films includ­ing Szegénylegények / The Roundup (1965) or Csil­lagosok, katonák / The Red and the White (1967) – see our book – have pre­sent­ed the prizes.
The Krasz­na-Krausz Foun­da­tion was cre­at­ed by Andor Krasz­na (1904−1989), a man who fore­saw the impor­tance of the lan­guage of pic­tures long before the incep­tion of
the phrase 'the medi­um is the mes­sage'. His imprint, Focal Press, still dom­i­nates the pho­to­graph­ic press. Accord­ing to the foun­da­tion, the win­ning books are those which make orig­i­nal and last­ing edu­ca­tion­al, pro­fes­sion­al, his­tor­i­cal, tech­ni­cal, sci­en­tif­ic, social, lit­er­ary or cul­tur­al con­tri­bu­tions to the field.
For more infor­ma­tion see: http://www.editor.net/k‑k/
Togeth­er with six oth­er books, IMAGO's book has been nom­i­nat­ed for a Spe­cial Com­men­da­tion out of 270 books from 11 coun­tries by the three judges. The jury final­ly
chose one win­ner per cat­e­go­ry. The judges were:
Tom Gun­ning , film his­to­ri­an and spe­cial­ist in ear­ly and silent cin­e­ma, Edwin A and Bet­ty L Bergmann Dis­tin­guished Ser­vice Pro­fes­sor in Art His­to­ry and mem­ber of the
Com­mit­tee on Cin­e­ma and Media at the Uni­ver­si­ty of Chica­go (USA);
André Lange , Head of Depart­ment at the Euro­pean Audio­vi­su­al Obser­va­to­ry in Stras­bourg, writer on the film, tele­vi­sion and record indus­tries and edi­tor of the web­site His­to­ry of Tele­vi­sion (France);
Jim Slater , Man­ag­ing Edi­tor of Image Tech­nol­o­gy and Cin­e­ma Tech­nol­o­gy , the jour­nals of the BKSTS – the Mov­ing Image Soci­ety, and writer on tele­vi­sion and
broad­cast­ing (UK).
The jury com­ments on our book as fol­lows: ". a beau­ti­ful­ly illus­trat­ed and pro­duced book, packed with detailed infor­ma­tion, which offers a real trib­ute to cin­e­matog­ra­phers in Europe , with excel­lent analy­ses of how films can be turned into mas­ter­pieces. A thor­ough­ly enjoy­able book to dip into and to use as a detailed work of reference. "
Unfor­tu­nate­ly – and for us not com­pre­hen­si­ble – the jury has con­sid­ered the IMAGO book in the cat­e­go­ry " Busi­ness, Tech­niques & Tech­nol­o­gy " instead of the " Cul­ture &
His­to­ry " cat­e­go­ry. This cat­e­gori­sa­tion is prob­a­bly the rea­son why our unique and exten­sive­ly illus­trat­ed book (we saw all the oth­er books) about the his­tor­i­cal and
cul­tur­al devel­op­ment of the visu­al Euro­pean film lan­guage has not been award­ed with the pres­ti­gious Krasz­na-Krausz award.
SPONSORS OF THE IMAGO BOOK
AATON ; ACADEMIA DELLA IMMAGINE ; AGFA FRANCE ; ANKERSTJERNE ; ARRI ;ARRICAM ; CINEMATOGRAPHER'S DAY ; DESISTI ; JOE DUNTON CAMERAS ; FUJI; GTC ; KODAK ; LEE LIGHTING ; LTC ; LTM ; MOVIECAM ; NORDISK FILM FOUNDATION; PANAVISION ; PANTHER ; RANK ORGANISATION ; ROSCO LAB; SACHTLER; SAMUELSON; TECNNOVISION.

Descrip­tion
The first com­pre­hen­sive exam­i­na­tion of the cin­e­matog­ra­pher's art, Mak­ing Pic­tures presents inci­sive analy­ses of 100 visu­al­ly stun­ning films-rad­i­cal clas­sics like Bat­tle­ship Potemkin (1925), Jules et Jim (1965), and The Ele­phant Man (1980)-along with a com­plete tech­ni­cal and cre­ative his­to­ry of the cam­er­ap­er­son­'s unique craft. Illus­trat­ed with 500 images in both col­or and black-and-white, it fea­tures a wealth of loca­tion shots and expos­i­to­ry stills. Con­tri­bu­tions by such sem­i­nal fig­ures as direc­tor Bernar­do Bertoluc­ci, actor Mar­cel­lo Mas­troian­ni, and Ing­mar Bergman's long-term col­lab­o­ra­tor, cin­e­matog­ra­ph­er Sven Nykvist, make this a unique study.
This remark­able book exam­ines 100 Euro­pean films that rep­re­sent the art of cin­e­matog­ra­phy at its best; they were spe­cial­ly cho­sen by a pan­el of cin­e­matog­ra­phers to rep­re­sent either tech­ni­cal or cre­ative mas­tery by the cam­era­man. This book will be an essen­tial ref­er­ence for all film stu­dents and cinematographers.
HOW TO BUY
Unfor­tu­nate­ly IMAGO does­n't have any copy for sale. The book is now sold out but it is pos­si­ble to acquire the book from these links below from pri­vate owners.
Ama­zon com: http://www.amazon.com/Making-Pictures-Century-European-Cinematography/dp/0810943859
ebay: http://www.ebay.com/ctg/Making-Pictures-Century-European-Cinematography-Sven-Nykvist-and-Bernardo-Bertolucci-2003-Hardcover-/2357760