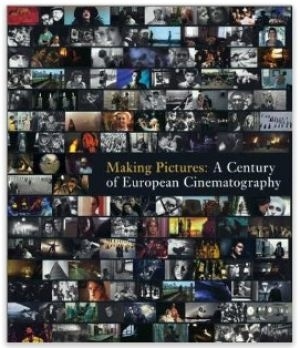 Making Pictures a Century of European Cinematography
Editorial Reviews
THE GUARDIAN published October 31 th, 2003 in The Guardian; by Andrew Pulver
What with the costs of printing, cinema books don't always do their product justice pictorially, but this 450 page tome from fine-art specialists Aurum is one of the most spectacular.
Essays by Bertolucci, Sven Nykvist and Jack Cardiff precede a list of the 100 greatest achievements of European film, selected by the cinematographers' association Imago. Each film gets at least a double-page spread (some, like Lawrence of Arabia, mget a gatefold), and all of the pictures retain their original ratio (no pan-and-scan here).
First off is the Italian silent Cabiria , from 1913- stills complete with tints. Page after page reveals one amazing film after another – FW Murnau's Faust , Dreyer's Day of Wrath , Visconti's Senso , Demy's The Umbrellas of Cherbourg , Bergman's Cries and Whispers – before finishing off with Joe Stelling's little-known The Flying Dutchman .
It all adds up to a real treasure trove and a fine summary of the glories of European cinema.
AMERICAN CINEMATOGRAPHER REVIEW
By Ray Zone Published in " American Cinematographers" OCTOBER 2003
Though it's not exactly "the first comprehensive examination of the cinematographer's art," as the jacket copy proclaims, this book is an exhaustive and very well illustrated encyclopedia of cinematography, covering its history, technology, aesthetics, major practitioners and seminal works as photographed on the other side of the pond.
With 500 illustrations – 115 in color – this deluxe volume belongs on every cinematographer's coffee table. While most of the illustrations are frame enlargements from films, there are also many production photos and a few technical line drawings.
The organization IMAGO was formed in December 1992 as the European Federation of National Cinematographers Associations; it was founded on the initiative of Luciano Tovoli, ASC,AIC, its first president, and four European cinematographer societies: Italy 's AIC, France 's AFC , the United Kingdom 's BSC and Germany 's bvk. To date, Imago's members include 23 societies from all over Europe .
One of Imago's first major projects was the creation of this book."We wanted to show the work of the cinematographer as a person who creates photographic images often of such astonishing vitality and beauty, working with light to create the atmosphere of the subject on film" writes Harvey Harrison, BSC in the foreword. A special jury of cinematographers chose 100 films for the book, which showcases some of the greatest achievements in European cinematography.
Tovoli observes that this book, in highlighting "such a challenging, demanding and deeply individualistic profession," represents" a sign of great maturity for colleagues to try to make audiences aware of what is really going on during the shooting of a film, to add the pleasure of knowledge to the emotion of seeing movies."
In an essay titled "The Cinematographer's View," Jack Cardiff, BSC, whose credits include "The Red Shoes" discusses the art of lighting. "The naturalness of light has to be constructed by the use of artificial light so that it looks like the real thing," he writes "and these lights must be cunningly and subtly arranged to emphasize the dramatic atmosphere". Despite the allure of powerful lighting effects, Cardiff says, "they must never intrude on the general atmosphere of natural lighting."
Cardiff tells some great war stories, in particular one about an ironic relationship between a director and a cinematographer who were filming on location in America . " A cameraman told a director he could not shoot because so many clouds racing across the sky, blotting out the sun, which would then burst out again, making an exposure impossible." The director liked the effect and insisted on shooting. The cameraman shot the scene but wrote on the slate, "Shot under Protest" Cardiff writes, "Because of that magnificent sequence, the cameraman won an Oscar!"
Sven Nyqvist, ASC writes that "the most important task of the cinematographer is to create an atmosphere" He also writes about his relationship with director Ingmar Bergman, for whom he filmed such classics as Through a Glass Darkly , Winter Light and Cries and Whispers. Giuseppe Rotunno, ASC, AIC, whose credits include All That Jazz , Casanova and Satyricon , writes, "Photography is a luminous drawbridge through which the story has to reach the audience, and the audience has to reach the story .
The book presents other perspectives on the cinematographer's art as well. Director Bernardo Bertolucci discusses his collaborations with Vittorio Storaro,ASC,AIC and Marcello Mastroianni presents the actor's view of the cinematographer. Michael Leitch contributes a 70 page history of European cinematography. Many rare archival photos are included with his piece, and frequent sidebars list key films, their directors of Photography, their technologies and country and origin.
After perusing Leitch's history, the reader will feel compelled to revisit the films he discusses and to pay close attention to the craftsmanship in each. An especially delicious chapter, "Color: The early years to the 1950's, "features frame enlargements from Jean Renoir's The Golden Coach , photographed by Claude Renoir, and Albert Lamorisse's The Red Balloon , filmed by Edmond Sechan.
Cathy Greenhalgh discusses the aesthetics of cinematography in the essay "Sooting from the Heart: Cinematographers and their Medium." The piece opens with a great quote from John Bailey, ASC: "Cinematographers have an especially magical tool to facilitate self expression and discovery. It is light, at once lambent and elusive, and also static and solid. Our work, our experiments in space and time, our aesthetic statements, are encapsulated by it. And ultimately, it is one key to our unique personal history". Illustrated in part by paintings from the Dutch masters and Renaissance artists, Greenhalgh's essay explores the thoughts of many cinematographers and visual principles of composition, rhythm and color. Many frame enlargements amplify the complex ideas she considers.
The bulk of this book is a chronological presentation of 100 films spanning the first century of European cinematography. The jury who selected these films consisted of Jaromir Sofr, ACK ( Czech Republic ); Tony Foprsberg, FSF ( Sweden ), and Wolfgang Fisher, bvk. The first film presented, Cabiria (1913) was chosen for its many "first's", including artificial light for artistic effects and tracking shots. With scenes depicting the eruption of Mount Etna and the burning of the roman fleet, the film displays great mastery of special effects for its time. Frame enlargements showing composite photography, hand-tinted frames and unique lighting effects illustrate the great beauties of this film.
Other famous films the jury singles out include The Battleship Potemkin, Napolean,The Passion of Joan of Arc, The Bicycle Thief, La Strada. Wild Strawberries, Last Year at Marienbad, Lawrence of Arabia, The <red Desert, Le Samourai, 2001: A Space Odyssey, The Conformist, Amarcord, Solaris, The Shinning, Diva, Das Boot, Chariots of Fire, Delicatessen and Three Colors: Red. Overall, this book is a unique list of great films analysed from the cinematographer's standpoint. You'd have to look back to the March 1999 80 th anniversary issue of American Cinematographer to find anything similar.
MAKING PICTURES AWARDED
From Publishers Weekly
Filmmaker Jean-Luc Godard once said, "Cinema is the truth, twenty-four times a second." From that brief quote springs this weighty, almost academic work on the history and importance of European film, starting from the optical entertainments in the 19th century and ending with 21st-century technical innovations. In between is packed a wealth of visual imagery, information and analysis. Although it features gorgeously produced stills from a multitude of movies, this doorstopper shouldn't be mistaken for a coffee-table book. It's a cinematographer's handbook and a cinephile's summer reading, so those who don't wish to crawl through detailed information about every technical aspect of European filmmaking are best directed elsewhere. But for the devoted film lover, there's much satisfying material here, including analyses about lighting night setups, the cinematographer's role and in-depth explorations of 100 films including The Battleship Potemkin, The Blue Angel and The Umbrellas of Cherbourg. Rather than provide movie information in standard review or flat description formats, the authors choose to jam-pack one page per movie with intricate detail about the film's director of photography, notable technical aspects and commentary about the use of light, backgrounds and mood, with comments from the likes of Ingmar Bergman's frequent collaborator, cinematographer Nykvist, among many others. The result is a stunning look at the way in which movies are made, both technically and creatively, and how European cinema in particular has influenced global filmmaking.
Copyright 2003 Reed Business Information, Inc.
Quotes:
An Inspirational Book
This is such an inspirational book, and a must for any aspiring cinematographer and those with a real interest in cinema. It covers the history of Europeon cinematography and is wonderfully illustrated. At the beginning there are pieces from Jack Cardiff, Sven Nykvist, Guiseppe Rotunno and Bernardo Bertolucci.
One of the things I liked best about this book are the pieces on the 100 different top rated films. For each film we are given the story and this is told with the emphasis on how the film was shot, how light was used and how effects were created. It outlines each cinematographers approach. It made me want to watch all 100 of these films.
At the end there is a large section on 'Tools of the Trade' describing many different camera systems, lighting and filters and the history of many great camera companies, among others Panavision, Auri, Kodak, Fuji and Aaton. This is a truly fascinating book.
A "must have" book
Sometimes, seeing a movie is not enough for photographers. Sometimes it is better to freeze everything around us, and take the time one wants to admire a beautiful composition, or lighting or an unforgettable face. This is what I found in this book. As if it wasn't enough, it has the most interesting information about the cinematographers who achieved all this in the most sublime stage of cinematic art. I encourage all of you, interested or practicing photography to buy this book, You will never regret it.
A must buy for Cinematographers!
An extraordinary book on many levels. It examines in surprisingly great detail the cinematography on over 100 films by Bergman, Fellini, Kubrick, Lean to name a just a few. The gorgeous accompanying stills from the films and also of the DP's setting up shots sealed the deal for me.
Moving Image Book Awards 2003
IMAGO's book has been awarded a Special Commendation in the 2003 Krazna-Krausz Moving Image Book Awards.
Vienna , March 29th, 2004
On March 17th, 2004 , we got the privilege – due to a very generous sponsorship by Joe Dunton BSC – to collect a Diploma of the Krazna-Krausz Foundation at the Hungarian Embassy in London .
His Excellency Béla Szombati, the Hungarian Ambassador, Colin Ford CBE, Chairman of the Kraszna-Krausz Foundation and the distinguished Hungarian film director, Miklós Jancsó, maker of many radiant and legendary feature films including Szegénylegények / The Roundup (1965) or Csillagosok, katonák / The Red and the White (1967) – see our book – have presented the prizes.
The Kraszna-Krausz Foundation was created by Andor Kraszna (1904-1989), a man who foresaw the importance of the language of pictures long before the inception of
the phrase 'the medium is the message'. His imprint, Focal Press, still dominates the photographic press. According to the foundation, the winning books are those which make original and lasting educational, professional, historical, technical, scientific, social, literary or cultural contributions to the field.
For more information see: http://www.editor.net/k-k/
Together with six other books, IMAGO's book has been nominated for a Special Commendation out of 270 books from 11 countries by the three judges. The jury finally
chose one winner per category. The judges were:
Tom Gunning , film historian and specialist in early and silent cinema, Edwin A and Betty L Bergmann Distinguished Service Professor in Art History and member of the
Committee on Cinema and Media at the University of Chicago (USA);
André Lange , Head of Department at the European Audiovisual Observatory in Strasbourg, writer on the film, television and record industries and editor of the website History of Television (France);
Jim Slater , Managing Editor of Image Technology and Cinema Technology , the journals of the BKSTS – the Moving Image Society, and writer on television and
broadcasting (UK).
The jury comments on our book as follows: ". a beautifully illustrated and produced book, packed with detailed information, which offers a real tribute to cinematographers in Europe , with excellent analyses of how films can be turned into masterpieces. A thoroughly enjoyable book to dip into and to use as a detailed work of reference. "
Unfortunately – and for us not comprehensible – the jury has considered the IMAGO book in the category " Business, Techniques & Technology " instead of the " Culture &
History " category. This categorisation is probably the reason why our unique and extensively illustrated book (we saw all the other books) about the historical and
cultural development of the visual European film language has not been awarded with the prestigious Kraszna-Krausz award.
SPONSORS OF THE IMAGO BOOK
AATON ; ACADEMIA DELLA IMMAGINE ; AGFA FRANCE ; ANKERSTJERNE ; ARRI ;ARRICAM ; CINEMATOGRAPHER'S DAY ; DESISTI ; JOE DUNTON CAMERAS ; FUJI; GTC ; KODAK ; LEE LIGHTING ; LTC ; LTM ; MOVIECAM ; NORDISK FILM FOUNDATION; PANAVISION ; PANTHER ; RANK ORGANISATION ; ROSCO LAB; SACHTLER; SAMUELSON; TECNNOVISION.

Description
The first comprehensive examination of the cinematographer's art, Making Pictures presents incisive analyses of 100 visually stunning films-radical classics like Battleship Potemkin (1925), Jules et Jim (1965), and The Elephant Man (1980)-along with a complete technical and creative history of the cameraperson's unique craft. Illustrated with 500 images in both color and black-and-white, it features a wealth of location shots and expository stills. Contributions by such seminal figures as director Bernardo Bertolucci, actor Marcello Mastroianni, and Ingmar Bergman's long-term collaborator, cinematographer Sven Nykvist, make this a unique study.
This remarkable book examines 100 European films that represent the art of cinematography at its best; they were specially chosen by a panel of cinematographers to represent either technical or creative mastery by the cameraman. This book will be an essential reference for all film students and cinematographers.
HOW TO BUY
Unfortunately IMAGO doesn't have any copy for sale. The book is now sold out but it is possible to acquire the book from these links below from private owners.
Amazon com: http://www.amazon.com/Making-Pictures-Century-European-Cinematography/dp/0810943859
ebay: http://www.ebay.com/ctg/Making-Pictures-Century-European-Cinematography-Sven-Nykvist-and-Bernardo-Bertolucci-2003-Hardcover-/2357760