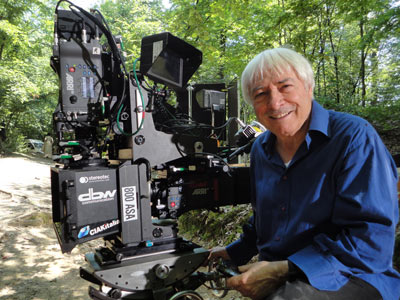 By Luciano Tovoli AIC ASC
The inspi­ra­tion for think­ing to cre­ate one day a Euro­pean Fed­er­a­tion of Cin­e­matog­ra­phers Soci­eties comes from the dis­tant 1981 when I ini­ti­at­ed, in col­lab­o­ra­tion with Gabriele Luc­ci, a pro­fes­sor of econ­o­my and film lover, joint­ly with his part­ner Anna Maria Ximenez, the First Inter­na­tion­al World­wide Fes­ti­val – Meet­ing for Cin­e­matog­ra­phers in L'Aquila, an ancient and mag­nif­i­cent town in the moun­tains near Rome. This inno­v­a­tive event was called "UNA CITTA' IN CINEMA".
Dur­ing the 10 edi­tions of this First Inter­na­tion­al World­wide Event ded­i­cat­ed to Cin­e­matog­ra­phers, not to be con­fused with the glo­ri­ous Mace­don­ian Man­a­ki Broth­ers Film Fes­ti­val in Bito­la, which in those first years was quite unno­ticed because per­formed as a dis­creet Mace­don­ian Nation­al Event, we invit­ed in the years a nice group of the most famous inter­na­tion­al Cin­e­matog­ra­phers and we worked with them cre­at­ing explana­to­ry pub­lic demon­stra­tions of film­mak­ing in the street of the town in day and night. I called to col­lab­o­rate since the first edi­tion, my close friend and co-schol­ar at the CSC Cen­tro Sper­i­men­tale di Cin­e­matografia in Rome, Nestor Almen­dros, fresh­ly oscarized (1979) for his Cin­e­matog­ra­phy in "Days of Heav­en" and with him we per­formed our film­mak­ing demon­stra­tions for all the First edi­tion, com­ment­ing rec­i­p­ro­cal­ly our so dif­fer­ent approaches.
The idea of hav­ing Cin­e­matog­ra­phers pro­tag­o­nists of a major event that con­tin­ued for a min­i­mum of ten days, cov­er­ing con­tin­u­ous­ly, in exte­ri­or and inte­ri­or, dawn and full day, through the sun­set until the full night in the old street of the town, all re-ana­lyzed in mul­ti­ple con­fer­ences, was so suc­cess­ful that from the sec­ond edi­tion a grow­ing num­ber of film stu­dents and pas­sion­ate of pho­tog­ra­phy and cin­e­matog­ra­phy came in town from all over Europe to meet extra­or­di­nary artists as Vit­to­rio Storaro (Oscar 1980 for "Apoc­a­lypse Now"), Vil­mos Zsig­mond (Oscar 1978 for "Close Encoun­ters of the Third Kind") with Almen­dros a per­fect 1978÷1979÷1980 Oscars Trio present in town and oth­er sim­i­lar cal­ibers as Giuseppe Rotun­no AIC ASC, long­time Cin­e­matog­ra­ph­er for Luchi­no Vis­con­ti and Fed­eri­co Felli­ni, joint­ly with much younger promis­ing col­leagues, which per­formed often con­tem­po­ra­ne­ous­ly in dif­fer­ent loca­tions, in the course of an inter­na­tion­al oper­a­tion at an high and broad scale, ini­ti­at­ing to break the mys­tery which cov­ered until then, for the pub­lic, the role and fig­ure of the Cin­e­matog­ra­ph­er. The role and capac­i­ty of Lucci/Ximenes on orga­niz­ing such an incred­i­ble net of events and make them nev­er col­lid­ing, leav­ing choic­es to the audi­ence, was just amazing.
Also if I force myself to take short on some­thing that should take the place of a full book I can not ignore that the cou­ple Lucci/Ximenes orga­nized and for the length of sev­er­al full days, an extra­or­di­nary Work­shop pre­sen­ta­tion of the Steadicam, per­formed by Gar­ret Brown in per­son (here anoth­er affec­tion­ate friend of L'Aquila event !) from which many Euro­pean future excel­lent Steadicam oper­a­tors orig­i­nat­ed at the advan­tage of the nar­ra­tive qual­i­ty of Euro­pean films.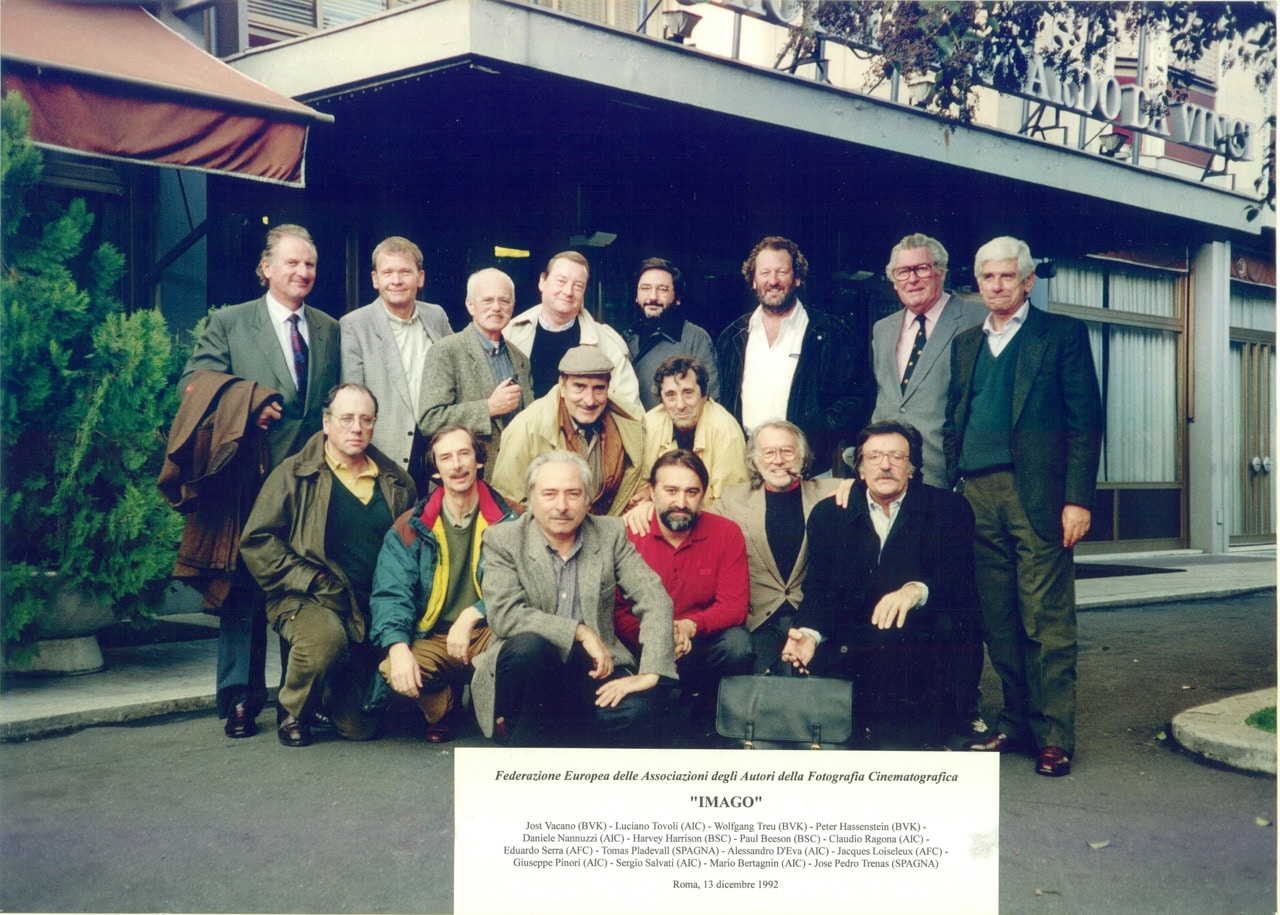 Meet­ing myself for the first time with all those pre-emi­nent Cin­e­matog­ra­phers, speak­ing with them, often inter­act­ing with them in the course of prac­ti­cal demon­stra­tions in front of an enchant­ed audi­ence, I felt that, apart from the awards, the idea that, as I said already, we have aban­doned since the ini­tial con­cep­tion of the event, these artists deserved anoth­er kind of recog­ni­tion much less episod­ic than awards, some kind of recog­ni­tion of their artis­tic cre­ativ­i­ty that should con­tribute to bring them out of the shad­ow zone on which, artists and refined per­form­ers of com­po­si­tion and light as they were, in effect worked more than often quite unno­ticed. Since those kinds of mag­ic moments, look­ing at them in action, lis­ten­ing to their inspired words, I start­ed to think that some­thing had to be prac­ti­cal­ly done to try to bring them at the sur­face of the com­mu­ni­ca­tion and start to share, first of all between them­selves, their expe­ri­ences and the aware­ness of their artis­tic creativity.
It hap­pened that when in 1992, being then Pres­i­dent of the AIC, the L'Aquila Event closed its activ­i­ty, despite of its glob­al suc­cess tes­ti­fied also by sev­er­al arti­cles in The Amer­i­can Cin­e­matog­ra­ph­er, and was trans­formed by my friends Gabriele Luc­ci, Anna Maria Ximenez and Vit­to­rio Storaro in an Inter­na­tion­al Film Acad­e­my*, (John Bai­ley was present at the inau­gu­rat­ing cer­e­mo­ny in Decem­ber 1995), my idea of reunit­ing the Cin­e­matog­ra­phers and their Soci­eties in one sin­gle orga­ni­za­tion which could com­mu­ni­cate with oth­er sim­i­lar orga­ni­za­tions, as FERA for exam­ple, that already assem­bled Euro­pean Direc­tors, and even­tu­al­ly also with the Euro­pean Gov­ern­ment Offices, gained much ground on my wish to launch myself again in an unfore­see­able adven­ture in favour of my beloved pro­fes­sion and its pro­tag­o­nists con­tin­u­ing under anoth­er form what has been ini­ti­at­ed with the 10 edi­tions of LA CITTA' IN CINEMA in L'Aquila.
Unfor­tu­nate­ly, 1992 coin­cides with the pre­ma­ture death of one of my clos­est com­pan­ions in thoughts and ideas about how to ren­o­vate not only our pro­fes­sion but also the appre­ci­a­tion of our work as he per­fect­ly illus­trates in his impor­tant book "A man behind the cam­era", that Lucci/Ximenes pub­lished in L'Aquila in a per­fect Ital­ian ver­sion. Nestor Almen­dros was not more there to guide me and repair in advance the vast dam­ages that a prob­a­bly some­times inspired mind but sure­ly often chaot­ic risked to pro­duce at any attempt­ed new step.
How­ev­er, the fact it is that I made, under my strong con­vince­ment and Almen­dros lega­cy, from my pri­vate kitchen, three lucky phone calls to the three Cin­e­matog­ra­phers Soci­eties of which I knew some mem­bers hav­ing them par­tic­i­pat­ed in L'Aquila Fes­ti­val – Meet­ing event, invit­ing the Soci­eties to send their rep­re­sen­ta­tives to Rome, Cinecit­tà, for a Meet­ing, spon­sored by the then gen­er­ous Kodak Italy CEO, in the per­son of Toni­no Carletti.
It was, as I said, the begin­ning of March of 1992 and the col­leagues who arrived at the Fiu­mi­ci­no Air­port in Rome, where I received them offi­cial­ly with the AIC Gen­er­al Sec­re­tary Clau­dio Rag­o­na, were in the per­sons of Jost Vacano and Wolf­gang Treu from BVK, Har­vey Har­ri­son and Paul Bee­son from BSC, Car­lo Vari­ni, Robert Alazra­ki and Armand Mar­co from AFC. Then, once in Cinecit­tà, for the first time I exposed my quite pre­cise idea of cre­at­ing a Euro­pean Fed­er­a­tion of Cin­e­matog­ra­phers Soci­eties and all togeth­er, we agreed as hav­ing the com­mon goals to expand inside and out­side the Fed­er­a­tion itself the notion and aware­ness of Author­ship, the defence of civ­i­lized work con­di­tions and, maybe the most impor­tant of all, the shar­ing of tech­ni­cal and artis­tic expe­ri­ences between all of us being this last point the real pro­pelling idea because com­mu­ni­ca­tion and trans­paren­cy, with mutu­al respect as first val­ue, should start to apply a real unprece­dent­ed gen­er­al way of prac­tic­ing rela­tion­ship inside as out­side the Federation.
All the par­tic­i­pants agreed with this Fed­er­a­tive Idea and on its fun­da­men­tal goals demon­strat­ing that a com­mon need was present in the air since years or decades prob­a­bly. After hav­ing estab­lished a plan of action for the months to come, espe­cial­ly around a statute and all the oth­er prac­ti­cal admin­is­tra­tive acts as the deci­sion to give legal domi­cile to the Fed­er­a­tion where at that moment the juris­dic­tion for cul­tur­al ini­tia­tives like our seemed more favourable, we hur­ried to the near­by restau­rant "La Casci­na" then, even if at the begin­ning of the decline of the "gold­en era" of the Ital­ian film indus­try, was still con­sid­ered the Cinecitta's lux­u­ri­ous "can­tine". And we were so hap­py and proud that sim­ply we for­got to take a pic­ture of this First Found­ing event!
We met againthe 13th of Decem­ber of the same 1992 in Cinecit­tà, in the per­sons again of Jost Vacano and Wolf­gang Treu plus Peter Has­sen­stein for BVK, again Har­vey Har­ri­son and Paul Bee­son for BSC, the new entries Eduar­do Ser­ra and Jacques Loise­leux (once one of my cam­era oper­a­tors in France) AFC in sub­sti­tu­tion of Robert Alazraky, Car­lo Vari­ni and Armand Mar­co all of them busy for their shoot­ings in France, and apart myself, again Giuseppe Pinori with the addi­tion, in the offi­cial AIC del­e­ga­tion, of Daniele Nan­nuzzi, oth­er mem­bers in the per­sons of Alessan­dro D'Eva, Ser­gio Sal­vati and Mario Bertagnin, all AIC mem­bers, like "observers". The Span­ish col­leagues Thomas Plade­vall and Tote Tre­nas ( lat­er an IMAGO Pres­i­dent) solicit­ed by a let­ter I pre­vi­ous­ly had writ­ten to 18 Span­ish col­leagues, (the front page with the expla­na­tion of the Fed­er­a­tion goals and, in the back of the same page, the phone num­bers of 18 Span­ish col­leagues invit­ing them to inter­act) came in Rome before the cre­ation of their AEC and par­tic­i­pat­ed to the meet­ing like sim­ple "observers". The Span­ish com­rades left Rome with the AIC statute as a mod­el for their Soci­ety in their suitcases.
Dur­ing this Sec­ond Found­ing Meet­ing, we approved the Statutes, the Fed­er­a­tion legal domi­cile in Paris and we decid­ed the name of the Fed­er­a­tion on the cre­ative impulse of the French col­leagues which pro­posed IMAGO, from the Latin word "Ima­go" and I was elect­ed First Pres­i­dent. It was, as already I said, the 13th of Decem­ber 1992 and with this final act open­ing to the future, my old dream, thanks to the unit­ed vision, pas­sion, and enthu­si­asm of all the par­tic­i­pants, came out from the secret of my mind and became offi­cial­ly alive!
This time we took a clas­si­cal pic­ture of all the par­tic­i­pants por­trayed in the fol­low­ing formation:
stand­ing in the back row from left to right you have Mar­co Bertagnin AIC / Jost Vacano BVK / Wolf­gang Treu BVK / Peter Has­sen­stein BVK / Daniele Nan­nuzzi AIC / Har­vey Har­ri­son BSC / Paul Bee­son BSC / Clau­dio Rag­o­na AIC Gen­er­al Secretary.
at the cen­ter half kneeled you have the cou­ple formed by Alessan­dro D'Eva AIC and Jacques Loise­leux AFC
in the front row, total­ly kneeled, always from left to right you have Edoar­do Ser­ra AFC / Thomas Plade­val Span­ish observ­er / myself as AIC and new born IMAGO Pres­i­dent / Tote Tre­nas, Span­ish observ­er and lat­er on one of the first IMAGO's Pres­i­dents, Pino Pinori AIC / Ser­gio Sal­vati AIC
The fol­low­ing year, 1993 Tote Tre­nas wrote to me, as Pres­i­dent of the new­born Span­ish Soci­ety of Cin­e­matog­ra­phers AEC, a thank­ful let­ter ask­ing to join IMAGO So the AEC becomes the fifth Mem­ber of IMAGO. Con­tin­u­ing my pros­e­lytism cam­paign, on April the 4th of the same year, I met, dur­ing the shoot­ing of a French film in Brus­sels, in a café locat­ed in La Grand Place, for an infor­mal meet­ing, a group of Bel­gian col­leagues, through the good offices of the Bel­gian col­league André Goef­fers who had sur­prised me in 1981, at the First Edi­tion of the L'Aquila's Event, mak­ing an unfore­seen gift bring­ing there, with no pre­vi­ous notice and at our immense plea­sure, two full class­es of stu­dents of the Film School where he taught in Brussels.
I spoke, this Sun­day morn­ing of 1993, to the Bel­gian col­leagues around the rea­sons of the strange sit­u­a­tion of hav­ing so many excel­lent Bel­gian Cin­e­matog­ra­phers and did not have yet orga­nized a Bel­gian Cin­e­matog­ra­phers Soci­ety, solic­it­ing them, as already had made the com­mon french friend Pierre L'Homme, to cre­ate one in a way to become Mem­bers of IMAGO, between the oth­er advan­tages of being asso­ci­at­ed. Ten months lat­er, at my delight­ed sur­prise, I received a thank­ful let­ter from Brus­sels com­mu­ni­cat­ing that SBC Bel­gian Soci­ety of Cin­e­matog­ra­phers final­ly exist­ed and that the bilin­gual statutes were signed for pub­li­ca­tion in the "Moni­teur", the offi­cial Bel­gian Statute Book.!
By that SBC become the sixth Cin­e­matog­ra­ph­er Soci­ety to loin IMAGO.
Few months lat­er, in Hol­ly­wood for the shoot­ing of an Amer­i­can film, I was received at the Club House of the ASC where a group of renowned ASC mem­bers, head­ed by the Pres­i­dent Vic­tor Kem­per, lis­tened to my expla­na­tion about IMAGO and its goals, objec­tives that looked to them very inter­est­ing but objec­tive­ly too advanced, espe­cial­ly the theme of Author­ship recog­ni­tion, but we were in 1993⁄94 and this kind of inno­va­tor or rev­o­lu­tion­ary ideas looked not only in Hol­ly­wood but also in Europe very dif­fi­cult to be accept­ed. Only the blind­ness in a way of my youth­ful pas­sion pre­vent­ed me to see the dif­fi­cul­ties of putting in prac­tice what seemed to be the very appeal­ing per­spec­tive of gain­ing final­ly what I thought, and I think even more today, to ful­ly belong to us. Autho­r­i­al Recog­ni­tion for our work and con­se­quent Co-author­ship of the films we are doing.
My nar­ra­tion here respects the sim­ple pur­pose of relat­ing my per­son­al expe­ri­ence on how the Fed­er­a­tion has been cre­at­ed from the very first steps start­ing, also if indi­rect­ly, from 1891, con­tin­u­ing with prac­ti­cal actions in 1992/1993 with the col­leagues of the First Two Founder Meet­ings in Cinecit­tà in what I call IMAGO's ORIGINS, cov­er­ing, in time space from L'Aquila's expe­ri­ence until the speach at the ASC, includ­ing the birth of AEC and SBC.
All togeth­er now we should apply at the writ­ing of the full his­to­ry of IMAGO from the begin­ning, here doc­u­ment­ed, until today and you will meet not only the emo­tions of an extra­or­di­nary adven­ture but also you will enter in res­o­nance, I am sure, with a bunch of extra­or­di­nary protagonists!
Luciano Tovoli AIC ASC
*Unfor­tu­nate­ly the night of the 6th of April 2009 at 03:32 AM, an earth­quake of extreme vio­lence, in the range force of 5,9 Richter, IX, and X Mer­cal­li, hit the City of L'Aquila destroy­ing one-third of its his­toric cen­ter and caus­ing 309 death, 1.600 wound­ed and 80.000 home­less. The build­ing of the Inter­na­tion­al Acad­e­my was reduced to flat ruins destroy­ing the rich cin­e­math­eque (includ­ing all the copies of my films), the videoteque, the film book and screen­play bib­lioteque (again with the orig­i­nal screen­plays of all my films). My broth­er friends Gabriele Luc­ci and Anna Maria Ximenes saved their lives by mir­a­cle look­ing back in the run to sal­va­tion their beloved home col­laps­ing on the ground in a mat­ter of sec­onds. Since then a heavy unde­served silence cov­ers the film activ­i­ty we made there for about twen­ty years and any mate­r­i­al refer­ring to the two Inter­na­tion­al very suc­cess­ful ini­tia­tives (The First Inter­na­tion­al Fes­ti­val-Meet­ing ded­i­cat­ed in film his­to­ry to the cre­ativ­i­ty of Inter­na­tion­al Cin­e­matog­ra­phers and the Inter­na­tion­al Film Acad­e­my) has been impos­si­ble to be recu­per­at­ed, prob­a­bly lost for­ev­er. Only the thou­sands of pas­sion­ate par­tic­i­pants and Cin­e­matog­ra­phers in a list of celebri­ties that could go on for pages, film lovers and film stu­dents in thou­sands cer­tain­ly remem­ber the mag­ic of those years in L'Aquila! One and for all can be cit­ed the high­ly dis­tin­guished col­league and friend John Bai­ley, today Pres­i­dent of the Film Acad­e­my in Los Ange­les. He has been one of the first, most con­stant and most bril­liant pro­tag­o­nists and for sev­er­al edi­tions of the Cin­e­matog­ra­phers First Inter­na­tion­al Fes­ti­val-Meet­ing ded­i­cat­ed to Cin­e­matog­ra­phers titled "L'AQUILA, UNA CITTA' IN CINEMA".