The 2020 IMAGO International
HONORARY MEMBERS AWARD
Astrid Heubrandt­ner AAC
After study­ing art his­to­ry and the­atre sci­ence at the Uni­ver­si­ty of Vien­na, Astrid Heubrandt­ner AAC trans­ferred to the Col­lege for Pho­tog­ra­phy fol­lowed up with one year in Paris work­ing with and along­side pro­fes­sion­al pho­tog­ra­phers. She then stud­ied Cin­e­matog­ra­phy and Pro­duc­tion at the Uni­ver­si­ty for Music and Per­form­ing Arts, Vienna.
At the same time she was work­ing as an elec­tri­cian, 2nd cam­era assis­tant and focus puller and oper­a­tor on var­i­ous film projects in order to gain a broad­er expe­ri­ence on film sets.
A cou­ple of years after grad­u­a­tion she began her PhD study and received her doc­tor­ate degree cum laude in 2004: Inter­dis­ci­pli­nary stud­ies at the Uni­ver­si­ty Vien­na togeth­er with the Uni­ver­si­ty of Music and Per­form­ing Arts Vien­na (doc­tor­al the­sis: David Lynch and his pic­to­r­i­al lan­guage in his paint­ings and features)
Since 1998 Astrid has worked as a free­lance cinematographer/DOP on more than 30 doc­u­men­taries and fea­ture films but also with var­i­ous artists on experimental/ avant-garde films and pre­sen­ta­tions for exhi­bi­tions. Her list of works includes "Marha­ba Cou­sine" and "My house stood in Sulukule", two doc­u­men­taries which she also directed.
She has taught at var­i­ous film schools, most notably as Pro­fes­sor for Cin­e­matog­ra­phy at the Uni­ver­si­ty of Music and Per­form­ing Arts in Vien­na. Astrid is a mem­ber of dok.at, FC-Glo­ria Frauen Ver­net­zung Film, Cinematographinnen.net, ICFC Inter­na­tion­al Col­lec­tive of Female Cin­e­matog­ra­phers, Akademie des öster­re­ichis­chen Films and the Euro­pean Film Academy.
Since 2009 she has been the pres­i­dent of the AAC, rep­re­sent­ing Aus­tria at IMAGO where she was a guid­ing mem­ber of the Mas­ter Class Com­mit­tee from 2007 until 2019 orga­niz­ing 5 amaz­ing IMAGO "Inspi­ra­tion" inter­na­tion­al Cin­e­matog­ra­phers Forums, along­side her Com­mit­tee colleagues.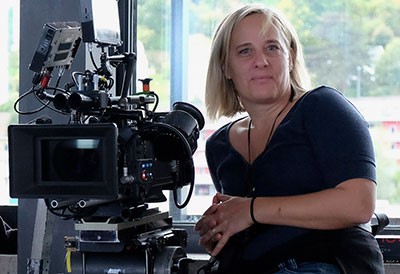 Astrid has a strong belief in the fol­low­ing: "Cin­e­matog­ra­phers nev­er accept nation­al bor­ders because our pro­fes­sion is inter­na­tion­al. It is very impor­tant to unite across bor­ders to cre­ate a com­mon polit­i­cal aware­ness, to be able to increase the image of our pro­fes­sion but also about the way films are pro­duced. We not only watch films from col­leagues from all over the world we learn from per­son­al exchange. One cru­cial part of our work is the fact that Cin­e­matog­ra­phers are the first ones see­ing the movie while look­ing through the viewfind­er. It is impor­tant to have this dis­cus­sion about what we do as DOPs, how the pic­ture lan­guage is devel­op­ing. IMAGO func­tions in my opin­ion as the inter­na­tion­al plat­form for this process. One chal­lenge of being a cin­e­matog­ra­ph­er is to find sen­si­ble images amongst the huge num­ber of images devoid of mean­ing. To find the best pos­si­bil­i­ty out of thou­sands of options is in my point of view a big part of the pro­fes­sion­al­ism."
"As Pres­i­dent of the AAC I try to offer a plat­form to dis­cuss this amongst col­leagues. Besides that, I think for our pro­fes­sion as cin­e­matog­ra­phers it is impor­tant to exchange tech­ni­cal issues as well as to ben­e­fit from cross-gen­er­a­tional men­tor­ing. Play­ing an active part in the con­fig­u­ra­tion of the Aus­tri­an film indus­try, an impor­tant role of the AAC is to help shape besides aes­thet­i­cal issues, the cul­tur­al and social polit­i­cal issues of the indus­try."
Astrid is a gift­ed cin­e­matog­ra­ph­er, with a cre­ative and sen­si­tive eye who has worked in many coun­tries includ­ing France, Italy, the Nether­lands, Switzer­land, Turkey, USA, Syr­ia and Egypt. Astrid cur­rent­ly lives in Vien­na and is a tru­ly wor­thy recip­i­ent of the 2020 IMAGO INTERNATIONAL HONORARY MEMBER AWARD.