The IMAGO Inter­na­tion­al Award for Extra­or­di­nary Tech­ni­cal Achievement
Johan Hell­sten for the EasyRig
The sto­ry of Johan Hell­ston and Easyrig is a fas­ci­nat­ing jour­ney from an idea to a final prod­uct. It is an inven­tion that has changed the film and tele­vi­sion indus­try world­wide, and real­ly start­ed when after more than 10 years work­ing as a cam­era oper­a­tor, Johan Hell­sten start­ed to feel a wor­ry­ing, sharp pain in his back. At that time, in 1993 he was film­ing the World Cham­pi­onship of Hand­ball in Swe­den and was work­ing hand­held since he was by the side line.
His back start­ed to ache after shoot­ing a cou­ple of games and he came up with the idea of Easyrig at that moment. Think­ing; "Why not have a rope hang­ing from the ceil­ing that is attached to the cam­era?"
But then think­ing fur­ther he decid­ed it would be so hard to move around so let that idea go for the moment, but for­tu­nate­ly Johan had a real­i­sa­tion when he returned to the TV sta­tion.
"I have been hik­ing in the moun­tains all my life, the back­pack that I have used put most of the weight of the bag on my hips. I used a hik­ing back­pack and a steel pipe to con­struct the very first Easyrig (I first called it Easy­cam) and it has been improv­ing ever since, now I could say that the Easyrig was born."
The basic idea of Easyrig is that it trans­fers the weight of the cam­era from your back, shoul­ders and arms to your hips. This will great­ly reduce fatigue and make your shots stead­ier. Instead of being able to shoot for 30 min­utes, you'll be able to shoot for hours with­out problem.
Johan went to Ams­ter­dam in 1997 to attend IBC, where there was a lot of inter­est and he man­aged to secure many agents around the world from that point on. Johan Hellston's inno­v­a­tive inven­tion, the "Easyrig", has become a glob­al phe­nom­e­non and is enjoy­ing wide­spread adap­ta­tion on film sets every­where. It enables cin­e­matog­ra­phers more ease with which to devel­op their art, and is at the same time also aid­ing cinematographer´s health and well being. This indis­pens­able tool has saved thou­sands of camera-person´s backs, help­ing to pre­serve and to devel­op cinematographer´s cre­ativ­i­ty as visu­al artists. But by far the great­est bless­ing which the Easyrig has brought to the world of cin­e­matog­ra­phy, is the lib­er­a­tion that fol­lows when phys­i­cal strength or sheer sta­mi­na no longer need dic­tate the lim­i­ta­tions of a cinematographer´s, or cam­era operator´s con­tri­bu­tion to a shot or exe­cu­tion of a per­son­al cin­e­mat­ic vision. Easyrig is an effec­tive ergonom­ic relief aid for back and shoul­ders, intend­ed for cam­era oper­a­tors work­ing with hand­held cam­eras where a con­sid­er­able load relief has been ascer­tained. The Easyrig pro­vides a good basis for improve­ment of back health. The results show that this aid can give long term ben­e­fits in the form of improved back health, work effec­tive­ness and pic­ture quality.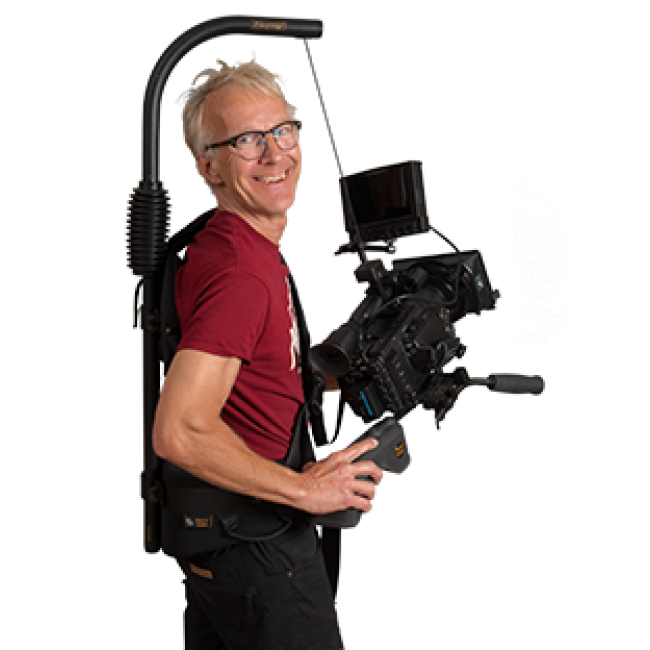 Johan Hell­ston: "To be a cam­era­man for me is the best work in the world!"
One of the many rea­sons why the IMAGO Tech­ni­cal Com­mit­tee have award­ed the 2020 Extra­or­di­nary Tech­ni­cal Achieve­ment Award to Johan Hell­ston for his Easyrig.