Congratulations to Holger Jungnickel from Germany to get the The IMAGO International Award for Extraordinary Young Emerging Cinematographer for his work on »Limbo» directed by Tim Dünschede
This award is presented by
Holger Jungnickel
Limbo directed by Tim Dünschede
The IMAGO International Award for Extraordinary
Young Emerging Cinematographer
This award is presented by ARRI
WINNER
LIMBO
Cinematographer: Holger Jungnickel
Germany – BVK
Watch TRAILER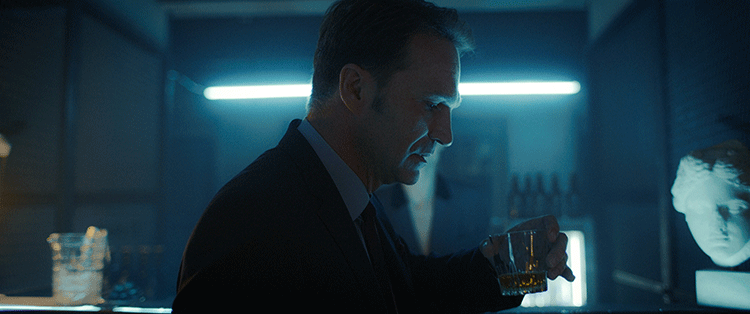 Still from «Limbo»
Interview with Holger Jungnickel,
How did you feel when you knew that you got the prize?
Holger – honestly could not believe that this is happening. I was completely floored for an hour
Explain a little bit the process of the film.
Holger – LIMBO is the graduation film of the director Tim Dünschede and me at the University of Television and Film Munich (HFF). We had very little money but still wanted to shoot a full feature. I came up with the idea of shooting a one-shot movie to concentrate resources, save time and first of all use the last chance to experiment without anybody trying to stop us. Four months after Tim and I agreed to do this the movie was financed, the script was written, casting was done and we started rehearsing for 3 weeks. We had time to rehearse every dialog scene once at our school and once on location. After this we had two general rehearsals with key extras where we saw the full "movie" for the first time. A lot of things needed tweaking. One week later we shot two takes with one day in between. The next mornings after every general rehearsal and the first take the whole team and cast came together in our schools small cinema to watch what we had and to come up with ideas to make things better. 5 Months after the shoot and 10 months after the first idea LIMBO was finished and had its first family and friends screening at our filmschool.
What was your approach and conceptual guidelines. ?
Holger: Shooting a film for 90 minutes in one continues take does something to everybody involved in the process. Nobody of our whole crew and cast did something like this before. This meant the movie was not only supposed to be super immersive for the audience but also for us making it. I compared it to shooting film stock where everybody is just so much more concentrated and trying to bring his A-game already in take one. Visually I knew it will never be perfect. Combined with the budget and time restrictions we had the only chance I saw of making it feel like one piece was going handheld throughout the movie. In terms of lighting only two small sets had hidden film lights. All the rest ist lit with practicals. To give LIMBO the right feeling for the first part I wanted to shoot dusk. After the rehearsals I realized that if we start 5minutes to early it will look like day. If we start 5 minutes too late it will be night and pitch black for the car scene before the main location. Inside the latter I wanted to give every sub set a special feel according to the scene happening there without going too artificial. Overall we wanted it to feel real and a little bit dirty.
What equipment was used, to create those long shots?
Holger: Because of the limited recording capacity of the Alexa Mini we decided to use the RED Monstro. We tested both cameras with 10 different lenses at Vantage. We found that the old 35mm 1.4 Nikkor converted by Vantage themself just some months before our test had a super smooth feel to it. It had an excellent close focus which was important when you can't put diopters in :). It actually felt like a more sophisticated version of the K35s which we also tested. With the Monstro I had a Vista Vision sensor with 8k (what was not so important) and the ability to record 96 minutes onto 1TB mags in 8:1 RedRaw. We used an ARRI UDM and one of the early C-Force Mini RF motors to avoid the extra receiver box for the WCU4. Apart from that there only was a Schoeps mic and two handles to hold the camera. I operated with the 7" monitor from RED. As we shot in dusk and night this worked fine for me. Everything else like video transmitter, sound recorder, sound mixer, battery (150wh bepop micro) was attached via cables on to me and the La Bouee cussion I used to rest my arms every now and then when there was no movement of the camera or actors.
I never did a movie where every single person was so important for the final product like LIMBO. Everybody could literally ruin the film by a little mistake. After the first take most of us did overcome their fear of failing and could evolve to a state of trance and contraction. This really was an unforgettable and mind bending feeling that still gives me goose bumbs!
IMAGO received 11 submissions for the Young Emerging Cinematographer.
Each National Society member of IMAGO, can submit one feature film, TV episode or Documentary of its choice. The film must have been the first work shot by a cinematographer (doesn't need to be a member of the society) who is no older than 32 years of age.
The short listed
The Bull
Cinematographer: Gleb Filatov
Russia – RGC
Where the Birds Go
Cinematographer: Christiaan van Leeuwen
Nederlands – NSC
Skin Walker
Cinematographer: Amandine Klee
Belgium – SBC
The winner was chosen by the president's of IMAGO members societies.
The complete list of submissions
| | | |
| --- | --- | --- |
| SOCIETY | FILM | CINEMATOGRAPHER |
| Russia – RGC | The Bull | Gleb Filatov |
| Slovak Rep – ASK | Lady and the King – | Nick Kollar |
| United Kingdom – BSC | The Flood | Jon Muschamp |
| Holland – NSC | where the birds go | Christiaan van Leeuwen |
| Belgium – SBC | skin walker | amandine klee |
| Australia – ACS | West of Sunshine | Thom Neal |
| Norway – FNF | County Lines | Sverre Sørdal |
| Bulgaria – BAC | Shibil / Шибил | Stefan Vrachev |
| Lithuania – LAC | Europe Unseen / Neregeta Europa | Martynas Norvaisas |
| Germany – BVK | Limbo | Holger Jungnickel |