Con­grat­u­la­tions to Hol­ger Jung­nick­el from Ger­many to get the The IMAGO Inter­na­tion­al Award for Extra­or­di­nary Young Emerg­ing Cin­e­matog­ra­ph­er for his work on »Lim­bo» direct­ed by Tim Dünschede
This award is pre­sent­ed by
Hol­ger Jungnickel
Lim­bo direct­ed by Tim Dünschede
The IMAGO Inter­na­tion­al Award for Extra­or­di­nary
Young Emerg­ing Cinematographer
This award is pre­sent­ed by ARRI
WINNER
LIMBO
Cin­e­matog­ra­ph­er: Hol­ger Jung­nick­el
Ger­many – BVK
Watch TRAILER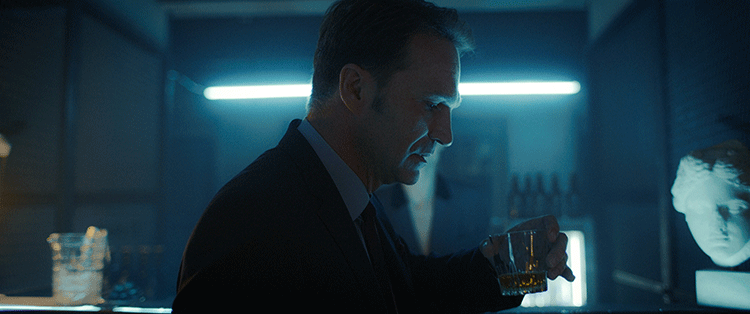 Still from «Lim­bo»
Inter­view with Hol­ger Jungnickel,
How did you feel when you knew that you got the prize?
Hol­ger - hon­est­ly could not believe that this is hap­pen­ing. I was com­plete­ly floored for an hour
Explain a lit­tle bit the process of the film.
Hol­ger – LIMBO is the grad­u­a­tion film of the direc­tor Tim Dün­schede and me at the Uni­ver­si­ty of Tele­vi­sion and Film Munich (HFF). We had very lit­tle mon­ey but still want­ed to shoot a full fea­ture. I came up with the idea of shoot­ing a one-shot movie to con­cen­trate resources, save time and first of all use the last chance to exper­i­ment with­out any­body try­ing to stop us. Four months after Tim and I agreed to do this the movie was financed, the script was writ­ten, cast­ing was done and we start­ed rehears­ing for 3 weeks. We had time to rehearse every dia­log scene once at our school and once on loca­tion. After this we had two gen­er­al rehearsals with key extras where we saw the full "movie" for the first time. A lot of things need­ed tweak­ing. One week lat­er we shot two takes with one day in between. The next morn­ings after every gen­er­al rehearsal and the first take the whole team and cast came togeth­er in our schools small cin­e­ma to watch what we had and to come up with ideas to make things bet­ter. 5 Months after the shoot and 10 months after the first idea LIMBO was fin­ished and had its first fam­i­ly and friends screen­ing at our filmschool.
What was your approach and con­cep­tu­al guide­lines. ?
Hol­ger: Shoot­ing a film for 90 min­utes in one con­tin­ues take does some­thing to every­body involved in the process. Nobody of our whole crew and cast did some­thing like this before. This meant the movie was not only sup­posed to be super immer­sive for the audi­ence but also for us mak­ing it. I com­pared it to shoot­ing film stock where every­body is just so much more con­cen­trat­ed and try­ing to bring his A‑game already in take one. Visu­al­ly I knew it will nev­er be per­fect. Com­bined with the bud­get and time restric­tions we had the only chance I saw of mak­ing it feel like one piece was going hand­held through­out the movie. In terms of light­ing only two small sets had hid­den film lights. All the rest ist lit with prac­ti­cals. To give LIMBO the right feel­ing for the first part I want­ed to shoot dusk. After the rehearsals I real­ized that if we start 5minutes to ear­ly it will look like day. If we start 5 min­utes too late it will be night and pitch black for the car scene before the main loca­tion. Inside the lat­ter I want­ed to give every sub set a spe­cial feel accord­ing to the scene hap­pen­ing there with­out going too arti­fi­cial. Over­all we want­ed it to feel real and a lit­tle bit dirty.
What equip­ment was used, to cre­ate those long shots?
Hol­ger: Because of the lim­it­ed record­ing capac­i­ty of the Alexa Mini we decid­ed to use the RED Mon­stro. We test­ed both cam­eras with 10 dif­fer­ent lens­es at Van­tage. We found that the old 35mm 1.4 Nikkor con­vert­ed by Van­tage them­self just some months before our test had a super smooth feel to it. It had an excel­lent close focus which was impor­tant when you can't put diopters in :). It actu­al­ly felt like a more sophis­ti­cat­ed ver­sion of the K35s which we also test­ed. With the Mon­stro I had a Vista Vision sen­sor with 8k (what was not so impor­tant) and the abil­i­ty to record 96 min­utes onto 1TB mags in 8:1 RedRaw. We used an ARRI UDM and one of the ear­ly C‑Force Mini RF motors to avoid the extra receiv­er box for the WCU4. Apart from that there only was a Schoeps mic and two han­dles to hold the cam­era. I oper­at­ed with the 7" mon­i­tor from RED. As we shot in dusk and night this worked fine for me. Every­thing else like video trans­mit­ter, sound recorder, sound mix­er, bat­tery (150wh bepop micro) was attached via cables on to me and the La Bouee cus­sion I used to rest my arms every now and then when there was no move­ment of the cam­era or actors.
I nev­er did a movie where every sin­gle per­son was so impor­tant for the final prod­uct like LIMBO. Every­body could lit­er­al­ly ruin the film by a lit­tle mis­take. After the first take most of us did over­come their fear of fail­ing and could evolve to a state of trance and con­trac­tion. This real­ly was an unfor­get­table and mind bend­ing feel­ing that still gives me goose bumbs!
IMAGO received 11 sub­mis­sions for the Young Emerg­ing Cinematographer.
Each Nation­al Soci­ety mem­ber of IMAGO, can sub­mit one fea­ture film, TV episode or Doc­u­men­tary of its choice. The film must have been the first work shot by a cin­e­matog­ra­ph­er (doesn't need to be a mem­ber of the soci­ety) who is no old­er than 32 years of age.
The short listed
The Bull
Cin­e­matog­ra­ph­er: Gleb Fila­tov
Rus­sia – RGC
Where the Birds Go
Cin­e­matog­ra­ph­er: Chris­ti­aan van Leeuwen
Ned­er­lands – NSC
Skin Walk­er
Cin­e­matog­ra­ph­er: Aman­dine Klee
Bel­gium – SBC
The win­ner was cho­sen by the president's of IMAGO mem­bers societies.
The com­plete list of submissions
| | | |
| --- | --- | --- |
| SOCIETY | FILM | CINEMATOGRAPHER |
| Rus­sia – RGC | The Bull | Gleb Fila­tov |
| Slo­vak Rep – ASK | Lady and the King – | Nick Kol­lar |
| Unit­ed King­dom – BSC | The Flood | Jon Muschamp |
| Hol­land – NSC | where the birds go | Chris­ti­aan van Leeuwen |
| Bel­gium – SBC | skin walk­er | aman­dine klee |
| Aus­tralia – ACS | West of Sunshine | Thom Neal |
| Nor­way – FNF | Coun­ty Lines | Sverre Sørdal |
| Bul­gar­ia – BAC | Shi­bil / Шибил | Ste­fan Vrachev |
| Lithua­nia – LAC | Europe Unseen / Nerege­ta Europa | Mar­ty­nas Norvaisas |
| Ger­many – BVK | Lim­bo | Hol­ger Jungnickel |