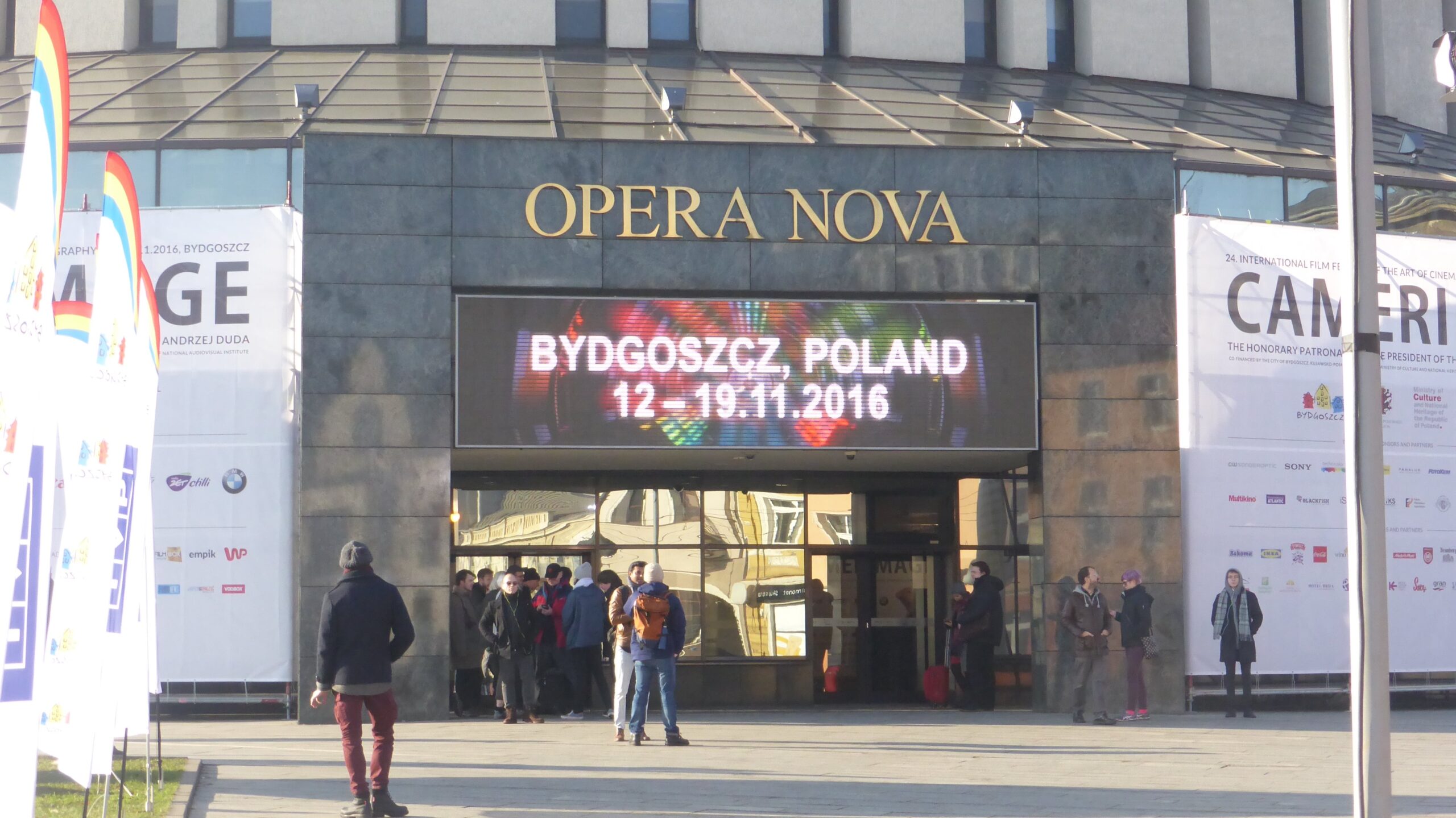 The pil­grim­age to the Mec­ca for all cin­e­matog­ra­phers, Camer­im­age, is under­way in the Pol­ish city of Byd­gozscz. The cel­e­bra­to­ry 25th Anniver­sary of the remark­able Fes­ti­val will also take in the city in 2017. That pledge was made in the open­ing speech of May­or Rafal Brus­ki at the Gala Open­ing which launched this edi­tion on Saturday.
Marek Zydow­icz fes­ti­val Director
A rous­ing recep­tion greet­ed the open­ing remarks of the Found­ing inspi­ra­tion of the Fes­ti­val Marek Zydow­icz, as he appeared well on the road to recov­er­ing his full health. Cin­e­matog­ra­phers are ide­al­ly posi­tioned through friend­ship to counter the depres­sion of recent polit­i­cal deci­sions in Amer­i­ca and Europe. It has been a year sad­ly marked by the depar­ture of so many of the World's great­est cin­e­matog­ra­phers, many of whom have loy­al­ly sup­port­ed Camer­im­age, not least Vil­mos and Haskell.
Camer­im­age is alive and kick­ing and con­tin­ues to impress. The open­ing films in main com­pe­ti­tion estab­lished a bench­mark in the for­mi­da­ble list picked as con­tenders. The dis­tin­guished Pol­ish cin­e­matog­ra­ph­er Pawel Edel­man nev­er fails to deliv­er. His fault­less, immac­u­late cin­e­matog­ra­phy in the open­ing film, After­im­age, was a fit­ting trib­ute to his country's great­est Direc­tor Andrzej Waj­da. A reminder of the ruth­less­ness of the com­mu­nist régime it is set in Lodz, the spir­i­tu­al home of Pol­ish Cinematography.
Open­ing Gala Con­cert with Wlodek Pawlik
The first film to screen on the sec­ond day in Main Com­pe­ti­tion, Lion, was also an emo­tion­al roller coast­er of an expe­ri­ence leav­ing not a dry eye in the audi­to­ri­um. The star per­for­mance was giv­en by a five year old Sun­ny Pawel. If Oscars were giv­en to child actors there would be no con­test. Cred­it to the direc­tor Garth Davies respon­si­ble for this per­for­mance and com­ple­men­tary images from his Aus­tralian cin­e­matog­ra­ph­er Greig Fras­er make this a must-see film.
Who else but Vit­to­rio Storaro could so dom­i­nate a Camer­im­age pro­gramme for almost a day. He fol­lowed a morn­ing pan­el appear­ance on a Tech­ni­col­or Pan­el with a cus­tom­ary two and a quar­ter non-stop dis­course on Dig­i­tal Cin­e­matog­ra­phy. It was mas­ter­ly of its kind, final­ly address­ing the dig­i­tal dilem­ma that the art of pre­serv­ing image cap­ture on dig­i­tal tech­nol­o­gy still may not stand the pas­sage of time. Ear­li­er in his dis­course he com­pared cin­e­matog­ra­phy to archae­ol­o­gy, music, paint­ing and lit­er­a­ture as the art form of the recent cen­tu­ry. The unsolved issue was addressed well but not con­vinc­ing­ly towards the end. At least he returns to Italy secure in the knowl­edge that his ear­li­er mas­ter­pieces on film are secure for future gen­er­a­tions. The pro­fes­sion should be grate­ful to Pro­fes­sor Storaro.
One of the plea­sures in attend­ing Camer­im­age for so many years has been to see the Fes­ti­val grown and pros­per com­men­su­rate with improve­ments in the qual­i­ty liv­ing stan­dards of the coun­try and its peo­ple. The coun­try has a spring in its step. The qual­i­ty and enthu­si­asm for Camer­im­age is infec­tious. No oth­er art form has any­thing to com­pare and all lovers of film, espe­cial­ly stu­dents, should be thank­ful to the organ­is­ers, vol­un­teers and spon­sors with­out whose gen­eros­i­ty, ded­i­ca­tion and sup­port Camer­im­age would not exist.
Nigel Wal­ters BSC Vice President