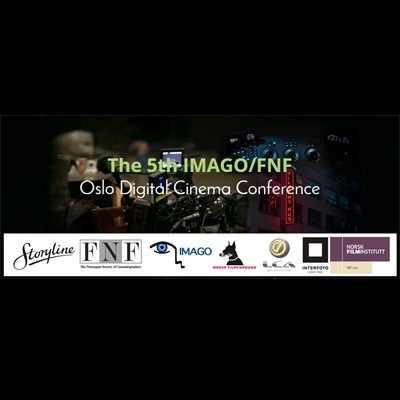 Far from those hyper days of 2006 when the Oslo Dig­i­tal Cin­e­ma Con­fer­ence was held for the first time, this 5th edi­tion marked the total accep­tance and con­sol­i­da­tion of the elec­tron­ic image in the indus­try. In con­trary to that year of 2006 when many of the cin­e­matog­ra­phers were still resist­ing and strug­gling to
under­stand the elec­tron­ic image this time marks a def­i­nite under­stand­ing and a desire to look for­ward to a brighter future. The dig­i­tal image is no longer a mys­tery
for the major­i­ty of the cin­e­matog­ra­phers. The lan­guage of pix­els, lines, bit rate, frame rates, com­pres­sion, pos­es no doubts today. The aim now is to use the tools and the tech­nol­o­gy at its out­most for cre­ative and artis­tic images. This is what the cin­e­matog­ra­ph­er is look­ing for­ward now. The old days of dig­i­tal tur­moil are now over­passed and now is time to look to the future with a brighter mind. In this respect the con­fer­ence start­ed exact­ly in this point with a lux­u­ri­ous pan­el of speak­ers depict­ing «cre­ative cin­e­matog­ra­phy and cam­era con­trol». The rich table of dis­cus­sion brought togeth­er cin­e­matog­ra­phers, col­orists and man­u­fac­tur­ers. This great pipeline of col­lab­o­ra­tion is one of the great­est achieve­ments of this tra­di­tion­al IMAGO Oslo Dig­i­tal Cin­e­ma Con­fer­ence which has been enough inde­pen­dent to bring togeth­er com­pet­i­tive man­u­fac­tur­ers togeth­er. Not only achiev­ing a high lev­el of dis­cus­sions, debates but has been promi­nent in pro­mot­ing the dig­i­tal knowl­edge amongst pears.
On the open­ing pan­el were Philippe Ros AFC (France), Tom Crock­er of Sony, Har­ald Bren­del of Arri, Mark Grieve of Red, Luc Bara of Pana­son­ic, Dave Stump ASC , Rolf Coulanges, BVK (Ger­many), Kom­mer Klei­jn SBC (Bel­gium), John Chris­t­ian Rosen­lund FNF and Cem Ozkil­lic­ci, colorist/Canada.
Many oth­er speak­ers fol­lowed: Kom­mer Klei­jn SBC and chair­man of the IMAGO Com­mit­tee of «Cre­ative Tech­nolo­gies in Cin­e­matog­ra­phy», gave us the state of the art on film pro­jec­tion. Har­ald Bren­del from ARRI sci­ence, Per Böh­ler and Hen­rik Moseid from Softlights/France has thought us about col­or sci­ence. The lim­i­ta­tions of col­or dig­i­tal pho­tog­ra­phy and about LED light­ing col­or limitations.
The DIT is con­sid­ered a cru­cial ele­ment for the cam­era crew and for the cin­e­matog­ra­ph­er on set. Only with the aid of a DIT the cin­e­matog­ra­ph­er can cre­ate and pro­tect his images. As always archiv­ing was anoth­er mat­ter pre­sent­ed with mul­ti­ple man­ners now at the dis­pos­al for Tv sta­tions and pro­duc­tion com­pa­nies to pre­serve and archive images.
The first day end­ed with the screen­ing of the high­ly acclaimed Mike Leigh's film «Mr. Turn­er» beau­ti­ful­ly shot by Dick Pope BSC. The movie cho­sen couldn't be more appro­pri­ate to show at the dig­i­tal con­fer­ence. The great cin­e­matog­ra­phy of Dick Pope BSC won him many awards includ­ing the BSC award along with a pres­ti­gious nom­i­na­tion for an acad­e­my award was entire­ly shot on dig­i­tal for­mat. The fol­low­ing day the audi­ence could learn about the rela­tion­ship devel­oped between the direc­tor Mike Leigh and the cin­e­matog­ra­ph­er all through many years of close col­lab­o­ra­tion. The morn­ing sec­tion of the sec­ond day was entire­ly ded­i­cat­ed to the career of Dick pope and the way he made it with a com­pe­tent mod­er­a­tion of Rolv Haan FNF run­ning sev­er­al clips from films shot by Pope.
The after­noon was the oppor­tu­ni­ty to be in close range with drones, cranes and fresh news from ARRI pre­sent­ing a new Alexa along with Pana­son­ic pre­sent­ing the new Vari­cam and Canon with its extreme low light model.


Dave Stump ASC pre­sent­ed us with the results of ACES and vir­tu­al reality.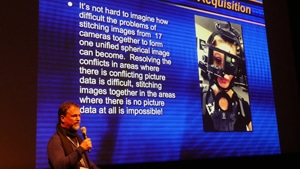 The third and last day there was a case study. The fea­ture film «Wave» a Nor­we­gian pro­duc­tion shot by John Chris­t­ian Rosen­lund FNF demand­ed a great deal of VFX and post-pro­duc­tion. John explained the whole of his involve­ment with the project from pre-pro­duc­tion to col­or cor­rec­tion which was well demon­strat­ed by Cem Ozlil­lic­ci the Cana­di­an colorist.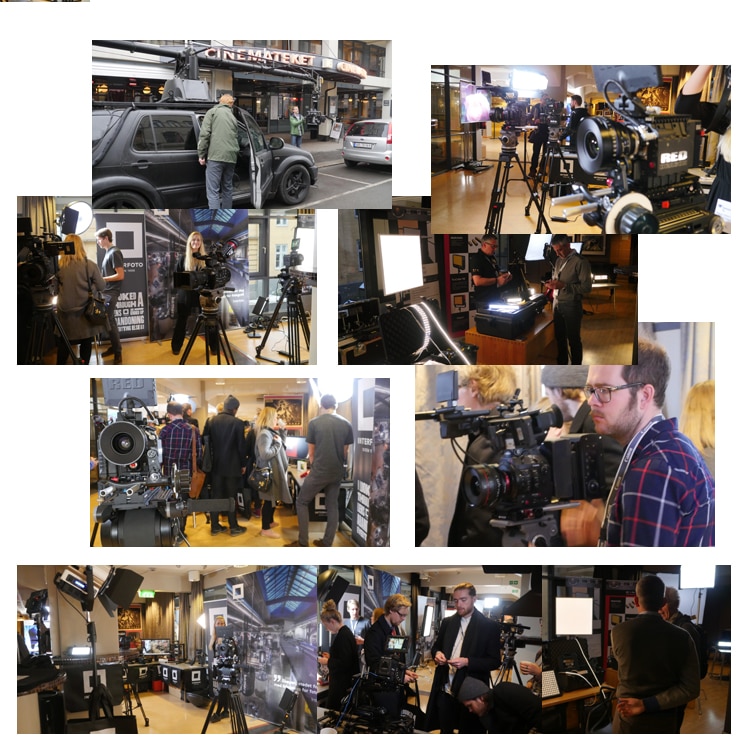 The ODCC was again a great suc­cess. The atten­dance of sev­er­al cin­e­matog­ra­phers com­ing from dif­fer­ent coun­tries espe­cial­ly from Den­mark to attend the con­fer­ence is always remark­able moment to be men­tioned. The DFF every year sup­ports 20 mem­bers to attend the Con­gress pay­ing the entrance fee, accom­mo­da­tion and flight. These funds are the result from sec­ondary author rights that the Dan­ish cin­e­matog­ra­phers get from their col­lec­tive soci­ety and this fund is always used for edu­ca­tion pur­pos­es. This is an exam­ple that could be done in the rest of Europe and in the world.
A small Micro Salon was set on the first and ground floor of the event.
VISIT http://www.odcc.no/