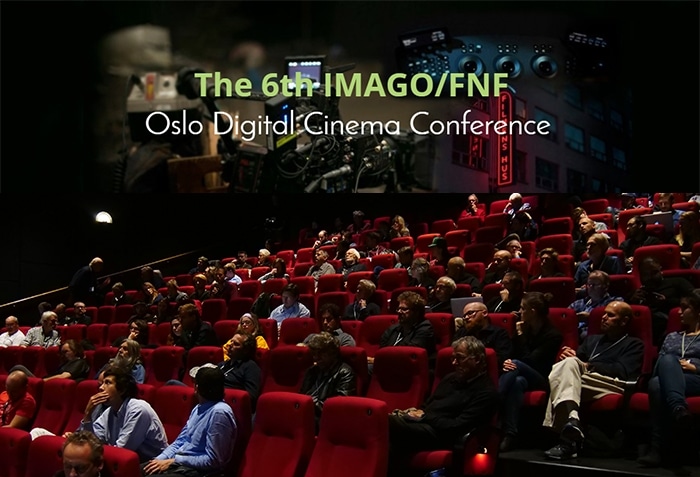 Report by Ron Johan­son ACS OBE
The IMAGO Oslo Dig­i­tal Cin­e­ma Con­fer­ence took place in Oslo, Nor­way under the aus­pices of the Nor­we­gian Soci­ety of Cin­e­matog­ra­phers and the guid­ance of IMAGO Pres­i­dent, Paul Rene Roes­tad FNF on the 8th, 9th and 10th Sep­tem­ber at the Nor­we­gian Film Insti­tute and Cin­e­matek in Cen­tral Oslo. This par­tic­u­lar event was one that I believe the Soci­ety can also imple­ment in the future, as it requires min­i­mal set up time as long as the venue and of course fund­ing can be found, as the whole run­ning of the event does cen­tre around the most prac­ti­cal venue.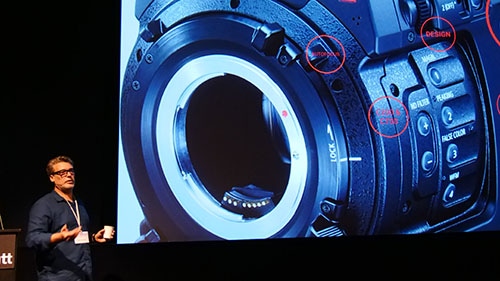 The IMAGO Oslo Dig­i­tal Cin­e­ma Con­fer­ence began with a pre­sen­ta­tion from Lon­don based NSW Branch mem­ber, Brett Dan­ton who spoke glow­ing­ly about the new Canon C700 and the advan­tages he found with RAW work­flow on a recent TVC for Jaguar shot here in Aus­tralia. Brett has agreed to share this pre­sen­ta­tion with us when he returns Aus­tralia in Novem­ber. I must say that the screen at the NFI was superb and all images were screened at opti­mum qual­i­ty for all to see, par­tic­u­lar­ly rel­e­vant giv­en IMAGO and the Com­mit­tee for Cre­ative Tech­nolo­gies are in dis­cus­sion regard­ing estab­lish­ing a grad­ing "Star Sys­tem" for all cin­e­ma screens, at this stage in Europe, but the future does hold promise for our region as well.
NEXT GENERATION IMAGING AND THE IMPACT OF HDR – David Stump ASC
David Stump ASC has in his pre­sen­ta­tion called for the atten­tion of using HDR cap­ture for­mat. The arte­facts will be a lot more vis­i­ble due to the high­est lev­el of sharp­ness. Pan­ning speeds as well are a man­ner of being care­ful due to dou­ble «expo­sure» in the HDR domain caus­ing arti­facts in the image on the edges. Read HERE Davis Stump's full pow­er point pre­sent­ed at the Conference.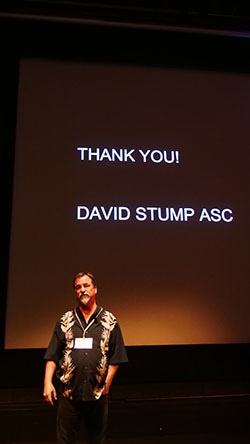 35mm, 5000ISO HIGH SPEED SENSORS
Cin­e­matog­ra­ph­er Matthias Bol­liger spoke enthu­si­as­ti­cal­ly about the Pana­son­ic Vari­cam and the added pos­i­tive impact it brought to his low light work with the high speed sen­sor. There is more here at this link:
http://info.panasonic.com/varicam-properties.html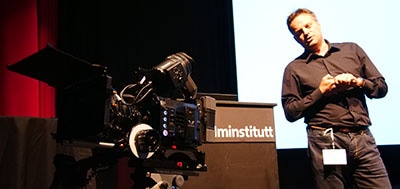 ACES- EXPERIENCES, NEW DEVELOPMENTS & THE FUTURE -
Alex Forsyth flew from Los Ange­les and gave an insight­ful pre­sen­ta­tion on ACES.
So, What is ACES? ACES (Acad­e­my Col­or Encod­ing Sys­tems) is a series of guide­lines and spec­i­fi­ca­tions for every type of col­or man­age­ment, from image cap­ture to post-pro­duc­tion to dis­tri­b­u­tion. ACES is a free and open col­or man­age­ment sys­tem, mean­ing it is not tied to a spe­cif­ic plat­form or pro­gram. It's designed to work with the tech­nol­o­gy of today, as well as future work­flows.
The ACES col­or space includes every­thing the human eye can see, mean­ing there are no restric­tions or lim­i­ta­tions of the col­or space. It is not a pro­gram or work­flow or "look." ACES was designed to help you with your work­flow. ACES con­sists of encod­ing spec­i­fi­ca­tions, trans­form def­i­n­i­tions and guide­lines, meta­da­ta def­i­n­i­tions, stan­dard screen spec­i­fi­ca­tions, and the spec­i­fi­ca­tions for archive-ready image data and metadata.
Adopt­ing ACES – ACES is becom­ing pop­u­lar among large scale block­buster films, espe­cial­ly those that tend to be CG/VFX heavy. The grow­ing list of films using ACES include:
Chap­pie, The Lego Movie, Obliv­ion, and Guardians of the Galaxy Vol.2.
If you want to con­sid­er adopt­ing ACES stan­dards in your pro­duc­tions, you can dive into all the tech­ni­cal writ­ings on ACES by vis­it­ing the ACES Doc­u­men­ta­tion page. Addi­tion­al­ly, you can find oth­er sup­port and resources at ACES Cen­tral, the ded­i­cat­ed hub and forum for all things relat­ed to ACES colour encod­ing. MORE by click­ing link or image.
MORE Info click this link » https://vimeo.com/125850550
LUCIANO TOVOLI AIC ASC – The high­light of the day was the screen­ing of the Anto­nioni film Pro­fes­sione: Reporter and the ensu­ing Q&A with the "mae­stro" Luciano Tovoli AIC ASC. One can­not help but be cap­ti­vat­ed lis­ten­ing to Luciano talk with great rev­er­ence about Michelan­ge­lo Anto­nioni along with most Direc­tors he col­lab­o­rates with. Of par­tic­u­lar inter­est in this film and explored in detail by mod­er­a­tor Kjell Runar Jensen from the Nor­we­gian soci­ety, was the amaz­ing one shot scene which fea­tures Jack Nichol­son lying on a bed, look­ing out to a court­yard and the cam­era mov­ing slowly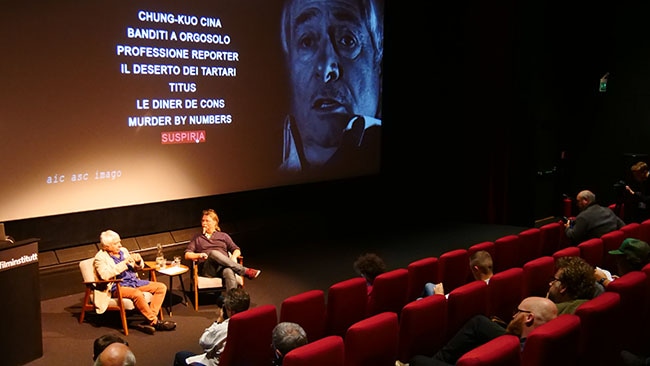 across the room, through the bars of the win­dow into the court­yard to cap­ture a scene involv­ing the arrival of a car and a beau­ti­ful woman, the cam­era fol­lows her into the build­ing, rotat­ing 180 degrees and then set­tling, look­ing through the bars from out­side as she enters the room with the police to see the body on the bed. In effect a 360 degree shot, which was tru­ly out­stand­ing giv­en the tech­nol­o­gy of the day. Must see – Pro­fes­sione: Reporter!
One of the most inter­est­ing ses­sions for me was the one deal­ing with CINEMATOGRAPHERS AUTHORS RIGHTS - This was a case study from Nor­way by Bjorn Alexan­der Brem from the Nor­we­gian Film­mak­ers Asso­ci­a­tion, who spoke with great knowl­edge about this rather vex­ing issue for us here in the South­ern hemi­sphere, although he did point out not all was per­fect in the Scan­di­na­vian sys­tem, but it was in rea­son­able shape com­pared to most, who like us, have noth­ing to speak of. I have includ­ed his pre­sen­ta­tion and wel­come any ques­tions you may have.
ODCC Talk Direct Injec­tion FNF – Down­load the PDF HERE »
I can tell you that this issue of Authors Rights for cin­e­matog­ra­phers will be dis­cussed by IMAGO in Helsin­ki with the poten­tial to see­ing if this can become a glob­al ini­tia­tive of IMAGO.
Philippe Ros AFC, Rolf Coulanges BVK and Mick Van Rossum NSC from the IMAGO Com­mit­tee for Cre­ative Tech­nolo­gies col­lab­o­rat­ed to bring a pre­sen­ta­tion deal­ing with:


TEXTURE CONTROL IN THE WORKFLOW. This was a fair­ly tech­ni­cal pre­sen­ta­tion but the over­all take out was the con­trol of the final image, which is a sub­ject close to all our hearts. Philippe, Rolf and Mick are three extra­or­di­nar­i­ly tal­ent­ed cin­e­matog­ra­phers who also pos­sess a real sol­id tech­ni­cal under­stand­ing of those areas that tend to get us mere mor­tals into trou­ble.
I have includ­ed Philippe's pre­sen­ta­tion which I hope will help explain it with more clar­i­ty. ODCC_2017_TEXTURE_2_PRESENTATION.pdf »
Nor­we­gian film­mak­er ~ Janike Mikkelsen
VIRTUAL REALITY 3D: Case Study – The Cham­pi­ons ~ Nor­we­gian film­mak­er, Ms Janike Mikkelsen pre­sent­ed a fan­tas­tic overview of her ground­break­ing work on The Queen Con­cert film – The Cham­pi­ons. She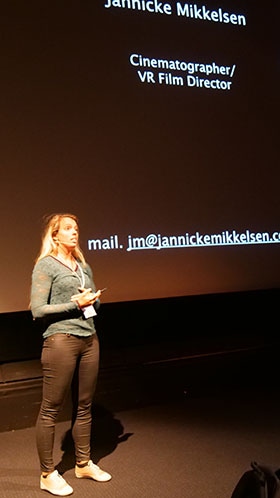 relat­ed the sto­ry about being con­tact­ed by astro physi­cist Dr Bri­an May who just hap­pens to be the lead gui­tarist of Queen who had heard of her extra­or­di­nary abil­i­ty as a stere­o­g­ra­ph­er and asked if she would be inter­est­ed in pro­duc­ing a film based on their next con­cert. This was a project for the fans and ini­tial­ly was only one song, The Cham­pi­ons, but even­tu­al­ly it became the whole con­cert, which was anoth­er sto­ry altogether.
LUCA BIGAZZI is an acclaimed Ital­ian cin­e­matog­ra­ph­er who with his qui­et reserved approach to visu­al sto­ry­telling has received sev­en David di Donatel­lo Awards for Best Cin­e­matog­ra­phy. He has worked with direc­tors such as Sil­vio Sol­di­ni, Mario Mar­tone, Felice Fari­na, Gian­ni Ame­lio, Francesca Archibu­gi, and Pao­lo Sor­renti­no, one of Italy's most revered Direc­tors, nom­i­nat­ed six times for the Palme d'Or. I have been a huge fan of Luca's work for some­time and his most recent work on The Young Pope was a tour de force. His work with direc­tor Sor­renti­no fea­tures vir­tu­osic cam­era move­ments but his archi­tec­tur­al fram­ing, and the way his lens­es cre­ate the actors space to move, show­cas­es the use of the frame that are a fea­ture of all his work as a cin­e­matog­ra­ph­er. Luca Bigazzi stands right along­side the oth­er great Ital­ian cin­e­matog­ra­phers at the very top of his game, and to hear him speak with such clar­i­ty and sub­dued pas­sion about his role as a cin­e­matog­ra­ph­er is some­thing not to be missed.
READ the link: 'The Young Pope' DP Luca Bigazzi Gives A Win­dow Into A Col­lab­o­ra­tion "Made Up Of Few Words And Mutu­al Understanding" »
IMAGO REQUESTS TO MANUFACTURERS
The last ses­sion of the Con­fer­ence was one deliv­ered by Philippe Ros AFC, Rolf Coulanges BVK and Mick Van Rossum NSC from the IMAGO Com­mit­tee for Cre­ative Tech­nolo­gies. The basic idea was that Cin­e­matog­ra­phers (IMAGO in coop­er­a­tion with oth­er Soci­eties) should work to obtain greater influ­ence over the cam­eras, soft­ware and equip­ment that we use. A com­plex issue that requires con­sid­er­able col­lab­o­ra­tion, but cer­tain­ly a step in the right direc­tion.
This would essen­tial­ly involve Cin­e­matog­ra­phers work­ing and col­lab­o­rat­ing with man­u­fac­tur­ers more than we cur­rent­ly do to "tai­lor make" equip­ment to spec­i­fi­ca­tions. This is a big and impor­tant step and requires IMAGO to get con­sen­sus and back­ing as to what to pri­or­i­tize amongst as many Soci­eties as pos­si­ble, there­by we will have a greater pos­si­bil­i­ty to suc­ceed. This, I am sure you agree is a great start­ing point, with a great deal of work to be done before the col­lab­o­ra­tion can begin.
AUTHORS OR DIRECTORS OF CINEMATOGRAPHY? At the ASC Sum­mit in Los Ange­les, Vit­to­rio Storaro AIC ASC spoke about the notion to adopt the screen cred­it as Author of Cin­e­matog­ra­phy which is opposed to Direc­tor of Pho­tog­ra­phy. There are many who believe the lat­ter is an out­dat­ed title as in the lit­er­al sense we are cin­e­matog­ra­phers NOT pho­tog­ra­phers. Seman­tics per­haps, but I also feel it is time we con­sid­ered a change, but I favour Direc­tor of Cinematography.
CHECK PHOTO GALLERY FACEBOOK