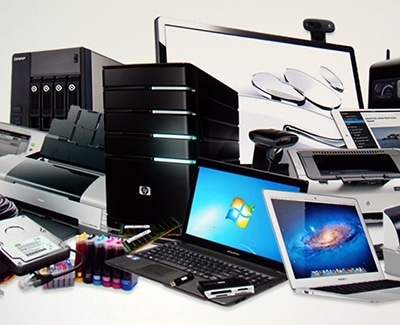 A report by Lars Pet­ters­son FSF
Let it be said once and for all, that the 6th edi­tion of the ODCC was a high­ly reward­ing expe­ri­ence, espe­cial­ly for any­one inter­est­ed in fea­ture film cin­e­matog­ra­phy, since it boast­ed no few­er than two mas­ter­class­es with high-rank­ing cin­e­matog­ra­phers Luciano Tovoli ASC, AIC and Luca Bigazzi AIC. As is their habit, IMAGO and the FNF, under the com­pe­tent lead­er­ship of messieurs Paul René Roes­tad, FNF, and Rolv Håan, FNF, respec­tive­ly, put on a well-oiled and excel­lent three-day conference.
Com­pared to the con­fer­ence held two years ago, there has also been a pleas­ant evo­lu­tion in terms of equal­i­ty, in 2015 all speak­ers were exclu­sive­ly male, but this time around at least three of the pre­sen­ta­tions were held by female experts. As is cus­tom­ary, the ODCC is held in the excel­lent facil­i­ties belong­ing to the Nor­we­gian Film Insti­tute sit­u­at­ed on Dron­nin­gens Gate in down­town Oslo , just a stone's throw from the cen­tral train sta­tion with its direct shut­tle to the airport.
The seats in the film Insti­tute's Cin­e­ma are rapid­ly filled with par­tic­i­pants per­haps main­ly from Europe, but also from Aus­tralia, the US and many oth­er cor­ners of the world. After a short intro­duc­to­ry speech from the Pres­i­dent of IMAGO, Paul René Roes­tad, FNF, the con­fer­ence is off to a fly­ing start with three cam­era pre­sen­ta­tions in a row: The Canon C700, the Pana­son­ic Vari­cam and the brand-new Sony Venice.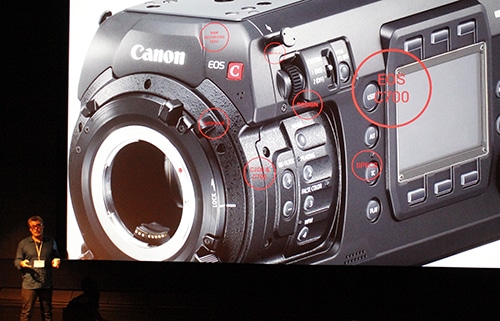 British cin­e­matog­ra­ph­er Brett Dan­ton recounts his expe­ri­ences with the Canon C700 while shoot­ing a Range Rover com­mer­cial in the remote Aus­tralian out­back. He empha­sizes how quick­ly you can work with this cam­era ‑in only sev­en hours they man­aged to shoot two full com­mer­cials! The fact that the cam­era house has built in "cheese plates" both on top and below, means that you can very quick­ly mount it on, say for instance, a "shot over" heli­copter mount. Dan­ton also had a Canon C200 as B‑camera, and since both mod­els use the same sen­sor they work very well together.
The next pre­sen­ta­tion is 'Next Gen­er­a­tion Imag­ing and the Impact of HDR' and is held by Dave Stump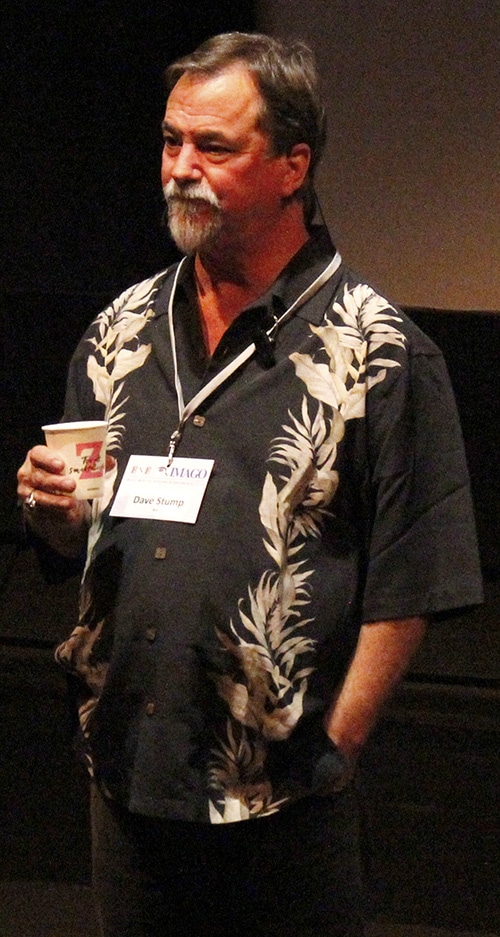 ASC. HDR means we now must be more care­ful on the set than ever before. You should pan more slow­ly, and you can get unpleas­ant sur­pris­es con­cern­ing wigs and make-up effects ‑joins you're used to "get­ting away with" now sud­den­ly show up clear­ly in dailies. You should also mon­i­tor the entire work­flow from set to post­pro­duc­tion, so there's no loss of data. HDR means pre­sent­ing much more visu­al infor­ma­tion than we're used to – if it has been unin­ten­tion­al­ly com­pressed dur­ing the work­flow, you can end up with ter­ri­ble artifacts.
Sony Venice
Then Sony unveils its brand-new Sony Venice cam­era ‑and you get an idea how new this cam­era is when you hear it won't be pos­si­ble to buy it until Feb­ru­ary 2018! The actu­al cam­era that Sony is show­cas­ing here at the ODCC, is one out of only half a dozen work­ing pro­to­types in exis­tence. But the ideas behind this cam­era are impres­sive. For starters, the camera's sen­sor block is inter­change­able ‑along the lines of a tra­di­tion­al motion pic­ture cam­era, where you can change raw stock.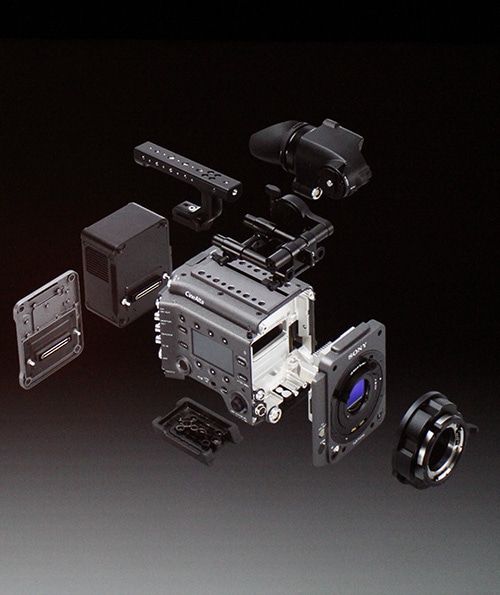 This is some­thing which Vit­to­rio Storaro ASC AIC has expressed a wish for in inter­views, and it appears Sony liked the idea. We're talk­ing about a brand-new 24'36 sen­sor, and also the camera's PL-mount can be eas­i­ly removed and under­neath there's an E‑mount ‑mean­ing that the cam­era can han­dle almost any lens you might wish to use.
(There's a 24-page in-depth report on the Sony Venice in Jon Fauer's Film & Dig­i­tal Times, for those who wish to know more! (http://www.fdtimes.com/2017/09/06/sony-venice/
Behind the head­line 'High Dynam­ic Range for Cin­e­ma Screens', the ‑by a wide mar­gin- best-look­ing images to be seen dur­ing the entire con­fer­ence were revealed! Cédric Leje­une from Éclair-col­or was respon­si­ble for this pre­sen­ta­tion, and you might say that Éclair-col­or have tak­en a page out of the same book used by George Lucas for the THX cer­ti­fi­ca­tion of cin­e­mas some thir­ty years ago, since their prod­uct real­ly con­sists of a series of spec­i­fi­ca­tions for every para­me­ter along the post pro­duc­tion work­flow, from col­or cor­rec­tion right down to what gain the cin­e­ma screen should be. A pic­ture says more than a thou­sand words, and that cer­tain­ly holds true for the Éclair-col­or demo film, which is tru­ly impres­sive! Éclair-col­or spec­i­fies 30 foot Lam­berts rather than 14, and the result is brighter, more detailed high­lights in com­bi­na­tion with vivid col­ors and rich blacks ‑what more could you ask for? Using 1,8 gain white screens, Éclair-col­or can han­dle screen sizes up to 60 feet, and they do have one of those installed right now in Nurem­berg, Germany.
Next, cin­e­matog­ra­ph­er Matthias Bol­liger tells us about his work with the Pana­son­ic Vari­cam, with it's dual-native 800⁄5000 ISO sen­sor. Bol­liger in fact showed us night exte­ri­or footage tak­en with moon­light as the only light source. By and large one gets the impres­sion that both Canon and Sony recent­ly have tak­en some inspi­ra­tion from the Vari­cam, and par­tic­u­lar­ly the Vari­cam LT, regard­ing the form factor.

Next on the pro­gram is a mas­ter class with leg­endary Ital­ian cin­e­matog­ra­ph­er Luciano Tovoli, ASC AIC . One quick­ly real­izes that an hour is no time at all for a leg­endary racon­teur of this cal­iber! The sto­ries and anec­dotes abound, and Tovoli fre­quent­ly brings down the house. You quick­ly real­ize we're only scratch­ing the sur­face here, but among the high­lights are excerpts from an ear­ly black-and-white doc­u­men­tary about crim­i­nal peas­ants in the moun­tains close to Rome, an amaz­ing doc­u­men­tary shot in Chi­na with Anto­nioni as direc­tor ‑and Anto­nioni does­n't want Tovoli to shoot any­thing at all, the famous direc­tor much prefers to spend the time with his new girl­friend, 35 years his junior. And of course the more than six min­utes long penul­ti­mate shot in Anto­nion­i's 'The Pas­sen­ger' (1975)!
The FNF then offers a drink in the bar before screen­ing the Anto­nioni fea­ture film 'The Pas­sen­ger' star­ring Jack Nichol­son and Maria Schneider .
Sat­ur­day, the first lec­ture was on a sub­ject often over­looked: the cinematographer's right to finan­cial com­pen­sa­tion for his work. Voic­es from the audi­ence bore wit­ness to the fact that although cin­e­matog­ra­phers in many coun­tries on prin­ci­ple have a right to addi­tion­al finan­cial com­pen­sa­tion when their work is shown, does not often hap­pen. This is not the case in Nor­way, we learn, as Björn Alexan­der Brem from the orga­ni­za­tion FOR tells us how they have suc­cess­ful­ly man­aged to arrive at a sat­is­fac­to­ry solu­tion in the Nor­we­gian media indus­try. The key, Brem stress­es, lies in 'bar­gain­ing pow­er', sim­ply put col­lec­tive strength through orga­ni­za­tions like the FNF and oth­ers. In short, the pro­duc­er of a suc­cess­ful motion pic­ture (for instance) pays a lump sum to FOR, which in return pays out the cor­rect amount of mon­ey to each indi­vid­ual (direc­tor, scriptwriter, cin­e­matog­ra­ph­er etc).
Philippe Ros, AFC , under the head­line 'Cre­ative Cin­e­matog­ra­phy and Cam­era Con­trol' explored the con­cept of 'tex­ture' ‑what do we mean by that and what para­me­ters affect it? We are now using 4K cam­eras and on prin­ci­ple they will all give the same 4K res­o­lu­tion, but some have 20 mil­lion pho­to­sites, and oth­ers have less than eight, on their sen­sors ‑result­ing in dif­fer­ent impres­sions of sharp­ness and image quality.
Rolf Coulanges, BVK, demon­strat­ed how ACES came to the res­cue when re-scan­ning a 30 year old doc­u­men­tary about Brazil­ian musi­cians. To make a long sto­ry short, the com­bi­na­tion of ACES and the ARRISCAN brought out addi­tion­al detail in the shad­ows, almost as if you had had a much faster raw stock when shoot­ing the film in the first place, 30 years ago!
The last pre­sen­ta­tion before the lunch break was by Dr Tama­ra Sey­bold from ARRI, who spe­cial­izes in Motion Pic­ture Cam­era Denois­ing , and the result of her research can be found in the AMIRA- and SXT-cam­eras. Her lec­ture was a com­bi­na­tion of an expla­na­tion how a dig­i­tal sen­sor oper­ates and a chance for the audi­ence to direct­ly give input what pos­si­bil­i­ties to influ­ence the image they would like to see in future ARRI cam­eras ‑a very valu­able oppor­tu­ni­ty to influ­ence the ARRI prod­ucts of tomorrow!
True to form, the ODCC offers deli­cious sand­wich­es dur­ing the lunch hour, and then Alex Forsythe from AMPAS, the Amer­i­can Motion Pic­ture Acad­e­my, explains to us what ACES is. Basi­cal­ly it's a set of stan­dards to safe­guard that the mate­r­i­al you record­ed on the set sur­vives at the high­est pos­si­ble lev­el of qual­i­ty until they reach their audi­ence. For instance, ACES aims to pre­serve dynam­ic range in your source mate­r­i­al so there is no loss of data in the work­flow. Anoth­er impor­tant field for ACES is archive mate­r­i­al, which some­times today can be of sub­par qual­i­ty. It's also vital­ly impor­tant that archive mate­r­i­al makes sense to, and is eas­i­ly under­stood by, whomev­er wish­es to cre­ate a new ver­sion of a film 25 years into the future.
There were two more pre­sen­ta­tions before it was time for a short cof­fee break. The first of these was 'Colour Appear­ance and Pre­ferred Colour Repro­duc­tion' and Daniele Sir­a­gu­sano from the com­pa­ny Film­Light began with a com­par­i­son between the 100 year evo­lu­tion of the pho­to­chem­i­cal image with its dig­i­tal coun­ter­part, and point­ed out that the evi­dence sug­gests no sys­tem based on three col­ors can yield per­fect col­or repro­duc­tion. Then he demon­strat­ed how total­ly dif­fer­ent a dig­i­tal sen­sor reacts to light (lin­ear­ly) com­pared to the human eye (log­a­rith­mi­cal­ly) and how prone human per­cep­tion is to error when assess­ing col­ors and con­trasts, all fas­ci­nat­ing stuff!
'Lens Chal­lenges in Large For­mat Cin­e­matog­ra­phy' was pre­sent­ed by Daniela Kesse­lem from CW Son­derop­tiks, a sis­ter com­pa­ny of Leica Cam­era AG,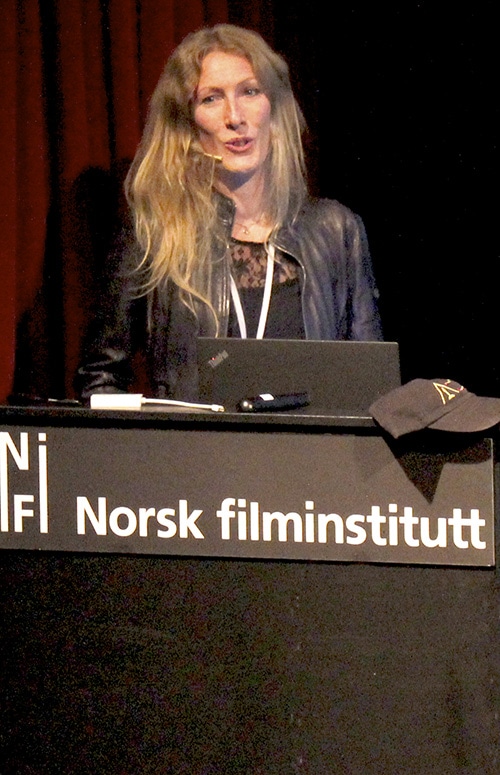 found­ed in 2008. Leica decid­ed a few years ago that they want­ed to intro­duce lens­es for the motion pic­ture indus­try, and the Thalia lens­es are the CW Son­derop­tik pre­mi­um prod­uct in the 'Large For­mat Cin­e­matog­ra­phy' range. Daniela Kesse­lem pro­ceed­ed to explain all the design advan­tages gained by larg­er lens­es, for instance it's tech­ni­cal­ly eas­i­er to design wide angle lens­es when deal­ing with a larg­er sen­sor. These larg­er sen­sors also allow longer focal lengths, and Leica feel that you quite frankly get the best of both worlds (short and long focal lengths) this way, two impor­tant points being the shal­low depth of field and the more flat­ter­ing repro­duc­tion of faces in por­trait compositions.
Oppor­tu­ni­ties and pit­falls when pro­duc­ing a VR dra­ma series for Nor­we­gian tele­vi­sion were account­ed for by Svend Even Her­ra, FNF, who showed us exam­ples from the VR dra­ma series 'jen­ter' (Girls) evolv­ing around a group of teenage high school girls and their adven­tures, and also a pret­ty spec­tac­u­lar sequence show­ing a ski jump from the point of view of the skier!
Jan­nicke Mikkelsen FNF, a Lon­don-based cin­e­matog­ra­ph­er and VR direc­tor, edu­cat­ed at the Nation­al Film School in Great Britain, next gave a high­ly enter­tain­ing lec­ture, with lots of humor and unex­pect­ed twists, sim­ply a good exam­ple of when real­i­ty sur­pass­es fic­tion.
After fin­ish­ing her edu­ca­tion as a stere­o­g­ra­ph­er (3D cin­e­matog­ra­phy expert) she receives an amaz­ing offer to work for sir David Atten­bor­ough on a nature doc­u­men­tary ‑but it turns out this is a vir­tu­al-real­i­ty pro­duc­tion and does not require a stere­o­g­ra­ph­er at all. No prob­lem, Jan­nicke is hired any­way and quick­ly learns what she needs to know about VR. Hav­ing made the acquain­tance of Sir David leads her fur­ther into the realm of sci­ence, among astronomers and physi­cists… and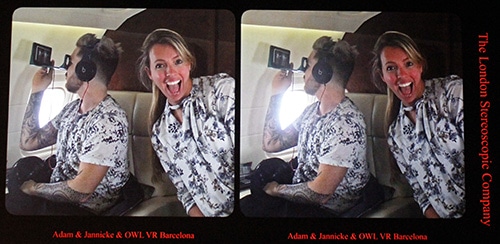 one of these sci­en­tists is Dr. Bri­an May, who besides his career in astro­physics… also hap­pens to be the lead gui­tar­rist in the rock group Queen! Bri­an May asks Jan­nicke Mikkelsen if she could help him cre­ate some­thing spec­tac­u­lar for Queen's new world tour, which is sched­uled to hit the road present­ly. She's hap­py to help out if she can and asks May what he has in mind. 'we'd like you to film the con­cert as a 360° VR and 3D expe­ri­ence where you get the feel­ing of float­ing around in a space­ship' is the answer.
To make a long sto­ry short, Jan­nicke Mikkelsen suc­ceeds against all odds with her mis­sion and we in the audi­ence are treat­ed to short sequence from this tru­ly unique con­cert movie.
What will it take for film edu­ca­tors wish­ing to embrace and teach all the new nar­ra­tive tech­nolo­gies that sur­round us right now? That was the focus for the lec­ture 'Edu­cat­ing Film­mak­ers… for VR?', and Fredrik Graver from Den Norske Film­skolen list­ed all the chal­lenges and oppor­tu­ni­ties fac­ing edu­ca­tors, not least when it comes to 3D and VR. Den Norske Film­skolen have a very ambi­tious agen­da and have recent­ly hired two researchers and are also wel­com­ing col­lab­o­ra­tions with inter­na­tion­al insti­tu­tions in this field.
The Sat­ur­day pro­gram was round­ed off with yet anoth­er screen­ing of a fea­ture film, this time the Oscar win­ner 'La Grande Belleza' (2013) direct­ed by Pao­lo Sor­renti­no and shot by Luca Bigazzi, AIC. It's such a treat to watch a film in the Nor­we­gian Film Insti­tute's cin­e­ma that you com­plete­ly for­get you've already spent the entire day in a cin­e­ma seat, the pro­jec­tion it's superb, show­cas­ing the beau­ti­ful imagery and the cin­e­matog­ra­phy of Bigazzi. There's a brief Q&A with Luca Bigazzi after the movie, and then we all board char­tered bus­es tak­ing us to the facil­i­ties of rental house Sto­ry­line for din­ner and party.
Sun­day morn­ing it was some­how much eas­i­er to find emp­ty seats in the cin­e­ma ‑it may have had some­thing to do with the par­ty the night before… The first pre­sen­ta­tion was very inter­est­ing, how­ev­er, Gunnleik Groven intro­duced the handy lit­tle black box Quinebox IoT, ded­i­cat­ed to keep­ing track of all meta-data dur­ing a pro­duc­tion. Groven explained that he just fin­ished a shoot in Chi­na, where he was told that 'we're not par­tic­u­lar­ly inter­est­ed in meta-data in Chi­na' but in the next breath they very much want­ed to know what the T‑stop, focal length and time­code were on that last take… Meta-data has an unfor­tu­nate ten­den­cy to fre­quent­ly go miss­ing in today's work­flow, and the Quinebox IoT is a sure-fire cure for this.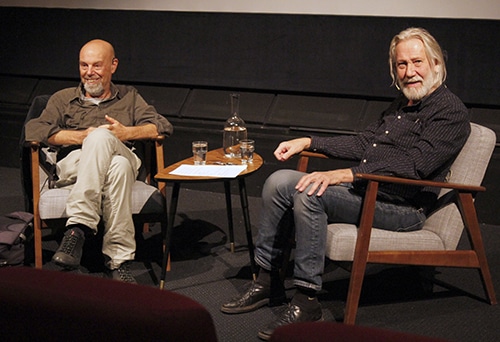 Dur­ing Groven's lec­ture the audi­to­ri­um grad­u­al­ly begins to fill up, because no one wants to miss out on what's next on the pro­gram: a Mas­ter­class with the Ital­ian cin­e­matog­ra­ph­er Luca Bigazzi, AIC. With Rolv Håan, FNF, han­dling the inter­view the sit­u­a­tion is in safe hands, and the con­ver­sa­tion tends under­stand­ably to empha­size 'La Grande Belleza' and the long col­lab­o­ra­tion with Pao­lo Sor­renti­no. We learn that Luca Bigazzi prefers a stress­ful sit­u­a­tion rather than a relaxed set, he enjoys being forced by cir­cum­stances to adapt quick­ly. He does­n't like pho­to­chem­i­cal film, hand­held cam­eras, large depth of field in close-ups of actors faces, and he is appalled that peo­ple today watch movies on their cell phones and lap­tops ‑film should be seen in a cin­e­ma! He loves dig­i­tal cam­eras ‑espe­cial­ly the Red Weapon- and enjoys using cranes, steadicams and mul­ti-cam­era setups. Luca Bigazzi is also very pleased that Ital­ian cin­e­ma is in good shape right now, every year there are at least 5 – 10 new movies that's he real­ly enjoys, and this has not always been the case.
After a lunch break once again fea­tur­ing the ODCC trade­mark deli­cious sand­wich­es, only two pre­sen­ta­tions remain. Bendik Bryde from the com­pa­ny PIQL intro­duces their inge­nious long-term archiv­ing con­cept: they pho­to­graph onto a 35 mm film­strip every­thing need­ed for opti­mum long-term archiv­ing. If we're deal­ing with a still image, one frame is ded­i­cat­ed to this image so that any­one could iden­ti­fy it with the naked eye, the next
frame is loaded with dig­i­tal code to enable repro­duc­tion of this image at max­i­mum qualti­ty. But they go even fur­ther than this. Not only do they archive images, sounds and videos in this way, they also pro­vide ‑on this very same film­strip- every­thing that future gen­er­a­tions will need to re-cre­ate the machines on which to play this media. No longer do we need to pre­serve a phys­i­cal spec­i­men of, say a par­tic­u­lar com­put­er ‑future gen­er­a­tions can sim­ply build one of these com­put­ers by fol­low­ing the instruc­tions on the film strip!
And the advan­tages of the PIQL solu­tion go on: migra­tion of dig­i­tal media from one car­ri­er to the next is a huge prob­lem, and this can be side-stepped entire­ly(!) with this method: the strip of film will safe­ly pre­serve its con­tents by sim­ply remain­ing on its shelf for 500 years. And as if this was­n't enough, PIQL stores the mate­r­i­al on the island of Sval­bard near the North Pole, pro­tect­ed by per­mafrost and dan­ger­ous polar bears. If you have your mate­r­i­al here you should be able to sleep well at night.
The con­fer­ence was round­ed off with a plea from the tech­ni­cal com­mit­tee of IMAGO ‑rep­re­sent­ed by ROLF COULANGE, BVK, JOHN CHRISTIAN ROSENLUND FNF, PHILIPPE ROS, AFC AND MICK VAN ROSSUM, NSC- to man­u­fac­tur­ers of cam­eras and dis­play hard­ware. We need a stan­dard­i­s­a­tion of con­cepts and expres­sions in the field of dig­i­tal video, much in the same way that already exists, for instance, in the field of it avi­a­tion. 'Take off' and 'land­ing' mean the same thing across the globe, but when it comes to con­cepts like 'sharp­ness' or 'debay­er­ing' in dig­i­tal video there exists no such stan­dard­i­s­a­tion. The com­mit­tee list­ed a num­ber of such areas and sit­u­a­tions where much work remains to be done, before it was time for Paul René Roes­tad, FNF, to receive well-deserved applause for a well-exe­cut­ed and mem­o­rable conference.