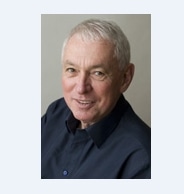 pho­to: IMAGO Pres­i­dent Nigel Walters
When the pro­posed Ima­go Inter­na­tion­al Cin­e­matog­ra­phers Hall of Fame is inau­gu­rat­ed one Cana­di­an name will fea­ture promi­nent­ly. It is that of Joan Hut­ton CSC who has retired after serv­ing twen­ty two years as Pres­i­dent of her Soci­ety. Not only is Joan the longest serv­ing past Pres­i­dent of any Ima­go Soci­ety but as the first lady Pres­i­dent any­where she deserves her place in his­to­ry of the Federation.
It was to hon­our her ded­i­ca­tion and role in build­ing a suc­cess­ful Soci­ety that the CSC recent­ly held in Toron­to a metic­u­lous­ly organ­ised Awards Gala. As a del­e­gate rep­re­sent­ing fel­low cin­e­matog­ra­phers at many Inter­na­tion­al Con­fer­ences Joan Hut­ton was respon­si­ble for encour­ag­ing the CSC to join Ima­go, there­by intro­duc­ing the Federation's pres­ence on North Amer­i­can soil.
It was to show Imago's appre­ci­a­tion that as Pres­i­dent I had the priv­i­lege of pre­sent­ing the Ima­go Trib­ute to Joan. It is sim­ply a Spec­tra Meter mount­ed on a plinth, for­tu­nate­ly not yet a com­plete rel­ic of a pre­vi­ous age in film mak­ing. The first of the four pre­vi­ous­ly award­ed went to Giuseppe Rotun­no AIC, Fellini's cin­e­matog­ra­ph­er, who is known in Italy as "Mr 5.6". By luck rather than judge­ment they all read 5.6 any­way! By good for­tune it also proved to be Joan's favourite light meter. It was pre­sent­ed for her ded­i­ca­tion to her Soci­ety and sup­port for the inter­na­tion­al aims of Ima­go. By exam­ple of their sup­port to estab­lish a strong glob­al organ­i­sa­tion the Cana­di­ans, the Japan­ese, Israelis, New Zealan­ders and Aus­tralians had been a cru­cial fac­tor in per­suad­ing the Euro­pean Soci­eties to evolve Ima­go into its present community.
Joan Hut­ton CSC

George Willis CSC SASC Pres­i­dent of CSC
The sit­ting Board of Ima­go comes to the end of its six year term of office in Jerusalem next Octo­ber. In an inter­view by Gui­do Kon­dross of the Cana­di­an Cin­e­matog­ra­ph­er I was asked where I thought Ima­go to be head­ing in future years. Not a sim­ple ques­tion to answer. It is not as easy to fore­see the future as it is to look back on past mis­takes and reflect on chal­lenges which should have been han­dled with greater wisdom.
It requires a clair­voy­ant to pre­dict the role of the cin­e­matog­ra­ph­er in twen­ty years yet alone that of Ima­go! Not every Soci­ety has had a leader like Joan, although the Aus­tri­ans were favoured to secure the ded­i­ca­tion of Kurt Braz­da as the rock on which their Soci­ety was estab­lished. The Luciano Tovo­lis of our pro­fes­sion are few and far between and every Soci­ety is depen­dent for sur­vival on the ded­i­ca­tion of one or two indi­vid­u­als. Cin­e­matog­ra­phers are for­tu­nate to have such col­leagues giv­ing freely of their time to improve stan­dards of cin­e­matog­ra­phy, to restore respect in our pro­fes­sion and to fight for bet­ter work­ing con­di­tions and a just reward for our cre­ativ­i­ty. There are encour­ag­ing signs that younger cin­e­matog­ra­phers are show­ing a desire to active­ly con­tribute to cre­at­ing more civ­i­lized work­ing lives to meet the pres­sures of this dig­i­talised World.
In the last six years I have been struck by the gen­eros­i­ty and good­will towards one anoth­er by mem­bers of our pro­fes­sion. Imago's Mas­ter Class­es are an exam­ple. They do not only embrace tech­nol­o­gy but pri­mar­i­ly focus on the inspi­ra­tion which cre­ates images. Inspi­ra­tion is a two way expe­ri­ence; many "mas­ter" cin­e­matog­ra­phers admit to the inspi­ra­tion they them­selves have expe­ri­enced by just attend­ing these Mas­ter Classes.
Many years ago I shot a film in Japan. When it was com­plet­ed the crew clubbed togeth­er and bought an expen­sive gift for our inter­preter. It was a framed print which was duly wrapped and pre­sent­ed to him at the end of pro­duc­tion par­ty. He showed great delight; when we asked him why he had not opened it he replied was that the act of open­ing in the pres­ence of the giv­er would imply the pos­si­bil­i­ty of dis­plea­sure. His plea­sure was receiv­ing the gift. To open it was an act of disrespect!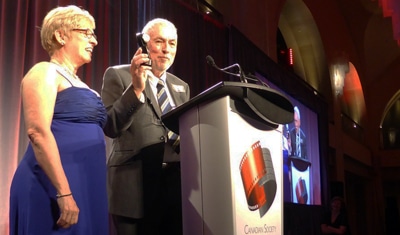 To appre­ci­ate one anoth­er we have to appre­ci­ate that cul­tur­al dif­fer­ences with­in our organ­i­sa­tions are a reflec­tion of Soci­ety itself. We all have some­thing to learn from each oth­er. There are no iden­ti­cal rooms in the house that Ima­go has patient­ly built from the orig­i­nal inspi­ra­tion of an Ital­ian some twen­ty three years ago. Cin­e­matog­ra­phers as artists can now enjoy the free­dom of cross­ing phys­i­cal fron­tiers. The fron­tiers of under­stand­ing the more intri­cate machi­na­tions of the minds of cin­e­matog­ra­phers require greater patience.
All cin­e­matog­ra­phers will ben­e­fit by the CSC join­ing Ima­go. What each Soci­ety con­tributes to com­mu­ni­cat­ing with anoth­er is usu­al­ly returned with inter­est. No mir­a­cle cure exists for solv­ing prob­lems but by using the inter­net and the tools avail­able to us we have the means to help each oth­er. Ima­go will con­tin­ue to work to press for improve­ments through leg­is­la­tion in the Euro­pean Union to improve the vul­ner­a­bil­i­ty of the grow­ing army of self-employed work­ers in the film indus­try. Co-authors rights for cin­e­matog­ra­phers already exist in many coun­tries. Efforts to per­suade our leg­is­la­tors are begin­ning to bear fruit as Ima­go has repeat­ed­ly explained the log­ic and jus­tice of our cause of resid­ual rights to Euro­pean leg­is­la­tors main­ly through the efforts of our legal advi­sor, Dr Cristi­na Busch.
It was with more than a twist of out­ra­geous for­tune that Ima­go was forced to can­cel at a late hour the planned March Brus­sels Con­fer­ence on which so many hopes were rest­ing. Every­thing was in place for a mem­o­rable and suc­cess­ful day. Guest speak­ers of great dis­tinc­tion were in place. The Dan­ish DFF were send­ing to the con­fer­ence del­e­gates to illus­trate how they are able to achieve excel­lent cin­e­matog­ra­phy in civilised work­ing con­di­tions. A wide range of issues in the agen­da includ­ed the prob­lems of the self-employed film work­er and the role of the cin­e­matog­ra­ph­er in the Restora­tion and Archiv­ing of our images.
Unfor­tu­nate­ly the planned Cine equip­ment exhi­bi­tion to help finance the Con­fer­ence failed to mate­ri­alise. A per­fect storm of mis­for­tune ensured key per­son­nel to the Con­fer­ence suc­cess found them­selves film­ing on dif­fer­ent Con­ti­nents. More back­up will be need­ed in future. An apol­o­gy is owed to the many who were dis­ap­point­ed. Grat­i­tude is due to those whose con­tri­bu­tion promised to make this event the most impor­tant in our twen­ty three year his­to­ry. Many lessons will have been learnt for the future. Ima­go must nev­er lose the ener­gy and enthu­si­asm of all our vol­un­tary Board mem­bers. They are the back­bone of our pro­fes­sion. How­ev­er there is future require­ment for a more pro­fes­sion­al base for our oper­a­tions. A per­ma­nent­ly manned office with a Sec­re­tary is essential.
The Soci­eties of Aus­tralia and Israel, the Japan­ese, New Zealan­ders, and lat­ter­ly Cana­di­ans are now mem­bers with full vot­ing rights. The CSC on the evi­dence of their out­stand­ing Award Gala has much to offer Ima­go. Film is still taught at their out­stand­ing fac­ul­ty at Ryer­son Uni­ver­si­ty. Their Pres­i­dent George A Willis CSC, SASC will be attend­ing the IAGA in Israel, the first to be held out­side Europe. The inter­ests of Soci­eties out­side Europe are now rep­re­sent­ed by a Board mem­ber and the aspi­ra­tions of the remain­ing "asso­ciate" nations who will not be for­got­ten. Malaysia is expect­ed to be accept­ed as such a mem­ber in October.
Ima­go will con­tin­ue to sup­port the two Fes­ti­vals ded­i­cat­ed to the craft of Cin­e­matog­ra­phy. The old­est is the Man­a­ki Fes­ti­val in Mace­do­nia and the flag bear­er for our pro­fes­sion is Camer­im­age in Byd­goszcz, Poland.
Ima­go must sad­ly say farewell to Labi­na Mitevs­ka, the for­mer Fes­ti­val Direc­tor of the Man­a­ki Fes­ti­val, the old­est devot­ed to the craft of Cin­e­matog­ra­phy any­where. Ima­go owes much to Labi­na who is return­ing to pur­sue her act­ing career. She has trans­formed her Fes­ti­val into the most glam­ourous and suc­cess­ful in Mace­do­nia. Her replace­ment is Dim­i­tar Nikolov who has extend­ed the Fes­ti­val by two days and has intro­duced two new com­pe­ti­tions, includ­ing SEE CAMERA which focus­es and encour­ages cin­e­matog­ra­phers of films from South East­ern Europe.
Thanks to the gen­eros­i­ty of the Man­a­ki Fes­ti­val, Ima­go has been able to hold in Bito­la for the last three years one of its most impor­tant events in its cal­en­dar. It is the Ima­go Balkan Con­fer­ence which encour­ages under­stand­ing by com­mu­ni­ca­tion in the region as well as help­ing to improve stan­dards of cinematography.
An eager­ly antic­i­pat­ed event ear­ly this Octo­ber, usu­al­ly sup­port­ed by dis­tin­guished mem­bers of the ASC, is the Ima­go Oslo Dig­i­tal Cin­e­ma Forum, organ­ised by Paul-Rene Roes­tad and the Nor­we­gian FNF. Ima­go is appre­cia­tive of the small­er Soci­eties in par­tic­u­lar asso­ci­at­ing their events with pride with the umbrel­la Fed­er­a­tion. Using the logo of Ima­go is syn­ony­mous with work­ing togeth­er for the com­mon good.
The Finnish Soci­ety held a suc­cess­ful inau­gur­al Film week-end last Novem­ber where­by the larg­er Scan­di­na­vian Soci­eties were hosts to cin­e­matog­ra­phers from Lithua­nia, Esto­nia and Latvia. Pos­si­bly a reg­u­lar Baltic Con­fer­ence could point the way to the future of Ima­go with sim­i­lar meet­ings tak­ing place in South Amer­i­ca, East­ern Europe and Asia, bring­ing togeth­er cin­e­matog­ra­phers to com­mu­ni­cate and exam­ine region­al problems.
The final event of 2015 for Cin­e­matog­ra­phers will be the ever­green expe­ri­ence of Camer­im­age in Byd­goszcz, Poland. Ten years have passed since the dec­la­ra­tion of Lodz passed a res­o­lu­tion that "the work­ing con­di­tions of many Film and TV Pro­duc­tions have dete­ri­o­rat­ed to such a crit­i­cal degree that imme­di­ate action is imper­a­tive." The sig­na­to­ries includ­ed Vil­mos Zsig­mond, Bil­ly Williams, Jost Vacano, Kees van Oost­rum, Alfon­so Beato and Phe­don Papamichael. Among those present were Laz­lo Kovacs ASC and Ger­ry Fish­er BSC. Ima­go hon­ours their mem­o­ry as it does that of Mirislav Ondricek whose death recent­ly marks the loss of an inspi­ra­tional and respect­ed Czech cin­e­matog­ra­ph­er.
As I con­tin­ue these Pres­i­den­tial Ram­blings (an expres­sion much loved by the Aus­tralian Pres­i­dent of the ACS, Ron Johan­son) I am remind­ed of a recent email from Haskell Wexler ASC. His mis­sives are sel­dom addressed cor­rect­ly but they have a habit of arriv­ing, even­tu­al­ly. His lat­est is a reminder by the nature of its con­tents that when the Ima­go Hall of Fame becomes a real­i­ty the pride of place should be reserved for Con­rad Hall ASC.
There are no apolo­gies, fol­low­ing the anniver­sary of the trag­ic death of Sarah Jones through crim­i­nal neg­li­gence by the pro­duc­ers, to quote once more Con­rad Hall's state­ment: "Our respon­si­bil­i­ty is to the visu­al image of the film as well as the well-being of our crew. We strive to explore the lan­guage of cin­e­matog­ra­phy and the art of sto­ry­telling. The expand­ing prac­tice of work­ing extreme hours seri­ous­ly com­pro­mis­es both the qual­i­ty of our work and the health and safe­ty of oth­ers. I believe it is my oblig­a­tion and the oblig­a­tion of every Cin­e­matog­ra­ph­er to oppose a prac­tise that com­pro­mis­es our cre­ative abil­i­ty as well as the health and well-being of every mem­ber of the crew."
Noth­ing much has changed since the Camer­im­age declaration.
DNW.
Nigel Wal­ters BSC