By IMAGO Pres­i­dent Paul René Roes­tad FNF
Inter­na­tion­al Cin­e­matog­ra­phers Sum­mit in Los Ange­les
Many IMAGO Board mem­bers attend­ed the ASC Inter­na­tion­al Cin­e­matog­ra­phers Sum­mit in Los Ange­les in the begin­ning of June. With around 70 cin­e­matog­ra­phers from around the World par­tic­i­pat­ing, the Sum­mit dis­cussed com­mon chal­lenges like the future for cin­e­matog­ra­phers in the dig­i­tal age, archiv­ing, ACES, frame
rates, laser pro­jec­tion and much more. Rep­re­sen­ta­tives from more than 30 Cin­e­matog­ra­phers Soci­eties par­tic­i­pat­ed, and inter­na­tion­al meet­ings like this are impor­tant. It gives Cin­e­matog­ra­phers from around the World a valu­able chance to meet, to exchange expe­ri­ences, to learn from – and to sup­port each oth­er. This is exact­ly the rea­son IMAGO was estab­lished in 1992, and we are grate­ful that the gath­er­ing inter­na­tion­al cin­e­matog­ra­phers for dis­cus­sions on top­ics of com­mon inter­est now also have become a tra­di­tion of the ASC.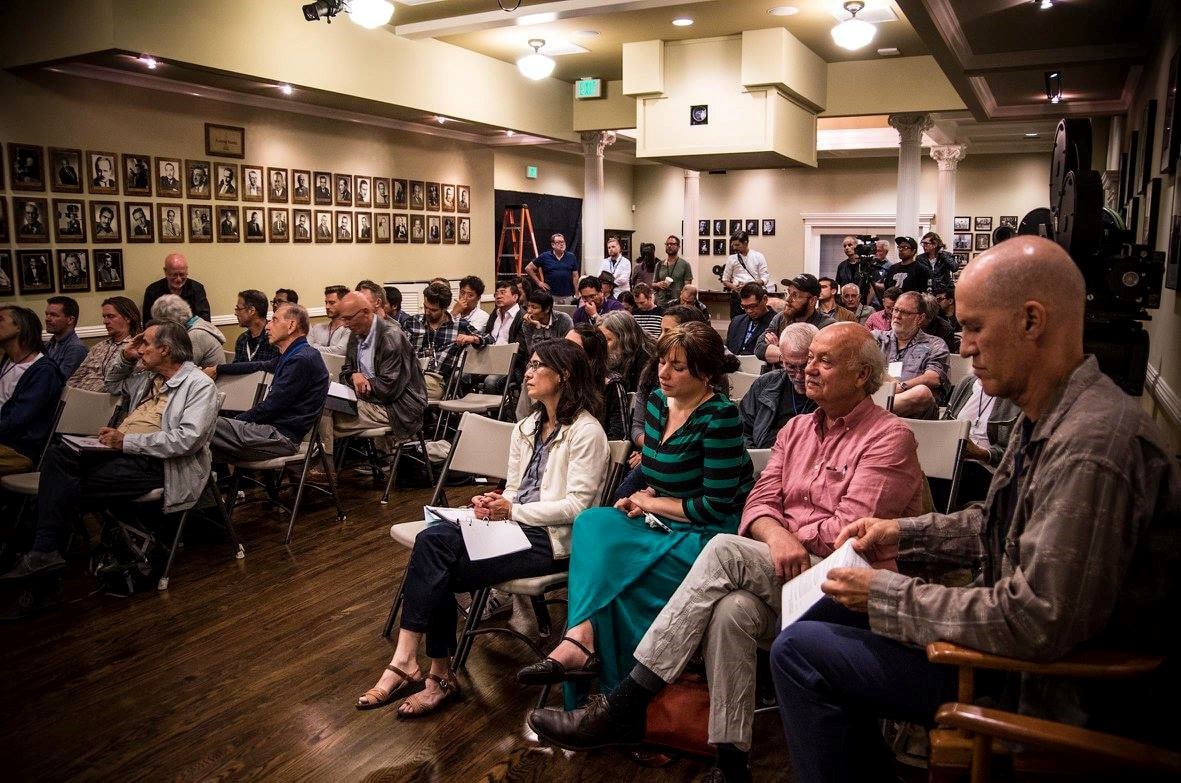 The ASC Club­house was filled to the rim with inter­na­tion­al cinematographers.
The future of Cin­e­matog­ra­phy
The intense changes in cin­e­matog­ra­phy, with vir­tu­al real­i­ty, with short­er pro­duc­tion peri­ods, new cam­eras with more pos­si­bil­i­ties to shoot in exist­ing light, means that cin­e­matog­ra­phers are under pres­sure.
With the pos­si­bil­i­ty to shoot in 4, 6 and 8K, cin­e­matog­ra­phers also often expe­ri­ence their shots being reframed in the edit, and the images are often coloured in Avid or in post even before the DP and the direc­tor is there. When we get to the DI, the direc­tors are sur­prised when the DOPs says "this is not our image" Rober­to Schae­fer not­ed. "How do we get our con­trol back"?
Ron Johansen ACS said: "At the end of the day we are artists. We must under­stand the tech­nol­o­gy, but must con­vey to our col­leagues that we are artists, not mere­ly a recorder of images."

From left: Nigel Wal­ters BSC, Tah­vo Hir­vo­nen FSC,m Fre­dewrick Good­ich ASC, Yan­nis Daskalothana­sis GSC, Ron Johanseon ACS, Deyuan Mu CSC and Yang Shu CSC.
Who is the author of the images?
Cin­e­matog­ra­phers are the cus­to­di­ans of the image, it is our her­itage and our respon­si­bil­i­ty, said Fred­er­ic Good­ich ASC. But the dis­cus­sion quick­ly turned to a dis­cus­sion about author­ship, and the view by many that cin­e­matog­ra­phers are authors of the image, and should receive fair remu­ner­a­tion for the use of the images.
For many, the strug­gle is less about mon­ey, but more about get­ting the respect on a set many feels have become chaot­ic.
The news has just been released that Jost Vacano ASC, BVK, have won a court case in Ger­many regard­ing fair remu­ner­a­tion for the film Das Boot, direct­ed by Wolf­gang Petersen. Vacano devel­oped a method to cap­ture long run­ning sequences in a cramped sub­ma­rine, which became a visu­al sig­na­ture in this film.
The film grossed 85 mil­lion dol­lars world-wide, and Vacano was, after an 8 year long court case, award­ed a set­tle­ment of 475.000 Euros for his work. Vacano´s strug­gle, sup­port­ed by the BVK, was on behalf of all Ger­man cin­e­matog­ra­phers, to focus on cin­e­matog­ra­phers rights as a visu­al artist.
Vit­to­rio Storaro AIC ASC held a detailed talk about the sit­u­a­tion of author­ship for cin­e­matog­ra­phers, and the impor­tance of fight­ing for this right.
Many of the del­e­gates present not­ed the impor­tance of mem­ber­ship in IMAGO, where expe­ri­ences and facts about author­ship and oth­er major chal­lenges for cin­e­matog­ra­phers can be shared and coop­er­at­ed about.
In addi­tion, the del­e­gates of the 2016 ICS had detailed sem­i­nars about the need for focus on gen­der equal­i­ty in cin­e­matog­ra­phy, ACES, the mak­ing of The Revenant with the team behind, includ­ing award win­ning DOP Emmanuel Chi­vo Lubes­ki, vis­its, talks and demon­stra­tions as Panav­i­sion, Tech­ni­col­or, AMPAS and much more.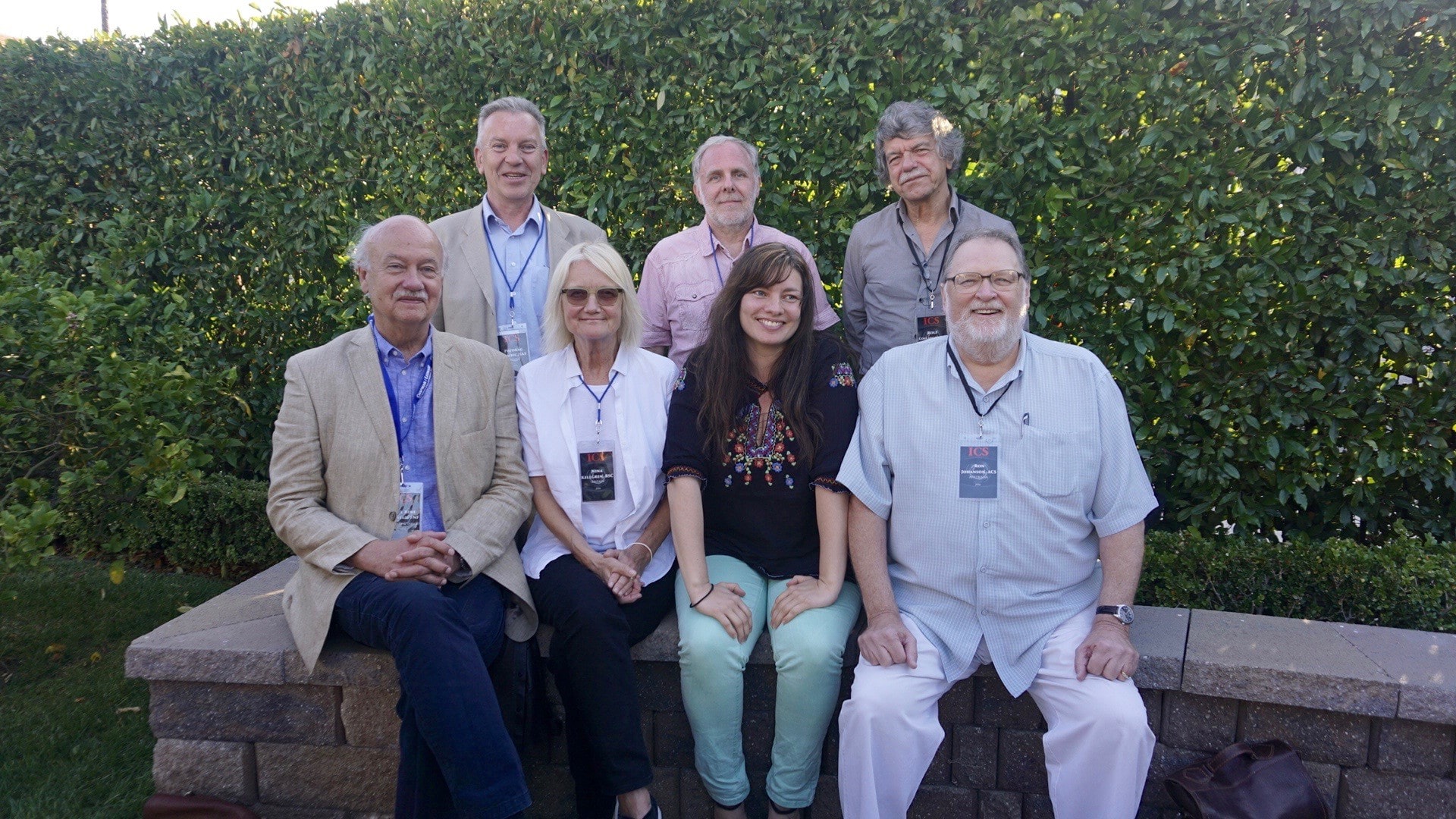 IMAGO Board mem­bers in Los Ange­les: From left Paul René Roes­tad FNF/President IMAGO, Pre­drag Bam­bic SAS, Nina Kell­gren BSC, Louis Philippe Capelle SBC, Elen Lot­man ESC, Rolf Coulanges BVK and Ron Johan­son ACS.
A great Sum­mit for all present, and our warmest thanks goes to the whole team at ASC for­mer Pres­i­dent Richard Crudo, and to Fred­er­ic Good­ich, the ASC new­ly elect­ed new Pres­i­dent Kees Van Ostrum, Michael Goi, Pat­ty Arma­cost and Del­phine Figueras.