It has reached the end of one more IMAGO Annu­al Gen­er­al Assem­bly the so called, IAGA. This time Bito­la the sec­ond largest city of the Repub­lic of Mace­do­nia was the host city where it bears the old­est fes­ti­val ded­i­cat­ed to cin­e­matog­ra­phy and to cin­e­matog­ra­phers which is the Man­a­ki Broth­ers Film Fes­ti­val. The Fes­ti­val is named after the two broth­ers from Bito­la hon­or­ing both film pio­neers of the Balkan coun­try. By the time both they were mak­ing mov­ing pic­tures in the region the city was under the Ottoman Empire and the city was called Man­a­s­tir. More info about these two pio­neers can be found HERE.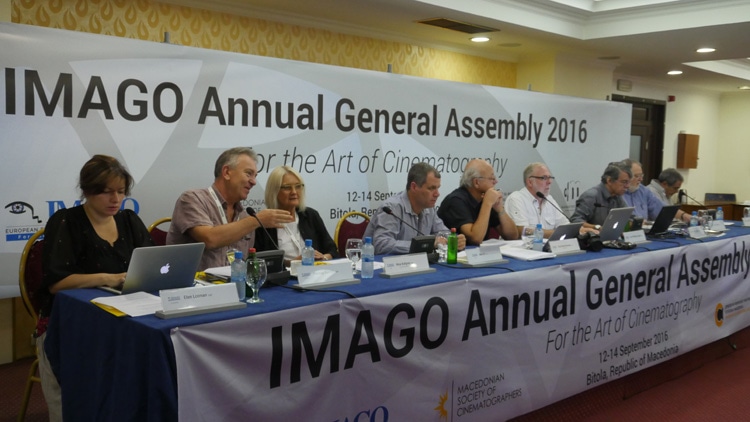 The board table. The local orga­ni­za­tion has put a designed table as nev­er has been done before.
The del­e­gates were extreme­ly well received in an impec­ca­ble orga­ni­za­tion that was put up by three insti­tu­tions, The Man­a­ki Film Fes­ti­val, The Mace­don­ian Film Pro­fes­sion­als Asso­ci­a­tion and by the Mace­don­ian Soci­ety of Cin­e­matog­ra­phers sup­port­ed with the won­der­ful and nice crew whom were always ready to help and to guide. IMAGO is high­ly grate­ful for the excel­lent hos­pi­tal­i­ty and for the great effort done by the local organizations.
Idan Or ACT for­mer pres­i­dent of the Israeli Soci­ety was the mod­er­a­tor of the meet­ing. Idan Or ACT lead for many years the Israeli soci­ety and now since a lit­tle by more than a year has tak­en a posi­tion in the Israeli TV.
The meet­ing start­ed with a sur­prise trib­ute to two del­e­gates with the tro­phy the IMAGO trib­ute. Kom­mer Klei­jn SBC and Tony Cos­ta AIP both for rel­e­vant con­tri­bu­tion for the fed­er­a­tion. The tro­phy which is a met­al copy out of a spec­tra light meter is becom­ing a trade mark of IMAGO. Kom­mer Klei­jn due to some suc­ces­sive meet­ings that he has been involved late­ly as he is chair­man of a new group in SMPTE the Dig­i­tal Cin­e­ma Addi­tion­al Frame Rates Stan­dard he could­n't come to Bito­la to receive the trib­ute in per­son but was con­tact­ed through skype where he got by sur­prise to know about the attri­bu­tion of the award. Kom­mer thanked emo­tion­al­ly the recog­ni­tion of the assem­bly. Tony Cos­ta who has been col­lab­o­rat­ing with IMAGO since 1998 and most­ly run­ning the web­site got the trib­ute from the hands of the pres­i­dent Paul Renè FNF.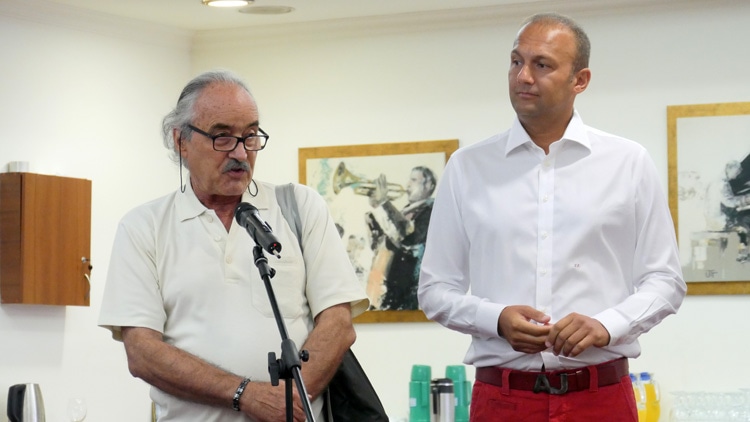 Blago­ja Kunovs­ki – Dore the Man­a­ki Film Fes­ti­val direc­tor giv­ing the wel­come speech with Tomi Salkovski.
The meet­ing con­tin­ued with the accep­tance of two more asso­ciate mem­bers join­ing the IMAGO fam­i­ly. Chile and Malaysia soci­eties were accept­ed with unan­i­mous­ly vote.
The meet­ing con­tin­ued with the pres­i­dent report about last year´s activ­i­ties. Let's start first with the less good news. The 3 EU fund­ing appli­ca­tions were not accept­ed; The appli­ca­tions to orga­nize an Edu­ca­tion Con­fer­ence in Munich, the Mas­ter Class «Inspi­ra­tion» to be held in Ams­ter­dam and a con­fer­ence about work­ing con­di­tions an author­ship rights did­n't go through suc­cess­ful­ly. Despite the set­back the mas­ter class is still com­mit­ted to keep on work­ing in gath­er­ing suf­fi­cient funds to hold anoth­er «Inspi­ra­tion» Mas­ter Class which we should remark that we all already miss due the qual­i­ty of pre­vi­ous edi­tions, still, hop­ing to be held in 2017; The Edu­ca­tion com­mit­tee also will look for an alter­na­tive pro­gram and it will look for­ward for the involve­ment of the com­mit­tee to get sev­er­al work­shops with the IMAGO stamp as a trade mark for the fed­er­a­tion. The author­ship com­mit­tee and the work­ing con­di­tions com­mit­tee will look for alter­na­tives sep­a­rate. It was part­ly agreed in the work­ing groups that a con­fer­ence should deal sep­a­rate­ly each of subjects.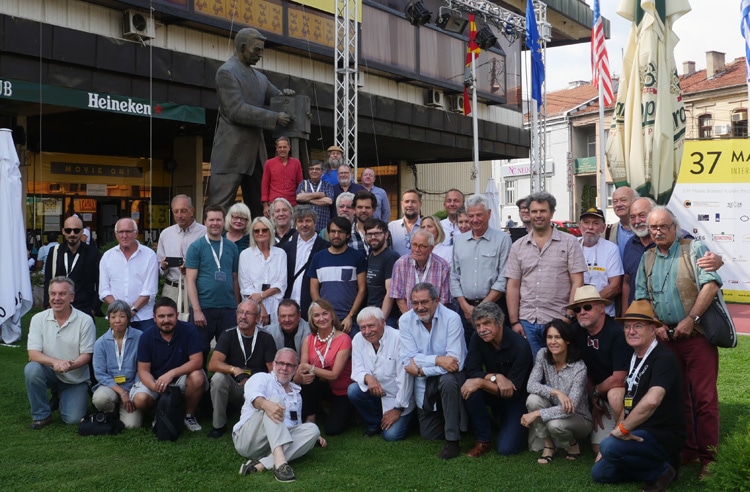 The group pic­ture by the memo­r­i­al stat­ue of the Man­a­ki Brother.
But on the oth­er hand an Oslo Dig­i­tal Cin­e­ma Con­fer­ence is more like­ly to hap­pen again dur­ing 2017. But in an imme­di­ate near future the new estab­lished com­mit­tee of «Gen­der and Equal­i­ty» begins its activ­i­ty by hold­ing in Camer­im­age a work­shop ded­i­cat­ed to «gen­der and equal­i­ty», the pro­gram is about to be announced soon. Remem­ber Camer­im­age is held in Byd­goszcz which runs from Novem­ber 12th to 19th, 2016. The author­ship com­mit­tee is relaunched by IMAGO founder Luciano Tovoli AIC, the com­mit­tee counts with the pres­tige's mem­ber Jost Vacano BVK who has recent­ly gained an impor­tant law suit about get­ting author­ship rights of the cult movie «Das Boot» shot in 80's. The new direc­to­ry in asso­ci­a­tion with the British Cin­e­matog­ra­ph­er Mag­a­zine will be pub­lished dur­ing the BSC show in Lon­don on the 3rd and 4th of Feb­ru­ary 2017. The IMAGO rep­re­sen­ta­tion in the ASC Cin­e­matog­ra­phers sum­mit last June was a suc­cess and the con­tin­u­a­tion of par­tic­i­pat­ing in such events is not cru­cial for IMAGO but a need to build ties with oth­er cin­e­matog­ra­phers and soci­eties. After the cri­sis cre­at­ed by the DRA issue IMAGO signed a ACE/IMAGO joint dec­la­ra­tion for the safe­guard of Cinema.
Apart from IAGA there was the Fes­ti­val hon­or­ing
John Seale ACS
The Mas­ter Class was real­ly a good moment of the fes­ti­val
mod­er­at­ed by for­mer IMAGO pres­i­dent Nigel Wal­ters
The big news is though that 2017 is a spe­cial year for IMAGO. The Fed­er­a­tion cel­e­brates its 25th anniver­sary and wants for the occa­sion to ini­ti­ate the IMAGO awards. The awards will be rec­og­niz­ing the works of mem­bers' soci­eties of IMAGO attribut­ing awards in sev­er­al cat­e­gories for the films released between 1st of Jan­u­ary 2015 to 31st of Decem­ber 2016. Hon­orary mem­bers are as well part of the awards cer­e­mo­ny which will take place in Helsin­ki in Octo­ber 2017.
It seems that 2017 is going to be a very busy year for IMAGO.
Pho­to­graph­ic Album in FACEBOOK