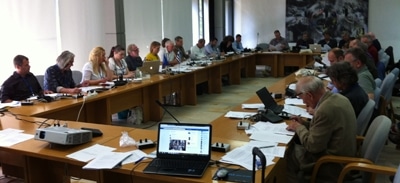 Full mem­ber­ship of Ima­go is now open to all Soci­eties out­side Europe. The his­toric deci­sion was tak­en in Del­phi when New Statutes were unan­i­mous­ly accept­ed by del­e­gates. The Soci­eties of Aus­tralia, Israel, Japan, Cana­da and New Zealand are have pledged to join.
The Ima­go IAGA of 2014 was a suc­cess on all lev­els. It was a tri­umph of organ­i­sa­tion by the young Soci­ety of Greek cin­e­matog­ra­phers, GSC, under their Pres­i­dent Yian­nis Daskalothanasis.
Ear­li­er in Athens over three hun­dred vis­i­tors for two days were engrossed in Mas­ter Class­es with Phe­don Papamichael ASC GSC, Chris­t­ian Berg­er AAC and Haris Zam­bar­loukos BSC.
Panav­i­sion and Ima­go had sup­port­ed the pres­ence of the dis­tin­guished cin­e­matog­ra­phers. Arri and a host of Greek spon­sors had also sup­port­ed the five days of events. Pre­sen­ta­tions were made pri­or to the Mas­ter Class­es by Red Europe and Sony.
The thir­ty eight del­e­gates present from 26 Ima­go Soci­eties were wel­comed by the Min­is­ter of Tourism, Ms. Olga Kefaloyian­nis, at a recep­tion over­looked by the Acrop­o­lis. Ima­go was thanked for the pos­i­tive mes­sage of con­fi­dence in bring­ing the largest Inter­na­tion­al meet­ing of cin­e­matog­ra­phers ever held to Greece.
Meet­ing in a pur­pose-built Cul­tur­al Con­fer­ence Cen­tre under the tem­ple of Apol­lo, the wis­dom of the Ora­cle in Del­phi appeared to influ­ence the del­e­gates. Apart from the deci­sion to open Ima­go to the wider world it was decid­ed to estab­lish a new com­mit­tee for Film Her­itage and Authors Rights. A fresh begin­ning was deemed nec­es­sary to repair rela­tions with Euro­pean Archivists.
A new Edu­ca­tion Com­mit­tee under the chair­man­ship of Tony Cos­ta AIP was estab­lished and the Elec­tion Com­mit­tee strength­ened by the appoint­ment of Her­man Ver­schu­ur NSC.
Con­tin­ued sup­port was pledged by the Ima­go Board in their last year of office to the Fes­ti­vals of Man­a­ki, Camer­im­age and Ostra­va along with the Bucharest Mas­ter class­es and the AIC Micro Salon. The third edi­tion of the Ima­go Direc­to­ry of Cin­e­matog­ra­phers will be launched at Cinec in Munich in Sep­tem­ber.
Reports were pre­sent­ed by the Mas­ter Class Com­mit­tee, the Oslo Dig­i­tal Cin­e­ma Forum and the Tech­ni­cal Com­mit­tee. The Legal Advi­sor, Dr Cristi­na Busch report­ed on legal and lob­by­ing activ­i­ties in Brus­sels. Fritz Nie­mann was appoint­ed to explore oppor­tu­ni­ties through the EU.
This was an excep­tion­al IAGA, due to the organ­i­sa­tion­al genius of ever genial Panos Stam­boglis. The sun has set and is ris­ing again over this beau­ti­ful coun­try. All the mem­o­ries of the mag­i­cal days in Athens and Del­phi will nev­er fade, thanks to the incred­i­ble efforts of Yian­nis and Panos. Ably sup­port­ed by Vice Pres­i­dent Yor­gos Frent­zos and team they have suc­ceed­ed in re-estab­lish­ing respect for the role of the cin­e­matog­ra­ph­er in Greek film making.