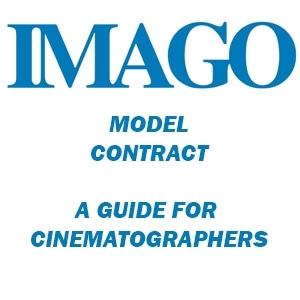 IMAGO has since 2005 has been work­ing on a Mod­el con­tract for cin­e­matog­ra­phers. The Fed­er­a­tion has noticed that in most coun­tries the con­trac­tu­al prac­tice is not favourable for cin­e­matog­ra­phers either in terms of fair remu­ner­a­tion and the total absence of author­ship of the work. Here is a guide line which can be fol­lowed by cin­e­matog­ra­phers, agents, pro­duc­ers and oth­er inter­est­ed par­ties. This guide has the inten­tion only to help to estab­lish a bet­ter and sounder rela­tion­ship between parties.
Intro­duc­tion.
Sev­er­al years ago, IMAGO pub­lished a mod­el con­tract for Cin­e­matog­ra­phers with com­ments and a check­list or guide­lines for work­ing con­di­tions. IMAGO's pro­pos­al admit­ted express­ly that it was not a Stan­dard con­tract, which could func­tion in all coun­tries, but IMAGO under­stood the for­mer doc­u­ment as a "check-list" for mem­ber asso­ci­a­tions and an attempt to pro­fes­sion­al­ize on an inter­na­tion­al stan­dard the rela­tion­ship of Cin­e­matog­ra­phers with the Pro­duc­er and Financiers. IMAGO still insists, the dis­cus­sion of "what is fair to include in a Cinematographer's con­tract" should be a pub­lic dis­cus­sion and not lim­it­ed to the bar­gain­ing between Cin­e­matog­ra­ph­er and Pro­duc­er. Nev­er­the­less, IMAGO has start­ed a new initiative.
This new imi­ta­tive is dif­fer­ent, IMAGO has received input about the first work: please no Stan­dard con­tract form, but very use­ful and sim­ple guide­lines. Those guide­lines are not only for the use for Cin­e­matog­ra­phers and Pro­duc­ers, but also for cre­ators in the audio-visu­al sec­tor and of course for the Euro­pean com­mis­sion­ers, financiers, and media lawyers, etc.
IMAGO is con­vinced that all should work togeth­er and coop­er­ate to make cin­e­mato­graph­ic Works avail­able to the pub­lic for the long term, in the inter­est of all the par­ties, includ­ing, of course con­sumers and the film her­itage and to make all cre­ators involved in cin­e­matog­ra­phy pro­duc­tion to earn a decent liv­ing from their rev­enues, payment/remuneration, etc. of the util­i­sa­tion of their cre­ativ­i­ty and even finan­cial investments.