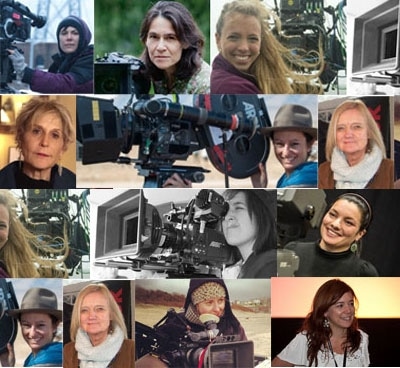 Forum on Diver­si­ty in Cin­e­matog­ra­phy at Camer­im­age Fes­ti­val, Byd­goszcz, Poland
Super Fri­day: what bet­ter way to wrap up an invig­o­rat­ing week immersed in <all things cin­e­mato­graph­ic> than to have an entire day devot­ed to female cin­e­matog­ra­phers with screen­ings, work­shops and mas­ter class­es by women that cul­mi­nat­ed with an ani­mat­ed pan­el dis­cus­sion on Gen­der and Diver­si­ty enti­tled "What Works".
Fri­day Novem­ber 18th began with the screen­ing of "Neon Demon" pho­tographed by Natasha Braier, ADF, and direct­ed by Nico­las Wind­ing Refn that was mod­er­at­ed by Claire Pij­man, NSC. The con­tover­sial film cre­at­ed quite a stir when it pre­miered in the Main Com­pe­ti­tion at this year's Cannes Film Fes­ti­val. At the Mas­ter class that fol­lowed, Natasha Braier dis­cussed her ear­ly films, her inspi­ra­tions, and her work­ing rela­tion­ship with Refn.
She used clips from "Demon" to illus­trate her light­ing strate­gies, and to show how vibrant col­ors were used to inten­si­fy the dra­ma. "Bold and vig­or­ous cinematography"…the film is "so beau­ti­ful­ly made" with "mes­mer­iz­ing shots that are exquis­ite­ly com­posed" …the pho­tog­ra­phy "car­ries the bulk of the film" is what the crit­ics said. Bra­vo Natasha.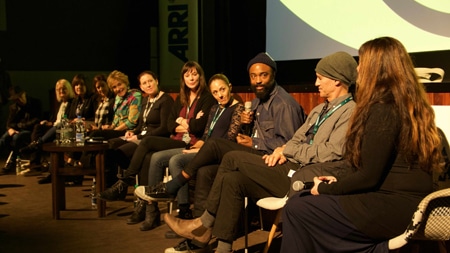 Mid after­noon VR film direc­tor, cin­e­matog­ra­ph­er and stere­o­g­ra­ph­er Jan­nicke Mikkel­son pre­sent­ed a work­shop where she demon­strat­ed the film rig she designed and con­struct­ed for the first 3D 360 degree Vir­tu­al Real­i­ty con­cert ever filmed, Queen's 2014 con­cert in Barcelona called "VR The Cham­pi­ons". The rig held 20 cam­eras that trav­elled on a four-point wire fly­ing above the musi­cians and the audi­ence to film the 3D VR con­cert. After the pre­sen­ta­tion, the audi­ence put on vir­tu­al real­i­ty head­sets and expe­ri­enced the con­cert themselves.
That evening, for the first time ever, the Camer­im­age Fes­ti­val, IMAGO, the Euro­pean Fed­er­a­tion of Cin­e­matog­ra­phers, and illu­mi­na­trix, a U.K. col­lec­tive of female cin­e­matog­ra­phers, host­ed a forum on gen­der and diver­si­ty in cin­e­matog­ra­phy. The pan­elists dis­cussed what made their career work, while ques­tion­ing the myths, inequal­i­ties, and obsta­cles that still exist in their respec­tive coun­tries.
Pan­el mem­bers includ­ed Nina Kell­gren BSC, Maria Sec­co AMC, Nan­cy Schreiber, ASC, Julia Swain, cin­e­matog­ra­ph­er and direc­tor of "Women of Light", Cather­ine Gold­schmidt and Vanes­sa Whyte from illu­mi­na­trix, Velin­da Wardell, ACS, WPA agent Kris­ten Tolle-Billings, Rober­to Schae­fer ASC, AIC, Ed Lach­man, ASC, and Brad­ford Young, ASC, with Elen Lot­man, Pres­i­dent of the Eston­ian Soci­ety of Cin­e­matog­ra­phy mod­er­at­ing. Also attend­ing were Jan­nicke Mikkel­son, Kirsten John­son, Hil­da Mer­ca­do, AMC, Natasha Braier, ADF, and Nigel Wal­ters, BSC.
Elen Lot­man ESC skill­ful­ly kept things upbeat and amus­ing.
She announced that the two hour sym­po­sium would be 'pos­i­tive, inspi­ra­tional, and prac­ti­cal' but "We are not going to solve these prob­lems today. We are going to focus on things we can change our­selves". Look­ing up at her slides on the screen, she said " but the num­bers don't look good".
Recent stud­ies reveal that on fea­ture film pro­duc­tions in the UK, women cin­e­matog­ra­phers make up less than 7%, and in the U.S. on the top 250 films, the num­ber of women cin­e­matog­ra­phers is 5% .
Esteemed Direc­tor of Pho­tog­ra­phy Nan­cy Schreiber ASC, shirk­ing off the label of "trail­blaz­er", is a semi-per­ma­nent del­e­gate on Camer­im­age juries, she is a role mod­el for cin­e­matog­ra­phers around the world. Schreiber says there is a cul­tur­al bias against women. She debunks the notion that women lack expe­ri­ence and that the cam­eras are too heavy for them to hand- hold. …'Count­less women direc­tors and cin­e­matog­ra­phers are out there with vary­ing lev­els of expe­ri­ence- they don't need men­tor­ing or work­shops- they just need to be hired. There are obvi­ous dis­par­i­ties between women with expe­ri­ence and suc­cess­ful track records and first time (often mediocre) male film­mak­ers who are giv­en a shot at work­ing on any num­ber of movies includ­ing high bud­get block­busters', writes Scott Mendel­son in his Forbes mag­a­zine piece, enti­tled "Female Direc­tors don't need to get Expe­ri­ence, they just need to get hired! ".
Oth­er fac­tors ham­per­ing their careers is the prej­u­dice women
face when they are preg­nant; as child­care is not avail­able in the U.S., it might be a long time before they return to work. Ageism is anoth­er fac­tor Schreiber rejects: some say work becomes scarce when women get past the age of fifty, oth­ers say it was the best years of their careers. (Remem­ber, Haskell Wexler was in the process of mak­ing 3 films when he passed away in Jan­u­ary, at age 94). Schreiber men­tioned the incred­i­ble ener­gy and vitaliy at the 'Day of Inspi­ra­tion' that was held at the ASC club­house with over 140 women and men cel­e­brat­ing women cinematographers.
" If you have the pas­sion, you're just gonna do it. You'll find peo­ple to work with", beams Schreiber.
As an agent, Kris­ten Tolle-Billings sug­gests more young women start in music videos to hook up with young direc­tors and then tran­si­tion into com­mer­cials, which is a step­ping­stone to films. Kris­ten acknowl­edged that agen­cies have final say over the direc­tor when choos­ing cin­e­matog­ra­phers. When she put for­ward women for a job, they do tend to choose males, but it is get­ting some­what eas­i­er these days for women to break through. Women have been receiv­ing awards for their music video, com­mer­cial, and dra­mat­ic work which has helped. Expo­sure, Recog­ni­tion, and Vis­i­bil­i­ty are three impor­tant aspects for a suc­cess­ful career.
illu­mi­na­trix, one of the orga­niz­ers of this event, is a UK asso­ci­a­tion of pro­fes­sion­al women cin­e­matog­ra­phers who work inter­na­tion­al­ly on doc­u­men­taries, com­mer­cials, tele­vi­sion, and fea­ture films. It was found­ed by cin­e­matog­ra­phers Cather­ine Gold­schmidt and Vanes­sa Whyte who explain that the col­lec­tive evolved from infor­mal meet­ings in a pub to dis­cuss work issues into an asso­ci­a­tion of (29 at present) expe­ri­enced cinematographers.
Nina Kell­gren stressed the impor­tance of doing enough work to join the cin­e­mato­graph­ic soci­eties and asso­ci­a­tions because they are pres­ti­gious and bring recog­ni­tion and respect when your name appears with those let­ters added on. "Take risks" she says, "if you are offered a job, just accept it, even if you don't think you know tech­ni­cal­ly how to do it- Just accept the job, there is plen­ty of sup­port from great peo­ple at Arri, Panav­i­sion and oth­er companies."
Men­tion­ing that women are prone to the "Imposter Syn­drome", (the feel­ing that you do not deserve the oppor­tu­ni­ty when giv­en it) the audi­ence burst out laugh­ing when the much admired Rober­to Schae­fer ASC, AIC con­fessed he also is sus­cep­ti­ble to this afflic­tion. "After a pro­duc­er announces I got the job…a lit­tle voice inside my head says, <You hired ME? Are you SURE? >" Roberto's inter­na­tion­al career is rock sol­id so he can admit to nag­ging doubts and per­son­al insecurities…..
Uruguayan Maria Sec­co AMC, who works in Mex­i­co says it has got­ten bet­ter but out of 140 movies pro­duced last year, of which 70% were sup­port­ed by the state, less than 8 % were pho­tographed by women. "When I am shoot­ing, I feel I am treat­ed the same, I don't think my role as cin­e­matog­ra­ph­er is dif­fer­ent because of my gen­der." In the last 3 years, the Mex­i­can Acad­e­my award­ed 2 women with the pres­ti­gious cin­e­matog­ra­phy award and she was one of them.
It is dis­turb­ing that women are large­ly left out of the nom­i­na­tions and the awards… "Awards are impor­tant, find­ing role mod­els is impor­tant, sur­round­ing one­self with sup­port­ive men is impor­tant, but most of all I believe it's all about vis­i­bil­i­ty and get­ting the oppor­tu­ni­ties. Just being out there doing the job and being the best that you can be is impor­tant" says Katie Gold­schmidt. Velin­da Wardell ACS added, "Sub­mit­ting your films to fes­ti­vals, being in the pro­gram, attend­ing fes­ti­vals, and being active are ways to be recognized…that was my expe­ri­ence in Australia".
Ed Lach­man made a dis­claimer say­ing although he looked like a white male, it was his fem­i­nine side that was par­tic­i­pat­ing in the pan­el. He said he has bet­ter work­ing rela­tion­ships with women direc­tors because there is less of an ego prob­lem, while Brad­ford Young says it was women (99% of the time) who hired him. Rober­to Schae­fer said as a white male in L.A., he faces intense com­pe­ti­tion for a job, but iron­i­cal­ly, for­eign­ers are per­ceived as 'exot­ic' and they have a bet­ter chance of being hired.
The atmos­phere turned more seri­ous when the charis­mat­ic soft-spo­ken Brad­ford Young ASC, took the micro­phone. "I con­sid­er myself a black cin­e­matog­ra­ph­er, my art is my strug­gle, my strug­gle is human rights. Oppor­tu­ni­ty makes you feel empow­ered, you feel bet­ter about your­self. It takes a cer­tain lev­el of for­ti­tude to do what we do because we are hold­ing up so much…. but there IS prej­u­dice on the set, there IS bias. I can hear things, I can feel it in the air…. So when you see these things hap­pen­ing on the set, it's your duty to stop it, SHUT IT DOWN- quick­ly and pub­licly."
Recent­ly we have seen films with images rein­forc­ing black stereo­types- "Birth of a Nation", "Beast of the South­ern Wild" and oth­ers.… we must take respon­si­bil­i­ty for that .
The burst of applause stopped abrupt­ly when Kirsten John­son, (cin­e­matog­ra­ph­er and Direc­tor of "Cam­er­ap­er­son") spoke up….
"I want to sup­port what Brad­ford says. We are stand­ing on a his­to­ry of mis­rep­re­sen­ta­tion. I went back into the footage I shot over the last 25 years work­ing on human rights films…I didn't under­stand the way I was rep­re­sent­ing people.…Our blind spots are stu­pe­fy­ing. We, the image-mak­ers, are cul­pa­ble and we must own this- we are respon­si­ble for the images we put out in the world. For instance, the way we por­tray (human beings in a war zone) as vic­tims rather than lov­ing par­ents. It is doing them harm in the moment, and it is doing the world harm. We are being asked to make the strongest images…violence is strong, bod­ies being killed is strong, we reg­u­lar­ly see images of an incom­pe­tent girl and a fight­ing boy. We are up against struc­tur­al injus­tice. No mat­ter what we look like, WE have to ques­tion every image we make in order to shift the way that peo­ple see. What we film is telling the sto­ry of what we believe in" John­son con­clud­ed, to a noisy ovation.
The forum end­ed with Julia Swain pre­sent­ing a ten minute teas­er of her doc­u­men­tary film, "Women of Light" that was fund­ed through Kick­starter. The film high­lights many of today's lead­ing cin­e­matog­ra­phers from around the world, as well as some of the pio­neers who look back on their ear­ly careers reveal­ing the chal­lenges and dif­fi­cul­ties they had to over­come from col­leagues, from the indus­try, and from the (labour) union. They dis­cuss what being a cin­e­matog­ra­ph­er means to them today. There is an impres­sive mon­tage of footage at the end, some­thing like a col­lec­tive showreel, with scenes from the won­der­ful films they have photographed.
"The media says there are very few women cin­e­matog­ra­phers, but there are so many incred­i­ble women shoot­ing, and I am so excit­ed to have been able to put their sto­ries on the screen in "Women of Light". It's time we hon­or women in film and hon­or women in cin­e­matog­ra­phy around the world to inspire future gen­er­a­tions" says Swain.
The con­fer­ence slow­ly came to a close. With all the applause, cheers, laugh­ter, excite­ment, and enthu­si­asm, a sense of bond­ing emerged among the audi­ence- a feel­ing they would sup­port each oth­er, con­tin­ue to push the bar­ri­ers and break the glass ceil­ing. It was an his­tor­i­cal day of encour­age­ment and inspi­ra­tion that laid the foun­da­tion for on-going con­ver­sa­tions at future forums.
In a clos­ing state­ment, Cather­ine Gold­schmidt and Vanes­sa Whyte, co-founders of illu­mi­na­trix said:
"As co-organ­is­ers of the Diver­si­ty Pan­el at Camer­im­age, along with Nina Kell­gren BSC and Elen Lot­man ESC at IMAGO, we were absolute­ly delight­ed to par­tic­i­pate in such an ener­gized and moti­vat­ing event. Lis­ten­ing to this diverse group of cin­e­matog­ra­phers from all over the world was incred­i­bly inspir­ing and we were so heart­ened to hear such pas­sion­ate con­tri­bu­tions from the audi­ence; from film stu­dents to pro­fes­sion­al cin­e­matog­ra­phers at the top of their game. The great­est take­away was that there is a huge appetite for more diverse sto­ries from a more diverse group of film mak­ers, and that as indi­vid­u­als we all have the pow­er to be change-mak­ers. It's no longer time to sit back and wait for the indus­try to lev­el out, it's time for each of us to make pos­i­tive changes with­in our own cir­cle of influ­ence, and those cir­cles can grow and bloom, and final­ly merge with those of oth­ers to even­tu­al­ly build a more fair and diverse cinema."
Many Thanks to Arri and Van­tage for sup­port­ing this event.
—Made­lyn Most— Novem­ber 25, 2016