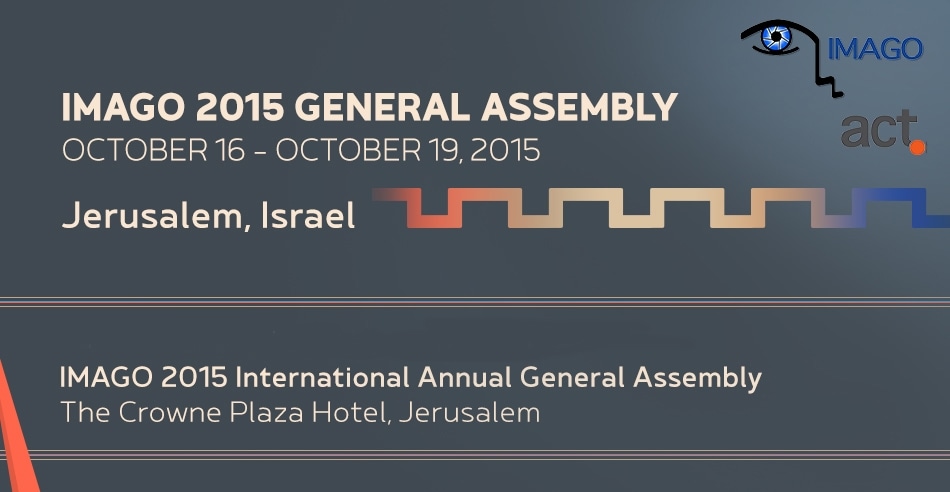 The full asso­ciate mem­ber of IMAGO, the ACT, the Israeli Soci­ety of Cin­e­matog­ra­phers is host­ing this year the tra­di­tion­al annu­al Gen­er­al Assem­bly. The meet­ing will be tak­ing place on the 16th, 17th and 18th of Octo­ber in the city of Jerusalem. As usu­al the gen­er­al assem­bly gath­ers more than 50 del­e­gates representing
some of the 48 soci­eties rep­re­sent­ed in the Fed­er­a­tion. This year elec­tions for a new board will take place. The new board of gov­er­nors will take over IMAGO affairs for the next term of 3 years. The welsh Nigel Wal­ters from BSC has been the pres­i­dent since 2008. He was elect­ed at the gen­er­al assem­bly which took place in Ams­ter­dam. Our hosts the ACT has all ful­ly arranged for the 3 day meeting.
Any infor­ma­tion for your arrival, your stay please con­tact with the orga­ni­za­tion direct­ly to Noa Ben Izahk
For soci­ety rep­re­sen­ta­tives doc­u­men­ta­tion for IAGA can be con­sult­ed under MEMBERS SECTION.