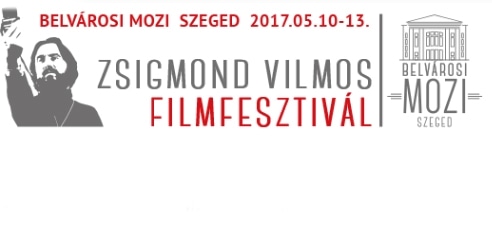 The Hun­gar­i­an city of Szeged paid homage to the mem­o­ry of its Inter­na­tion­al­ly respect­ed and loved son, the cin­e­matog­ra­ph­er Zsig­mond Vil­mos by hold­ing a Film Fes­ti­val in his name devot­ed to his craft. The reward, for the pas­sion and com­mit­ment of the organ­is­ers inspired by Eva Szabo and Ivan Javorszky, has been an assur­ance from the city author­i­ties for sup­port in 2018.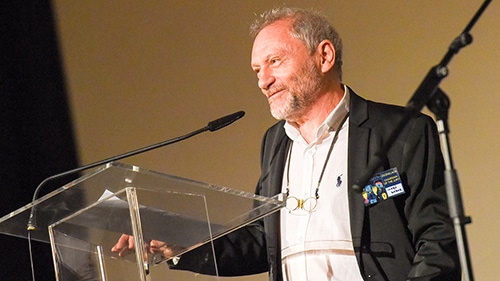 Chair­man of the jury Szabo Gabor HSC
The Fes­ti­val will be the fourth in the World devot­ed to the craft of cin­e­matog­ra­phy. The Man­a­ki Bros in Bito­la, Mace­do­nia is the old­est, the most impres­sive is Camer­im­age in Byd­goszcz, Poland which cel­e­brates its 25th year in Novem­ber and there is a small­er Fes­ti­val in Ostra­va, Czech Repub­lic.
The organ­is­ers orig­i­nal inten­tion was to focus this Fes­ti­val on films from East­ern and South­ern Europe. This inten­sion was over­tak­en (at least for this inau­gur­al Fes­ti­val) by a flood of over 300 sub­mis­sions from five Con­ti­nents. They com­pet­ed in five cat­e­gories. Chair­man of the jury was Szabo Gabor HSC who shot the only film direct­ed in 1991 by Vil­mos, The Long Shad­ow. Fel­low jurors were Mik­los Mari, who had edit­ed for Vil­mos, the French direc­tor Pierre Fil­mon respon­si­ble for Close Encoun­ters with Vil­mos Zsig­mond, Nigel Wal­ters BSC Vice-Pres­i­dent and the respect­ed film writer and crit­ic Saghy Miklos.
The hon­our of the first Award for Best Cin­e­matog­ra­phy went to the mem­o­rable images cre­at­ed by the Greek cin­e­matog­ra­ph­er Yor­gos Karve­las GSC for Lim­bo, inter­est­ing­ly in the Short Fea­ture cat­e­go­ry. Best Fea­ture from Ger­many, After the Spring Comes Fall, was shot by Johannes Wal­ter­man. The Lithuan­ian cin­e­matog­ra­ph­er Saulius Luko­se­vi­cius LAC shot the Doc­u­men­tary win­ner Par­adise Gowns, a film set in Fin­land and direct­ed by Albi­na Griniute. It also won the Crit­ics Award. One of the strongest sec­tions in com­pe­ti­tion was Best Ani­mat­ed Film. The top prize went to Round Trip: Mary, direct­ed and shot by Zharko Ivanov which uses film shot by the Man­a­ki Broth­ers over a cen­tu­ry ago in Mace­do­nia. The Exper­i­men­tal Film Award went to A lev­el shot and direct­ed by the Hun­gar­i­an Flo­ra Chilton. The Span­ish film Hostal Eden, direct­ed by Gon­za­ga Man­so and shot by Juan San­tacruz tri­umphed over the impres­sive entries in the Short Fea­ture Com­pe­ti­tion. A spe­cial men­tion in this cat­e­go­ry went to Angel­town shot in Cal­i­for­nia by Nick Ramsey.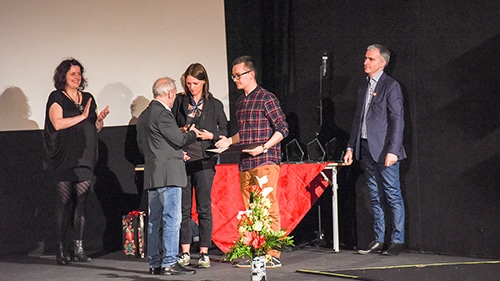 Gabor pre­sent­ing the Award for Best Doc­u­men­tary to the young Lithuan­ian
Film Mak­ers Albi­na Griniute LAC and Saulius Luko­se­vi­cius for "Par­adise Gowns"-
on right stands juror Pierre Fil­mon direc­tor of "Close encoun­ters with Vil­mos Zsigmond"
Spe­cial men­tions were also made for the Croa­t­ian Ani­mat­ed film The Vast Land­scape, the impres­sive Hun­gar­i­an films: What a Cir­cus, a doc­u­men­tary ; the Exper­i­men­tal entry, Hero's Jour­ney; and by the crit­ics for Black Air. The Szeged Award went to Wire­less an inge­nious film illus­trat­ing how we are all depen­dent and con­nect­ed to each oth­er. In accep­tance, all cin­e­matog­ra­phers men­tioned the inspi­ra­tion of Vil­mos Zsigmond.
This Fes­ti­val deserves the sup­port of film mak­ers. It com­mem­o­rates a man who was a great sup­port­er of Ima­go. He believed in improv­ing stan­dards of cin­e­matog­ra­phy though Inter­na­tion­al co-oper­a­tion and friend­ship. By good for­tune Vil­mos was born in a beau­ti­ful city of which he was just­ly proud. This first appear­ance of a new Fes­ti­val revealed ques­tions which will be answered by the organ­is­ers. One chal­lenge, not pecu­liar to Szeged, is how to attract larg­er audi­ences? In which direc­tion is the Fes­ti­val head­ing? The orig­i­nal goal focussing on the cre­ative genius of East­ern Europe or cin­e­matog­ra­phy of wider world? What­ev­er the out­come of these delib­er­a­tions the organ­is­ers are deter­mined cin­e­matog­ra­phy must remain the focus.
Hun­gary with its fine tra­di­tion of cin­e­matog­ra­phy deserves this Fes­ti­val. The dynam­ic May­or of his city, Bot­ka Las­z­lo, (stand­ing for Pres­i­dent in 2018) in his intro­duc­tion wished for the new fes­ti­val to reflect the tradition,inspiration and spir­it of Vil­mos Zsig­mond. For it to pros­per it needs the sup­port of Hun­gar­i­an cin­e­matog­ra­phers who 'apart from the ded­i­cat­ed Szabo Gabor HSC , were mys­te­riosly absent.
David Nigel Wal­ters BSC