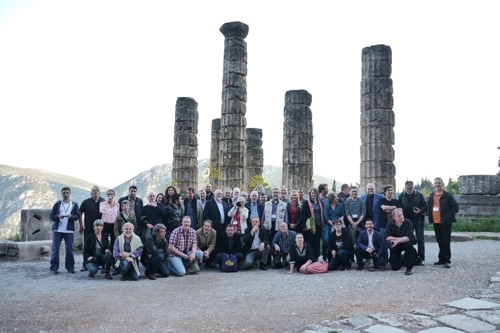 IN WELCOMING YOU ALL TO THIS HISTORIC IAGA IN DELPHI MY FIRST DUTY IS TO THANK THOSE WHO HAVE BEEN WORKING SO HARD TO MAKE THIS CONFERENCE POSSIBLE. NOT MANY YEARS AGO THE GSC HAD ALL BUT DISAPPEARED. I AM PROUD TO SAY THAT IMAGO ACTIVELY ENCOURAGED THE EFFORTS OF A FEW DETERMINED AND PASSIONATE CINEMATOGRAPHERS. JUST AS THIS IAGA MARKS AN IMPORTANT LANDMARK IN THE NEW GREEK SOCIETY. I BELIEVE IT WILL ALSO MARK AN IMPORTANT MILESTONE IN THE HISTORY OF IMAGO.
THE YEAR SINCE WE LAST MET AT MONS HAS BEEN INTERESTING. "INTERESTING IS AN ENGLISH WORD OFTEN USED TO HIDE A MUTITUDE OF PROBLEMS. THE ONWARD JOURNEY OF IMAGO REMINDS ME OF A ROWER CROSSING A LAKE. TO MOVE FORWARD IN A STRAIGHT PATH EYES HAVE TO BE FIRMLY FIXED ON WHERE YOU SET OUT. IF YOU KEEP TURNING YOUR HEAD TO SEE WHERE YOU ARE GOING YOU SOON DRIFT OFF COURSE. IT IS TRUE TO SAY THERE HAVE BEEN A FEW INSTANCES OF ZIG-ZAGGING FOR IMAGO SINCE THE BELGIAN IAGA.
ONE TURBULENT ZAG IN THIS NAVIGATION FOR IMAGO HAS BEEN THE CZECH PROPOSAL OF DRA ON WHICH THIS ASSEMBLY VOTED FAVOURABLY IN MONS LAST YEAR. THIS ADOPTED RESOLUTION HAS GONE OFF THE RAILS IN ITS APPLICATION BY IMAGO AND AN ATTEMPT WILL BE MADE AT THIS IAGA TO REBUILD IMAGO'S REPUTATION WITH EUROPEAN ARCHIVISTS. IT IS IN THE INTERESTS OF ALL CINEMATOGRAPHERS TO FIND A POSITIVE SOLUTION TO PUT OUR INVOLVEMENT IN DIGITAL RESTORATION AND ARCHIVING BACK ON A NEW COURSE.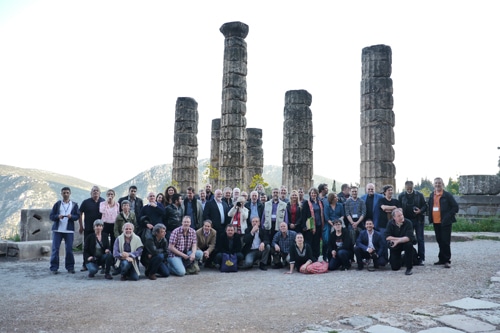 A SIGNIFICANT TRAUMA FACING THE BOARD WAS THE DEPARTURE OF THE AFC FROM IMAGO. I MAKE NO APOLOGIES FOR MENTIONING THIS SUBJECT. ONLY ONCE BEFORE HAS A MEMBER DEPARTED FROM IMAGO AND THEN FOR UNDERSTANDABLE REASONS. HOWEVER THE BOARD HAS LOST NO SLEEP OVER THE FRENCH DECISION. A NEW FOUND HARMONY HAS COME TO OUR MEETINGS. NO LONGER DO WE HAVE TO SUFFER THREATS THAT UNLESS WE AGREED THIS OR THAT THE AFC WOULD LEAVE IMAGO.
NO SATISFACTORY EXPLANATION WAS GIVEN FOR THEIR DECISION. INITIALLY THE AFC SOUGHT TO BLAME THE PRESIDENT AND GENERAL SECRETARY FOR BREAKING THE STATUTES. WHEN PRESSED THEY REFUSED TO STATE WHICH RULES HAD BEEN BROKEN. OUR LEGAL ADVISOR, DR CRISTINA BUSCH WAS ASKED TO INVESTIGATE AND FOUND THAT NO RULES HAD BEEN BROKEN. YET ACCUSATIONS WERE MADE BY THE AFC IN AN UNSIGNED LETTER ACCUSING US OF "DISREGARDING BASIC DEMOCRATIC AND STATUTORY RULES." A DEFAMATORY ACCUSATION TOTALLY WITHOUT JUSTIFICATION.
IT IS NO SECRET THAT THE AFC HAD EARLIER BEEN OFFENDED BY THE ATTEMPT TO HOLD A MEETING AT CAMERIMAGE LATER IN THE YEAR OF THE PARIS MEETING. HOWEVER THEY ATTENDED THE CONFERENCE IN BYDGOSZCZ TO PROPOSE A SYSTEM TO HELP IMAGO TO MODERNISE OUR W EB SITE. THEY CAME AGAIN TO MONS AND KOMMER AND I ATTENDED A MEETING IN PARIS WITH THEIR WEB SITE DESIGNER TO DISCUSS THEIR SUGGESTIONS. THE IMAGO BOARD SUBSEQUENTLY DECIDED AFTER DEMOCRATIC CONSOLTATION TO ADOPT THE 3000 EUROS PROPOSAL AS RECOMMENDED BY TONY COSTA, OUR WEB MASTER. IF THE BOARD HAD CHOSEN THE AFC PROPOSAL COSTING 13,000 EUROS I AM CONVINCED THE AFC WOULD NOT HAVE DEPARTED.
THE TWO AFC MEMBERS MOST INTIMATELY CONCERNED WERE UNDERSTANDABLY DISAPPOINTED. A FEW WEEKS LATER THE AFC ANNOUNCED IT WAS WALKING AWAY FROM IMAGO. SO THEY WALKED AWAY FROM TWENTY YEARS OF INVOLVEMENT IN A FEDERATION THEY HELPED ESTASTABISH. MANY SOCIETIES DEMANDED AN EXPLANATION – FROM THE IMAGO BOARD NOT FROM THE FRENCH WHO REFUSED EVEN TO REPLY TO INDIVIDUAL EMAILS OF FRIENDSHIP. THE LATEST UNOFFICIAL EXCUSE IN AN ATTTEMPT TO JUSTIFY THEIR ACTION IS THAT IMAGO WAS GOING TOO FAR TOO FAST AND EVEN DISAGREEMENTS WITH THE BOARD…
THE FRENCH CONTRIBUTION TO THE FIGHT FOR AUTHORS RIGHTS WILL NOT BE MISSED AS THEY DID NOT BELIEVE IN THE PRINCIPLE ANYWAY. THEY WERE AMBIVOLENT TOWARDS IMPROVING WORKING CONDITIONS BELIEVING THAT TO BE THE FUCTION OF TRADE UNIONS. IN BOTH RESPECTS THEY HAVE MUCH IN COMMON WITH THE ASC WITH WHOM THEY ARE NOW ISOLATED FROM IMAGO.
THEY WILL BE MISSED BECAUSE THEY ARE OUR FRIENDS AND FRIENDSHIP IS PART OF WHAT IMAGO IS ABOUT. THE FRENCH MEMBER WAS THE BRAKE ON THE BOARD, OFTEN QUESTIONING PROPOSALS, LOGICALLY AND RATIONALLY, BEFORE WE ARRIVED AT DECISIONS. THE AFC WERE INSTRUMENTAL IN IMPOSING SANITY OF PROJECTION REGARDING THE SILVER SCREEN ISSUE IN EUROPE. THEIR DEPARTURE FROM IMAGO IS A TRAGEDY BUT ONE OF THEIR OWN MAKING. FOR THE FORESEEABLE FUTURE THE FLAG OF"EGALITE AND FRATERNITE" HAS TO BE FLOWN BY IMAGO.
IT IS HARD TO BELIEVE THAT FIVE YEARS HAVE PASSED SINCE THIS BOARD WERE VOTED TO OFFICE IN AMSTERDAM. JUST FIVE YEARS OF MOVING TOO FAR TOO FAST! THIS HISTORIC IAGA IN TAKING PLACE FITTINGLY IN THE CRADLE OF DEMOCRACY. THE STATUTES ARE ABOUT TO BE CHANGED TO ALLOW OUR SOCIETIES FROM OUTSIDE EUROPE TO BECOME FULL MEMBERS OF IMAGO. YOU HAVE ALL HAD A FULL OPPORTUNITY TO COMMENT AND IMPROVE ON THE STATUTES. THE DANES AND AUSTRIANS MADE A VITAL CONTRIBUTION TO THIS TASK FOR WHICH THE IMAGO BOARD EXPRESSES ITS APPRECIATION.
IMAGO THROUGH ITS SOCIETIES HAS AN IMPORTANT ROLE TO PROTECT EUROPEAN CULTURE. WE LIVE IN A WORLD WHERE THERE IS A NEW DIMENSION OF INTERDEPENDENCE. THIS EFFECTS EVERY EUROPEAN COUNTRY AND THEIR CINEMATOGRAPHERS. IT IS ALSO A GLOBAL WORLD WHERE RAPID CHANGES IN TECHNOLOGY HAVE BROUGHT NEW THREATS AND OPPORTUNITIES TO OUR PROFESSION.
TODAY, WHEN APROVING THE NEW STATUTES, WE WILL BE FACING SQUARELY THE CHALLENGES OF THE DIGITAL REVOLUTION AND THE REALITY OF GLOBILIZATION. WITH OUR CAMERAS MADE IN JAPAN, GERMANY AND AMERICA CINEMATOGRPHERS WILL BE SHOOTING EVERYWHERE IN THE WORLD. THE CONTINENT OF EUROPE IS ENRICHED BY THE VARIETY OF ITS FILM CUTURE. OUR DUTY AS A FEDERATION IS TO ASSIST IN PRESERVING THE INTEGRITY OF THE IMAGES OF OUR CINEMATOGRAPHERS.
THE FIGHT FOR AUTHORS RIGHTS AND CIVILISED CONDITIONS OF WORK WILL CONTINUE TO BE SPEARHEADED BY CRISTINA BUSCH THROUGH THE EU. THE SUCCESSFUL OUTCOME OF THIS FIGHT OF PATIENT ATTRITION IS AWAITED WITH HOPE IN JAPAN AND AUSTRALIA AS MUCH AS IN EUROPE. IMAGO IS ENGAGED IN A BATTLE FOR RESPECT FOR OUR PROFESSION. IT IS NOT ONLY ABOUT FINANCIAL REWARD WHICH MEMBERS OF MANY SOCIETIES ALREADY ENJOY THROUGH RESIDUALS. IMAGO ENCOURAGES ALL SOCIETIES TO WORK CLOSELY WITH TRADE UNIONS AND OTHER CRAFT ASSOCIATIONS. AN EXAMPLE OF THIS WAS THE BSC AND OTHER CRAFT ASSOCIATIONS TOGETHER WITH THE BRITISH UNION BECTU ESTABLISHED A COLLECTING SOCIETY WHICH HAS ALREADY DISTRIBUTED SUBSTANTIAL PAYMENTS. SEVERAL FRENCH CINEMATOGRAPHERS HAVING WORKED ON BRITISH FILMS ARE ALREADY COLLECTING SUCH RESIDUALS.
IMAGO WILL BECOME STRONGER AND ASSUME A NEW GLOBAL SIGNIFICANCE THROUGH WELCOMING AUSTRALIA, JAPAN, CANADA AND ISRAEL AS OUR FIRST FULL MEMBERS. OTHERS WILL SURELY FOLLOW. IMAGO MUST ENCOURAGE THE SOUTH AMERICAN SOCIETIES TOWARDS CLOSER COLLABORATION WITH EACH OTHER. THE NEW SPANISH PRESIDENT AND VICE PRESIDENT HAVE PROMISED TO ASSIST THIS AIM.
BY STRENGTHENING IMAGO WE ARE RAISING THE GLOBAL PROFILE OF CINEMATOGRAPHERS. THIS IS NOT A DREAM FOR THE FUTURE BUT REALITY AS ILLUSTRATED BY THE INVALUABLE CONTRIBUTION OF THE AUSTRALIAN AND ISRAELI SOCIETIES IN THE RUNNING OF THE MASTER CLASS AND WORKING CONDITION COMMITTEES IN RECENT YEARS.
MOST OF THE CINEMATOGRAPHERS IN EASTERN EUROPE SHARE DIFFICULT WORKING CONDITIONS AND POOR RENUMERATION. THE GOAL FOR EUROPE REMAINS PEACE, RECONCILIATION DEMOCRACY AND SOCIAL JUSTICE. IN A SMALL WAY IMAGO HAS ASSISTED SOME OF THESE AIMS HERE IN THE BALKANS BY BRINGING TOGETHER ALL SOCIETIES IN THE REGION.
NEXT SEPTEMBER IN BITULA THE SOCIETY OF THE FORMER YUGOSLAVIAN REPUBLIC OF MACEDONIA AND THE MANAKI BROS FESTIVAL WILL HOST THE THIRD BALKAN CONFERENCE OF CINEMATOGRAPHERS. DELEGATES FROM THE EIGHT SOCIETIES OF GREECE, SLOVENIA, SERBIA, MACEDONIA, ROMANIA, BOSNIA AND HERZOGOVNIA, CROATIA, AND BULGARIA WILL MEET TOGETHER IN A SPIRIT OF FRIENDSHIP TO DISCUSS THEIR MUTUAL PROBLEMS AND HOPEFULLY ARRIVE AT SOLUTIONS TO IMPROVE THEIR WORKING LIVES. THIS HAS ONLY BEEN POSSIBLE DUE TO THE GENEROSITY OF LABINA MITEVSKA AND THE MANAKI BROS FESTIVAL. THIS CONFERENCE IS AN EXAMPLE OF IMAGO REALLY WORKING.
THE RESOLUTION THE IAGA PASSED IN MONS HAS LED TO THE CREATION OF "DEPUTY" BOARD MEMBERS FROM THE SERBIAN AND FINNISH SOCIETIES. RECENTLY THE BOARD HAS BEEN FURTHER STRENGTHENED BY THE APPOINTMENT OF WIT DABAL OF THE POLISH SOCIETY TO DEPUTISE FOR BIRGIT GUDJONSDOTTIR FROM THE BVK. WITHOUT INCURRING ANY FURTHER COSTS IMAGO HAS ASSUMED A NEW TRANSPARENCY THROUGH WIDENING OUR COMMUNICATION CHANNELS.
IF IMAGO IS TO ACHIEVE RESPECT AS AN INTERNATIONAL FEDERATION IT MUST HAVE A MORE STABLE FINANCIAL BASE. WITH THIS AIM THE IMAGO BOARD HAVE APPOINTED FRITZ NEIMAN TO ASSIST ACHIEVE FUNDING THROUGH THE EU IN BRUSSELS WHERE HE IS BASED. FRITZ IS WELL KNOW TOO MANY OF US AND HAS HELPED IMAGO FOR MANY YEARS AT THE EUXXL CONFERENCES IN AUSTRIA.
IT IS A HAPPY CO-INCIDENCE THAT WE ARE GATHERED TOGETHER IN THE CRADLE OF DEMOCRACY TO WELCOME OUR FELLOW CINEMATOGRAPHERS FROM OUSIDE EUROPE TO SHARE THE VISION THAT LUCIANO TOVOLI BUILT OF AN INTERNATIONAL FEDERATION DEVOTED TO IMPROVING THE STANDARDS OF CINEMATOGRAPHERS. WE WELCOME OUR COLLEAGUES FROM AUSTRALIA, ISRAEL, CANADA, JAPAN AND NEW ZEALAND WHO HAVE MADE THE LONG JOURNEY TO JOIN US AT THIS HISTORIC IAGA. APOLOGIES HAVE BEEN RECEIVED FROM BOTH THE UKRAINIAN AND RUSSIAN SOCIETIES WHO WOULD BOTH LIKED TO HAVE ATTENDED.
VERY LITTLE PROGRESS WOULD HAVE BEEN MADE BY IMAGO IN THE EU WITHOUT DR CRISTINA BUSCH, TO WHOM WE ALL OWE A DEPT OF GRATITUDE. THE FIGHT FOR THE RIGHT OF ALL CINEMATOGRAPHERS TO ENJOY ADEQUATE COMPENSATION FOR CREATIVE CONTRIBUTION IN THEIR CRAFT CONTINUES. IT IS A SLOW BATTLE OF ATTRITION WITH NO INSTANT SUCCESS. THANKS TO CRISTINA AND KURT BRAZDA PROGRESS IS BEING MADE.
THIS TIME NEXT YEAR YOU WILL BE ELECTING A NEW BOARD. SOME OF US MAY BE PAST OUR "SELL BY" DATE. OTHERS HAVE MUCH TO OFFER IN THE FUTURE. THE CHALLENGES OF PRESIDING OVER THIS NEWLY EXPANDED SOCIETY ARE DEMANDING. I FEEL VERY PRIVILEGED TO HAVE BEEN GIVEN THIS OPPORTUNITY.
ALMOST FINALLY I WISH TO EXPRESS MY APPRECIATION FOR TWO FRIENDS THE CONTRIBUTIONS OF WHOM TO THE PROGRESS OF IMAGO HAS BEEN IMMENSE. HOLDING DOWN DAY JOBS AS WELL AS RUNNING THE IMAGO WEB SITE AND BEING GENERAL SECRETARY IS DIFFICULT ENOUGH. TO DO IT WHILE THEIR SPOUSES ARE SUFFERING ILLNESS IT BECOMES A TASK BEYOND THE CALL OF DUTY. I SALUTE AND THANK LOUIS-PHILIPPE CAPELLE WHO HAS UNDERGONE A TREMENDOUS WORK LOAD.
I WOULD ALSO LIKE TO EXPRESS TO TONY OUR APPRECIATION FOR THE WORK HE HAS UNDERTAKEN TO MAKE THE NEW WEBSITE AND FACEBOOK PAGES SO ENTERTAINING AND INFORMATIVE.
FOLLOWING HER OUTSTANDING DEBUT IN BELGIUM LAST YEAR OUR MODERATOR HAPPENS TO BE MANAGING DIRECTOR OF ONE OF NORTHERN EUROPE'S MOST ATTRACTIVE FILM LABS. PERHAPS I USED THE WORD ATTRACTIVE IN THE WRONG PLACE BUT IMAGO IS GRATEFUL TO KAAT DEJONGE FOR MAKING HER WAY TO GREECE AND THROUGH HER COMPANY CHAMPIONING FILM AS A LIVING MEDIUM.
THIS GATHERING OF OVER FORTY DELEGATES FROM 28 COUNTRIES AROUND THE WORLD HAS GREAT SIGNIFICANCE FOR GREEK CINEMATOGRAPHERS. IT IS A WAKE UP CALL TO THEIR MINISTER OF CULTURE, OF THE IMPORTANCE OF THE CINEMATOGRAPHER IN CINEMA. THE EARLY PIONEERS WERE THE MANAKI BROTHERS OF MACEDONIA, WHO'S LIVES IMAGO CELEBRATES EVERY YEAR AT THE OLDEST FESTIVAL OF OUR CRAFT. WE ARE GRATEFUL FOR THEIR MINISTERS OF CULTURE, TOURISM AND FOREIGN AFFAIRS FOR SUPPORTING THIS MEETING CELEBRATING THE GREEK SOCIETY OF CINEMATOGRAPHERS.
NEITHER SHOULD WE NEED REMINDING THAT WITHOUT THE CONTINUED SUPPORT OF OUR SPONSORS IMAGO WOULD NOT BE ABLE TO HOLD MANY OF OUR ACTIVITIES. THIS IAGA AND THE MASTER CLASSES THAT HAVE BEEN ENJOYED IN ATHENS IN RECENT DAYS WOULD HAVE BEEN POORER OCCASIONS.
THIS IAGA WOULD NOT HAVE BEEN POSSIBLE WITHOUT THE PASSIONATE DEDICATION OF TWO MEN. THEY ARE PANOS STROMBOLIS AND YIANNIS DASCANOTHALIS. I FIRST MET YIANNIS ON THE FORCOURT OF A MODEST HOTEL IN HOLLYWOOD WHERE WE WERE GUESTS OF THE ASC. IT WAS THE DAY AMERICANS WERE JUMPING UP AND DOWN CELEBRATING THE KILLING OF A MAN WHO JUST HAPPENED TO BE CALLED BIN LADEN. YIANNIS WAS THERE WITH HIS FRIEND ANGELOS VISADOURAKIS. AFTER INTRODUCING MYSELF TO THEM I LISTENED TO THEIR DETERMINATION TO FORM A NEW GREEK SOCIETY. SADLY ANGELOS SUBSEQUENTLY SUFFERED A SEVERE STROKE AND CANNOT BE WITH US TODAY. OUR THOUGHTS ARE VERY MUCH WITH HIM AND HIS FAMILY.
IT IS ONLY A LITTLE OVER A YEAR SINCE AN EMAIL FROM PANOS INFORMED US THAT THE GSC HAD BECOME A LEGAL SOCIETY. TODAY THE GSC ARE OUR HOSTS.
THEIR ACHIEVEMENT IN ORGANISING THIS CONFERENCE AGAINST MANY ODDS HAS BEEN IMMENSE.
I ASK YOU TO SHOW OUR APPRECIATION OF THE WORK OF PANOS AND YIANNIS AND THE INSPIRATION OF ANGELOS VISADOURAKIS TO WHOM WE DEDICATE THIS MEETING AS WE DID OUR FILM "THE SPIRIT OF IMAGO".