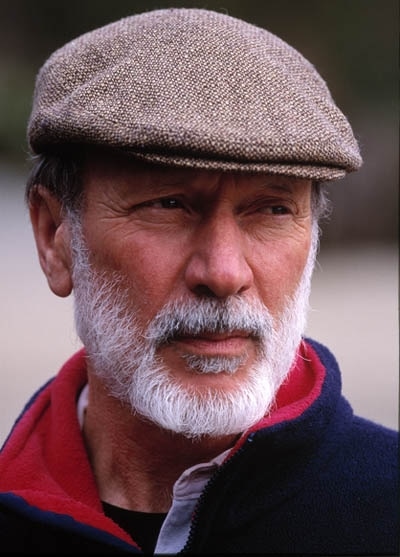 Work is my Uni­ver­si­ty.
Man of the March­es.
Self­ish­ness is the great­est evil
The Life and times through the films of one of Britain's great­est cin­e­matog­ra­phers will fea­ture at an illus­trat­ed pre­sen­ta­tion at the Regent Street Cin­e­ma, Lon­don, on March 7th. Chris Menges ASC BSC was award­ed a Life­time Achieve­ment at Camer­im­age in 2015. To cel­e­brate his life the Fes­ti­val pub­lished an aston­ish­ing book, in effect his auto­bi­og­ra­phy, writ­ten with hon­esty and sim­plic­i­ty by a man as respect­ed as much for his human­i­tar­i­an­ism as his imagery. At times deeply mov­ing it is unlike any oth­er pub­lished in this mag­nif­i­cent series by Camer­im­age. They are jus­ti­fi­ably proud of it.
If Oscars could be award­ed for Doc­u­men­tary cin­e­matog­ra­phy, Chris Menges would have won many before grac­ing the inte­ri­or of any film stu­dio. This mod­est man was win­ner of Acad­e­my Awards for The Killing Fields and The Mis­sion with fur­ther nom­i­na­tions for Michael Collins and The Read­er, the cin­e­matog­ra­ph­er respon­si­ble for such icon­ic gems as Kes and Local Hero, The pre­sen­ta­tion will illus­trate his extra­or­di­nary life from tales of his doc­u­men­taries, to his fea­ture films direct­ed by Ken Loach, Bill Forsyth, Stephen Frears, Tony Scott, Fran­co Rosso, John Macken­zie, Neil Jor­dan, Roland Joffe, Roy Bat­ters­by, Andrei Kon­chalovsky, Jim Sheri­dan, Sean Penn, Tom­my Lee Jones, Richard Eyre Stephen Daldry and oth­ers.
As direc­tor on «A World Apart» (best direc­tor NY Crit­ic Award) his cin­e­matog­ra­ph­er was Peter Bizou. Lat­er col­lab­o­ra­tors were Ivan Stras­burg, Ash­ley Rowe and Bar­ry Ackroyd.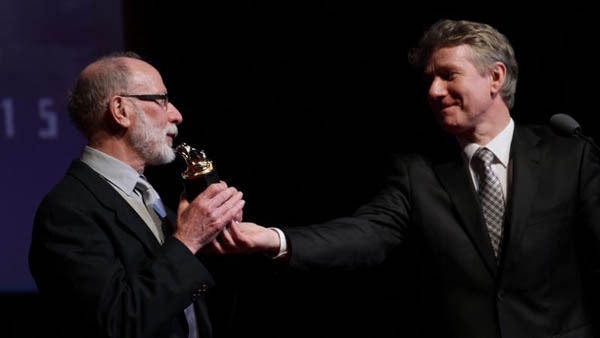 Chris Menges ASC BSC receiv­ing the Life Time Achieve­ment award from the hands of Camer­im­age
Fes­ti­val Direc­tor Marek Żydowicz.
This review offers a fleet­ing glimpse of his jour­ney in his attempt to make sense of the world through obser­va­tion and cin­e­matog­ra­phy. His doc­u­men­tary expe­ri­ence from the age of 22 on World in Action would appear to have influ­enced his think­ing, approach and phi­los­o­phy on life. It cer­tain­ly result­ed in endur­ing images on every film he has pho­tographed. Jim Sheri­dan wrote after com­plet­ing The Box­er: "Chris embod­ied the soul of the doc­u­men­tary film­mak­er who had been lost in the jun­gle for almost a year and who per­sist­ed, but always looked under the sur­face to find a deep­er truth. He bathes the scene in a glow­ing real­i­ty that you can touch. The idea of a man seek­ing peace inside and out."
All that appears on the cov­er is the name "Chris Menges". Noth­ing more is need­ed. The book is a "must read" for film­mak­ers of all ages. It embraces the his­to­ry of our time through his doc­u­men­tary exploits in the jun­gles of Bur­ma, Viet­nam and the Ama­zon, con­tact with the ANC in South Africa and trou­ble in Con­go, Cyprus and Alge­ria, Opi­um wars in Bur­ma, free­dom fight­ers in Tibet and rev­o­lu­tion in Zanz­ibar. It is the sto­ry of a unique jour­ney by a man of his time, as record­ed for pos­ter­i­ty, with no holds barred.
While shoot­ing for «The Read­er», after vis­it­ing a con­cen­tra­tion camp he writes "being there is pro­found­ly trou­bling. It's Hell on Earth. You can­not help being emo­tion­al­ly drawn into this mate­r­i­al. I try to work only on films that I can learn from. Work is my uni­ver­si­ty- it's about edu­cat­ing myself."
To under­stand the influ­ences on the life of Chris Menges requires an appre­ci­a­tion of the enchant­ment of the land of his birth. He writes with pas­sion in his poet­ic prose "the land of the Welsh March­es is the most amaz­ing and inter­est­ing coun­try­side. The mag­i­cal, gen­tle green hills, bril­liant trees and hedgerows are alive with birds and mam­mals, and are dot­ted with sheep, cat­tle and farm­ing folk. Come Spring, it would be all blood and guts dur­ing lamb­ing; lat­er, the land­scape turned soft and gen­tle dur­ing long sum­mer days. The land would be for­ev­er home, and remain in my heart."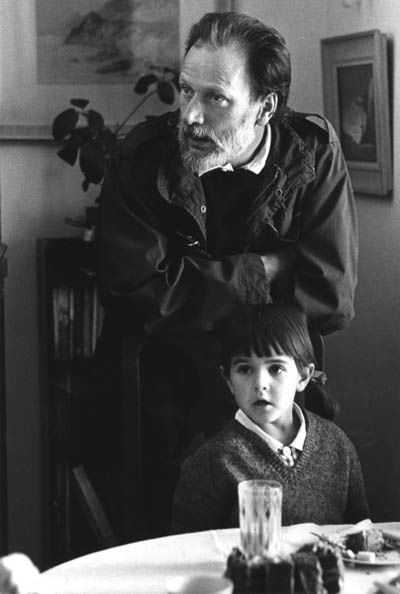 The farm in Wales was pur­chased for £2500 in 1971 with the help of a loan from Stephen Frears. It has remained the home he shares with his wife Judy. The hills and envi­ron­ment have been a haven to which to return and make sense of the World.
After arrest in Zanz­ibar dur­ing a rev­o­lu­tion, Michael Parkin­son, describes Chris Menges: "a new­com­er to World in Action, a qui­et, seem­ing­ly shy young man with almost a dif­fi­dent man­ner, yet a fear­less oper­a­tor." A year lat­er in Nepal work­ing on a film series on Bud­dhism he quot­ed in his diary "self­ish­ness is the great­est evil and until ego­tism is elim­i­nat­ed demons will await with an open mouth." He felt immense pride in work­ing for" a week­ly tele­vi­sion pro­gram to fight injus­tice with brav­ery."
Cross­ing the peaks of Nepal to film the ambush of Chi­nese sup­ply vehi­cles in Tibet in 1964 he writes; "we zipped our bod­ies inside our light­weight sleep­ing bags. We lay on a grassy slope cov­ered in snow and crack­ing frost. It was very, very, cold. Stars came and van­ished as banks of cloud came across the sky."
The book is writ­ten with hon­esty and pas­sion. It is the lat­est addi­tion to the his­toric Series pub­lished by Camer­im­age for which all cin­e­matog­ra­phers should be grate­ful. To the list of Vit­to­rio Storaro, Vil­mos Zsig­mond, Las­z­lo Kovacs, Guiseppe Rotun­no, Bil­ly Williams, Owen Roiz­man, William A Frak­er, Fred­die Fran­cis, Toni­no Del­li Col­li, Rob­by Muller, Stephen Gol­blatt, Pierre Lhomme, Dante Spin­ot­ti. Michael Ball­haus, John Seale, Vadim Yusov, Sla­womir Idzi­ak and Caleb Deschanel, Camer­im­age has now added with pride that of Chris Menges.
It is expect­ed copies will be avail­able through the BSC and spon­sors fol­low­ing a reprint, cur­rent­ly being nego­ti­at­ed with the Pub­lish­ers.
The fol­low­ing are obser­va­tions from read­ers:
"I hope some of the young ones learn, not only the tech­nique but the ideas and pol­i­tics that moti­vate it – Ken Loach.
"Your career will become a tem­plate for mass­es of film hope­fuls because you didn't mere­ly try to do it, you actu­al­ly did it and suc­ceed­ed tri­umphant­ly"- Kevin Brown­low,
"This book is so beau­ti­ful. It is a remark­able doc­u­ment. I loved it and I was very moved by it"-
Scott Rudin
"We are inspired. This book will serve the young gen­er­a­tion well- Ten­zin Phuntsog
by Nigel Wal­ters BSC