Report from Camer­im­age by Made­lyn Most
For the first time in the his­to­ry of both orga­ni­za­tions, IMAGO and ASC, the Amer­i­can Soci­ety of Cin­e­matog­ra­phers, held a joint con­fer­ence at Camer­im­age to dis­cuss ways of pro­mot­ing inter­na­tion­al coop­er­a­tion and col­lab­o­ra­tion so that mem­bers of all the dif­fer­ent nation­al cin­e­mato­graph­ic soci­eties can share their knowl­edge, tech­ni­cal research, expe­ri­ence, and expertise.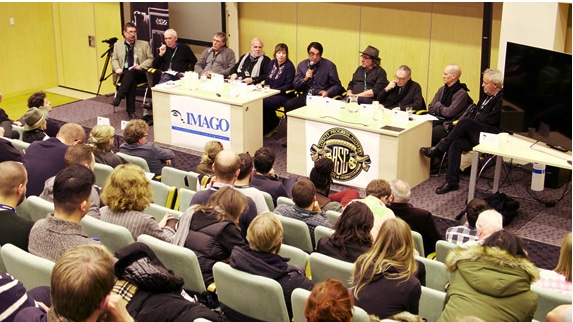 The ASC/IMAGO Con­fer­ence at Camer­im­age. In the pan­el, from left to right:
Michael Neubauer BVK, Nigel Wal­ters BSC, Philippe Ros AFC, Louis Philippe Capelle SBC,
Elen Lot­man ESC, Suki Medence­vic ASC SAS, Jacek Laskus ASC PSC, John Toll ASC,
Rober­to Scheafer ASC AIC, and Chec­co Varese ASC AMC.
Found­ed almost 25 years ago, IMAGO, once a Euro­pean fed­er­a­tion, is now a glob­al orga­ni­za­tion with 50 soci­eties and over 4000 mem­bers from Europe, Asia, Latin and South Amer­i­ca, Aus­tralia, and New Zealand. The ASC, found­ed almost one hun­dred years ago, is the old­est and most estab­lished cin­e­mato­graph­ic asso­ci­a­tion in the world with a mem­ber­ship of 400. The aim of both soci­eties is to pro­tect artis­tic integri­ty and main­tain the very high­est stan­dards of cinematography.
At a time when tech­nol­o­gy is rapid­ly chang­ing in com­plex­i­ty and sophis­ti­ca­tion, the pro­lif­er­a­tion of new equip­ment, sys­tems, and ancil­lary tools intro­duced on the mar­ket every few months has impact­ed on the role of the cin­e­matog­ra­ph­er, not always pos­i­tive­ly. It has nev­er been more impor­tant for cin­e­matog­ra­phers around the world who face the same chal­lenges to come togeth­er as a com­mu­ni­ty and defend their profession.
The dis­cus­sion was mod­er­at­ed by Elen Lot­man ESC/IMAGO and Suki Medence­vic ASC SAS, with a pan­el con­sist­ing of Ima­go mem­bers Michael Neubauer, BVK, Nigel Wal­ters BSC (Vice Pres­i­dent of the BSC), Phillipe Ros, AFC, and Louis-Philippe Capelle, SBC, Gen­er­al sec­re­tary of IMAGO.
Mem­bers from the ASC includ­ed Suki Mendence­vic ASC, (also head of the ASC Inter­na­tion­al Com­mit­tee), Rober­to Schae­fer, ASC AIC, John Toll ASC, Jacek Laskus ASC PSC, and Chec­co Varese ASC AMC. Present in the audi­ence was Paul Rene Roes­tad FNF, Pres­i­dent of Imago.
Elen Lot­man began by say­ing "A few years ago in Los Ange­les some said that cin­e­matog­ra­phers are an endan­gered species, we would dis­ap­pear like the dinosaurs, (which I nev­er believed, com­ing from Europe) but if we stay informed of the changes, we are more like­ly to sur­vive. If we stay unit­ed and strong and learn from each oth­er, we can keep up with the changes in the industry."
Keep­ing con­trol over our images
The pan­elists dis­cussed a wide vari­ety of top­ics affect­ing their work, but the great­est shared con­cern was the cinematographer's loss of con­trol over their images in this rapid­ly chang­ing dig­i­tal World. In some coun­tries cin­e­matog­ra­phers are pro­tect­ed by cul­tur­al or edu­ca­tion­al min­istries and laws, but in oth­ers, "it's a jun­gle out there." Since the intro­duc­tion of the DI, it has become more dif­fi­cult for the cin­e­matog­ra­ph­er to trust that the pro­duc­tion will allow them to do the final work, ensur­ing that cinematographer´s orig­i­nal artis­tic inten­tions for the film won't be altered in post-pro­duc­tion. The cin­e­matog­ra­ph­er is the per­son nec­es­sary to fol­low through on the orig­i­nal con­cept but often it is the pro­duc­er or the direc­tor who decides if the cin­e­matog­ra­ph­er can fin­ish the film and if they will get paid or not for using their time in post. They must trust you and rely on you. Even though the direc­tor is (or should be) the cinematographer's best ally there are no guar­an­tees and most sit­u­a­tions must be nego­ti­at­ed. "The tech­nol­o­gy can work against us, any­body can in the­o­ry do the post, but only the cin­e­matog­ra­ph­er can ensure the visu­al and artis­tic qual­i­ty of their work."
One pan­elist said "No one is going to mis­use your images if you pho­to­graph some­thing in a cer­tain way so that it can­not be manip­u­lat­ed. With these new dig­i­tal tools it is much eas­i­er for them to destroy images once they get their hands on them."
"In the very begin­ning of the project, let it be known that your inten­tion is to be with the project until the end, from pre-pro­duc­tion to post. Your agent should put the lan­guage in your con­tract as part of your agreement."
A mem­ber from Bel­gium spoke about HDR. "HDR is going to be very impor­tant and there will be more pos­si­bil­i­ties for grad­ing, high­lights, detail in the dark, shad­ows, con­trast, etc. We will be see­ing things that were not intend­ed to be seen. Con­trol­ling dynam­ic range and con­trast in cin­e­ma or Tv broad­cast must be addressed by our tech­ni­cal committees."
Philippe Ros AFC, IMAGO Tech­ni­cal Com­mit­tee, added that man­u­fac­tur­ers should give cin­e­matog­ra­phers access to the con­trols inside the cam­era so they can con­trol tex­ture and sharp­ness and over­all look of the image. The more the tech­ni­cal com­mit­tees work with man­u­fac­tur­ers, the more infor­ma­tion we will get.
Work­ing Con­di­tions
A seri­ous con­cern is the increas­ing num­ber of work­ing hours in the day that can be up to 14 – 16 hrs. on many pro­duc­tions. Each Coun­try has its own (union) guide­lines and labour laws, but some uni­fied stan­dards could be estab­lished to pro­tect against exces­sive hours.
Over the years, Ima­go has been effec­tive in pro­mot­ing inter­na­tion­al coop­er­a­tion in coun­tries that have lim­it­ed laws to reg­u­late work­ing con­di­tions. Although Ima­go is not a Union, we work to pro­mote accept­able work­ing con­di­tions towards all member´s Soci­eties. Ima­go believes fos­ter­ing greater ties between World Soci­eties of Cin­e­matog­ra­phers and exchang­ing expe­ri­ences and knowl­edge will make it eas­i­er to reach our goals.
Author's Rights and respect
Nigel Wal­ters BSC: Cin­e­matog­ra­phers are the cre­ators or author of images and there­fore should main­tain the right of co-author­ship of the film. Cer­tain coun­tries have already adopt­ed this leg­is­la­tion while oth­ers have chal­lenged it. Ima­go has been suc­cess­ful to pro­tect­ing and defend­ing these laws.
Try­ing to get the con­ver­sa­tion back on track, Nigel Wal­ters BSC con­tin­ued "We are sup­posed to be talk­ing about inter­na­tion­al col­lab­o­ra­tion, but It's all about RESPECT. Cin­e­matog­ra­phers need to be respect­ed and their work needs to be respect­ed. We are in some Coun­tries "Below the line" and as such, are put in the cat­e­go­ry of tech­ni­cians. We have to get back to being con­sid­ered a 'cre­ative' enti­ty where we are "Above the line". If we are a unit­ed group of 50 soci­eties work­ing togeth­er in sol­i­dar­i­ty, this could strength­en our position.
In Con­clu­sion:
Both IMAGO and ASC have a num­ber of impor­tant year­ly activ­i­ties: Mas­ter class­es, sem­i­nars and con­fer­ences, in addi­tion to the Com­mit­tees mak­ing tests and tech­ni­cal reports. The nation­al Cin­e­matog­ra­phers Soci­eties also have activ­i­ties regard­ing the artis­tic and tech­ni­cal devel­op­ments.
Cin­e­mato­graph­ic soci­eties hold reg­u­lar meet­ings, con­fer­ences, and events that allow par­tic­i­pat­ing mem­bers to share their expe­ri­ences, exchange ideas, and strength­en relationships.
The ASC and IMAGO have a net­work of thriv­ing com­mit­tees in place: Edu­ca­tion and Out­reach, Men­tor­ing, Tech­ni­cal, Author­ship, Diver­si­ty, etc.. Work­shops and Mas­ter­class­es are impor­tant to trans­fer new skills to mem­bers, stu­dents, and aspir­ing cin­e­matog­ra­phers. Oth­er nation­al soci­eties have filmed their mas­ter­class­es and are con­sid­er­ing putting them on social media web­sites such as Face­book or YouTube so that every­one can share this infor­ma­tion.
IMAGO will con­tin­ue to work with the ASC and our more than 50 Cinematographer´s Soci­eties to see that these expe­ri­ences and knowl­edge can be shared by cin­e­matog­ra­phers world-wide.
The dig­i­tal rev­o­lu­tion has altered the cin­e­matog­ra­phy pro­fes­sion and Ima­go, the ASC, and their affil­i­at­ed soci­eties are work­ing to cre­ate the con­di­tions for a pos­i­tive future by devel­op­ing an ongo­ing strat­e­gy for col­lab­o­ra­tion and coop­er­a­tion.
This impor­tant Con­fer­ence laid good grounds for expe­ri­ence and knowl­edge being more reg­u­lar­ly shared also between the ASC and IMAGO, and through IMAGO, also trans­ferred to our inter­na­tion­al net­work of members.
IMAGO is grate­ful for the ini­tia­tive and great help from Kees van Oost­rum ASC Pres­i­dent, and Suki Medence­vic ASC SAS, in arrang­ing this impor­tant con­fer­ence. IMAGO and ASC are both grate­ful for the exten­sive help received from Camer­im­age, par­tic­u­lar­ly from Kazik Suwala and his fab­u­lous team.