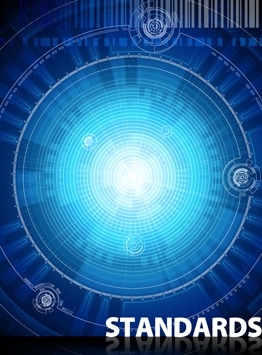 In 2009, fol­low­ing an ini­tia­tive that was start­ed by Kom­mer Klei­jn in 2004 and was sup­port­ed by IMAGO, EDCF, and SMPTE, the Addi­tion­al Frame Rate stan­dard was pub­lished by SMPTE adding the speeds of 25, 30, 50 and 60 fps to the inter­na­tion­al stan­dard for Dig­i­tal Cin­e­ma pro­jec­tion. This stan­dard was named SMPTE ST428-11:2009 Addi­tion­al Frame Rates for D‑Cinema. In 2011 this stan­dard was also pub­lished by ISO.
Today, SMPTE pub­lished an amend­ment to this stan­dard under the name of SMPTE ST428-11:2013, adding three new speeds of 96, 100 and 120 fps actu­al­ly allow­ing for 3D pro­jec­tion at 48, 50 and 60 fps per eye. This new amend­ment to the stan­dard will allow for 3D movies at all the pre­vi­ous­ly avail­able 2D speeds. Indeed, the stan­dards now allow for 3D movies at 24, 25, 30, 48, 50 and 60 fps per eye 3D, the last three being new­ly added by this amend­ment. They are also called "HFR" for "High Frame Rates". The new stan­dard estab­lish­es the 3D HFR speeds as 48, 50 and 60 fps/eye.
It may be worth not­ing that the same HFR speeds for 2D were already estab­lished in 2009.
The amend­ed stan­dard was cre­at­ed by the SMPTE TC-21DC ST428-11 Revi­sion for HFR Ad Hoc Group, chaired by Dave Schnuelle, Dol­by Labs, while Kom­mer Klei­jn SBC served as a Doc­u­ment Edi­tor for the amendment.
The work was based on the inter­im report of the SMPTE TC-21DC Study Group for High Frame Rates that was ini­ti­at­ed by Kom­mer Klei­jn in 2011 and is Co-Chaired by Michael Karagosian, MKPE Con­sult­ing, Kom­mer Klei­jn SBC and David Stump ASC.
The new­ly amend­ed stan­dard can be found in the SMPTE on-line store at the adress
http://standards.smpte.org/content/978 – 1‑61482 – 763‑4/st-428 – 11-2013/SEC1.body.pdf+html
IMAGO would like to thank all the per­sons that con­tributed to the real­iza­tion of this new stan­dard that hope­ful­ly will allow cin­e­ma pre­sen­ta­tion qual­i­ty to enhance and allow our indus­try to progress with high­er image qual­i­ty and new pos­si­bil­i­ties in storytelling.
Kom­mer Klei­jn
IMAGO Tech­ni­cal Committee