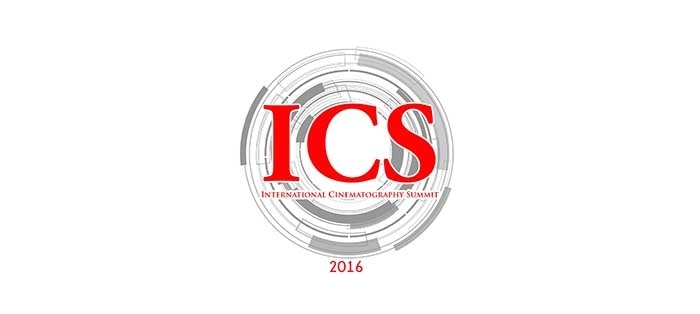 At a time when nations in Europe are fight­ing to rise above the sew­ers of racism and prej­u­dice, Cin­e­matog­ra­phers can take pride that their Soci­eties are forg­ing friend­ship and under­stand­ing through Inter­na­tion­al co-operation.
The spir­it of col­lab­o­ra­tion which led Ima­go to reform its leg­is­la­tion last year by open­ing mem­ber­ship to all Soci­eties world­wide ded­i­cat­ed to improv­ing stan­dards of cin­e­matog­ra­phy through com­mu­ni­ca­tion, was present in abun­dance at the Sec­ond World Sum­mit of Cin­e­matog­ra­phers (ICS). It was organ­ised impec­ca­bly by the Amer­i­can Soci­ety (ASC) in Los Ange­les; (writes Nigel Wal­ters BSC Ima­go pres­i­dent 2008 – 2015). Offi­cial­ly 60 del­e­gates rep­re­sent­ed 30 Soci­eties, includ­ing Mon­go­lia. (The pho­to­graph of their del­e­gate Angarag Dava­suren was tak­en by the Greek Pres­i­dent, Yian­nis Daskalothanassis.)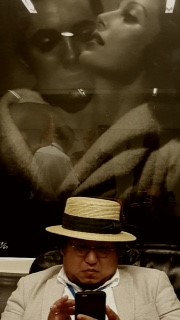 Angarag Dava­suren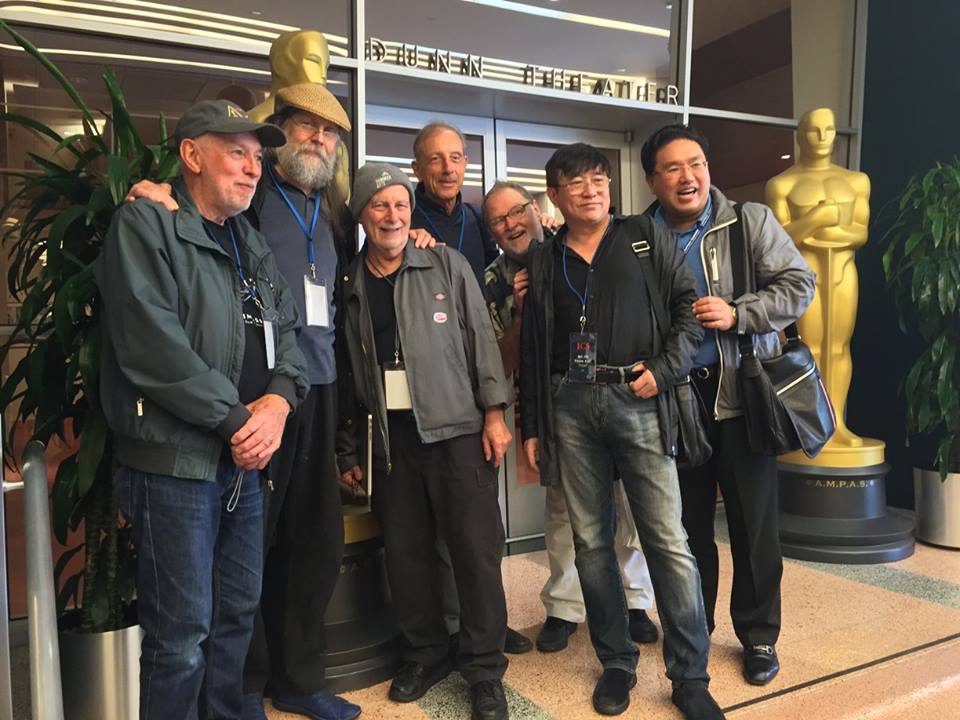 From right to left,Nigel Wal­ters BSC; Tah­vo Hir­vo­nen FSC; Fred­er­ic
Good­ich ASC; Yan­nis Diskalothana­sis GSC; Ron Johan­son ACS;
Zhao Xiaod­ing CSC; and George Cheng CSC.
An impres­sive and com­pre­hen­sive report on the Sum­mit, by the dynam­ic Pres­i­dent of the ACS Ron Johan­son, who made an immense con­tri­bu­tion to the Con­fer­ence suc­cess, can be read on the ACS web­site. http://www.cinematographer.org.au/cms/page.asp?ID=22138 It was writ­ten with the assis­tance of David Burr ACS and would be dif­fi­cult to improve. This arti­cle for the BSC and Ima­go web sites is con­se­quent­ly indebt­ed to their ded­i­ca­tion in pro­duc­ing this ACS report. In itself it is an object les­son of a Soci­ety com­mu­ni­cat­ing with its members.
The ISC marked the final days of the third term of Pres­i­den­cy for Richard Crudo ASC whose eyes were opened last year to the pow­er of cin­e­matog­ra­phers col­lab­o­rat­ing, by a long-over­due vis­it to Camer­im­age. The 48 soci­eties in Ima­go share many com­mon val­ues and inter­ests and have cre­at­ed a fel­low­ship to solve chal­lenges, through friend­ship and com­mu­ni­ca­tion. This has help main­tain world­wide stan­dards in the craft of cin­e­matog­ra­phy par­tic­u­lar­ly through Mas­ter Class­es and tech­ni­cal co-operation.
This sec­ond Inter­na­tion­al Sum­mit organ­ised by the ASC was an impor­tant step in unit­ing the few remain­ing pieces of the jig-saw, name­ly the Chi­nese and Amer­i­can Soci­eties. Impor­tant­ly it brought togeth­er most of the Soci­eties of South and Cen­tral Amer­i­ca and Mex­i­co. This achieve­ment had hith­er­to been out­side the abil­i­ty of Ima­go, most­ly due to the dis­tances and expense involved. At the ASC Club­house del­e­gates rep­re­sent­ing Soci­eties from Argenti­na, Brazil, Chile, Colom­bia, Cos­ta Rica, Mex­i­co, El Sal­vador and Venezuela signed a joint dec­la­ra­tion of Con­ti­nen­tal co-oper­a­tion. It was reas­sur­ing to learn from the Brazil­ian Pres­i­dent Lau­ro Esacorel ABC that Ima­go had ear­li­er inspired their resolve to come togeth­er in friend­ship. Argenti­na was the first Soci­ety out­side Europe to join Ima­go soon after it was formed in 1996.
The Chi­nese soci­ety sent the high­ly respect­ed Mu Deyuan, Acad­e­my Award nom­i­nee Zhao Xiaod­ing, Yang Shu and Du Yan Li. As befit­ting cin­e­matog­ra­phers with the finest con­di­tions in the world the Dan­ish DFF were also well rep­re­sent­ed. They and the oth­er del­e­gates lis­tened as the Chi­nese told of hav­ing no days free whilst shoot­ing. Sev­en days a week means sev­en days work a week! No-one had the temer­i­ty to enquire about health and safe­ty fol­low­ing this revelation.
Through­out the four day Sum­mit, the Inter­na­tion­al spir­it of Vil­mos Zsig­mond and Haskell Wexler were ever present. They were both sup­port­ers of Ima­go and would have been delight­ed at this gen­eros­i­ty and the achieve­ment cre­at­ed by the Amer­i­can Society.
At one of the region­al groups meet­ings, the Soci­eties in the Asia-Pacif­ic area, includ­ing Malaysia, New Zealand, Chi­na, Philip­pines, India and Aus­tralia dis­cussed how to best inter­act and pass infor­ma­tion and sup­port to each anoth­er.
It would be remiss not to men­tion notable con­tri­bu­tions to the suc­cess of the Sec­ond ICS by ASC, AMC and AIC mem­bers includ­ing Michael Goi, Past Pres­i­dent respon­si­ble for ini­ti­at­ing the first Sum­mit in 2011, and Fred­er­ic Good­ich ASC Board Sec­re­tary for his ICS organ­i­sa­tion, Guiller­mo Navar­ro AMC, Emmanuel Lubez­ki AMC, Bill Pope ASC, Bill Ben­nett ASC and Vit­to­rio Storaro AIC ASC.
Con­sid­er­able con­tri­bu­tions were made by Ima­go Board mem­bers Rolf Coulanges BvK, Timo Heina­nen FSC and the unfor­get­table Elen Lot­man ESC. How­ev­er the final acco­lade has to belong to Pat­ty Arma­cost , assist­ed by Del­phine Figueros, Alex and all the staff at the ASC Club­house.
The new Pres­i­dent of the ASC Kees van Oost­rum ASC was film­ing in LA dur­ing the Sum­mit. The elec­tion of this pop­u­lar Dutch born cin­e­matog­ra­ph­er should ensure a con­tin­u­a­tion along the road towards mean­ing­ful Inter­na­tion­al col­lab­o­ra­tion. The ASC in the old­est Soci­ety in the world many of its 340 mem­bers orig­i­nat­ing out­side the States. In 2019 it will be cel­e­brat­ing 100 years of pro­mot­ing stan­dards in cinematography.
Many of the Soci­eties present will be rep­re­sent­ed at Imago's 24th Inter­na­tion­al Con­fer­ence in Bito­la Mace­do­nia in Sep­tem­ber. This IAGA will take place dur­ing the Man­a­ki Broth­ers Fes­ti­val, this year cel­e­brat­ing its 36th anniver­sary mak­ing it the old­est in the world devot­ed to the craft of cin­e­matog­ra­phy. The Life time Achieve­ment Award will be pre­sent­ed to John Seale ACS ASC and the Gold­en Cam­era 300 to Phe­don Papamichael GSC ASC who will also chair the Jury.
by Nigel Wal­ters BSC
Sev­er­al reports con­cern­ing the ASC Sum­mit can be seen here
2016 ICS INTERNATIONAL CINEMATOGRAPHY SUMMIT REPORT
by Ron Johan­son OAM ACS & David Burr ACS
http://www.cinematographer.org.au/cms/page.asp?ID=22138
ASC NEWS
INTERNATIONAL CINEMATOGRAPHY SUMMIT 2016
http://www.theasc.com/site/news/international-cinematography-summit-launches-at-asc-clubhouse/
Part I: The Future of the Cin­e­matog­ra­ph­er
http://www.theasc.com/site/news/ics2016-part-i-future-of-the-cinematographer
Part II: Who is the Author of an Image?
http://www.theasc.com/site/news/ics-2016-part-ii
Part III: A Mod­el of Col­lab­o­ra­tion in The Revenant
http://www.theasc.com/site/news/ics-2016-part-iii-the-collaborative-approach
Part IV: The Con­tin­u­ing Rel­e­vance of Film
http://www.theasc.com/site/news/ics2016-the-future-of-film
Part V: Cin­e­matog­ra­phy In Vir­tu­al Real­i­ty
http://www.theasc.com/site/news/ics-2016-part‑v
Part VI: Safe­ty, Lead­er­ship and Oppor­tu­ni­ty
http://www.theasc.com/site/news/ics-2016-part-vi-safety-leadership-and-opportunity
Part VII: A Mod­el of Col­lab­o­ra­tion in The Jun­gle
http://www.theasc.com/site/news/ics-2016-part-vii-a-model-of-collaboration-in-the-jungle-book
Part VIII: ACES at the Acad­e­my
http://www.theasc.com/site/news/ics-2016-part-viii-aces-at-the-academy/
Part IX: Panav­i­sion & How Optics Influ­ence the Aes­thet­ic
http://www.theasc.com/site/news/ics-2016-part-ix-panavision-how-optics-influence-the-aesthetic/