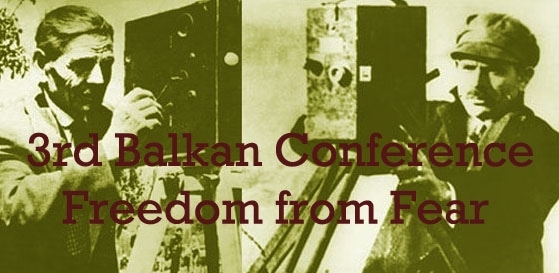 Dire con­di­tions for film work­ers in Greece were graph­i­cal­ly described to del­e­gates at the Third Ima­go Balkan Con­fer­ence for Cin­e­matog­ra­phers organ­ised by the Man­a­ki Fes­ti­val in Macedonia.
An unem­ploy­ment rate of sev­en­ty per cent amongst film work­ers is result­ing in Cin­e­matog­ra­phers work­ing with­out pay in the fear that if they are not seen to be work­ing they may nev­er work again, claimed their del­e­gate, Olympia Mit­ill­i­neou GSC.
Con­fer­ence absent from Pho­to­graph were Tomi Salkovs­ki Mace­do­nia: and Ivan Tonev Bulgaria
The Con­fer­ence also exam­ined con­di­tions in all the for­mer Yugosla­vian States along with Roma­nia and Bul­gar­ia. This is a fore­run­ner to an Ima­go Inter­na­tion­al Con­fer­ence to be held in Brus­sels next March. Invit­ed to this will be Unions, Pro­duc­ers, Direc­tors and oth­er organ­i­sa­tions rep­re­sent­ing film workers.
Many the Greek prob­lems are shared to some extent across the for­mer Yugosla­vian States but the pic­ture is var­ied. Ser­bia and Slove­nia appear in the most vul­ner­a­ble posi­tion along­side the Greeks. Zoran Petro­vic SAS pre­sent­ed a state­ment out­lin­ing the prob­lems in Ser­bia which he also described as dire.
A com­bi­na­tion of the eco­nom­ic cri­sis and an inad­e­quate cul­tur­al pol­i­cy has result­ed in a dra­mat­ic slump in both qual­i­ty and qual­i­ty of Ser­bian films. Aver­age view­er­ship of movies is so low that it is prac­ti­cal­ly impos­si­ble to make a com­mer­cial­ly viable film. DCP tech­nol­o­gy has dealt a final blow to the crum­bling cin­e­ma net­work. State sup­port to tack­le this prob­lem is inad­e­quate. Cin­e­ma vis­it­ing was becom­ing the priv­i­lege of those liv­ing in large cities.

In a search for fund­ing many pro­duc­tion com­pa­nies have switched to mak­ing TV Series. Two of the most pop­u­lar Ser­bian movies of recent years were orig­i­nal­ly made for television.
The clo­sure of rep­utable com­pa­nies has led to oth­ers being cre­at­ed with­out expe­ri­enced pro­duc­ers. Some essen­tial pro­fes­sions have sim­ply been abol­ished, oth­ers merged to reduce the num­ber of crew mem­bers. This has opened the way for unqual­i­fied peo­ple doing the work instead of those with training.
(The Con­fer­ence had opened with sad­ness when being informed of an acci­dent in recent weeks to the Croa­t­ian Cin­e­matog­ra­ph­er, Goran Meca­va HFS who was bad­ly injured falling off a walk­way with no handrails after safe­ty lights had been switched off fol­low­ing a night shoot)
Remu­ner­a­tion for pre-pro­duc­tion is vir­tu­al­ly non-exis­tent and film­ing days have been reduced lead­ing to an Olympia Miti­li­neou Greece: Zoran Petro­vic Ser­bia: Jovan Mili­nov Ser­bia: Sil­ves­tar Kol­bas Croa­t­ia
increase
in work­ing hours.
On a pos­i­tive note doc­u­men­taries are hold­ing their own. They have nev­er been com­mer­cial­ly driven.
Fol­low­ing aggres­sive mar­ket­ing cam­paigns by some man­u­fac­tur­ers some pro­duc­ers are opt­ing to pur­chase cheap tech­nol­o­gy which is unre­lat­ed to the essence of film­mak­ing. The rec­om­men­da­tions of cin­e­matog­ra­phers are no longer heed­ed any more than their com­plaints.
The sta­tus of film pro­fes­sion­als is all the weak­er due to the absence of a col­lec­tive agree­ment to guar­an­tee min­i­mum rights togeth­er with the col­lapse of Trade Unions. Non- pay­ment of over­time is com­mon­place. The Ser­bian Soci­ety has adopt­ed a Code of Con­duct into its statutes bind­ing on all mem­bers to retain sol­i­dar­i­ty in the fight for bet­ter conditions.
Many of the chal­lenges that exist in Ser­bia are com­mon through­out the Balkan region. How­ev­er the sit­u­a­tion is mixed with some Soci­eties report­ing improve­ments in Film Fund­ing in their countries.
Del­e­gates Piro Milka­ni Alba­nia: Goran Trpcevs­ki Mace­do­nia: Valentin Perko Slove­nia.
In Slove­nia, how­ev­er, there would appear to be a dete­ri­o­ra­tion in con­di­tions. There five fea­ture films are pro­duced annu­al­ly, with an aver­age bud­get of eighty thou­sand euros. The del­e­gate Valentin Perko ZFS spoke of the uncer­tain­ty sur­round­ing bro­ken promis­es to Pro­duc­ers. Bud­gets for spend­ing are often slashed by the State after being promised. Pro­duc­ers in Slove­nia have been oblig­ed to find twen­ty per cent of fund­ing before receiv­ing aid to make a film. One clever way to raise the required amount is to ask work­ers to take a prof­it incen­tive in lieu of wages. As invari­ably no film in a coun­try of only two mil­lion peo­ple makes a prof­it, effec­tive­ly work­ers are work­ing for free. This brought the Con­fer­ence full cir­cle- back to the sit­u­a­tion in Greece.
The eco­nom­ic slump has result­ed in the aban­don­ment of any strat­e­gy to dig­i­talise their film her­itage. It is unclear how archiv­ing will be achieved in the future. The Sloven­ian film Cen­tre and Min­is­ter of Cul­ture do not sup­ply funds for mak­ing inter­me­di­ates.
The anom­aly of the tax incen­tives for EU film mak­ing is high­light­ed in Slove­nia. Despite the attrac­tions of a beau­ti­ful land­scape there is no tax incen­tive result­ing in work being direct­ed elsewhere.
There are no rules for work­ing con­di­tions in Slove­nia. As applies in many Balkan coun­tries the work­ing day is the Euro­pean "norm" of twelve hours which includes an hour break. A five day work­ing week appears to be recog­nised with two off-duty days.
Croa­t­ia has seen recent improve­ments in its film fund­ing. Cin­e­mas are also clos­ing there because of tech­nol­o­gy but on the pos­i­tive side a HFS Cin­e­matog­ra­ph­er is an appoint­ed del­e­gate to the Croa­t­ian Audio Visu­al Con­fer­ence which advis­es on future film pro­duc­tion. The Film Fund is part­ly financed by cin­e­ma tick­ets. In Croa­t­ia there is no trade union rep­re­sent­ing film work­ers.
Despite the absence of an Amer­i­can fea­ture film a more pos­i­tive pic­ture emerged from a report by Alex Ster­ian, the Pres­i­dent of the Roman­ian Soci­ety. Fol­low­ing a lean year a new State fund­ed pol­i­cy had emerged for fea­ture films bud­get­ed at 300,000 Euros along with a twen­ty per cent co-pro­duc­tion incentive.
In Bul­gar­ia their Pres­i­dent Ivan Tonev report­ed a vic­to­ry for cre­ative work­ers in Par­lia­ment in 2013. This has indi­rect­ly result­ed in sev­en fea­tures and twen­ty doc­u­men­taries planned or in pro­duc­tion this year. The Col­lect­ing Soci­ety is strong and the Soci­ety con­tin­ues to fight for real­is­tic remu­ner­a­tion. The Con­fer­ence enquired whether funds could be made avail­able to trans­late the Ima­go Mod­el Con­tract to achieve a Legal frame­work.
The most promis­ing Balkan report came from the host nation of Mace­do­nia. A new law for film Fund­ing has been passed and an Agency cre­at­ed. A sub­stan­tial Gam­bling Fund assists film projects. Despite its pop­u­la­tion of two mil­lion, five fea­ture films are planned. A pro­pos­al was made by Goran Trpcevs­ki for Ima­go to assist in estab­lish­ing a Vir­tu­al Plat­form for Film­mak­ers. This was dis­cussed sub­se­quent­ly by the Ima­go Board at a meet­ing in Munich and endorsed. It has the back­ing of Darko Bash­er­s­ki, Direc­tor of the Mace­don­ian Film Fund and estab­lished in three phas­es: the Data­base: Social Net­work: VOD Plat­form for Films from the par­tic­i­pat­ing thir­teen coun­tries which includes Turkey.
Rep­re­sen­ta­tives of Alban­ian cin­e­matog­ra­phers were wel­comed to their first Balkan Con­fer­ence. They have yet to estab­lish a Soci­ety but Piro Milka­ni and Eno Milka­ni gave an inter­est­ing expo­si­tion of con­di­tions in their coun­try since film stu­dios were first estab­lished in 1952 under the Sovi­et Sys­tem. Under the influ­ence of the Chi­nese Cul­tur­al Rev­o­lu­tion in the 1970's many Alban­ian direc­tors were jailed. The last film was made in 1991 and in 1989 all pro­duc­tion was halt­ed.
In 1997 Film Stan­dards were adopt­ed. Cin­e­matog­ra­phers are elect­ed to the Film Com­mis­sion Board.
A new doc­u­men­tary plan to finance 15 short films has been announced. Pro­duc­ers must raise co-pro­duc­tion mon­ey equiv­a­lent to State fund­ing. A Copy­right Board was estab­lished ten years ago and a Forum for Audio-visu­al Artists. Cin­e­mas and audi­ences are increas­ing. Work­ing con­di­tions involve eleven hours plus one for lunch, five days a week but as else­where in Com­mer­cial film mak­ing the law of the jun­gle applies. Tax con­ces­sions are being intro­duced. A plan to finance 15 short doc­u­men­tary films is in place. Appre­ci­a­tion was expressed at the assis­tance of Mace­do­nia in set­ting up film projects. Sure­ly there is a les­son to the more afflu­ent if two of Europe's poor­est nations can help each oth­er. As were wit­nessed at the pre­miers of the two Mace­don­ian films at the Fes­ti­val, the craft tal­ent is alive and well. Good scripts and sto­ries are more dif­fi­cult to find.
One impor­tant rea­son for hold­ing this Con­fer­ence was to gath­er infor­ma­tion to assist Imago's knowl­edge to take to the Ima­go Film­mak­ers Forum in Brus­sels next March. One prac­ti­cal sug­ges­tion was for Ima­go to help find fund­ing to estab­lish Col­lect­ing Soci­eties through the EU. Most Balkan Soci­eties have no funds and too few mem­bers to employ legal assis­tance. Mir­a­cles take longer but Ima­go will seek oppor­tu­ni­ties to assist this conun­drum. Col­lect­ing Soci­eties are essen­tial for the future well-being of the pro­fes­sion of cin­e­matog­ra­phy.
Once again Ima­go is grate­ful for the Mace­don­ian Film Fund and the Man­a­ki Broth­ers Fes­ti­val for their sup­port for Ima­go. Thanks must espe­cial­ly go to the Fes­ti­val Direc­tor Labi­na Mitevs­ka and the del­e­gates who attended:
Nigel Wal­ters BSC Ima­go President/Chairman.
Ivan Tonev BAC Ima­go Vice-Pres­i­dent Bulgarian/ Roma­nia rep.
Tome Salkovs­ki Mace­do­nia SFS
Goran Trpcevs­ki Mace­do­nia
Valentin Perko Slove­nia
Jovan Mili­nov Ser­bia
Zofran Petro­vic Ser­bia
Olympia Miti­li­neou Greece
Sil­ves­tar Kol­bas Croa­t­ia
Piro Milka­ni Alba­nia
Eno Milka­ni Albania
DNW.