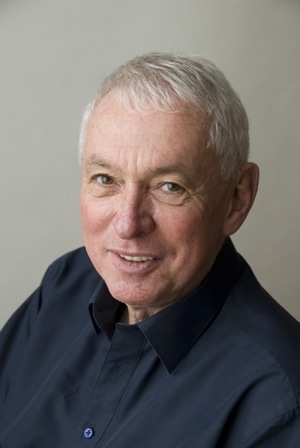 It is a priv­i­lege in my fifth year as Pres­i­dent of Ima­go to send you Best Wish­es for a Hap­py Christ­mas and a suc­cess­ful New Year on behalf of all mem­bers of the Board.
The Ima­go Board con­sists of vol­un­tary mem­bers from Bel­gium, Ger­many, Esto­nia, Italy and Bul­gar­ia. Our web­mas­ter is from Por­tu­gal and the "Deputy" Board mem­bers rep­re­sent Fin­land, Aus­tralia, Ser­bia and Israel. Cin­e­matog­ra­phers are indebt­ed to Dr Cristi­na Busch from Spain, our Legal Advi­sor who con­tin­ues to pro­mote the inter­ests of cin­e­matog­ra­phers in Brussels.
High­lights of the past year have includ­ed a suc­cess­ful Con­fer­ence at Mons, Bel­gium; par­tic­i­pa­tion in the Man­a­ki Broth­ers and Camer­im­age Fes­ti­vals, both devot­ed to cin­e­matog­ra­phy; anoth­er out­stand­ing Oslo Dig­i­tal Con­fer­ence organ­ised by the Nor­we­gians under Paul-Rene Roes­tad FNF and a con­tin­u­a­tion of the series of "Inspi­ra­tional" Mas­ter Class­es which trans­ferred this year from Copen­hagen to Vienna.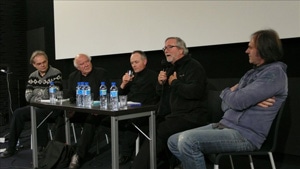 The Balkan Con­fer­ence in Bito­la epit­o­mised the val­ue of Ima­go. It brought togeth­er for the sec­ond year del­e­gates from sev­en nations, both cin­e­matog­ra­phers and those respon­si­ble for film pro­duc­tion in the region. Cin­e­matog­ra­phers and guests found the Con­fer­ence con­struc­tive and reward­ing. One out­come will be a Direc­to­ry of all Balkan Cin­e­matog­ra­phers and pro­duc­tion facil­i­ties. Again Ima­go is grate­ful for the gen­eros­i­ty and encour­age­ment shown by the Man­a­ki Broth­ers Fes­ti­val Com­mit­tee under Labi­na Mitevs­ka in host­ing this valu­able Conference.
As each year ends it is also my plea­sure to thank Ima­go spon­sors with­out whom the Fed­er­a­tion would accom­plish lit­tle. Their role extends beyond gen­eros­i­ty to friend­ship. Ima­go is grate­ful for the sup­port and advice which is always offered. I make no apol­o­gy for list­ing them for cin­e­matog­ra­phers to appre­ci­ate the com­pa­nies which give more than lip ser­vice to sup­port your Soci­eties. They are : Band Pro Munich: Cir­ro Lite: DoP Choice: K5600 Light­ing: Sparks, Cam­era and Light­ing Budapest: Piu­ma World: Cooke Optics: Trans­video: Pho­to Cine Rent Paris: Ron­ford Bak­er: P&S Teknik GMBH: Panav­i­sion UK: ARRI Munich: Sony Nordic: Thales-Ange­nieux: Airstar Inter­na­tion­al: East­man Kodak: Leica : Red Europe : Lee Fil­ters: Miller Australia.
Spon­sors are vital­ly impor­tant to Ima­go but any suc­cess­ful ini­tia­tive invari­ably depends on vol­un­teers. This is illus­trat­ed in the organ­i­sa­tion of the two Fes­ti­vals ded­i­cat­ed to cin­e­matog­ra­phers[DW1] , the Man­a­ki Broth­ers and Camer­im­age; In Bito­la, Mace­do­nia or Byd­goszcz in Poland unpaid vol­un­teers serve the pro­fes­sion of cin­e­matog­ra­phy self­less­ly. No-one present at the Gala end­ing of both these remark­able Fes­ti­vals could have failed to be moved at the appre­cia­tive ova­tion giv­en to the hun­dreds of vol­un­teers on the stages tak­ing the final bow as the cur­tain fell for anoth­er year. The best had been saved to last with tumul­tuous applause direct­ed at the unseen heroes of the Fes­ti­vals, the volunteers.
The past year has not been with­out tur­moil for the Ima­go Board. The res­ig­na­tion from Ima­go of one of the four found­ing mem­bers, the AFC, was a tragedy. The French along­side the Amer­i­cans will remain in glo­ri­ous iso­la­tion out­side Ima­go, but will remain as our friends. They will not be missed for their antag­o­nism to the prin­ci­ple of Authors Rights or improv­ing work­ing con­di­tions. How­ev­er they will be great­ly missed for their com­mit­ment to improv­ing the stan­dards of cin­e­matog­ra­phy. Ima­go shares their loss but can­not help but ask the ques­tion: what­ev­er hap­pened to Lib­er­ty, Equal­i­ty and Fraternity?
The suc­cess­ful launch of the new web­site by Tony Cos­ta AIP jus­ti­fied the Ima­go Board's deci­sion to adopt his pre­ferred sys­tem rather than the more expen­sive alter­na­tive offered by the AFC. How­ev­er Ima­go is grate­ful to Eric Guichard AFC for his efforts to assist the quest to improve the web site.
Ima­go remains as an umbrel­la Fed­er­a­tion of forty-sev­en Soci­eties. Bosnia and Herze­gov­ina were wel­comed as new mem­bers in Mons. The next IAGA (Gen­er­al Assem­bly) will be held in Del­phi in Greece. A defin­i­tive Mas­ter Class for Greek cin­e­matog­ra­phers will take place in Athens in the pre­ced­ing days at the request of the Greek Soci­ety, GSC. A "dream team" of Phe­don Papamichael ASC and Haris Zam­bar­loukos BSC has been pro­vi­sion­al­ly arranged.
The new statutes trans­fer­ring legal author­i­ty from Paris to Brus­sels have been exam­ined and improved. They have only to be rat­i­fied in Del­phi. They are the result of hard work by Gen­er­al Sec­re­tary, Louis-Philippe Cap­pelle SBC, with inci­sive con­tri­bu­tions from the Dan­ish and Aus­tri­an Soci­eties. In his­toric Del­phi, asso­ciate mem­bers of Ima­go from out­side Europe will be offered the oppor­tu­ni­ty to become full mem­bers. Ima­go is already indebt­ed for the assis­tance of Idan Or from the Israeli Asso­ci­a­tion and Ron Johan­son, Pres­i­dent of the Aus­tralian ACS, for their con­tri­bu­tions to the Work­ing Con­di­tions and Mas­ter Class committees.
The year has end­ed with an acri­mo­nious debate among Euro­pean archivists on the future pre­sen­ta­tion of the Czech ACK ini­tia­tive known as DRA or Dig­i­tal Preser­va­tion Autho­rizate. The Board of Ima­go is con­fi­dent it can re-estab­lish a pos­i­tive and har­mo­nious work­ing rela­tion­ship with oth­er organ­i­sa­tions, such as ACE, rep­re­sent­ing archivists. The Mons IAGA vot­ed to adopt the DRA pro­pos­al in the belief it embod­ies the prin­ci­ple that cin­e­matog­ra­phers are moral­ly enti­tled to par­tic­i­pate in the dig­i­tal restora­tion of our images. Assur­ances have been received from the archivists that the integri­ty of the image will be fore­most in their restora­tion. Ima­go will be belat­ed­ly adding its sig­na­ture to a Euro­pean State­ment in the com­ing weeks.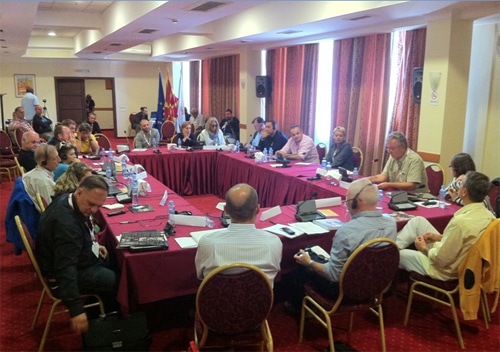 The impor­tance of Restora­tion of our images will be graph­i­cal­ly illus­trat­ed in 2014. The media is about to unleash on tele­vi­sion screens around the world a bom­bard­ment of visu­al imagery cre­at­ed one hun­dred years ago by the ear­ly pio­neers of cin­e­matog­ra­phy. Those kine­matog­ra­phers, as they were then known, manned cam­eras not machine guns to record the hor­rors of the First World War. Many nev­er returned and the val­ue of their sac­ri­fice should nev­er be forgotten.
Through imagery the past catch­es up with the present. The pow­er of cin­e­matog­ra­phy tran­scends fron­tiers, breaks down prej­u­dice and injus­tice. Cre­ates empa­thy for friend and foe alike. Those respon­si­ble for the cap­ture of the mov­ing image, in wars and famines, tragedies and tri­umphs, can be proud of their cre­ative role cap­tur­ing the mov­ing image. They will be work­ing this Christ­mas in South Sudan, the Cen­tral African Repub­lic, Syr­ia and oth­er places of strife. They are record­ing his­to­ry through the medi­um of film, the amaz­ing weapon which we are priv­i­leged to yield.
The Man­a­ki Broth­ers thank­ful­ly sur­vived the car­nage in the Balka­ns dur­ing the First World War. In the charm­ing Mace­don­ian town of Bito­la each year a homage is paid to these ear­ly pio­neers the Fes­ti­val is named after, the old­est of its kind still sur­viv­ing. The town is rebuild­ing its first movie the­atre house in mem­o­ry. The remark­able imagery cap­tured by the two broth­ers of life in the ear­ly decades of the twen­ti­eth cen­tu­ry has been painstak­ing­ly restored by archivists. It was screened in fea­ture length at the open­ing of the last Festival.
A pil­grim­age on a greater scale is made each year to the Pol­ish city of Byd­goszcz. Cin­e­matog­ra­phers, the great and the good togeth­er with the not-so great and the not-so-bad, gath­er to cel­e­brate the lat­est tri­umphs of tech­no­log­i­cal advance and view togeth­er good sto­ry­telling. Artists from oth­er film crafts, whether they be actors, design­ers, sound engi­neers, direc­tors or pro­duc­ers, are over­whelmed by the expe­ri­ence. No oth­er craft has any­thing to com­pare with it. Cin­e­matog­ra­phers salute the organ­is­ers for this mam­moth annu­al achieve­ment which they accom­plish with panache year after year. Deter­mi­na­tion and courage are qual­i­ties in abun­dance in the Pol­ish nature.
The cin­e­matog­ra­ph­er of the Con­fer­ence con­tin­ues to be Ed Lach­man ASC whose courage and deter­mi­na­tion is an inspi­ra­tion to all.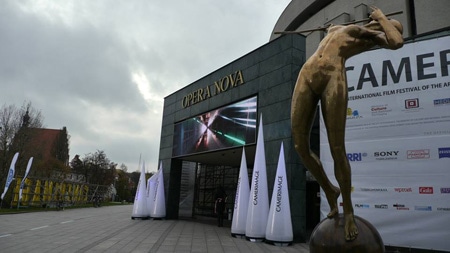 The Gold­en Frog went to the Pol­ish film Ida. It would not have been fund­ed in Amer­i­ca although many ASC mem­bers present stat­ed they would have wel­comed an oppor­tu­ni­ty to shoot it. As an exam­ple of the impor­tance of pro­tect­ing the indi­vid­ual film cul­ture of which Europe is so proud, it should be shown to stu­dents every­where[DW2] . It is an out­stand­ing exam­ple of the pow­er of cre­ative com­po­si­tion. A beau­ti­ful film in its own right it took a bold jury to award it and even bold­er cin­e­matog­ra­phers in Lukas Zal and Ryszard Lenczews­ki to cre­ate it. The direc­tor was Pawel Panlikowski.
As wise men bear­ing gifts three Ital­ian cin­e­matog­ra­phers descend­ed on the delight­ful city of Byd­goszcz. Vit­to­rio Storaro AIC ASC had indeed not long returned from Mec­ca and the deserts of the Mid­dle East. Hav­ing depart­ed Moham­mad he and his fel­low cin­e­matog­ra­phers, Imago's own Luciano Tovoli and the Pres­i­dent of the AIC Daniele Nan­nuzzi had arrived to launch their cof­fee table book. The fine book fea­tures the lives of 150 cin­e­matog­ra­phers from 1911 to the present. It is some­what con­tro­ver­sial­ly illus­trat­ed but fine­ly writ­ten with the assis­tance of Bob Fish­er and Loren­zo Codel­li. Vit­to­rio seized the launch oppor­tu­ni­ty to explain to the packed audi­ence that cin­e­matog­ra­phers should nev­er be named DOP's. I need no excuse to repeat his thoughts. Not sur­pris­ing­ly the book is enti­tled "The Art of Cinematography."
Most Ima­go Soci­eties are right­ly proud of their past and present. The best organ­ised are look­ing towards the future. The Aus­tralian ACS is an exam­ple. The Soci­ety has been reward­ed by the Aus­tralian Acad­e­my of Cin­e­ma and Tele­vi­sion Arts with a cash prize of ten thou­sand dol­lars for "enhanc­ing skills, explor­ing new tech­nol­o­gy, and pass­ing on knowl­edge to those who fol­low in their foot­steps. Their enthu­si­asm and gen­eros­i­ty of spir­it makes them the back­bone of our indus­try." A fine acco­lade for the stew­ard­ship of Pres­i­dent Ron Johan­son ACS.
The Soci­eties mak­ing the great­est impact in improv­ing stan­dards are those who have dis­card­ed the notion that images of dis­tinc­tion are the pre­rog­a­tive of fea­ture film cin­e­matog­ra­phers. Many cin­e­matog­ra­phers are for­tu­nate to shoot one so-called "fea­ture" film in their life-time. Nine­ty per cent of cin­e­matog­ra­phers earn their liv­ing work­ing on films for tele­vi­sion. Oppor­tu­ni­ties are often denied tal­ent­ed men and women to become mem­bers of the some Soci­eties. The young are learn­ing ear­li­er thanks to the enlight­ened gen­eros­i­ty in teach­ing as illus­trat­ed by the ACS honour.
The past and present think­ing of many Soci­eties needs to be joined up to include the future. Any plan­ning for the future is bet­ter than sit­ting back and in self-con­grat­u­la­tions on past glo­ries. Too many Euro­pean organ­i­sa­tions are based on the short term plan­ning of politi­cians. Many of our Soci­eties are not in a posi­tion to plan: most have lit­tle finan­cial back­ing and are run on a shoe string. Euro­pean Soci­eties in the old east­ern bloc have had their fund­ing severe­ly cur­tailed. There is no easy answer to the conun­drum. Ima­go must increase efforts to secure access to funds which still exist in the Euro­pean Union for cul­tur­al funding.
The most famous foot­ball match in world his­to­ry was played a hun­dred years ago. Unfor­tu­nate­ly there was no kine­matog­ra­phers present to record the event for pos­ter­i­ty. How­ev­er still pho­tographs remain and the match between Ger­man and British sol­diers on the bat­tle­field of Flan­ders took place on Christ­mas Day 2014. I believe that the spir­it found in those troops of lib­er­ty, fra­ter­ni­ty and equal­i­ty is still alive in Imago.
Suc­cess in the com­ing year will again depend on vol­un­teers. I should like to thank my fel­low Board mem­bers for their com­mit­ment to Ima­go and shar­ing the suc­cess­es along with the dis­ap­point­ments. They are: Louis-Philippe Cap­pelle SBC, Gen­er­al Sec­re­tary; Ivan Tonev BAC, Vice Pres­i­dent; Luciano Tovoli AIC: Bir­git Gud­jons­dot­tir BvK: Elen Lot­man ESC. The deputy Board mem­bers who are reg­u­lar­ly con­sult­ed and have giv­en valu­able advice in the past year are Timo Heina­nen FSC, Ron Johan­son ACS, Pedrag Bam­bic SAS, Idan Or ACT. Tony Cos­ta AIP has launched the new web site IMAGO.ORG and is respon­si­ble for the excel­lent Face­book con­tri­bu­tion. Last but not least we are even depen­dant on the gen­eros­i­ty and guid­ance of our Legal Advi­sor, Dr Cristi­na Busch.
Nigel Wal­ters BSC
Ima­go President.