''THE TEXTURE AND THE 4K/UHD WORKFLOW – HOW TO CONTROL THE SHARPNESS''
"The Ima­go Tech­nol­o­gy Com­mit­tee (ITC) is hap­py to give cin­e­matog­ra­phers, cam­era assis­tants, col­orists, post pro­duc­tion super­vi­sors and DIT's a pre­sen­ta­tion on the top­ic of tex­ture in the 4K/UHD workflow.
One of the goal of many techniciens/artists dur­ing the dif­fer­ent steps required to cre­ate an image is to deliv­er a spe­cif­ic look. The tex­ture is an impor­tant part of the process in which the sharp­ness con­trol is of cru­cial inter­est spe­cial­ly on skin tone.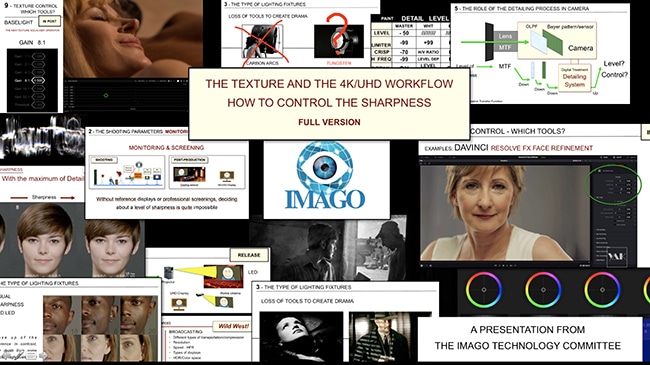 The ITC anal­ized the dif­fer­ent para­me­ters and some of the most impor­tant ways to change and con­trol – when it is pos­si­ble – the sharp­ness level.
Impor­tant con­clu­sions are giv­en in this pre­sen­ta­tion, some of them are includ­ed as requests to man­u­fac­tur­ers in the sur­vey launched some months ago by the ITC and still avail­able HERE. We would appre­ci­ate your con­tri­bu­tion If you haven't yet done it.
This pre­sen­ta­tion can be down­loaded in two ver­sions: a full one and a short one. The ver­sions in Dia­po­ra­ma (Pow­er­point for Mac 2011 – Ver­sion 14.7.7) include the ani­ma­tions. For those who don't have Office you can down­load the PDF. Short Ver­sion and Full Ver­sion